Formed: Southport, Sefton, Merseyside, England, UK
UK82 band which shared members with Blitzkrieg and The Insane.
This from David Ball, of Failsafe fanzine fame: "Mick McGee who sang for Mayhem is a sound engineer at the Roundhouse in London. Collo/Deadcat from Mayhem lives in Bury, about 8 miles from where I am at present..."
__________________________________________________________________________
Lineup 1982-1983:
Vocals: Mick McGee
Guitar: Johnny Liu (ex Paraquat, pre-Blitzkrieg)
Bass: Deadcat (ex-The Set Up, pre-Blitzkrieg)
Drums: Collo (ex-Dumb Blondes)
Lineup 1985:
Vocals: Mick McGee
Guitar: Chris Hind (pre-Blitzkrieg)
Bass: Deadcat
Drums: Collo
Other members at various times:
Guitar: Gray Bentley
Guitar: Gary 'Gaz' Sumner - (pre
Blitzkrieg
,
Insane
)
Guitar: Will Maudsley
Rhythm Guitar: Pete Morley
Bass: Trev Aindow (pre-
Insane
,
Blitzkrieg
)
Drums: Mick Johnson
Drums: Fred Doyle
__________________________________________________________________________
DISCOGRAPHY
Singles & Albums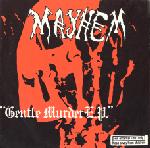 Gentle Murder E.P. (7", 1982)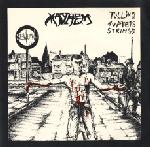 Pulling Puppets Strings (7", 1983)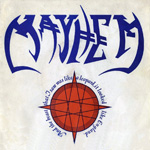 Bloodrush (7"/12", 1985)
Various Artists
Riotous Assembly UK LP 1982 (Riot City): Psycho
Welcome To 1984 US LP 1984 (Maximumrocknroll): I Defy
Life's A Riot...With Riot City Records: A History, 1980-84 UK LP 1985 (Riot City): Gentle Murder
Riot City Records- Punk Singles Collection UK CD 1993 (Anagram): Dogsbody / Gentle Murder
Riot City Records- Punk Singles Collection Volume Two UK CD 1995 (Anagram): Street Fight / (Your Face Fits) Lie & Die
Burning Britain - A Story Of Independent UK Punk 1980-1983 4xCD 2018 (Cherry Red): Dogsbody
__________________________________________________________________________
Links