Formed: Warminster, Wiltshire, England, UK
Subhumans - sometimes confused with the entirely different Vancouver band - hailed from the southwest of England and, along with Crass and Conflict, were one of the best anarcho bands. They evolved out of The Stupid Humans, which featured Bruce (guitar/vocals, ex-The A-Heads), Grant (bass), and Andy (drums). The Stupid Humans became the Subhumans when Dick Lucas - formerly in The Mental (who released the DIY-as-fuck Extended Play E.P.) took over vocal chores. Andy then decided it wasn't in the band for him: he was replaced by Trotsky.
Their music was almost entirely excellent (29:29 Split Vision was a mistake), but your enjoyment of it would be severely compromised if you couldn't get past Dick's (let's be honest) bloody awful voice. He was/is basically incapable of holding a tune and when he went for high notes it just sounded like someone had kicked him in the bollocks, but as a punk singer he was/is wonderful: unmistakable, fierce.
Dick Lucas later formed Culture Shock (which lasted a few years) and then Citizen Fish. Although Citizen Fish is still very active, Lucas reformed Subhumans in 1998 and now plays in both bands.
__________________________________________________________________________
Lineup 1 (1980):
Dick (real name Dick Lucas) - voice
Bruce (full name Bruce Treasure) - guitar
Grant (full name Grant Jackson) - bass
Andy Gale - drums
Lineup 2 (1980-1983):
Dick - voice
Bruce - guitar
Grant - bass
Trotsky - drums
Recorded: Demolition War E.P. (1981), Reason For Existence (1982), Religious Wars (1982), The Day The Country Died (1982), Evolution (1983)
Lineup 3 (1983-1985, 1991, 1998 - Present):
Dick - voice, piano
Bruce - guitar, occasional bass
Phil - bass, occasional guitar
Trotsky - drums
Recorded: everything since, including the comeback releases Unfinished Business (7"/CDS, 1998) and Internal Riot (LP/CD, 2007)
__________________________________________________________________________
DISCOGRAPHY
Subsequent studio albums: Internal Riot (2007), Crisis Point (2019).
Demolition War E.P. (7" 1981)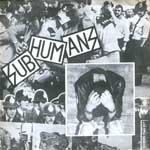 Reason For Existence (7", 1982)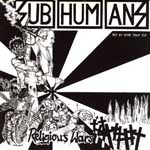 Religious Wars (7", 1982)
The Day The Country Died (LP, 1982)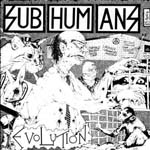 Evolution (7", 1983)
Time Flies... ...But Aeroplanes Crash (12", 1983)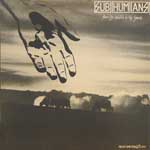 From The Cradle To The Grave (LP, 1984)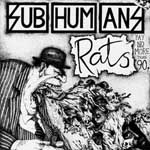 Rats (7", 1984)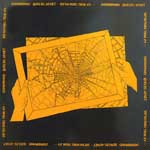 Worlds Apart (LP, 1985)
29:29 Split Vision (LP, 1986)
Extraneous Releases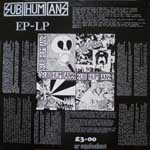 EP-LP (LP, 1985)
Time Flies + Rats (LP/CD, 1990)
Demos & Tapes
Demolition War Parts I-III (Tape, 1981) Live Worcester 11-4-81 (Tape, 1981)
Community Centre Warminster Live 9-5-81 (Tape, 1981)
Sing Brother Sing (Tape, 1981) Live Melksham Youth Centre (Tape, split with Wild Youth, 1981)
Live At The Pied Bull 28/11/81 (Tape, split with Sinyx, 1981) Live In Swindon (Tape, 1981)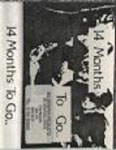 14 Months To Go.. (Tape, split with A-Heads, 1982) Live Stevenage Bowes Lyon House 21-2-82 (Tape, 1982)
Live Pub Crawl (Tape, 1982) Live London Putney White Lion 1-7-82 (Tape, 1982)
Live At The Moonlight Club 23/08/82 (Tape, split with Faction, 1982) Live London Finsbury Park George Robey 7-2-83 (Tape, 1983)
Leeds (Tape, 1983)
The Final Fling (Subhumans Leeds) (Tape, 1983) One Man's Fish Is Another Man's Poisson-Subhumans Live In Paris (Tape, 1984)
Live At Juz Korachstrasse, Hamburg 14.6.84 (Tape, 1984)
USAT4 Live In San Francisco (Tape, 1984) Live Bathgate 9-8-84 (Tape, 1984)
100 Club 21.2.84 (Tape) Live Fulham Greyhound (Tape, 1985)
USAT5-Live New York (Tape, 1985)
Everyday Live (Tape, 1985) Double Live Concept (Tape, 1985) Live Fulham Greyhound 31-10-85 (Tape, 1985)
Warminster, 10th November 85 (Tape, split with Steve L, 1986)
Leeds. Adam And Eves. 23-7-85 (Tape, split with Instigators)
Bootlegs
Human Error (7", 2015)
DVDs & Videos
The Best Of Flipside Video # 7 (VHS, split with UK Subs, 1998)
Various Artists
New Criminals UK Tape 1981 (New Crimes): Parasites / It's Gonna Get Worse / Drugs Of Youth
Wessex '82 UK 7" 1982 (Bluurg): No Thanks
Rising Free UK Tape 1983 (V.I.S.A.): Drugs Of Youth / Big Brother / Wasted Breath / Rain / Zyklon 'B' Movie / Mickey Mouse Is Dead
Hmmm... UK Tape 1983 (I Thought It Might Shock You Tapes/Hit Ranking Fanzine): Adversity / Rain / Big City / Reality Is Waiting For A Bus
Religious Vomit UK Tape 1983 (Public Disturbance): Song No 35 / First Aid (Live) / Trowbridge Park (Live)
International P.E.A.C.E. Benefit Compilation UK/US LP 1984 (R Radical): Rats
"Get Lost!" UK Tape 1984 (Greenhouse Tapes): All Gone Dead / Mickey Mouse Is Dead
We Don't Want Your Fucking War! UK LP 1985 (Mortarhate): Rats
Symphonies For The Disaffected UK Tape 1985 (Beer Belly Tapes): Animal / Zyklon B Movie / Religious Wars
V.I.S.A. Présente France LP 1985 (Bondage/V.I.S.A.): Mickey Mouse Is Dead
Life Is A Joke Vol. 2 Germany LP 2x1986 (Weird System): Human Error (Alternate Version)
Tour De Farce #2 Germany Tape 1987 (eMpTy): Apathy / We Won't Take No More UK CD 1995 (Mortarhate): Rats
This Is The A.L.F. - Second Edition UK 2xLP/CD 1998 (Mortarhate): Evolution
Anti-State: Anarcho Punk Compilation Vol. 2 UK CD 2005 (Overground): So Much Money
Burning Britain - A Story Of Independent UK Punk 1980-1983 UK 4xCD 2018 (Cherry Red): Reason For Existence
Bluurg Records EP's 82-88 UK CDR ???? (Bluurg): No Thanks
__________________________________________________________________________
Links
Subhumans/Citizen Fish - Official website for Citizen Fish/Subhumans

Art Of The State - Subhumans interview