Various - Back To Sing For Free Again Soon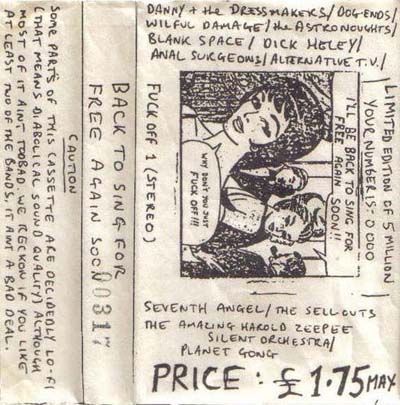 Original Release Date
1979
Release Information
UK Tape 1979 (
Fuck Off
- FUCK OFF 1)
Side Slightly Sanesville
1 Dick Heley - Void Burstin
2 Dick Heley - Photograph Of Feeling
3 The Astronauts - Secret File
4 The Astronauts - All Night Party
5 The Astronauts - Back To Sing For Free
6 Dick Heley & A Blankspace - Fantasy
7 Anal Surgeons - Where's That Fag
8 Dog Ends - Ain't No Free Unless It's Free
9 Alternative TV - Terrified Of Dogs
Side Completely Crazytown
10 Wilful Damage - You Hang At Midnight
11 Wilful Damage - No-one Cares
12 Wilful Damage - Fictitious
13 Wilful Damage - Farewell To Innocence
14 Danny And The Dressmakers - Ernie Bishop's Dead Body
15 Danny And The Dressmakers - How Hot Is A Match
16 Danny And The Dressmakers - John E. Be Good
17 Danny And The Dressmakers - What The World Needs Now
18 Danny And The Dressmakers - Whole Lotta Pinball
19 Danny And The Dressmakers - Don't Make Another Bass Guitar
20 Danny And The Dressmakers - Manchester United
21 The Sell-Outs - Rock & Roll Koncert
22 Seventh Angel - From A Sly Fox To A Pack Of Wolves
23 Amazing Zeepee Silent Orchestra - No Kung Future
24 Planet Gong - Psychedelic Man
Chart Placings
None
Credits
Limited edition of 5 million
Your number is: 0 0000
CAUTION
Some parts of this cassette are decidedly lo-fi (that means diabolical sound quality) although most of it aint too bad. We reckon if you like at least two of the bands, it aint a bad deal.
1-2: recorded in dicks front room on cassette
3-5: recorded live at warwick university december 1978
6: four track rec.
7: studio
8: front room rec.
9: yet another front-room recording
10-13: recorded live at Bolton Tech
14-16:live at deeply vale festival
17-20: Live at Manchester Poly
21: Bolton
22: Manchester Poly
23: [no details given for this one]
24: Live, somewhere in France
Reviews & Opinions
None yet
Additional Notes
Get it
HERE
(where the image comes from)
.