Formed: New York, USA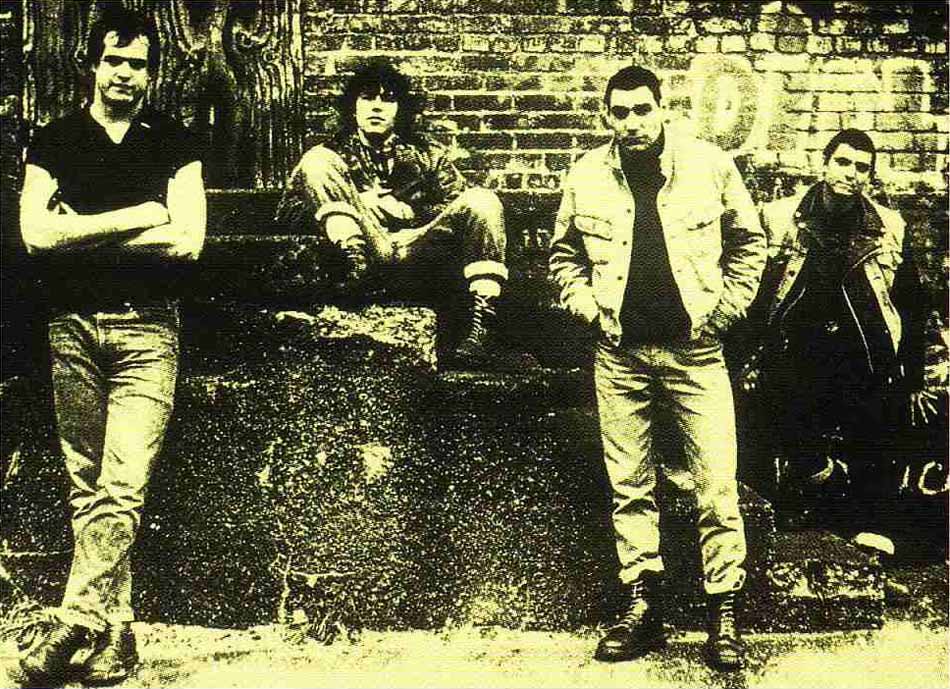 This hardcore group from Manhattan's Lower East Side, led by singer Roger Miret (ex-Psychos/Distorted Youth) and guitarist Vinnie Stigma, are best loved (and hated) for the album Cause For Alarm, a huge underground smash in 1986 and a very controversial disc, with a nasty mix of punk, metal and right-wing (not racist) politics. However, when they started they were simple punks playing jackhammer-style hardcore. Along with the Cro-Mags and Murphy's Law (amongst others), Agnostic Front signaled a marked shift in New York punk, embracing a skinhead look and alienating the earlier wave of punks who followed (and played in) bands like Heart Attack, The Undead and Adrenalin O.D. The violence at skinhead shows was legendary, with all these vicious bands attacking other punkers for such crimes as from being out of town or looking at them funny or having long hair. They may have seemed like total arseholes to some, and some people have stated that Miret was one of the biggest areseholes of them all. I've never met any of them so I wouldn't know, but Roger emailed me a few times and he seems like a gent. Little wonder they shifted to heavy metal (and then back to punk in the mid-90s when it became flavour of the month again!). It was a far cry from the early days of NY punk when artsy types like Talking Heads or Television rubbed shoulders with the Ramones and the Dead Boys.
Stigma (ex-Eliminators) formed AF in 1982 with singer John Watson, bassist Diego and drummer Rob Cryptcrash. By the time their debut EP United Blood EP was recorded in winter '82, Stigma was the only original member remaining, with Watson having been replaced by a Cuban, Roger Miret, and the rhythm section having undergone a series of changes (which it continues to do, so I shall stop mentioning it). (Roger was actually the band's fourth singer, following John Watson, Keith Kabula and Jimmy the Mad Russian.)
Roger Miret: The first time I ever saw Agnostic Front I thought it was the worst thing I ever saw in my life. It wasn't really even a band. When Vinnie started it, he wanted it to be some everybody together unity type of band. Rob, the drummer from Cause For Alarm, was drumming. Vinnie Stigma was playing and Diego was out there in the mosh pit, he dropped his bass and was moshing it up with the singer, John Watson. I never liked Agnostic Front back then. My favourite bands were Urban Waste and Abused. Somehow Vinnie spotted me out and Raybee recruited me - and the rest of my life was a disaster.
The band quickly gained notoriety: "We never wanted to be just a band, we wanted to be a movement like BYO", Miret told Steven Bush. "Anywhere we went, we showed people our New York Hardcore style. When people thought of New York, they automatically thought of Agnostic Front".
While the 'United Blood EP' is a musically redundant and badly produced blast of hardcore,
Victim In Pain
, all fifteen minutes of it, explodes with power. Both releases ensured that they were the toast of the New York hardcore skinhead scene, despite Stigma's total lack of musical ability (to this day he apparently only mimes on stage!). More material from period was issued in 1995 on GTA's
Raw Unleashed
.
Unfortunately, they let the skinhead thing go to their heads with 'Cause For Alarm', a punk/metal crossover album that laid into people on welfare and celebrated vigilantes. They were labeled as right-wingers, and Miret's habit of insisting his audience salute the flag did not help. Naturally, the album - which was issued by big heavy metal label Combat Core - was terrible and it sold by the shitload. For the record, they were never racists like Skrewdriver, just - according to many - pricks, and as Roger wrote to me recently:
For the record, questioning authority, equality for the people does not make you right wing does it? If anything I always felt more on the left just wanted equality for all...
Miret and Stigma recruited three new band mates for 1987's Liberty & Justice For..., but the results were even worse, piddling their way through routine thrash antics with a relentless snare-drum that ended up as tedious, ear-battering sonic mush. Amid accusations of Stigma's incompetence and Miret's laziness (as well as his 18-month prison sentence after the release of 'Liberty'), the band petered out, returning briefly in 1992 with the easily missable One Voice.
They bounced back, though, in 1997 courtesy of Epitaph, and ditched their heavy metal leanings. Something's Gotta Give (1998), Riot, Riot! Upstart (1999) and Dead Yuppies (2001) are all full of ornery clobber anthems that practically leap off the turntable (or out of the CD tray, take yer pick) with unbridled vehemence, disproving any assertions that old punks mellow with age. Indeed, these guys simply play faster and harder than ever before.
The band is still plugging away, recording albums for Nuclear Blast.
Stigma and Miret's brother Freddy Cricien have also been heavily involved with their equally unruly side-project Madball, which has recorded several albums since their 1989 debut EP Ball Of Destruction.
DISCOGRAPHY
Subsequent studio albums: Liberty and Justice For... (1987), One Voice (1992), Something's Gotta Give (1998), Riot, Riot, Upstart (1999), Dead Yuppies (2001), Another Voice (2004), Warriors (2007), My Life My Way (2011), The American Dream Died (2015).
Singles / Albums
United Blood E.P.
(7", 1983)

Victim In Pain
(LP, 1984)

Cause For Alarm (LP/CD, 1986)

Extraneous Releases

Cause For Alarm/Victim In Pain (CD, 1991)
Cause For Alarm/ Liberty & Justice For... (CD, 1991)
The Best Of Agnostic Front...To Be Continued
(LP/CD, 1992)
Raw Unleashed
(CD, 1995)
A Box Of Hurt And Hate
(3xLP, box set, 2006)

Bootlegs

Alive In '85
(7", 1985)
The Early Demotrax
(7", split with White Pride, 1992)
United And Strong 1984 Demos
(LP, 2009)
United & Strong (CDR)
Various Artists
There are lots of others but I can't be bothered listing 'em right now.
Extreme Noise1 ?? Tape c.1983 (Extreme Noise): Hiding Inside / Fascist Attitudes / Society Suckers / Remind Them / Victim In Pain / Your Mistake
Live In N.Y.C. 1991 US CD 1991 (no label): Victim In Pain / Public Assistance / Infiltrate / Strength / Crucified / Blind Justice
Message From America: Hardcore Has Come Of Age US LP 1985 (Urinal): United Blood / Time Will Come
Sunday Matinee: The Best Of NY Hardcore US LP/CD 1994 (Another Planet): Anthem
Links
THE OFFCIAL AGNOSTICN FRONT WEBSITE
FLEX! HARDCORE Flex's Agnostic Front page

WIKIPEDIA Agnostic Front page

NUCLEAR BLAST Their German label's homepage

MARK PRINDLE Reviews AF
INTERVIEW WITH ROGER AND FREDDY