Formed: Manchester, England, UK

I wanna be free, wanna be myself
Even though I sound like everybody else
I still got something valid to say
Something to tell you, gonna tell you anyway:
Fuck You!"
- 'Fuck You', 1978
This talented, media-savvy Mancunian septet made quite a few records, but have gone down in punk history thanks to the Snuff Rock EP, arguably the funniest - and most convincingly authentic sounding - of punk piss-takes. The EP was, if you will, the cast recording of Sleak, a musical the Albertos trotted out at the Royal Court Theatre and Round House in London. The "snuff rock" bit refers to its main character Norman Sleak, played by singer Les Prior, an innocent disc jockey who is manipulated into committing suicide on stage (was GG Allin a fan?). With three-quarters of the EP given over to spot-on Damned/Clash/Pistols-type blasting, complete with comedy Cockney vocals and sweary abuse, and the other quarter a funny spoof on punk's flirtation reggae, it is a quality release. (Click here for footage of the band performing side one of the EP on German tele.)
Their three albums don't measure up to this killer disc, but there's plenty to admire for fans of the Bonzo Dog Doo Dah Band and Monty Python, their spiritual forefathers.
Band Bio
The band started off on the College circuit, played free festivals and gigged with the likes of Hawkwind. All rich pickings for satire. Their experiences with the 'Wind was directly translated into 'Mandrax Sunset Variations', one of the highlights of their debut album from 1976, which was released on Transatlantic, a folk label of all things. Alberto Y Lost Trios Paranoias was a middling seller but a very promising opening salvo, with custodians of public taste WH Smiths notoriously banning the record because of its incredibly scatological material.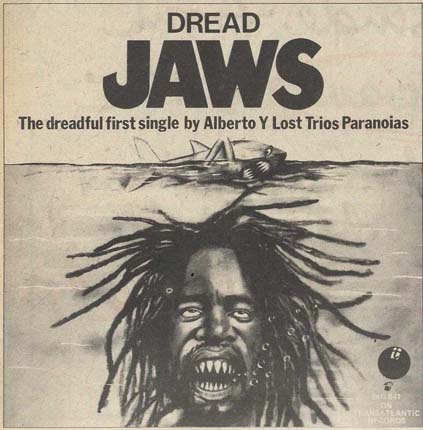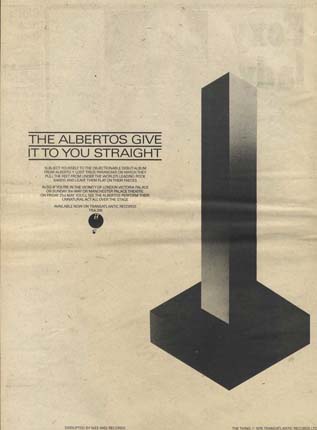 Italians From Outer Space was a patchy follow-up, with a lot of annoyingly intrusive comedy sketches that were shamelessly imitative of Monty Python, but it did contain their first punk send-up, 'Teenager In Schtuck', which was clearly the idea that spawned Sleak.
T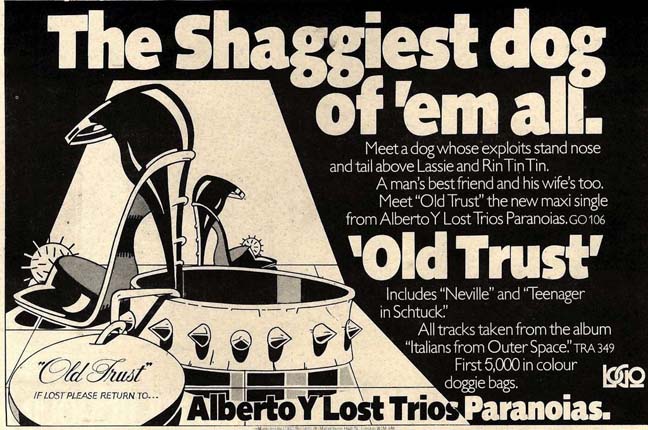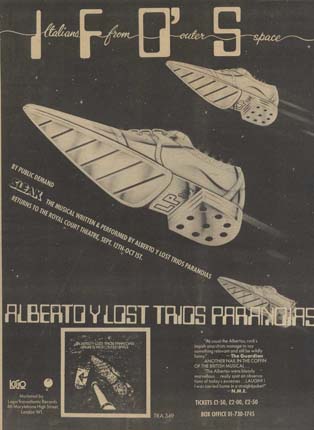 ABOVE: The Albertos in 1976 (left) and 1977 (right)
A year later, the band had signed with Logo and had their sole brush with the charts via a brilliant Status Quo parody,
Heads Down No Nonsense Mindless Boogie
, and issued their last LP, the wonderful
Skite
, a more focused offering than the previous albums, which nonetheless aims for targets as wide-ranging as Abba and
Devo
.
Pryor, by his time, had been diagnosed with leukemia, and the band naturally ground to a halt. Bob Harding and Tony Bowers kicked off a side project called The Mothmen with a single for Do It Records (Does It Matter Irene?), while Bowers (with Bruce Mitchell) played with The Durriti Column. Les Prior finally succumbed to his illness in 1980.
But that wasn't quite the end of it.
Logo cashed-in with The Worst Of The Berts (twelve previously released tracks, including three-quarters of the 'Snuff Rock' EP and nothing from the first LP). This was also issued in Spain and Canada under different titles. The band then somehow managed to wrangle a television series, Teach Yourself Gibberish.
In 1981, a cassette called Radio Sweat crept onto the market. Credited to The C.P. Lee Mystery Guild, this was essentially another Albertos album (and was reissued as such 20 years later), with C.P. Lee aided by a raft of guest musicians, including Jimmy Hibbert, Simon White and Bruce Mitchell. The Albertos name was dragged out of retirement for a dreadful seasonal shitty, er, ditty, Cruising With Santa (1982). Proceeds went to CND, but the music demonstrated that time had run out for the band, and that was indeed the end.
Post-Albertos, Hibbert tried his hand at heavy metal and made a couple of solo albums, before hitting the money mother lode with Count Duckula and Bob the Builder.
I guess you could say that they were the Barron Knights of New Wave, only funny.
MEMBERS:

C.P. Lee - vocals, guitar
Les Prior - vocals
Bob Harding - vocals, guitar, bass
Tony Bowers - guitar, bass
Jimmy Hibbert - vocals
Simon White - guitar, steel guitar
Bruce Mitchell - drums
Ray "Mighty Mongo" Hughes - drums
DISCOGRAPHY
Singles / Albums
Dread Jaws
(7", 1976)

Alberto Y Lost Trios Paranoias (LP, 1976)

Italians From Outer Space
(LP, 1977)

Snuff Rock
(7", 1977)

Old Trust
(7", 1977)
Heads Down No Nonsense Mindless Boogie
(2x7", 1978)
Skite
(LP, 1978)

**** You
(7", 1978)

Juan Lopez (The Lonely Goatherd)
(7", 1978)

Radio Sweat
(Tape, as CP Lee & The Mystery Guild, 1981)
Crushing With Santa
(7", 1982)

Extraneous Releases

The Worst Of The Berts
(LP, 1980)
Lo Peor Deö
(LP, 1980)
Death Of Rock N Roll
(LP, 1980)
Teenage Paradise
(7", 1980)
Snuff Rock: The Best Of The Albertos
(CD, 1991)
Radio Sweat
(CD, as C.P. Lee and Alberto Y Lost Trios Paranoias, 1997)
Mandrax Sunset Variations
(2xCD, 2001)
Various Artists
English Waves! Italy LP 1978 (RCA Victor): Sniffin' [sic] In A Babylon
Heroes & Cowards Italy LP 1978 (Stiff): Snuffin' Like That / Gobbing On Life / Kill
1-2-3-4 Punk & New Wave 1976-1979 UK 5xCD 1999 (Universal): Kill
White Dopes On Punk UK 2xCD 2005 (Castle Music): Anarchy In The U.K. / Fuck You
Action Time Vision (A Story Of Independent UK Punk 1976-1979) UK 4xCD 2016 (Cherry Red): Gobbing On Life
Manchester North Of England - A Story Of Independent Music Greater Manchester 1977 - 1993 UK 7xCD 2016 (Cherry Red): Heads Down, No Nonsense, Mindless Boogie
1977: The Year Punk Broke UK 3xCD 2019 (Cherry Red): Kill
Links