ARTICLES OF FAITH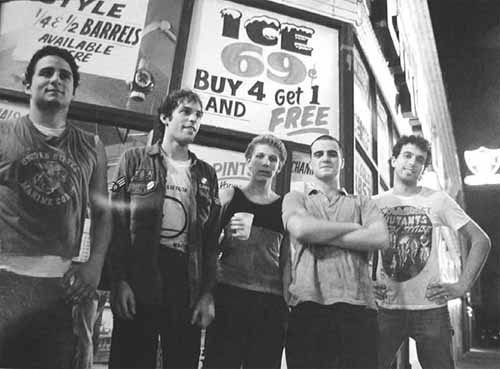 Formed: Chicago, Illinois, USA
Vic Bondi, July 2002 (from liner notes of the Complete Discography Vol 1 compilation): When AoF started, we didn't give a damn about continuity. We took the Pistols at their word: rock 'n' roll was dead, and we were what came after it. It was Year One of the New Era. We tried to blow up every convention of rock: I screamed instead of sang, Joe played noise instead of leads, Virus drummed so fast you couldn't dance. Like dozens of other hardcore bands we were opening new horizons of speed and noise, but not because those principals in and of themselves were good, but because we wanted the music to be abrasive, discordant and jarring. Form follows function: we attacked the conventions of music, because we wanted to use music to attack the broader conventions of society.
Chicago's AoF bashed out fast and furious politically motivated and extremely angry, emotionally charged hardcore. Not surprisingly, given that Bob Mould produced their first two albums, they often sound like Hüsker Dü (Metal Circus era), but there are also bits reminiscent of Italy's Raw Power as well, dually because of the intense music and Vic Bondi's mad singing. Galvanised by Bondi's trip to Washington D.C., Bondi matched Ian MacKaye for righteous indignation and ferocity, and there was also a Bad Brains influence: alongside their blazing thrash they incorporated jazz, funk and reggae into their demented homebrew without ever sounding even remotely like a jazz, funk or reggae band. Well documented is the rift between them and Chicago's premier punk band at the time, The Effigies, who considered AoF phonies and copyists.
Their first two EPs are highly recommended documents of head-blasting hardcore, with 'What We Want Is Free' pretty much setting out the band's left-leaning political stance in no uncertain terms.
Because of a tendency to very complicated arrangements, their LPs Give Thanks and In This Life might be something of an acquired taste, there is no doubting they were one of the greatest hardcore bands.
Bondi's post AoF career encompassed solo work as well as group endeavours like Alloy, Jones Very and Report Suspicious Activity. Outside of music he worked as a history professor and on Microsoft's Encarta.
He resuscitates the AoF name every now and then, although the only new AoF studio material since the 80s has been a 2003 EP in honor of George W. Bush (Fortunate Son) and as 12" single in 2010 (New Normal Catastrophe). Core is a compilation drawing on (mainly) previously released stuff, Your Choice Live Series documents a 1992 reunion gig. The two compilations issued on Alternative Tentacles have just about everything they ever released, and are essential.
DISCOGRAPHY
Singles / Albums
Various Artists
Charred Remains US Tape August 1981 (Noise Records): Street Fight / Ghost In The House / Poison In My Sweat / AOF / Belfast
The Master Tape US LP 1982 (Affirmation): Buried Alive / False Security
Starving Dogs US Tape 1983 (Little Farmer): I've Got Mine / Born To Be
International P.E.A.C.E. Benefit Compilation UK/US 2xLP 1984 (R Radical): Up Against A Wall
Code Blue US Tape 1984 (Last Rites): Buy This War / Surrogate / In Your Suit (live)
The Middle Of America Compilation US LP 1984 (H.I.D. Productions): 5 O'Clock
Nothing Lasts Germany 7" 1991 (Bitzcore/Flex!): By My Rules / Wait
Links
Kill From
The Heart's excellent AOF Page

MYSPACE - AOF page

WIKIPEDIA - AOF page

ALTERNATIVE TENTACLES - buy some stuff and read about 'em