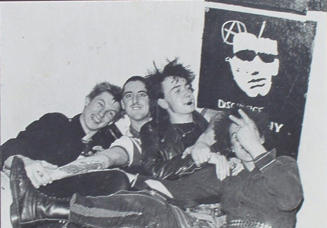 Formed: Southport, Sefton, Merseyside, England, UK
Here's some info from UK82 (thanks to Henk for letting me re-print this):
Formed in 1979
Mick 'Riffone' Gaul - Vocals (ex Paraquat, pre-Parasites, pre-Paradox UK)
Gary 'Gaz' Sumner - Guitar (ex-Mayhem, pre-The Insane)
Chris Hind - Bass (later in Mayhem)
Phil 'Din' Gaul - Drums
John McCallum - Drums
Dave Ellesmere - Drums (ex-The Insane)
Trev Aindow - Bass
Spike - Vocals (pre-Paradox UK)
Dead Cat - Bass (ex Mayhem)
Freddy Doyle - Drums (ex Mayhem)
Mal - Bass
Ales - 2nd Guitar (ex Paradox UK)
'Scouse' John - Bass
Fast Pete - 2nd Guitar

Spike formed the Retch Records label.
Their most famous member, Dave "Bambi" Ellesmere, played with The Insane (as did guitarist Gary).
Blitzkrieg were a moderately popular punk band: their debut Lest We Forget E.P. sold over 20,000 copies and Animals In Lipstick sold well, too. This success didn't stop them splitting in 1983, and their reformation in 1987 lasted just a couple of years, after which Spike formed Paradox UK. These two bands have been operating in tandem on-and-off ever since.
__________________________________________________________________________
DISCOGRAPHY
Subsequent studio albums: The Future Must Be Ours (1991), Everything Is Lies (2001), The Gathering Storm (split with Paradox U.K., c. 2004).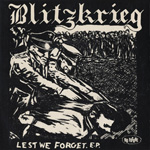 Lest We Forget E.P. (7", 1982)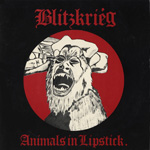 Animals In Lipstick (7", 1983)
Extraneous Releases Speak No Evil See No Evil (Tape, split with Doctor & The Crippens)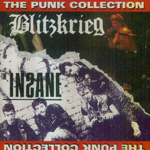 The Punk Collection (CD, split with The Insane, 1997)
Back To No Future (CD, 2003)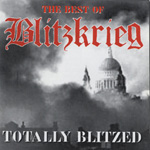 Totally Blitzed: The Best Of Blitzkrieg (CD, 2003)
Various Artists
A Country Fit For Heroes UK 12" 1982 (No Future): The Future Must Be Ours
Punk Revival New Zealand LP 1982 (Music World): Lest We Forget
No Future Finland LP 1982 (Poko): The Future Must Be Ours
Angels With Dirty Faces UK LP 1984 (No Future): The Future Must Be Ours
There Is No Future (The History Of No Future) UK LP 1984 (No Future): Abuse Of Power
No Rules UK LP 1986 (Conifer): No Compromise / City Rats
Saw Yourself In Half UK LP 1988 (Raquel): One Way
No Future: The Singles Collection UK CD 1993 (Anagram): The Future Must Be Ours / Lest We Forget
No Future: Punk Singles Collection Volume Two UK CD 1995 (Anagram): Abuse Of Power
A Country Fit For Heroes - Volumes 1 & 2 UK CD 1994 (Captain Oi!): The Future Must Be Ours
What, No Meat? ?? Tape ???? (Massakre Therapy Punk Tapes): Conscience Prayer
__________________________________________________________________________
Links