AKA: THE LICKS / EPI-X
Formed: Bishop's Stortford, East Hertfordshire, England, UK
The Epileptics were a musically inept but amusing group which was heavily influenced by Crass, and was active between mid 1978 and early 1980. Although they only released one proper record they are best known for two songs recorded by others: 'Two Years Too Late' (which was covered by Anti-Pasti) and 'Tube Disasters' (which was recorded by the band The Epileptics mutated into, Flux Of Pink Indians).
The band formed in mid 1978 with a lineup of Colin Latter (vocals), Clive Griffiths (guitar), Derek Birkett (bass) and Richard Coveney (drums), although Griffiths was soon replaced by Kev Hunter (ex-Darlex). Throughout 1978 they played in and around Bishop's Stortford - usually at The Triad - and formed a strong relationship with visiting anarchos Crass and Poison Girls, two bands with which they gigged regularly. After a no-show at a benefit gig in Bradford in January 1979 The British Epilepsy Association decided that by calling themselves The Epileptics they were guilty of "ill-conceived jocularity".
Colin, Enigma/Short Sharp Shock fanzine, 1981: When we chose the name The Epileptics we weren't out to shock. We thought it was an appropriate and serious name and anyway my mum thought of it. I bet carpenters don't mind The Carpenters having their name.
But despite this, The Epileptics became Epi-x.
The group recorded their first demo in March 1979 but split soon after. However, they reformed again and signed with Harlow label Stortbeat. Stortbeat released the band's excellent debut EP in late 1979, but had talked them into issuing it not as Epi-x but The Licks, - a more boring new wave name you would be unlikely to find. However, despite this, Stortbeat was still worried that the The British Epilepsy Association would have a fit. With its memorable "Plastic crap, plastic crap, that keeps going wrong" refrain, the title track was played to death by John Peel, but the group split in early 1980 anyway, with bassist Derek Birkett and singer Colin Latter forming the mighty Flux Of Pink Indians.
The story doesn't stop there. though. No way!
As a result of popular demand the single was reissued in 1980 by Spiderleg as Nineteen Seventies E.P.. This time it was credited to The Epileptics. As the original pressing was sold out this was welcome, but a year later third pressing came out in a terrible cartoon sleeve. This was after Flux Of Pink Indians had scored a massive hit with the Neu Smell EP, and as it had been re-released opportunistically by Stortbeat, the former Epileptics were upset.
Therefore, Colin, Derek and Kev decided to reform The Epileptics for a one-off studio session and re-record the whole EP again. And so they did, chiefly to stifle the Stortbeat single but also because Crass was toying with the idea of reissuing the damn thing yet again. This version - which featured Penny Rimbaud of Crass on drums - was called the 1970's E.P and it sailed into the Indie Charts. A delightful parting short.
A posthumous live EP, Last Bus To Debden (1981) was issued as a bye-bye pressie.
__________________________________________________________________________
Lineup 1 (mid-August 1978)
Colin Latter - vocals
Clive Griffiths - guitar
Derek Birkett - bass
Richard Coveney - drums
Steve Drewitt of Newtown Neurotics played bass on their debut show because Birkett failed to turn up.

Lineup 2 (August 1978-early 1980)
Colin Latter - vocals
Kev Hunter (ex-Darlex) - guitar, backing vocals
Derek Birkett - bass
Richard Coveney - drums

Stan Stammers played bass for a short period during this time when Derek was on holiday.

__________________________________________________________________________
DISCOGRAPHY
Singles & Albums
The Licks (7", as The Licks, 1979)
1970's E.P. (7", 1981)
Extraneous Releases
Nineteen Seventies E.P. (7", 1980)
Last Bus To Debden (7", 1981)
System Rejects (CD, 1996)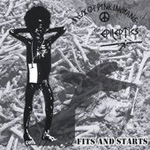 Fits And Starts (CD, split with Flux Of Pink Indians, 2002)
Smash Guitar Solos (LP, 2013)
Various Artists
Tribal Rantings UK Tape 1983 (Peaceville): Anarchy In The UK / I Hate Life In Debden
Cumstains Over My Record Collection LP 1998 (Cumstains): 1970's
Anti-Capitalism: Anarcho-Punk Compilation Vol. 4 UK CD 2007 (Overground): What Have You Got To Smile About?
Burning Britain - A Story Of Independent UK Punk 1980-1983 UK 4xCD 2016 (Cherry Red): Two Years Too Late
__________________________________________________________________________
Links
Punk 77
- This site has a really good page on the band