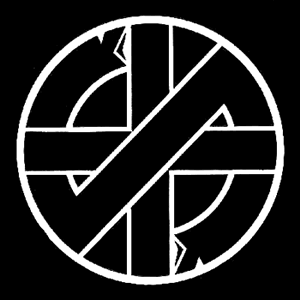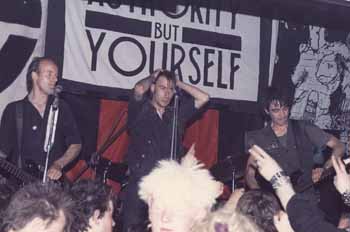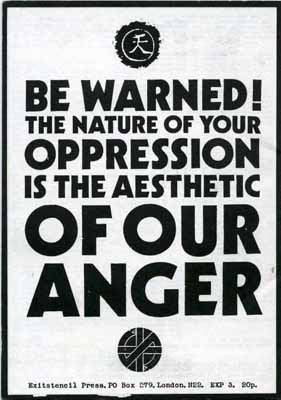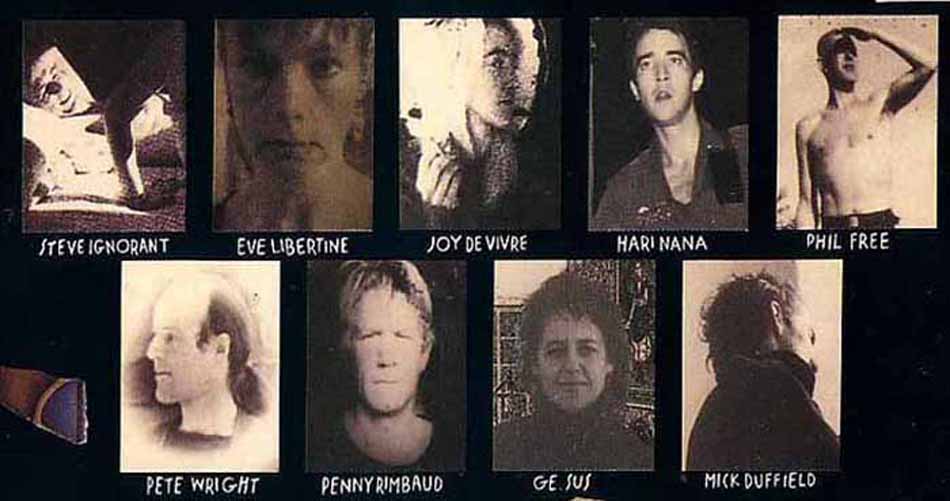 Formed: Epping, Essex, England, UK, as Stormtrooper

"Crass did actually sound like two lathes buggering each other on an elevator in an aircraft hangar". - Martin Newell, Cleaners From Venus
"Any of you lot like Crass? Crass are a big bunch of wankers, you cunts" - The Exploited
"Crass were first to say punk is dead
Now they're rightly labelled as being red
Commune Hippies That's what they are
They've got no money Ha! Ha! Ha!"
- Special Duties, "Bullshit Crass", 1982
"The single most important punk band. They were also great" - Punky Gibbon
Crass were (and some of the members, as the Crass Collective/Agenda, remain) a bunch of (mostly) middle class ex-hippie anarchists from the Dial House commune in Epping Forest. Inspired by the first wave of punk bands, they were swiftly disillusioned by the rapidity with which punk became assimilated into the mainstream. As a result they attempted to reclaim punk as the peoples' music, by creating music that was largely unmusical, introducing radical left-wing politics to the masses and setting up their own label, which recorded and distributed like-minded outfits such as Poison Girls, Conflict and Omega Tribe. They also issued three Bullshit Detector albums, compiling the vast amounts of demos they received from bands they directly inspired. (These compilations are notable for a complete absence of quality control: 90% percent of the bands on these three LPs - two of them doubles - were atrocious, and the sound quality was largely appalling, due to many of the tracks being recorded in living rooms.) Founding member - and mainstay of Dial House - Penny Rimbaud formed the band in early 1977 with working class teenager Steve Ignorant. The motley collection of like-minded souls were also Dial House residents: a couple of women (Eve Libertine, Joy de Vivre), two middle-aged men (Phil Free, Pete Wright) and a young toff (Andy Palmer, who replaced hippie Steve Herman in 1977). Rimbaud's previous musical experience was with another Dial House "group", Exit, a sprawling experimental hippie concern prone to lengthy extemporisation and art pieces, and his avant garde pretensions fuelled some of Crass's more experimental releases.
As a phenomenon, Crass' influence cannot be overstated. For many, they were the only true punk band, shunning the cult of stardom at every level (there are no glossy pictures of the band on their records), refusing to play big venues, charging ridiculously low entrance fees to their gigs, and housing their amazingly inexpensive records in stark black-and-white wraparound sleeves loaded with shock slogans and lengthy political statements. By using a peace sign as a backdrop at their concerts they single-handedly galvanised new life into CND (which had faded from prominence), took anarchist theory off the bookshelves and onto the streets, and inspired a generation to become new age travellers and crusties. Their policy of pricing their records at insanely low prices led to a proliferation of bands adopting their "pay no more" policies. Most people, and also many of their admirers, thought their music was utterly abysmal, but it's not the case. They were simply brilliant, and totally fascinating. Steve Ignorant's plebeian Cockney ranting and Eve Libertine's terrifying shrieking were two of their greatest weapons, and along with an incredible, unmistakably scratchy guitar sound (they tuned all the strings to the same note) and militaristic drumming, they were absolutely distinctive. In the space of three years they went from hammering out simplistic two-minute punk diatribes to issuing six- or seven-minute singles of incredible ambition.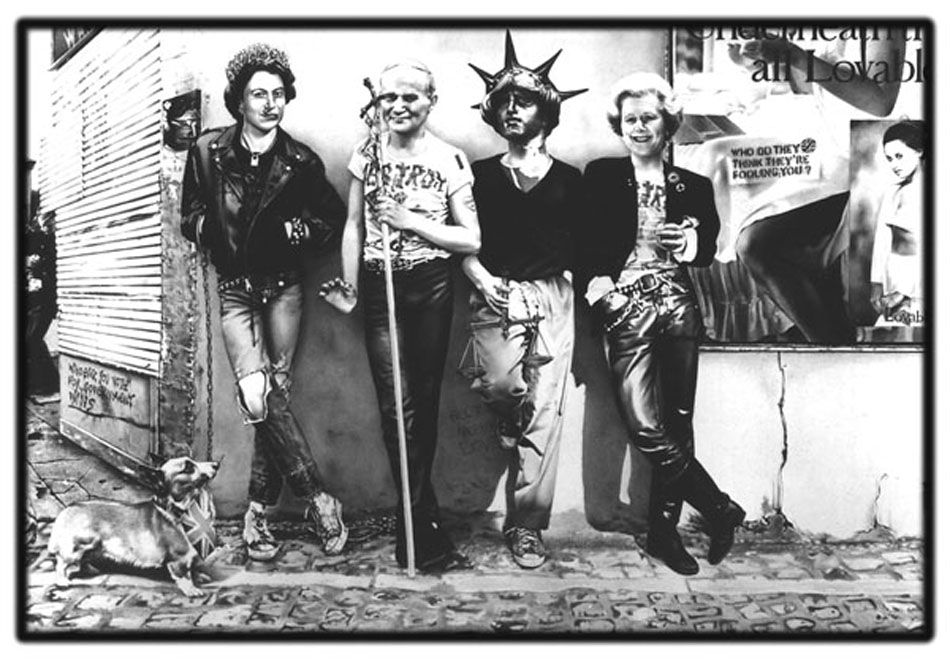 Brushes with the police and other government agencies was a regular occurrence: the Bloody Revolutions 45 came with a "blasphemous" poster (above) that resulted in a HMV ban; the authorities attempted to outlaw their debut 7" Reality Asylum. under blasphemy laws; Penis Envy was banned outright in some quarters; they famously broke into the Zig Zag club to hold a free festival; How Does It Feel? - their response to to the Falklands War - provoked another ban and the humiliation of a particularly slimy Tory MP during a radio interview; and police surveillance was not uncommon.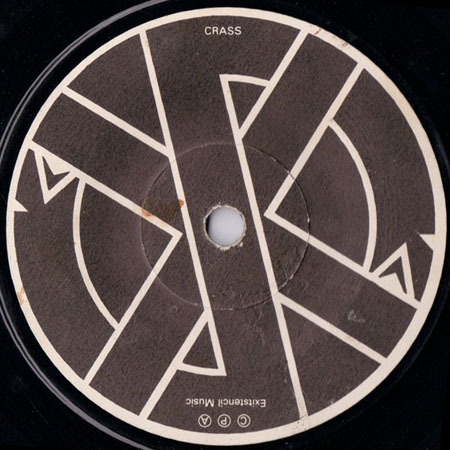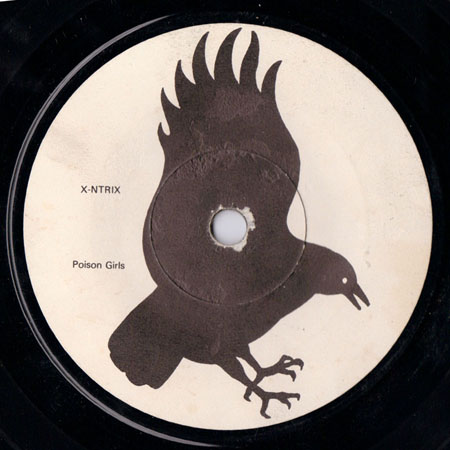 Initially known as Stormtrooper, Crass got banned from the Roxy (during their second gig there) and recorded two demos, the first in August 1977 with original guitarist Steve Herman, the second in February 1978 with his superior replacement Palmer. The band signed to Small Wonder in 1978 and issued a startling 12" "EP", The Feeding Of The Five Thousand. The disc - which actually ran for more than 30 minutes - originally ran into problems with the pressing plant, which refused to press the inordinately blasphemous 'Asylum', which describes Christ as "the ultimate pornography" and accused Him of "digging the pits at Treblinka". To get round this setback the disc was issued with two minutes of silence as a replacement and a coupon to send off for a copy of that track on a tape. The track – Eve Libertine reciting over drone/feedback guitar – was reinstated on the second pressing on Crass' own label, Crass, several years later. They also issued a much longer version of the song as their debut single, Reality Asylum. The 45 was seized by government officials and led to the group being prosecuted for blasphemy. The case was thrown out of court. A terrific Peel Session was also recorded in 1979.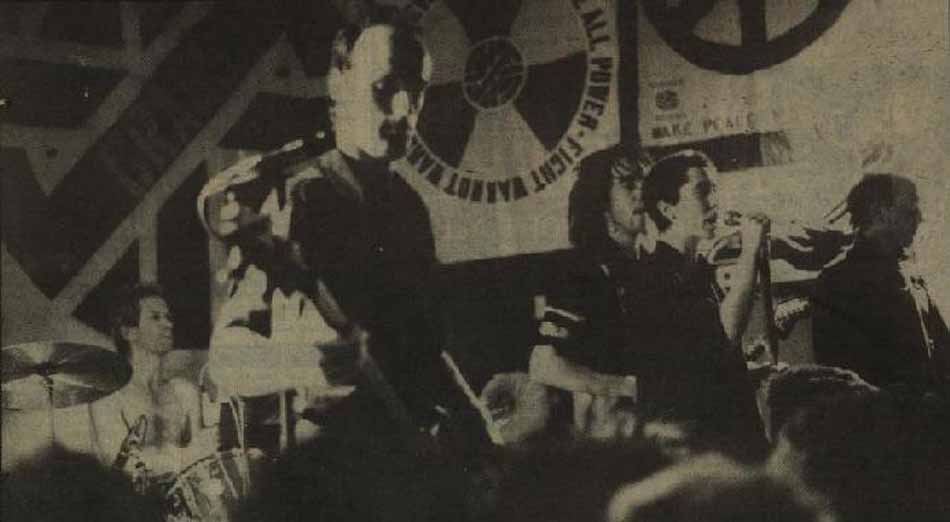 For the next six years they issued records, supported other bands and relevant causes, and made trouble for the government on a regular basis. Stations Of The Crass (a double LP) spent over two years in the Indie Charts, while superb singles Bloody Revolutions and Nagasaki Nightmare lingered there for more than a year apiece. In 1981 they released a couple of prank singles under the name 'Creative Recording And Sound Services'. Merry Crassmas did OK in the indies but was not otherwise especially notable. Our Wedding, however, earned them yet more notoriety when they convinced the publishers of Loving magazine to give it away with their shitrag in May 1981. The song was a deliberately over-the-top piece of schmaltz, sung by Joy De Vivre, that started very sweetly and ended with distorted wedding bells.
Penis Envy was released in 1981, mainly as a feminist statement but also intended to flummox fans and music critics who had them tagged as a bootboy group. Ignorant's voice was notable by its absence. Also notable was the album's increased "melodiousness", which didn't detract from its rancour. However, tracks like 'Poison In A Pretty Pill' and 'Health Surface' presented a more complex and, believe it or not, lovely side to the band. One council in England outlawed the record several years after its release.
Controversy followed controversy with the release of How Does It Feel?, which faced bans here there and everywhere and the striking double set Christ - The Album, where they laid into Oi! music as well as consumerism, war, sexism and other likely targets.
All this provocative behaviour culminated in 1983 when the band manufactured a cassette consisting of cut and spliced speeches/interviews by Thatcher and Reagan. The cleverly edited dialogue seemed to have Thatcher admit to sinking the Belgrano and starting the Falklands War merely to get re-elected. They sent it to the newspapers and watched the sparks fly. The Houses of Parliament initially thought it the work of the KGB and, when it became clear Crass were the culprits, police surveillance increased. It also demonstrated the limitations of their musical endeavours: music was, after all, entertainment.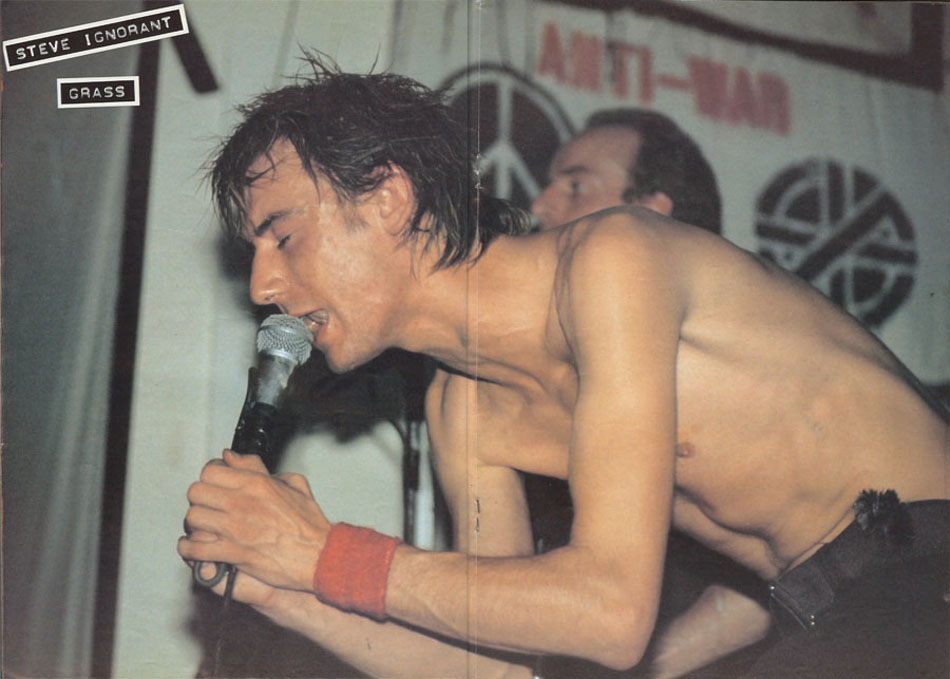 Not that their musical endeavours was approaching easy listening. Indeed, it was getting angrier and angrier: the Sheep Farming In The Falklands/Gotcha single was unbelievably ferocious (albeit peppered with humour) and on You're Already Dead< their previous pacifism was giving way to a Conflict-like despairing militarism. Yes Sir, I Will, their final album, was two sides of complete noise, horrible to listen to and completely ineffective as protest. The band ceased operations in 1984, but issued a farewell statement two years later in the form of Ten Notes On A Summer's Day, a weird, jazzy 12" single. These final recordings were marked by a) a desire to break free of the constraints of a straight-jacketed genre and b) the addressing of political and sexual matters in an abstract and poetic fashion, but all that one can honestly say about Yes Sir I Will and the Who Dunnit single (an actual pub singalong) is that musically are absolutely useless.
Following Crass' self-imposed disbandment, Rimbaud and Libertine released Acts Of Love (fifty short poems set to classical music). Rimbaud's follow-up efforts, Christ's Reality Asylum and The Death Of Imagination (again with Libertine) are based on his books are spoken word stuff, with minimal acoustic accompaniment on the latter. (Libertine has also issued solo records.) Ignorant went on to join Conflict, subsequently forming Schwartzeneggar and The Stratford Mercenaries.
Their importance simply cannot be understated.
__________________________________________________________________________
DISCOGRAPHY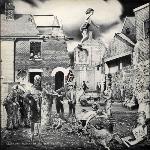 The Feeding Of The Five Thousand (12", 1978)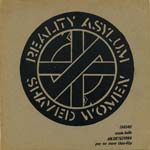 Reality Asylum (7", 1979)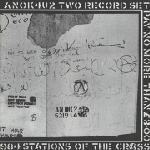 Stations Of The Crass (2xLP, 1979)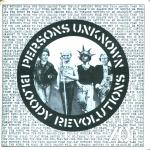 Poison Girls / Crass (7", split, 1980)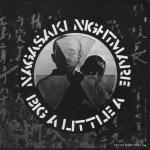 Nagasaki Nightmare / Big A Little A (7", 1981)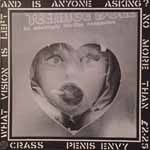 Penis Envy (LP, 1981)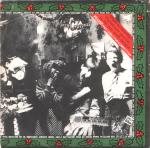 Merry Crassmas (7", as Creative Recording And Sound Services, 1981)
Christ The Album (2xLP, 1982)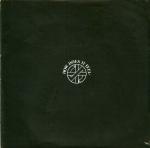 How Does It Feel? (7", 1982)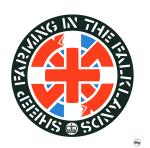 Sheep Farming In The Falklands (7", 1983)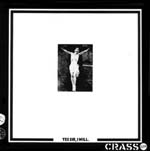 Yes Sir, I Will. (LP, 1983)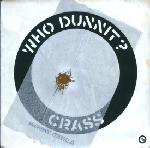 Who Dunnit? (7", 1983)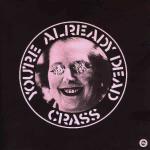 You're Already Dead (7", 1984)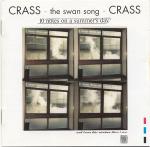 10 Notes On A Summer's Day (12", 1986)
Extraneous Releases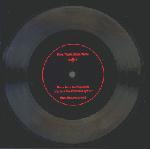 Rival Tribal Rebel Revel (7", flexi, 1981)
Our Wedding (7" flexi, as Creative Recording And Sound Services, 1981)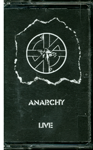 Anarchy Live (Tape, split with Poison Girls, 1982)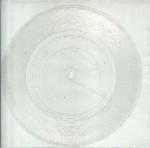 Sheep Farming In The Falklands (7", flexi, 1982)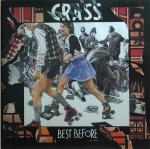 Best Before (2xLP, 1986)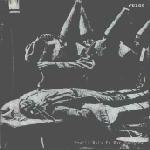 You'll Ruin It For Everyone (CD, 1993)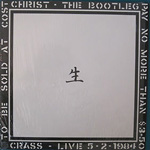 Christ - The Bootleg (LP/CD, 1996)
Do They Owe Us A Living? - First N' Last (7", freebie, 2019)
Bootlegs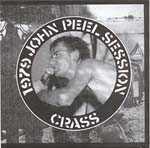 1979 John Peel Session (7", 2004)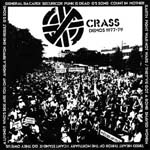 Demos 1977-79 (LP, 2007)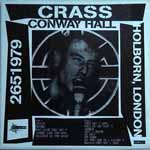 Conway Hall (LP, 2010)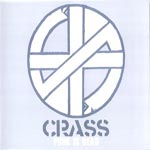 Punk Is Dead (CDR)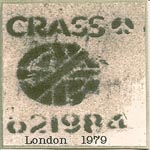 London 1979 (CD)

Various Artists
Bullshit Detector UK LP 1981 (Crass): Do They Owe Us A Living [demo]
International P.E.A.C.E. Benefit Compilation UK/US LP 1984 (R. Radical): It's You
Devastate To Liberate UK LP 1985 (Yangki): Powerless With A Guitar
In The Old Days...No.7 UK Tape 1987 (RAC Cassettes): Rival Tribal Rebel / What Do You Big A Little A
1984 And All That... UK Tape 1980s (no label): Whodunnit?
This Is The A.L.F. - Second Edition UK 2xLP/CD 1998 (Mortarhate): Sentiment
Rough Trade Shops - 25 Years UK 4xCD 2001 (Mute): Reality Asylum
Anti-Capitalism: Anarcho-Punk Compilation Vol. 4 UK CD 2007 (Overground): What Do You Want?
1980-1982 In The Old Days! UK Tape ???? (BBP Records & Tapes): Rival Tribal Rebel / What Do You Big A Little A
__________________________________________________________________________
Links