WE WERE PUNK

BEFORE YOU WERE SPUNK
Formed: London, England, UK
Although it is now fairly well known that The Pork Dukes lineup comprised members of prog rock groups Gnidrolog and Steeleye Span, The Pork Dukes were at the time a punk rock curiosity whose individual identities were a well kept secret. Much like The Snivelling Shits, nobody really knew who they were, and as a result rumours abounded. They played wearing pig masks, sometimes with their backs to the crowd, and identified themselves with suitably punky names such as Scabs, Vilos Styles and Horrendous Styles. Keith Moon might have been a member (he wasn't), same for Dudley Moore (he wasn't either). Some people even suggested they were Led Zep in disguise (possibly because Plant and Page had been known to check out the Roxy), or even the Sex Pistols.
Here is the lineup:
Vilos Styles (real name Colin Goldring, ex-Gnidrolog) - vocals, guitar
Horrendous Style aka Ron Dodge (real name Stewart Goldring, ex-Gnidrolog) - guitar, occasional saxophone
Scabs (real name Nigel Pegrum, ex-Gnidrolog, ex-Steeleye Span!) - bass
Bonk aka Rocky Rhythm (real name Nicky Forbes) (pre-The Revillos, pre-Tenpole Tudor, pre-The Phantom Chords) - drums (1977-1978)
The Goldring brothers were actors with minor success: both appeared in an episode of the BBC's The Indian Tales of Rudyard Kipling (1965) and were later seen in the stage musical Oliver! in London's west end. As members of prog rock also-rans Gnidrolog they recorded two difficult LPs in a Van Der Graaf Generator type stylee: In Spite of Harry's Toe-Nail and Lady Lake, both released in 1972 on RCA. They were not big sellers. As a matter of fact, I like me prog rock and both LPs are not bad.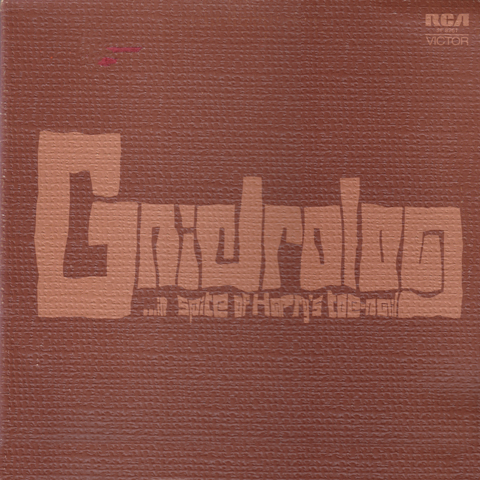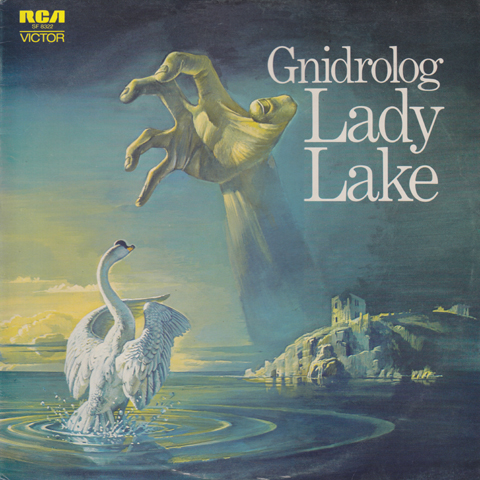 The Pork Dukes were actually formed to record and release a record for which the songs had not even been written. In early 1977 adverts appeared for a single called 'Bend And Flush'. It did not exist, but pre-orders and enquiries came in nonetheless. Ah, said the perpetrators, we'd better form a band!! The Pork Dukes were duly formed with both Goldring brothers, bassist Nigel Pegrum (also ex-Gnidrolog) and drummer Nicky Forbes, and they went into the studio with producer Germun LePig and recorded Bend And Flush, which was released on the newly formed Wood Records and eventually sold over 20,000 copies, despite no radio play, and here's why: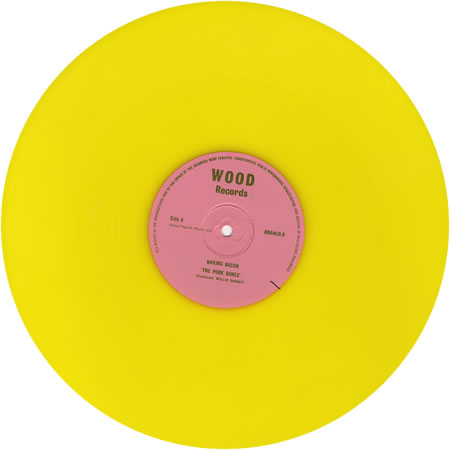 Gonorrhoea - In Your Ear
Got The Thrush - Up My Crutch
Never Had - The Runs So Bad
BBBBBBBBB-Bend & Flush
Systems Got You - By The Balls
Police Department - County Halls
Spend Your Cream - Out In A Rush
BBBBBBBBB-Bend & Flush
Anus Bullshit - From Your Guts
Tax Deduction - Power Cuts
Diarrhoea Baby - Smelly Mush
The B-Side, 'Throbbing Gristle', was even ruder:
Throbbing Gristle - Give me some head I'll be coming when you whistle
Throbbing Gristle - On the bed I'm gonna spray you toe to head
Throbbing Gristle - In my thighs begging for a taste of Mrs. Thatcher
Its gonna hit you right between the eyes
Cause you pick up bottles in your snatcher!
As the band had given themselves suitably silly punk rock names and were clearly quite skilled musicians, no one was quite sure whether they were punk parodists or the real thing. They may have been a bit of both. Certainly nobody was writing more blatantly offensive material than the Dukes, not even Wayne County (who released a record actually called the Blatantly Offenzive E.P.!). However, they were popular in spite of being, as John Peel put it, "manifestly unbroadcastable".
Making Bacon came out, suitably enough, on 12" vinyl, a bit of a novelty in itself, especially when it was a lovely yellow colour. Backed with the reggae number 'Tight Pussy', it was even better than the debut. Single number three, Telephone Masturbator was more of the same (Sample lyric: "Hello young lady - I found a new trick pull down your panties - and imagine my prick"), but it's B-Side? Was this - gasp! - some kind of proper "message" song? "Melody Makers - You're just a bunch of wankers" it went, "and fucking Sounds and NME you fucking cunts". By this time the band had a keyboard player involved, the equally shadowy Mack E. Valley.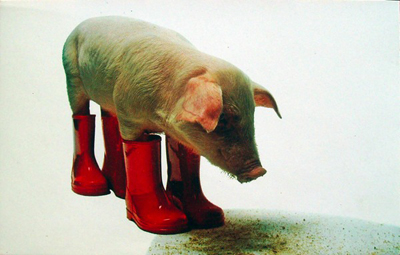 Like the Macc Lads, with whom they shared an obsession with bodily fluids/organs, The Pork Dukes had a way with a tune, peppering their tin-pot punk diatribes with hummable melodies. Unfortunately, while in isolation they were entertaining, on their debut LP Pink Pork (1979) they became a bore, and one tendency is a big problem: while the chirpy cry of "b-b-b-b-b-b-b-b-b-b-b-b-bend and flush" on their debut single was quite pleasing, hearing them go "t-t-t-t-t-t-t-t-t-t-t-t-telephone masturbator", "l-l-l-l-like it, w-w-w-want it", "m-m-m-m-m-m-m-m m-m-m-melody makers", and "d-d-d-d-d-d-d-dirty boys" endlessly wears pretty thin. 'Pink Pork' is well-played punk/R&B/rock and occasionally funny, but the locker room humour, bereft of any real wit, now sounds more than a trifle sad. Ironically, despite being free to sing anything, no matter how offensive, Vilos Styles and co. merely reveled in old school sexism.
A second long player was recorded the same year, with a second keyboard player (Guardian Angel, rumoured to be a musician of international repute), but Pig Out Of Hell wasn't released until 1981, by which time the band had long since split up and Bonk had changed his stage name to Rocky Rhythm and was playing in The Revillos. 'Pig Out Of Hell' is bad, bad, bad: too many cover versions, not nearly enough abuse ('Stop', for instance, is merely a soft pop-reggae number), tame playing. It's a hard, feeble slog.
The band reformed in 1993 with all the original members, and continue to gig and record.
__________________________________________________________________________
Lineup:
Vilos Styles (real name Colin Goldring, ex-Gnidrolog) - vocals, guitar
Horrendous Style aka Ron Dodge (real name Stewart Goldring, ex-Gnidrolog) - guitar, occasional saxophone
Scabs (real name Nigel Pegrum, ex-Steeleye Span!) - bass
Bonk aka Rocky Rhythm (real name Nicky Forbes) (pre-The Revillos, pre-Tenpole Tudor, pre-The Phantom Chords) - drums (1977-1978)
With:
Germun LePig - drums (1977)
Mack E. Valley - keyboards (1978)
Guardian Angel - keyboards (1979)
__________________________________________________________________________
DISCOGRAPHY
Singles & Albums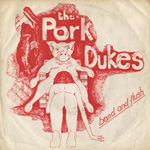 Bend And Flush (7", 1977)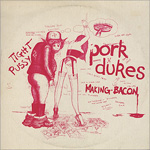 Making Bacon (12", 1977)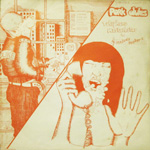 Telephone Masturbator (7", 1978)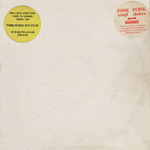 Pink Pork (LP, 1979)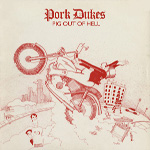 Pig Out Of Hell (LP, 1981)
Extraneous Releases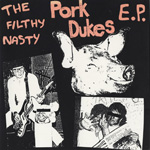 The Filthy Nasty Pork Dukes E.P. (7", 1994)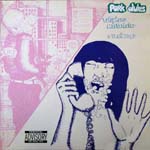 Telephone Masturbator (12", 1999)
All The Filth! (LP/CD, 1999)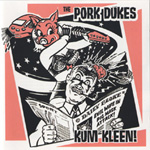 Kum Kleen! (CD, 2003)
Promos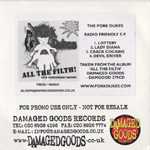 Radio Friendly E.P. (CDS, 2007)
Various Artists
Streets UK LP 1977 (Beggars Banquet): Bend And Flush
Raw And Rare British Punk Volume 4 UK LP 1998 (A-Trax): Bend And Flush / Throbbing Gristle
__________________________________________________________________________
Links
The Pork Dukes Official Website
Wikipedia