Formed: Philadelphia, USA, 1974
"If you're bored with white teenagers playing freeze dried Chuck Berry, this could be the band for you. PURE HELL is an all Afro punk power band. Instead of a white kids actin' semi-black, you've got black kids actin' semi-white. You've seen Mick's Little Richard. You've seen hippies do Robert Johnson. Have you seen the Spade Iggy Pop? His name is Stinker. He's really exciting and so is the whole group. And it's more than just a novelty". - Glenn O'Brien's Beat, mid 1970's.
This obscure group beat the Bad Brains to the title for the first black Punk band, but proved considerably less groundbreaking. They signed to Golden Sphinx, the label formed by Curtis Knight, whose main claim to fame was "discovering" Jimi Hendrix (he played in Knight' band in the 60's). Knight actually traded on this connection for many years after his working relationship with Hendrix's had come to an end.
Pure Hell's career, in short: they formed in Philadelphia in 1974, playing fast rock and roll music. Although their shows in Philly were allegedly exciting, no breakthrough was forthcoming, so they moved to New York in 1975. There they roomed with Johnny Thunders and though him they met Knight, who became their manager and took them to Europe, where he marketed them as "The World's First All Black Punk Band". They dressed pretty punkily, but also wore lots of makeup, and this combination of an arresting image and strong songs made a considerable stir.
Following a strained tour in Holland and a memorable show at the Masque in L.A. where they played with Dead Boys, The Cramps and The Germs, they recorded their sole single These Boots Are Made For Walking, a cover of the Nancy Sinatra song, which was backed with a great original, 'No Rules', which is melodic but hard punk with a great catchy tune. (Despite frequent claims from everywhere on the internet that this went into the UK Top 40, it does not feature in the Guinness British Hit Singles & Albums, so I assume that this "Top 40" was an alternative chart.) They were rewarded in late '78 with an article in NME with the header "Just Another Bunch of Middle Class Kids with Silly Names and Spiky Haircuts".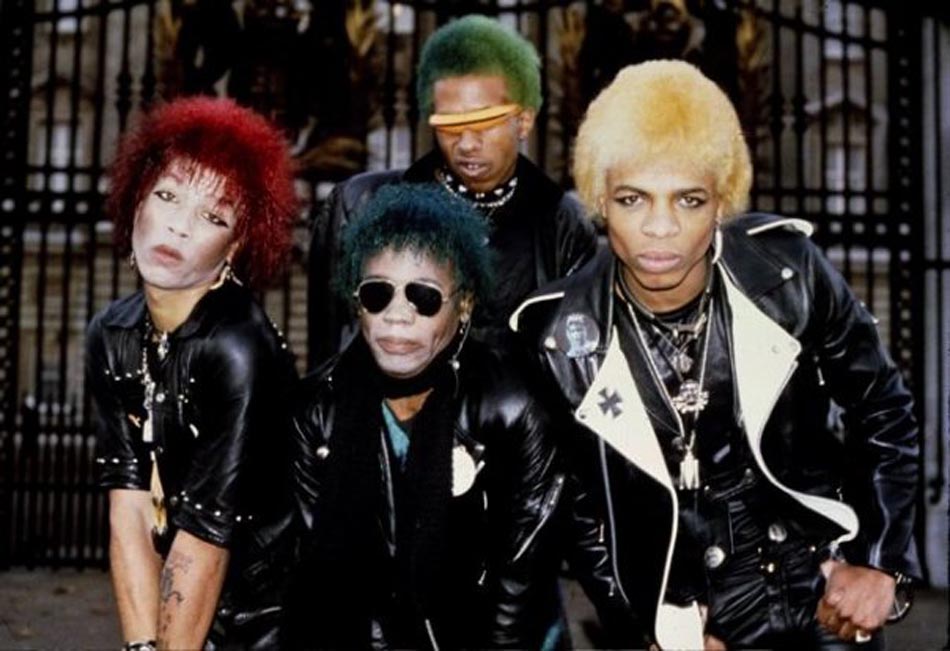 An album called Noise Addiction was also recorded, but when the band sacked Knight - among his numerous infractions was the molestation of an underage fan - he kept hold of the masters and the thing never got released.
With new manager Roy Fisher they made some further recordings in 1978, but these also remained unreleased. They split in 1980, having failed to maintain the considerable momentum achieved with Knight as their manager. (Knight died in 1999.)
They reformed in 1986 (without Kenny "Stinker`Gordon) in California, but again no new records were forthcoming, despite occasional collaborations with Lemmy (Motorhead), Mick Cripps (L.A. Guns) and Charlie Clouser (Nine Inch Nails).
In 2005, 'Noise Addiction' was finally released. They still continue to perform.
ORIGINAL LINEUP:
Kenny "Stinker" Gordon - vocals
Preston "Chip Wreck" Morris III - guitar
Kerry "Lenny Steel" Boles - bass
Michael "Spider" Sanders - drums (RIP 2002)
DISCOGRAPHY
Singles / Albums
Various Artists
Links
GHETTO PUNK ROCKER - Click here for a lengthy band bio
LITTLE BROWN GIRL - Excellent band bio