ABOVE L-R: Dean Tyrrell, Nigel Kimberley, Tom Hipkin, Phil Parker
Formed: Cambridge, Cambridgeshire, England, UK
Band bio and photo by Tom Tremayne (thanks):
Cambridge, in the heart of East Anglia, has always had a thriving music scene but four-piece Subculture were the one and only authentic skinhead punk band to emerge.
Formed in the late '70s by bassist Phil Parker and guitarist Dean Tyrrell, the band felt they could get somewhere musically and, needing a singer, Tyrrell recruited frontman Tom Hipkin after chatting in a record store one Saturday. Hipkin was the perfect, maladjusted urchin and brought with him a happy-go-lucky Nigel Kimberley on drums. Tyrrell, a talented and well-respected guitarist from the get go, rehearsed the band hard; at first in a tiny bedroom and then in a purpose built shed and they quickly got good enough to look for gigs on the London circuit. In late '81, Hipkin found a phone number for 'Skunx', a club in City Road, Islington which was home to the Oi!/Punk scene and the band eventually gigged there five times supporting Red Alert, The Business, The Adicts, Peter and the Test Tube Babies and Blitz.
During this early period there was praise in the national music press for the band and despite being one of the youngest groups on the scene they aroused considerable interest. After some line-up changes which saw Hipkin eclipsed by new singer Peter Matthews, the band continued gigging, recorded an EP (Loud And Clear) and were briefly under the wing of Alan McGee. In recent times they've also released some decent CDs, doing an excellent cover for example of '16 Tons'; originally a US hit for Tennessee Ernie Ford! New bassist, Carsick Steve, is mohicaned and accomplished and the super cool Matthew Johnson on drums is one of the tightest kit men on the punk scene today. The band still gigs regularly and have a strong following in both the UK and Europe.
Additional Information from the band's website:
Jump forward to winter 2010. The band re-grouped to put together the new compilation CD, From Herbert Street To The 100 Club, a project begun because there was a general feeling that there was some unfinished business to be tied up; The band had other material laying dormant on old studio tapes that deserved to be heard, for no other reason than to show that they weren't all about the 'Loud and Clear' EP. During re-recording, and editing of the tapes, they were contacted by various promoters who had heard that things were happening again, and offered some live slots. The band played at Rebellion 2012, and also with Stiff Little Fingers in 2011.
__________________________________________________________________________
DISCOGRAPHY
Subsequent studio albums: Tales Of A Promised Land (2018).
Singles & Albums
Loud & Clear (7", 1983)
Extraneous Releases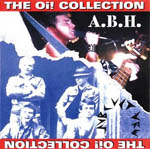 The Oi! Collection (CD, split with A.B.H., 1998)
From Herbert Street To The 100 Club (CD, 2011)
Voice Of The Young From The Good Old Days (The Spaceward Session) (7', 2012)
The Early Years (LP, 2015)
Various Artists
Oi! Oi! That's Yer Lot! UK LP 1982 (Secret): Stick Together
Oi! Oi! That's Yer Lot! / Back On The Streets EP UK CD 1993 (Step-1 Music): Stick Together
The Bright Side Of Oi! - Oi Classics Vol. I Germany LP 1994 (Street Kid's): Loud And Clear
Oi! The Rarities Vol. 1 UK CD 1995 (Captain Oi!): Loud And Clear / Rogue Trooper / University City
Oi! The Demos UK CD 1997 (Captain Oi!): In My Time
Burning Britain - A Story Of Independent UK Punk 1980-1983 UK 4xCD 2018 (Cherry Red): Loud And Clear
__________________________________________________________________________
Links
Record Collectors Of The World Unite