Formed: South London, England, UK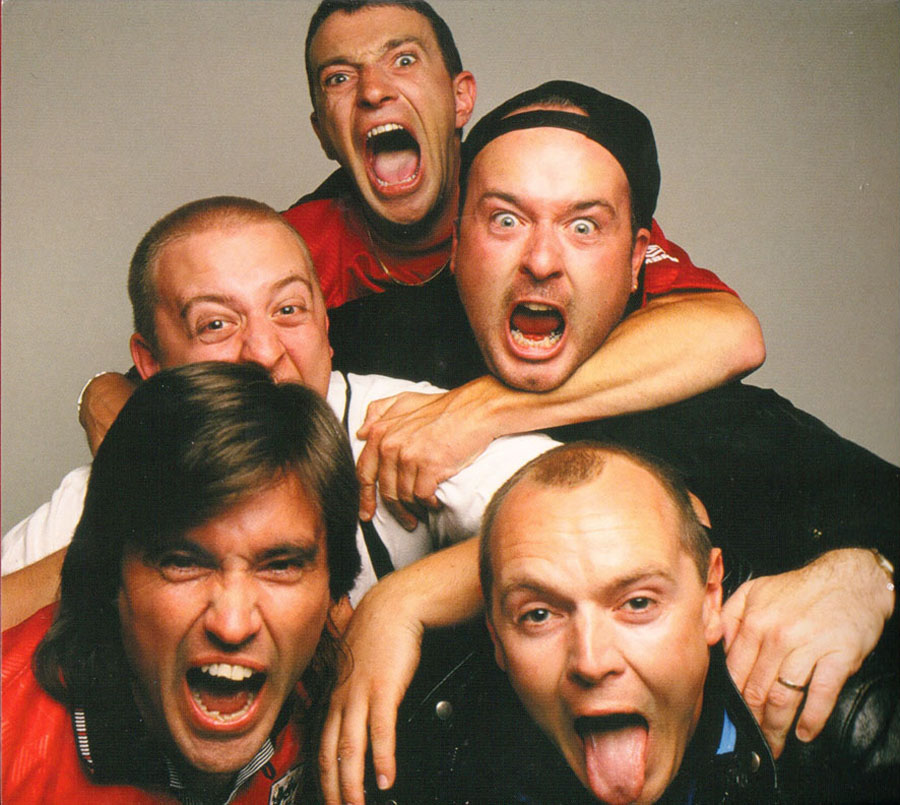 Drawing inspiration from Sham 69, these South London lads (and indeed they pride themselves on being "lads") have been taking Cockney pride into territory that spills over into parody since 1979. Along with Cockney Rejects and Cock Sparrer they are probably the UK's foremost Oi!/Streetrock band, and even at their worst are miles ahead of most their competition (Infa-Riot etc). Unusually for a punk band, their best material was not their earliest: although they hit an early high with 1981's 'Harry May', as the 80's progressed they began playing slower and writing better songs. By 1985 they were delivering a commendable barrage of guitar noise very much similar to The Professionals, with songs about football, hooliganism, and football hooliganism, with anecdotes about rioting, smashing up discos and rucking thrown in for variety. Much of the time it sounds very much tongue in cheek, but they are capable of insight and even pathos on such songs as 'Out In The Cold', 'Foreign Girl' and 'Informer'. By the time they split in 1990 they seemed like yesterday's men, but when they reformed in 1992 they were astonishingly good, with their extremely charismatic and likeable singer Mickey Fitz sounding more Cockney-fied with each release.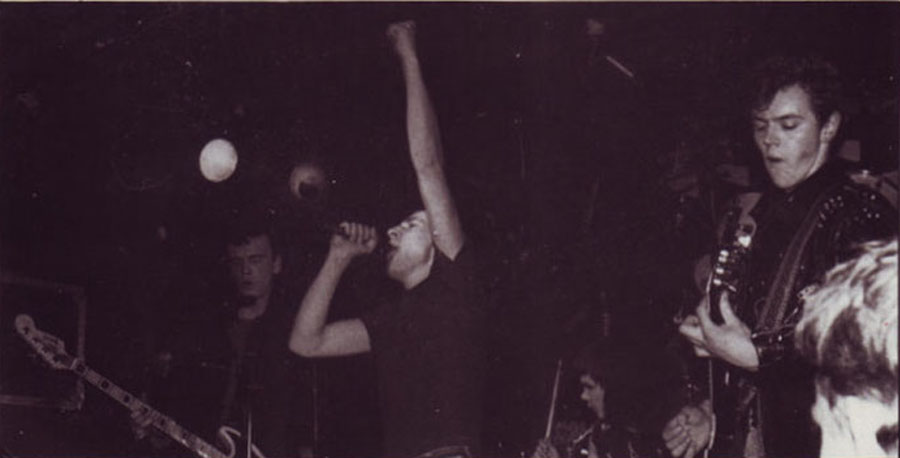 Surfacing initially in 1980 with the poppy 'Out In The Cold' on the rather ropy
A Sudden Surge Of Sound
compilation, favourable review from Garry Bushell's in Sounds had them linked to Oi! scene, with Bushell including them on the
Carry On Oi!
comp, where they contributed two standout tracks, 'Suburban Rebels' and 'Product'. By the time of their first single,
Harry May
, they were therefore extremely popular. The single is an utterly classic example of singalong Oi!, but it was released in late 1981 after the Southall incident, where skins and Pakistanis rioted at an Oi! showcase. The band found themselves labeled pretty much as racists, a completely unfounded accusation, and by the end of the year only Fitz remained in the group, when founding members Steve Kent (guitar), Martin Smith (bass) and Nick Cunningham (drums) left.
SURBURBAN REBELS
They're the sons and daughters of well off bankers
Tom Robinson's army of trendy wankers
Flared blue jeans and anoraks
With yellow streaks all down their backs
Who act so tough when their on tv
But trendy wankers don't scare me
Oi!, Oi! Oi! Chosen few
This is what we think of you
Suburban rebels playing at reds
You would be urban terrorists
You don't scare us with your badges and banners
You know fuck all about heavy manners
You're the middle class kiddies from public schools
Who write the slogans on the toilet walls
Like Tony Benn's clones in plastic masks
You wave a hammer and sickle, never Union Jacks
Got lots of mouth when your in a crowd
But when your alone you don't speak loud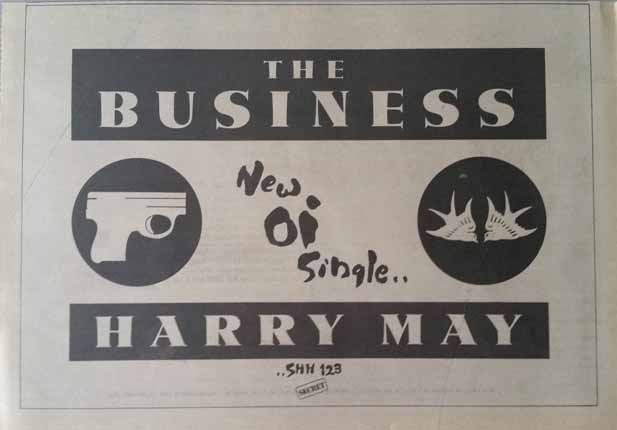 EMPLOYERS BLACKLIST
Job chances seem very thin
It's a losing battle we must all win
The C.B.I. are winning keep down the pay
Mysterious people calling early in the day
The "x" has appeared another lost life
No tears are shed for the children and wife
The dailies ignore it or treat it with fact
Still when have they been know to report fact
In our country so fair and free
So say the holders of the economy
There is a monster said not to exist
They call it the employers blacklist
Nobody really knows what's going on
Be a rebel and you'll always be wrong
Same old side of the story told to the screen
The government is too wise to be tricked
Anyone too clever has got to be nicked
You listen to this and you think I'm sick
Well if you think that mug, you must be thick
Fitz bounced back with a new lineup in 1982, featuring three members of a local band called The Blackout: Steve Whale (guitar), Mark Brennan (bass) and Kev Boyce (drums), and this lineup released the grammatically unsound 7"
Smash The Disco's
(1982), another indie hit and another great record. Unfortunately, their debut album, also recorded an in 1982, never surfaced because the master tapes went missing. (They were eventually found and released in 1988 as
Smash The Discos
.)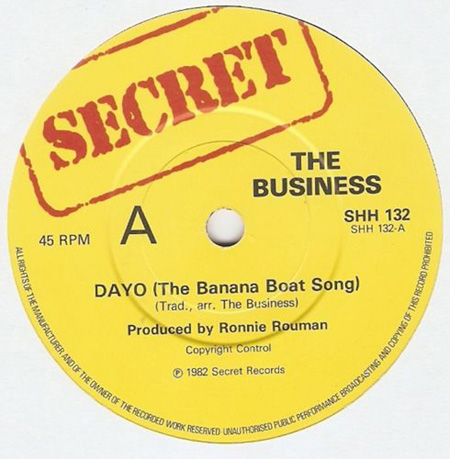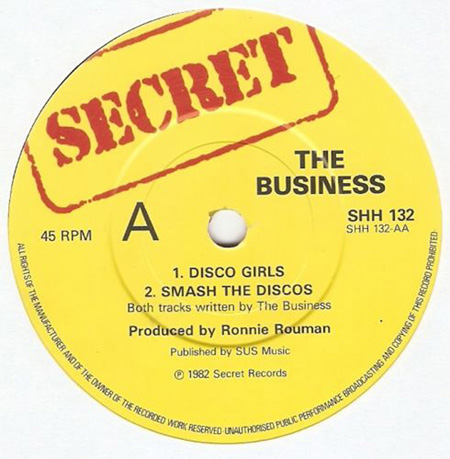 SMASH THE DISCOS
Anti-disco has come to town
Do the geezers dressed like clowns
Destroy the clubs that make us sick
Smash them up brick by brick
Smash the discos smash 'em up
Posey leathers wedge hair cuts
Come on now let's do the sluts
Now it's time for them to learn
Punk with vengeance has returned
Smash the discos smash 'em up
TV, Radio and all they play
Disco music's had it's way
Choice of music's common farce
Stuff disco up your arse
Smash the discos smash 'em up
They finally made it to the album racks in 1983 with the patchy
Suburban Rebels
. It includes their best known number, 'Harry May', in its original 7" version, and added a dozen more working class anthems, all played with a lack of finesse but a fair amount of muscle. Cockney Rejects guitarist Mickey Geggus produced but he didn't do much to colour their sound, and the weaker numbers - including a dreadful re-working of 'Employers Black List' (B-Side of 'Harry May') – plodded. In the face of bad reviews (even Bushell slammed it) and poor sales for the fourth official Oi! LP (
Oi! Oi! That's Yer Lot!
) the band split up again shortly after its release.
1980-81 Official Bootleg
crept out in 1983, containing a very sloppy live side and some early recordings, one of which (the excellent 'Out In The Dark') sounds a bit like The Jam (although Weller probably wouldn't have kept the sheep noises). Spurred on by its indie chart success, Fitz reformed the group and came up with
Loud, Proud And Punk – Live!
. Recorded in a studio with crowd noises added, it featured many songs in common with 'Suburban Rebels' and the then-unreleased 'Smash The Discos' but was no more than adequate.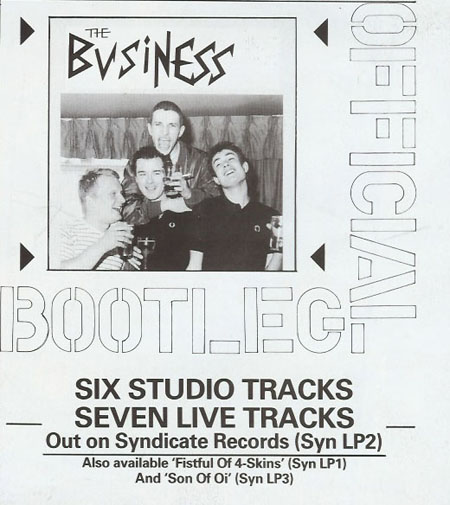 It was at this point that The Business - Fitz, Whale, Brennan and new drummer Micky Fairbairn (ex-Skinflix) - started becoming a properly good group. Although it occasionally verges on hard rock, album #2 Saturday's Heroes was a leap forward, with meatier production and better songs.
SATURDAY'S HEROES
There's a handy little firm at the game today
Having a laugh causing trouble on the way
Rucking on the terrace, bundles in the street
Fighting for glory in half lit streets
Gonna take away my I.D. Card
But you'll never get me at Scotland Yard
We're Saturdays Heroes
It's gonna go off in the centre of town
We're the boys no one shoves us around
Pulling down fences, smashing up bars
Putting out boots through brand new cars
Say they're gonna stop us, won't let us go
But they'll never get me on video
SPANISH JAILS
Only nineteen with no political stance
A victim of a government, meant he hadn't a chance
Thrown into the darkness never see's the light
Beaten up so much he cannot fight
Come on Spain give him bail
Come on Spain give him bail
Come on Spain free him Come on Spain free him
From your Spanish jail
I read the morning papers, can't believe my eyes
Police the world over, always telling lies
Spanish gonna hurt you, bring you to your knees
Lock you up forever and throw away the keys
NEVER BE TAKEN
We've taken the flak, survived attack
We've made our stand, despite the high command
We took the cause, we fought your war's
A battle cry, hold your hands up high
Never been taken (You'll never take us)
The fight goes on, we shall be strong
We take the field, the weapon of hate we wield
Friends betrayed, the plans are laid
Guns will blast, the time for talk has passed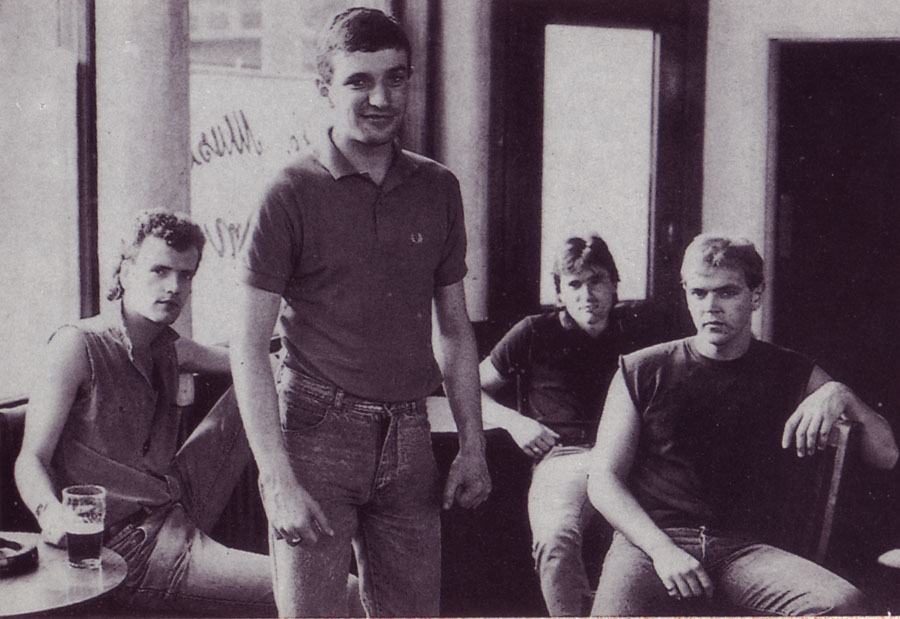 The remainder of the decade was spent grabbing headlines: the Drinkin' & Drivin' single saw them being accused of an irresponsible attitude to road safety; in August 1996 there was a riot at the Isle of Wight Scooter Rally, ending with the beer tent collapsing and caravans exploding; and at 1987's 'The Main Event' Oi! showcase the band was CS-gassed.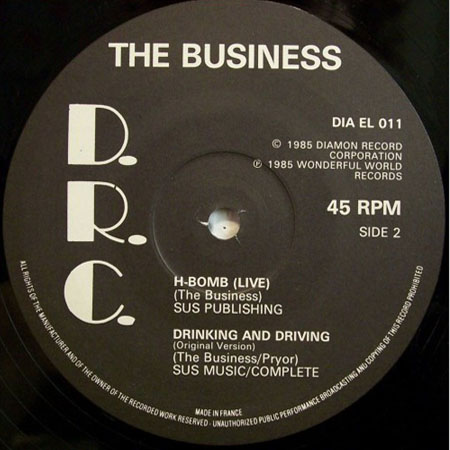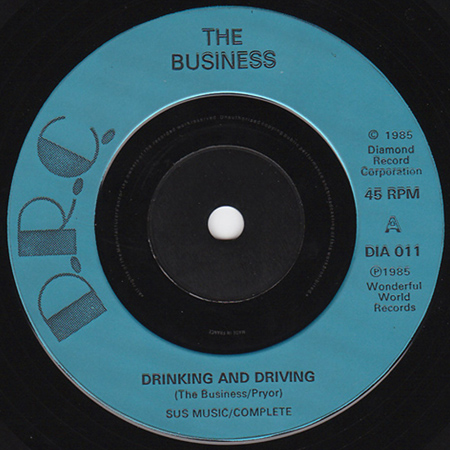 DRINKING AND DRIVING
Half past 5 I'm in the pub
Six O'clock it's home for grub
Eight O'clock I'm back to the bar
Sod the walk I'll take the car

Knock it back
Have another one
Drinking and driving is so much fun
In the motor off you go
Not too fast and not too slow
Keep your head and keep your cool
Must avoid that rightful pull
Knock it back
Have another one
Drinking and driving is so much fun

As you meander down the road
Don't forget your highway code
See the spot and take your pick
Out of the car to be sick!....
Knock it back
Have another one
Drinking and driving is so much fun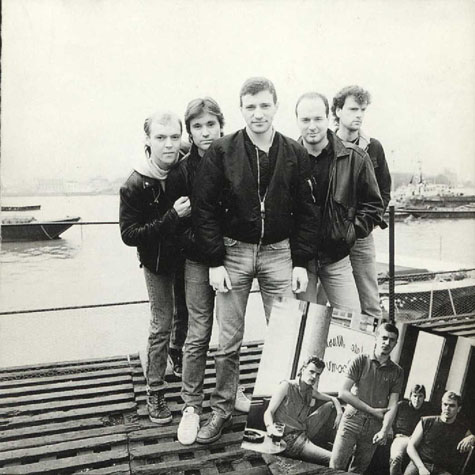 WE'LL TAKE 'EM ON
They tried to stop us with their rumours and their lies
They said "ignore 'em and we'll cut 'em down to size"
They didn't question that we'd fall
They said "They've beat us we've kept those bastards down
Our world's a better place without those fools around"
They didn't reckon on our call
We'll take 'em on
We're coming back they got it wrong
We're coming back we shall be strong
And now they reckon that we'll spoil their party game
Destroy their memories and drive their kids insane
They cannot see that they are blind
So they'll attack us with papers horror show
Divide and fool us make sure we don't grow
So let us pay them back in kind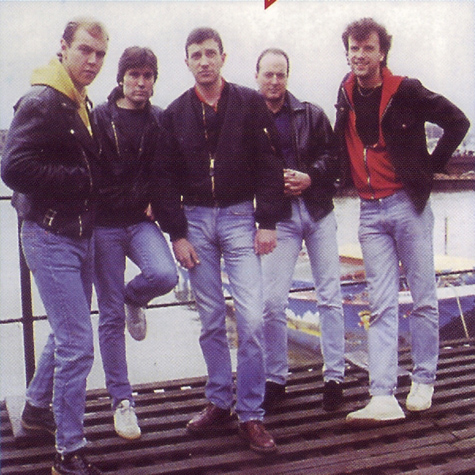 Welcome To The Real World - their third studio album - was recorded as a quintet with original guitarist Steve Kent back in the fold. It bulged with smile-inducing macho nonsense ('Mouth An' Trousers', 'We'll Take 'Em On', 'Never Say Never'), songs about how stupid "normal people" are (the title track) and their first Anti-Maradonna number ('Hand Ball'). It's was even better than the previous LP, but proved to be their last LP for several years. Brennan left to concentrate on Link Records (and then Captain Oi!) and Whale formed The Heavy Metal Outlaws with Roi Pearce (Last Resort/4-Skins).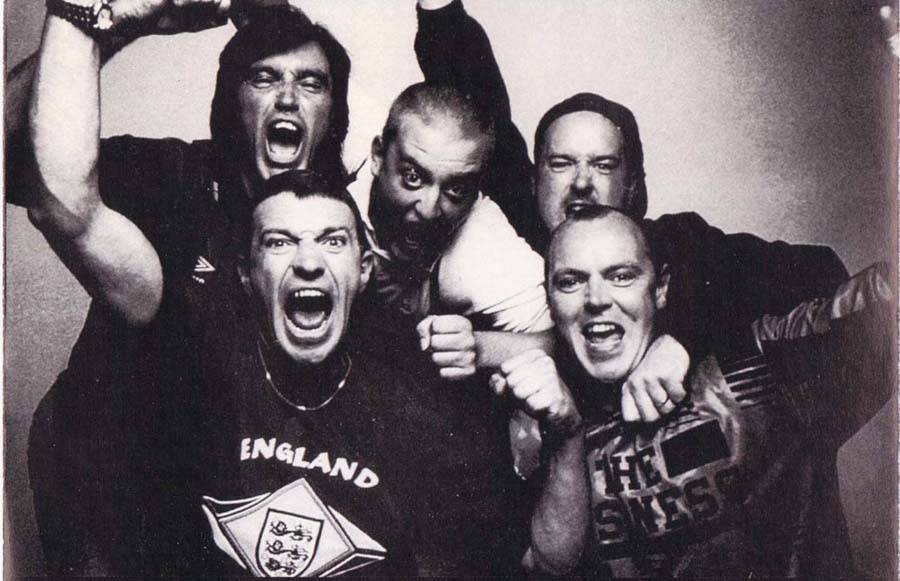 FItz, Whale and Fairbairn resuscitated the band in 1992 with Lol Proctor of The Elite on bass, and in 1994 released the terrible Anywhere But Here single in 1994. Fortunately, Keep The Faith had no shortage of terrace-friendly choruses fuelling ditties about football ('Maradonna', 'Viva Bobby Moore') and Kurt Cobain ('Holiday In Seattle'). It tighter, faster and more musically adept than ever, proving there was a heck of a lot more life in the old dogs . All three songs from the preceding single were reprised in far superior form. Recommended.
The Truth The Whole Truth And Nothing But The Truth, their fifth proper album, was produced by Lars (Rancid) and Pat Collier (The Vibrators), and the band sounded more like a parody than ever. The songs were shorter and faster, the lyrical content confined almost entirely to working class gangsters, football and how great punk is (and other types of music aren't). For example:
SPIRIT OF THE STREET
I'm coming at you with the spirit of the street
From the ghettos with a hardcore beat
It don't matter if you're black or white
It's not your colour that makes it right

If you make a stand
I'll stand with you
If you take my hand
We'll see it through

Oi you punk what's wrong with you
Hardcore kids are coming through
Oi you skin how about you
You must unite or we'll be through
We've done our best to get by
Problems with this issue won't subside
One by one you can make a choice
One beating heart and inner voice
DEATH TO DANCE
It drives me mad, it makes me sick
There's no booze to make 'em tick
Just ecstasy and laser lights
They're too high to wanna fight

Death to dance
Death to dance
Gotta kill it off while we got a chance
Anonymous faces senseless noise
Music by numbers electric toys
Kids ain't brainless know what you nicked
Money from mugs another bands hit
It's disco music with another name
We smashed 'em up now we're back again
Dealers in the warehouse being brave
Now the time to rave to the grave
In actual fact, this may well be their most honestly enjoyable album, particularly 'Southgate (Euro 96)', with his once-heard-never-forgotten segue into a radically re-worded, hilarious rendition of 'Lord Of The Dance'.
SOUTHGATE (EURO 96)
Gareth Southgate stood on the spot
Couldn't believe the chance he got
He'd be a hero with one toe punt
But sent it at the keeper oh what a cunt
SOUTHGATE'S GOING HOME, HE'S GOING HOME
SOUTHGATE'S GOING HOME, HE'S GOING HOME
SOUTHGATE'S GOING HOME - OH NO HE'S MISSED THE BUS

Should he hit to the left
Should he hit to the right
Don't really matter coz he was shite
That's the way our luck goes
Couldn't see the ball coz of the size of his nose
If I score this it'll be a killer
Coz they won't let me at Aston Villa
Didn't take a run up for the kick
Even me mum thinks I'm a prick
DANCE NOW WHATEVER YOU WILL BE
BUT HE MISSED THE FUCKING PENALTY
SO WE SMASHED UP THE TOWN
WHEREVER WE MAY BE
COZ HE MISSED THE FUCKING PENALTY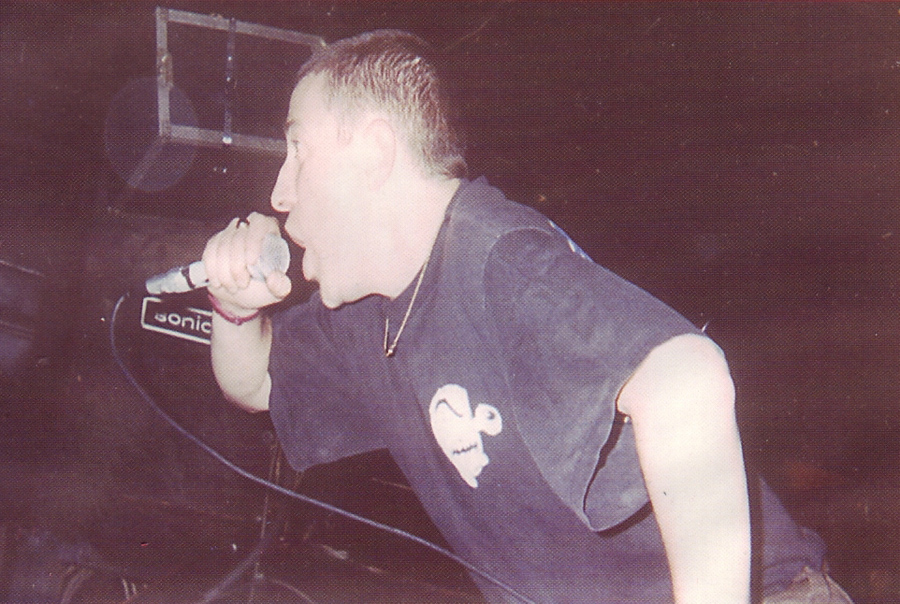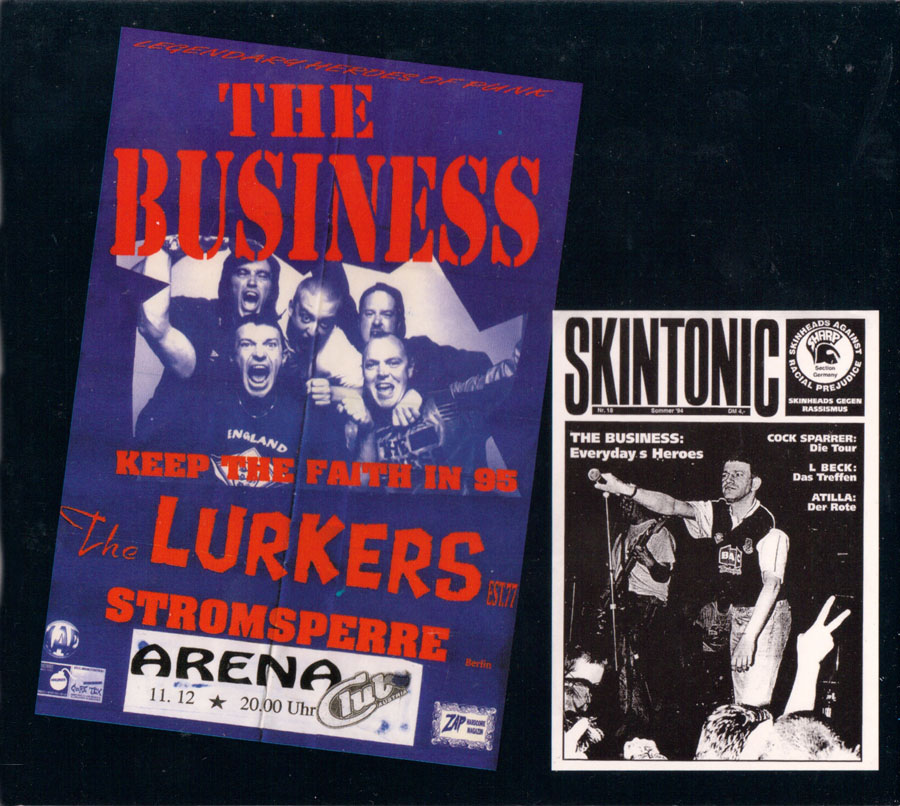 Following a self indulgent split album with drinking buddies the Dropkick Murphys,
No Mercy For You
reverted to the band's old style, with one ditty ('Code Red') relating to a mate of the band who participated in a prison breakout, two songs ('Hell To Pay', 'Take Us And Use Us') from a gangster film, and one called 'Guinness Boys'.
NO MERCY FOR YOU
The glimmer of the past is held so dear
there`s nothing else left for me here
We were young and withstood the knocks
we were the kings of the tower block
Smashing windows, fight all day
your no good - my mother would say
on the same side, even way back then
I've been kicking around this town so long
I don`t know what to do
Generation
Generation
No Mercy for you
All the buildings in my town are grey
Cold, Mean, Cruel - No future, No Way
With its own justice and rules within
walls this filthy have no sin
The police don`t come round here no more
protect the rich and fuck the poor
to old to cry, to young to know why
I justify this last goodbye
Under The Influence
is the inevitable, veritable stinker in the band's career. A pointless covers album, the band peddle all-too-reverent and decidedly inferior versions of olde Englishe punke songs (two
Pistols
, two Shams, 'Do Anything You Wanna Do', 'London Calling'), and even a few new American ones (two Green Day hits). Worse, two songs are merely well-known 1985 recordings ('Hurry Up Harry', 'Get Out Of My House'), while the second version of 'Do They Owe Us A Living' and 'Pretty Vacant' are from
Loud Proud & Punk
. Outside of its moderate novelty value, this is useless.
They still gig, and they still make records.
LINEUP 1979-1981:

Mick Fitz - vocals
Steve Kent - guitars
Martin Smith - bass
C.F.C.(Crowds Favourite (Nick) Cunningham) - drums and lotsa moans


Recorded everything up to and including the Harry May 7", and fell apart in late 1981 just after recording 'Step Into Christmas' for the Bollocks To Christmas comp.

LINEUP 1981-1983, 1984:

Mick Fitz - vocals
Mark Brennan - bass
Steve Whale - guitar
Kev Boyce - drums

Formed after a short period of about two months with Graham Ball on bass and John Fisher on drums. Recorded Smash The Disco's 7", the unreleased Loud Proud And Punk LP, Suburban Rebels, and Loud Proud And Punk - Live

LINEUP 1984-1987:

Mickey Fitz - vocals
Steve Whale - guitar
Mark Brennan - bass
Mick Fairbarn - drums

Recorded Saturdays Heroes LP

LINEUP 1987-1990:

Mickey Fitz - vocals
Steve Kent - vocals
Steve Whale - guitar
Mark Brennan - bass
Mick Fairbarn - drums

Recorded Welcome To The Real World

LINEUP 1992-2000-ish:

Micky Fitz - vocals
Steve Whale - guitar
Steve Kent - guitar
Lol Proctor - bass
Mick Fairbarn aka Mickey D. - drums

Recorded Anywhere But Here, Keep The Faith and The Truth The Whole Truth And Nothing But The Truth (although on the latter, Proctor and Kent were no longer permanent members, but just helped out)

LINEUP 1997-2000:

Micky Fitz - vocals
Steve Whale - guitar
Mick Fairbarn aka Mickey D. - drums

Recorded The Whole Truth And Nothing But The Truth and the Mob Mentality split. Steve Kent and Lol Proctor guested on the former, while Johnny Rioux guested on the latter on bass.


LINEUP 2000:

Micky Fitz - vocals
Steve Whale - guitar
Steve Kent - guitar
Mick Fairbarn aka Mickey D. - drums

This lineup recorded No Mercy For You.

LATER BAND MEMBERS INCLUDE:

Fish - guitar
Trots - bass
Bundie - drums
DISCOGRAPHY
Singles / Albums
Harry May (7", 1981)
Smash The Disco's
(7", 1982)

Suburban Rebels
(LP, 1983)
Loud Proud And Punk - Live (LP, 1984)
Drinkin' And Drivin' (7"/12", 1985)
Saturdays Heroes
(LP, 1985)
Get Out Of My House (12", 1985)
Do A Runner
(12", 1988)
Welcome To The Real World (LP, 1989)
Anywhere But Here (7"/CDS, 1994)
Keep The Faith
(LP/CD, 1994)
Death II Dance
(CDS, 1996)
The Truth The Whole Truth And Nothing But The Truth
(LP/CD, 1997)
One Common Voice
(7", 1997)
Mob Mentality
(7", split with Dropkick Murphys, 2000)
Mob Mentality
(LP/CD, split with Dropkick Murphys, 2000)
No Mercy For You (LP/CD, 2001)
Hell 2 Pay
(7"/CDS, 2001)
Mean Girl (CDS, 2008)
The Business / Control (7", split, 2009)
Doing The Business
(CD, 2010)
Back In The Day
(7", 2014)

Extraneous Releases

1980-1981 Official Bootleg (LP, 1983)
Back To Back
(2xLP, 1985)
Back To Back Volume 2 (2xLP, 1985)
Singalong A Business (LP, 1986)
Smash The Disco's
(LP, 1988)
Live And Loud!!
(LP, 1989)
1979-1989
(LP/CD, 1991)
In And Out Of Business (LP, 1990)
The Best Of The Business
(LP+7"/CD, 1992)
Live And Loud!!
(CD, split with Cock Sparrer, 1993)
Smash The Disco's / Loud, Proud 'N' Punk, Live (CD, twofer, 1993)
Suburban Rebels / Welcome To The Real World
(CD, twofer, 1994)
The Complete Singles Collection (CD, 1995)
Live In London 1996
(7", 1996)
Harry May - The Singles Collection (2xLP,1996)
Best Of Business: The Singles 1981-1995
(CD, 1996)
Loud, Proud And Oi! (CD, 1996)
Live (CD, 1999)
Harry May (CD, 2002)
Under The Influence (CD, 2003)
Hardcore Hooligan (LP/CD. 2003)
Various Artists
A Sudden Surge Of Sound UK LP 1980 (VU Records): Out In The Cold
Carry On Oi! UK LP 1981 (Secret): Suburban Rebels / Product
Bollocks To Christmas UK 7" 1981 (Secret): Step Into Christmas
Total Noise #1 UK 7" 1982 (Total Noise): Loud Proud & Punk
The Secret Life Of Punks UK LP 1982 (Secret): Employers Black List / Harry May
Oi! Oi! That's Yer Lot! UK LP 1982 (Secret): Real Enemy
Burning Ambitions (A History Of Punk) UK 2xLP 1982 (Cherry Red): Harry May
Wave News 2 - Independent Smash Hits Germany LP 1982 (Intercord): Smash The Discos
UK/DK - The Original Video Soundtrack UK LP 1983 (Anagram): Blind Justice
Son Of Oi! UK LP 1983 (Syndicate): Out In The Cold
The Defiant Pose UK LP 1983 (Illegal): Loud Proud & Punk
Oi! The Resurrection UK LP 1986 (Link): Mortgage Mentality
Oi! Chartbusters Volume 1 UK LP 1987 (Link): Suburban Rebels
Oi! Chartbusters Volume 2 UK LP 1987 (Link): Get Outta My 'Ouse
Oi!.. The Picture Disc UK LP 1987 (Link): Smash The Discos
Oi! Chartbusters Volume 3 UK LP 1988 (Link): Outlaw
Oi! Chartbusters Volume 4 UK LP 1988 (Link): Product
Oi! Chartbusters Volume 5 UK LP 1989 (Link): Chasing Rainbows
Oi! Chartbusters Volume 6 UK LP 1990 (Link): Disco Girls
Pop Oi! UK LP 1989 (Link): Out In The Cold

The Joys Of Oi! UK LP 1990 (Link): H-Bomb
The Oddities Of Oi! UK LP 1990 (Link): Get Out While You Can
Secret Records: The Punk Singles Collection UK CD 1993 (Anagram): Harry May / Smash The Discos / H. Bomb
Secret Records: The Punk Singles Collection Volume 2 UK CD 1995 (Anagram): Employers Blacklist / Disco Girls / Law And Order
Oi! The Singles Collection Vol 1 UK CD 1995 (Captain Oi!): Harry May / Employers Blacklist
Oi! The Singles Collection Vol 3 UK CD 1997 (Captain Oi!): Smash The Discos / Disco Girls / Dayo
Spirit Of The Streets Sweden 2xLP/CD 2000 (Burning Heart): Crucified
Addicted To Oi! UK CD 2002 (Captain Oi!): Terrace Lost It's Soul
Links
MYSPACE - The Business Page
INTERVIEW
WIKIPEDIA - The usual mix of bio and discographical info
Interview with The Business done by Donny the Punk