Formed: Brighton, East Sussex, England, UK
There's always room for lowbrow in rock and roll, and these punk/skinheads from Brighton are more than willing to provide it. Unusually for most bands of this ilk, they maintained a stable line-up for over fifteen years, singer Peter Bywaters and guitarist Del refusing to give up the ghost, and original rhythm section Trapper and Ogs staying loyal until the early nineties.
Therefore, the lineup for the first fifteen years or so was: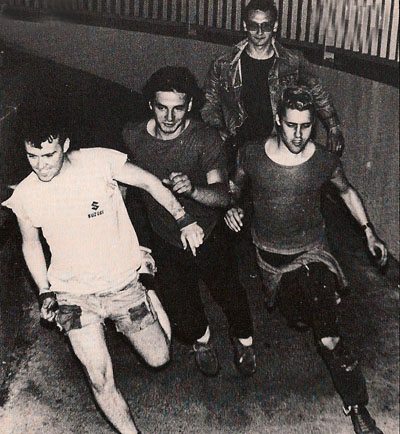 Peter Bywaters - vocals
Derek 'Del' Greening - guitar
Chris 'Trapper ' Marchant - bass
Mark Storr-Hoggins (Ogs) - drums
They first reached a nation-wide audience with 'Elvis Is Dead', a rather tame cut on the Brighton scene sampler
Vaultage '78
, which nonetheless earned them a certain notoriety, especially amongst teds, who found reasons to complain about the following lyrics:
Elvis had an heart-attack, 'cos he got too bleedin' fat.
He weighed nearly half a ton, he looked more like a pregnant mum.
Elvis is dead, Elvis is dead
Elvis is dead, Elvis is dead
Elvis is dead, Elvis is dead
Elvis is dead, Elvis is dead
Elvis had a gammy leg, he had a gammy head.
He had a gammy kidney, he's better-off dead.
In August 1977, Elvis met his fate.
But he couldn't get into heaven, 'cos he couldn't get thru the gate.
This inspired a song called 'Intensive Care', which is allegedly where Peter wound up after encountering some irate teds. This was one of two songs they contributed to Oi! The Album, with 'Maniac' and 'Transvestite' appearing on Carry On Oi! the next year. This national exposure led them to No Future, where they released two storming singles, Banned From The Pubs and Run Like Hell.
BANNED FROM THE PUBS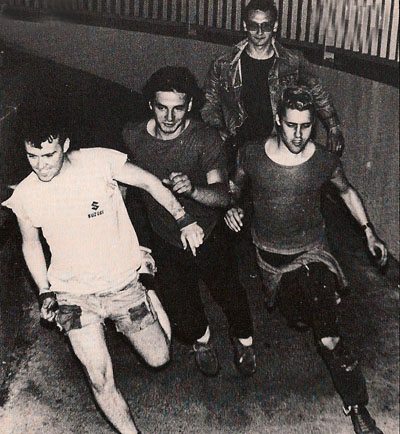 Banned from the pubs get out of this place
Banned from the pubs cos we don't like your face.
Banned from the pubs get out of that door
Banned from the pubs or i'll call the law.
Banned, banned, banned, cos they don't like punks
Banned, banned, banned, they treat us like drunks.
Banned from the pubs go on I said go
Banned from the pubs can we have a drink ? No !
Banned from the pubs just get out of here
Banned from the pubs no you can't have a beer.
Banned from the pubs go on yer way
Banned from the pubs no punks they say.
Banned from the pubs you lot get out
Banned from the pubs no punks they shout.
RUN LIKE HELL
I was down the local disco getting' off with this girl
Things were going really good, going really well.
We was alone in a corner kissing and then I heard
This bloke come up behind me and say ..
"Oi you, that's my bird!!"
Down the local disco eyeing-up some skirt
She was giving-it all that, god she was a flirt.
She came up to me and said, "Do you wanna dance ?"
Well I thought this is it, I'm in here with a chance
Then this bloody great big geezer said, "'ere mate that's my girl"
Well I didn't want no trouble, so I run like bloody hell
Run like hell, run like hell.
Alone at a party pissed out of me head
Well I don't know how I get there but I ended up in bed.
When I woke up in the morning I was alone no more
But as I was getting dressed her boyfriend came in thru the door
These tracks cemented their style: exaggerated yobbishness in a faux-Cockney accent, sing-a-long choruses and very nifty lead guitar. Oddly, their debut LP was a live effort,
Pissed And Proud
, which captures the band in their ideal environment. The 'Banned From The Pubs' single was also noteworthy for 'Moped Lads', which suggest that Peter was maybe angling for another beating:
MOPED LADS
You know those kids they get at school,
They've got a motorbike they think they're cool.
They've got a moped for their sixteenth birthday
Now you can hear them coming from half a mile away.
It's the moped lads
They like to think they're bad
It's the moped lads
If you hit 'em they'll tell their dads.
They follow the school bus 'cos they think they're neat
They try to impress the girls on the back seat.
They go up the Youth Club and stand outside
And talk about the bikes they can only just ride.
They're about as hard as a lump of shit
But they've got two wheels so they think they're it.
They always show off and try to act flash
But the best thing about 'em is when they crash.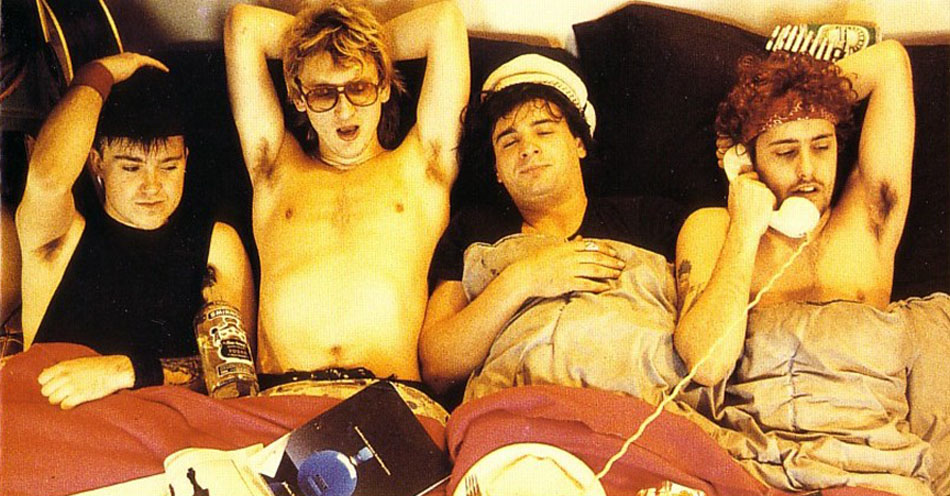 Their first proper album The Mating Sounds Of South American Tree Frogs saw their run of Indie hits continue unabated. 1983 saw a pair of hit singles in brightly-coloured sleeves, the slightly damp Zombie Creeping Flesh and the exuberant, poppy even, The Jinx, a typically Testies tale of a hopeless fuckwit who brings nothing but bad luck. Tellingly, it was backed by an ode about their famously useless and weedy looking bass player, Trapper ('Trapper Ain't Got A Bird'). The LP itself was a cracking affair, too, with hilarious songs about even more hopeless, socially inept and downright rude fuckwits. And it was also powered by some of punk's best and catchiest gutarisms, courtesy of Del, one of the most underrated guitarists of them all.
THE JINX
He joins the gang as we leave the pub
We're off downtown to a nightclub
And whereas usually we'd get in
We don't tonight 'cos we're with him.
We're miles from home waiting for the last bus
But when it comes it don't stop for us
We can't afford a cab and it's quite clear
This wouldn't happen if he weren't here.
He's a jinx, jinx, everything goes wrong.
He's a jinx, jinx, when he string along.
It's Saturday night and there's parties on
But we can't get in any 'cos he's come along.
So we end up walking 'round all night
If it weren't for him we'd been alright.
If you want a partner for pool or darts
And you play with him you've lost before it starts.
If we go to a match and he comes in
You can guarantee our team won't win.
BLOWN OUT AGAIN
Heard there's a party in the tow
So I've got me beer and Merrydown.
Got me bottles and me cans
Gotta get in if I can.
No invitation, but it don't stop me,
No invitation, gatecrash yer party,
No invitation, but it don't stop me.
Though I don't know no-one here
Ill still take yer food and drugs and beer.
And as I don't live here I don't care
If I start to throw-up everywhere.
Gonna screw a bird in yer bog
Gonna be sick as a dog.
Gonna crash out in yer bed
'Cos I'm gonna be pissed outta me head.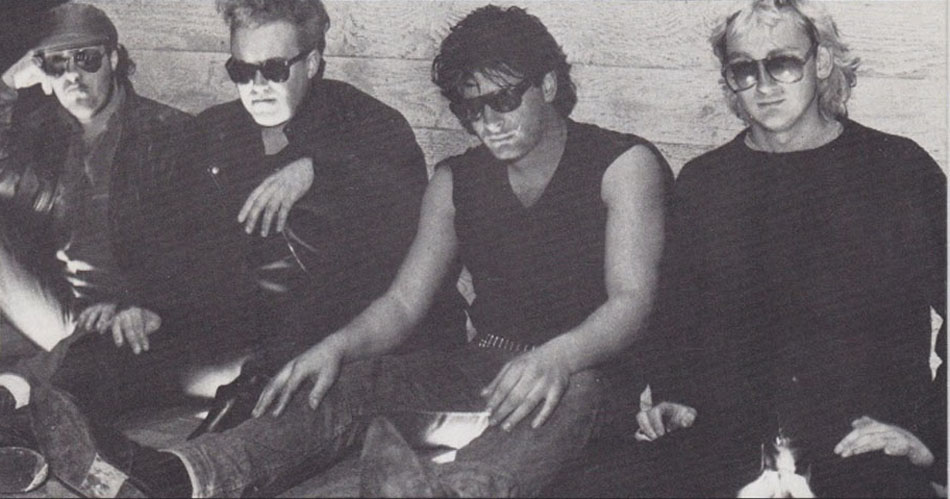 They remained very popular through 1985's The Loud Blaring Punk Rock LP, which they claimed was actually recorded in 1979, though it wasn't. Most of the songs were written for one of Del's side projects, Walnut & The Wankers, and when their distributor Red Rhino requested a new test Tube Babies LP, everybody felt it was much easier just to use the Wankers' songs than go to the bother of writing new ones. The resulting LP was puerile from start to finish, full of sloppy playing and swear words, and all the better for it. And another youth group was dissected by their razor-sharp (!) wit:
STUDENT WANKERS
See those student wankers walking down the street,
their clothes so smart and clean, their hair well kept and neat.
Who wants to die with knowledge you can't use ?
spend all day quoting Freud, but can't do up their shoes.
Student Wankers ..
See those student wankers in the student bar,
complaining to each other other that their grants don't go far.
With their silly student ties and their silly student scarves,
drinking draught real ale not in pints but halves.
And the mods got another roasting, too, as if it really were were 1979 again:
BEAT UP THE MODS
When I see all those poxy posy mods
I want to beat up all the silly sods.
When I see them walking down the street
It makes me puke 'cos they look so neat.
Beat up the mods, beat up the mods ..
I hate Ian Page 'cos he's such a fucking tit
I wanna re-arrange his face with a building brick.
He wouldn't fight back though I wouldn't care
He'd be afraid to spoil his shit mohair.
Mums and dads like 'em 'cos they look so smart
But they're just prats and they look the part.
They wear shit parkas even when its hot
They've got less brain cells than a lump of snot.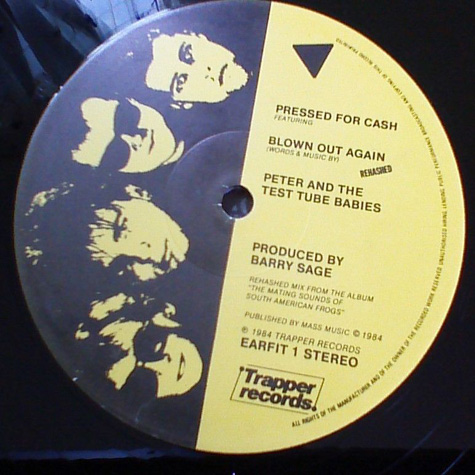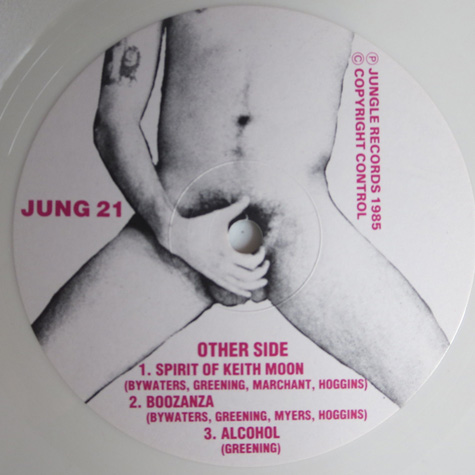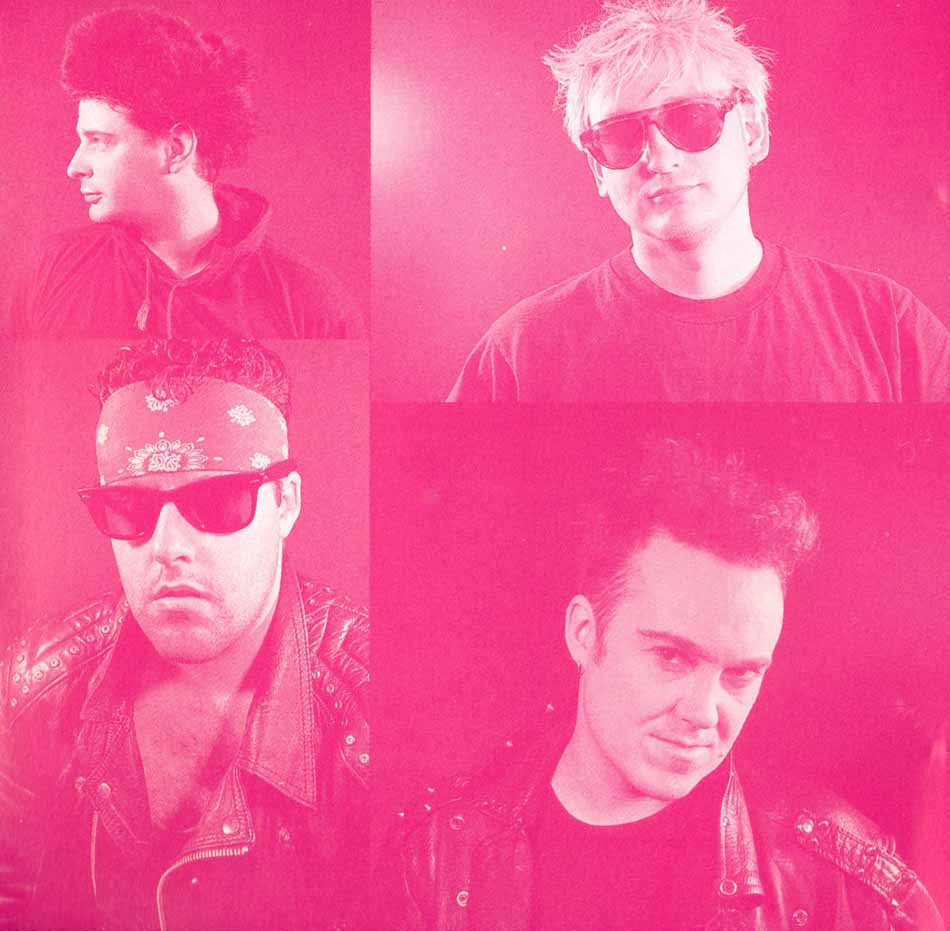 Their first international release, Soberphobia, which was a logical progression from 'Mating Sounds', with grander arrangements and slicker production (the closer, 'Every Second Counts', resembles a punk U2). The yobbishness of olde was still there on songs like 'Keys To City' and 'Spirit Of Keith Moon', but much of the boot boy behaviour was gone. Heck, there was even a maudlin tale of lost love ('Ghost In My Bedsit').
GHOST IN MY BEDSIT
The sick patch on the carpet, the night we drank too much.
The gravy stains on the Belling Stove, it misses the woman's touch.
The hair on the soap, the make-up in the sink.
The toothbrush that you left behind, it makes me stop and think.
There's a ghost, in my bedsit, of how it used to be.
There's a ghost in my bedsit, and it keeps on haunting me.
The scratches on my records, from where you left them on the floor.
The dirty clothes in my washing bag, when you went out of the door.
Now I'm sitting all alone, and the silence burns my ears.
Memories dance around my head, every second seems like years.
The presence in my bedsit, that just won't go away.
Like the stains on my duvet, from the nights you used to stay.
Programmes we watched together, I've still got the video.
And the telephone still rings for you from friends who do not know.
KEYS TO THE CITY
Everywhere I go I'm first in line, don't need no money got lots of time.
Bottom of my list is tea with the mayor, got the key to the city, now you better beware.
All the beer in the bars and shops is free, everybody come down and have a drink with me.
I get free meals in every restaurant, with the key to the city I can have what I want .
I got the key to the city, now everything's free.
I got the key to the city, they shouldn't have given it to me.
I've got the best suite in the best hotel, anything I want the city pays the bill.
Do what I want I'm exempt from the law, 'cause the key to the city opens every door.
All the beer in the bars and shops is free, everybody come down and have a drink with me.
I won't' waste my time with city dignitaries, gonna make 'em regret giving it to me.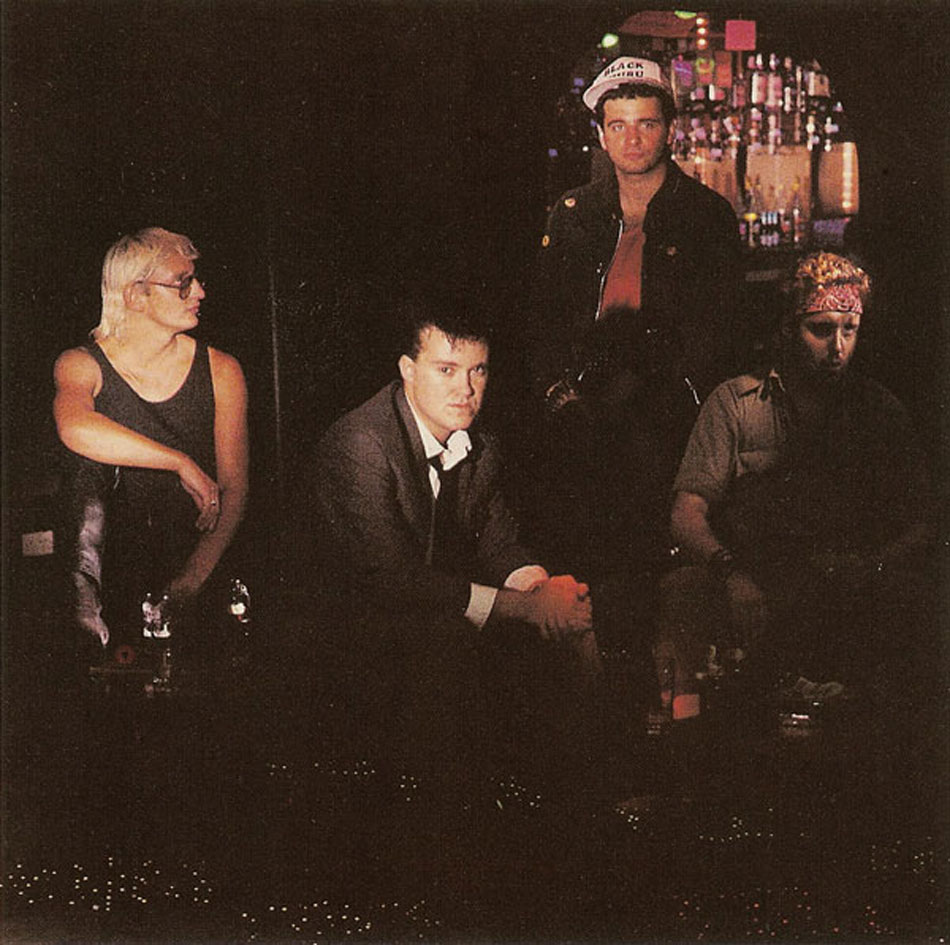 There have been many record since, some of them great - Supermodels (1996) - some of them not - Cringe (1991) - but they remain a popular live act, and show no sign of stopping.
Lineup 1 (1977-1995):
Peter Bywaters - vocals
Derek 'Del' Greening - guitar
Chris 'Trapper ' Marchant - bass
Mark Storr-Hoggins (Ogs) - drums
DISCOGRAPHY
Singles / Albums

Banned From The Pubs (7", 1982)
Run Like Hell
(7", 1982)
Pissed And Proud
(LP, 1982)
Zombie Creeping Flesh (7", 1983)
The Jinx
(7"/12", 1983)
The Mating Sounds Of South American Frogs (LP, 1983)
Pressed For Cash
(12", split with The Fits, 1984)
The Loud Blaring Punk Rock LP
(LP, 1985)
Rotting In The Fart Sack (12", 1985)
Wimpeez (7", 1985)
Key To The City
(7"/12", 1986)
Soberphobia
(LP, 1987)
Peter And The Test Tube Babies
(LP/CD, 1987)

Extraneous Releases

Journey To The Centre Of Johnny Clarke's Head
(Tape, 1984)
3x45 (12", 1985)
The Best Of
(LP/CD, 1988)
Live And Loud!!
(LP, 1989)
Totally Test Tubed
(CD, 1989)
The Punk Singles Collection
(CD, 1995)
Live And Loud!!
(CD, split with Splodgenessabounds, 1996)
Test Tube Trash
(CD, 1997)
The Best Of Peter And The Test Tube Babies
(2xLP/CD, 2001)

Promos

Louise Wouldn't Like It (12", 1987)

Bootlegs

The Mating Sounds Of West German Frogs
(LP, 1989)
Various Artists
Vaultage 78 - Two Sides Of Brighton UK LP 1978 (Attrix): Elvis Is Dead
Oi! The Album UK LP 1980 (EMI): Rob A Bank (Wanna) / Intensive Care
Carry On Oi! UK LP 1981 (Secret): Transvestite / Maniac
The Secret Life Of Punks UK LP 1982 (Secret): Maniac
Punk And Disorderly UK LP 1982 (Abstract Sounds): Banned From The Pubs
UK/DK - The Original Video Soundtrack UK LP 1983 (Anagram): Up Your Bum
There Is No Future (The History Of No Future) UK LP 1984 (No Future): Banned From The Pubs / Up Yer Bum
Maggie, Maggie, Maggie - Out! Out! Out! UK LP 1987 (Anagram): Keep Britain Untidy
Oi! Chartbusters Volume 5 UK LP 1989 (Link): On Yer Bike / Transvestite
Oi! Chartbusters Volume 6 UK LP 1990 (Link): The Jinx
The Best Of Oi! Volume 2 UK CD 1992 (Link): Transvestite
No Future: The Singles Collection UK CD 1993 (Anagram): Banned From The Pubs / Run Like Hell
Punk And Disorderly - Further Charges UK CD 1994 (Anagram): Run Like Hell
No Future: Punk Singles Collection Volume Two UK CD 1995 (Anagram): Moped Lads / Up Yer Bum
The Punk Generation UK 4xCD 1995 (Castle): Maniac / Transvestite
Oi! The Singles Collection Vol 2 UK CD 1996 (Captain Oi!): Banned From The Pubs / Moped Lads / Peaceheaven Wild Kids
Attrix Records - The Vaultage Punk Collection UK CD 1997 (Anagram): Elvis Is Dead
Links
PETER AND THE TEST TUBE BABIES- Official website