AKA: ARMCHAIR POWER
Formed: London, England, UK
Spartan Manifesto article, c.1981:
In 1979 Paul and Andy started a band named the Critics. They had 17 songs which were not too good but also they had no equipment and no drummer. They managed to get 'Power' on Bullshit Detector as Armchair Power, but then decided to call it a day. Then in mid-1980 they tried again with Jim on drums but he wasn't very good, so the Mutants of War ceased to be. In December 1980, Paul played Alan an old tape of the Mutants and suggested they have a piss about in the practice studio. They did some of the old songs and decided it was worth starting a new band. They kept '4 Minute Warning' and 'Holy Slaughter' from the old songs and Paul and Alan began writing new ones, the first of which being 'Target'. After a few more practises, they saved up to record the Nuclear Suicide E.P., but could not put it out on a large scale, so they used it as a demo tape and sent copies to various fanzines. The response was so fantastic that they re-recorded the e.p.but are still uncertain when it will be available. The new version has eight tracks, two new ones. The band still have no proper gear but have managed 2 gigs, with more in the pipeline.
Armchair Power:
Paul - vocals
Andy - bass
Dave - guitar
No drummer
Terminal Disaster:
Paul - guitar, vocals
Andy - bass
Alan - drums
They then released a demo and vanished.
__________________________________________________________________________
DISCOGRAPHY
Demos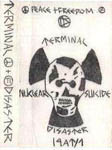 Nuclear Suicide (Tape, 1981)
Various Artists
Bullshit Detector UK LP 1981 (Crass): Power [as Armchair Power]
New Criminals Volume 2 UK Tape c.1981 (New Crimes): Chain Reaction / What Future? / Nuclear Suicide
__________________________________________________________________________
Links