NICK TOCZEK
Born: Bradford, West Yorkshire, England, UK
According to Ian Glasper's The Day The Country Died:
Nick Toczek (his surname pronounced to rhyme with 'rock check') is a truly renaissance anarchist! Still an accomplished poet and musician, not to mention prolific investigative journalist, these days he is also a successful children's author and spoken word artist, having made over 40,000 public appearances during the last thirty-seven years, visiting en route over 3000 schools around the UK. From the perspective of this book though, this is also the same Nick Toczek that booked hundreds of alternative shows in pubs and clubs in Leeds, Bradford and Keighley during the Eighties toured the USA with the Instigators, and released the likes of 'The Britanarchist Demo' and InTOCZEKated album through the highly respected (in anarcho circles... no pun intended) Bluurg label.
The book goes on (as will be obvious by now, this is a bit of a lazy write-up!) to tell of his first band, Ulterior Motives, releasing their single 'Y'Gotta Shout' in 1979; and the More To Hate...Than Meets The Eye 12" single (on which Nick is backed by two local bands, ska-Oi! types The Burial and reggae outfit The Spectre).
And this from Booktrust:
Nick Toczek works as a poet, storyteller, magician, journalist, lecturer, political researcher, novelist and stand-up comedian. His work has appeared in numerous anthologies, pamphlets, magazines, newspapers, and even school text books. He works extensively in schools and is a tireless self-publicist. He is the author of Never Stare at a Grizzly Bear and Kick It! and has compiled Join In or Else and Toothpaste Trouble – all published by Macmillan.
__________________________________________________________________________
DISCOGRAPHY
Singles & Albums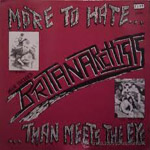 More To Hate...Than Meets The Eye (12", as Nick Toczek's Britainarchists, with The Burial and The Spectre, 1986)
InTOCZEKated (LP, 1987)
Extraneous Releases
Totally InTOCZEKated (CD, 2007)
Demos & Tapes The Britanarchist Demo (Tape, 1984) Nik Tockzek's Ulterior Motives The Tape (Tape, 1985)
Various Artists
The Oi! Of Sex UK LP 1984 (Syndicate): Stiff With A Quiff
A Potential Migraine UK Tape 1984 (Raising Hell Zine/Rabid Councillor Tapes): Hey How! Zap Pow! / Darling Lovely To See You
Giraffe In Flames UK LP 1984 (Aaz): Everybody's Friend
Words Worth Shouting UK LP 1986 (Radical Change): Being Terrorists
Skin And Bone UK Tape 1986 (Skin And Bone): West Yorks Nurse
Bloodsucker UK 7" 1986 (Other): Letter From A Lawyer
God Save Us From The USA UK LP 1987 (Happy Mike): Noo Yawk Squawk / Sheer Funk
Mother Country / Fatherland UK Tape 1991 (Tak Tak Tak): Family Life / This England
Anti-Capitalism (Anarcho-Punk Compilation Vol. 4) UK CD 2007 (Overground): Road Crash
__________________________________________________________________________
Links