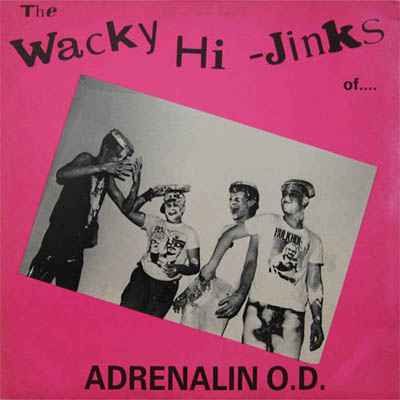 Original Release Date
1984
Release Information
US LP 1984 (Buy Our Records - BOR-12-002)

Side "AAAYY!"
1 A.O.D. Vs Godzilla 3:06
2 White Hassle 1:26
3 New Year's Eve 1:18
4 Small Talk 1:34
5 Going To A Funeral 1:53
6 Corporate Disneyland 1:13
7 Trans Am (The Saga Continues) 1:38
Side "WHOA!"
8 Sightseeing 2:47
9 Middle Aged Whore (Recorded In Our Underwear) 1:31
10 World War 4 1:14
11 Clean And Jerk 1:39
12 I'd Rather Be Asleep 1:22
13 Rah-Jah! 0:49
14 Rock & Roll Gas Station 2:21
15 Paul's Not Home 0:11
___________________________________________________
US 2xCD 2008 (Chunksaah - CAR033-2)
Disc One: Wacky Hi-Jinks
1 A.O.D. Vs Godzilla 3:06
2 White Hassle 1:26
3 New Year's Eve 1:18
4 Small Talk 1:34
5 Going To A Funeral 1:53
6 Corporate Disneyland 1:13
7 Trans Am (The Saga Continues) 1:38
8 Sightseeing 2:47
9 Middle Aged Whore (Recorded In Our Underwear) 1:31
10 World War 4 1:14
11 Clean And Jerk 1:39
12 I'd Rather Be Asleep 1:22
13 Rah-Jah! 0:49
14 Rock & Roll Gas Station 2:21
15 Paul's Not Home 0:11
Disc Two: Wacky Bonus
1 Suburbia 1:25
2 Old People Talk Loud 0:34
3 Trans Am 1:51
4 House Husband 0:49
5 Mischief Night 1:20
6 Status Symbol 1:23
7 Crowd Control 3:05
8 Infiltrate The State 1:08
9 Love Song 1:44
10 Sightseeing 2:28
11 Masterpiece 1:35
12 Trans Am 1:58
13 Traffic Jam 1:10
14 Clean And Jerk 2:35
15 Rock & Roll Gas Station 3:45
16 We Will Rock You 2:58
17 Suburbia 2:23
18 Adrenalin O.D. Theme 1:41
19 New Year's Eve 1:58
20 Status Symbol 2:25
21 Old People Talk Loud 1:30
22 Suicide Abortion 1:37
23 House Husband 0:58
24 Hijack The Senior Citizen's Bus 1:35
25 Gutter Fun 1:35
26 Die For A Cause 3:57
27 World War 4 0:50
28 Asskicker 1:58
29 Trans Am 2:24
30 Scare Tactics 1:21
31 Brady Bunch 4:16
32 Learn The Poem / Paul's Not Home 3:27
33 A.O.D. Barmy Army 1:49

Chart Placings
None
Credits
BOR-12-002:
Paul Richard - guitar, vocals
Jack Steeples - bass, vocals
Bruce Wingate - guitar, vocals
Dave Scott - drums, vocals

Recorded at the Sanctuary, Caldwell, N.J.
Engineered by Vito C
Produced by A.O.D
Another fine BUY OUR RECORDS Production

[Track B2:] Recorded in our underwear.
___________________________________________________
Additional Credits on CD:
Lineup as above except:

6 Jim Foster - guitar (instead of Bruce Wingate)
CD1:
1-15 The Wacky Hi-Jinks Of... LP, 1984

CD 2:
1-6: Let's Barbeque EP, 1983
7-8: New Jersey's Got It? comp, 1985
9: Big City: One Big Crowd comp,. 1985
10: Rat Music For Rat People, Vol. 3 comp, 1987
11-16: Live at the City Gardens - Trenton, NJ, 1984;
17-34: Live on WMFU's "Pat Duncan Show", 1982
Reviews & Opinions
TIM YOHANNAN, MAXIMUM ROCKNROLL #16: AUGUST 1984: These little imps from west of the swamplands have come up with a really dense, "live" two-guitar sound here. Recorded while the band was in their underwear, they still manage to thrash wildly, humorously, and sarcastically. In the process, they prove without a doubt that there's more great items than pizza in the Garden State.
IRA ROBBINS, THE TROUSER PRESS RECORD GUIDE, 1991: "Middle-aged Whore" on Wacky HI-Jinks was, as noted on the back cover, "recorded in our underwear." Musically, however, A. O.D. is no joke, a fact immediately apparent from "A.O.D. vs Godzilla," the killer stun-guitar instrumental that opens the album. Unfortunately, muddy production buries mediocre vocals spewing funny, satiric lyrics in fuzzy speedrock, leaving incisive numbers like "White Hassle" (alienation at the Castle) and the sketchy "Rock & Roll Gas Station" half of what they might have been.
Additional Notes
None yet
Images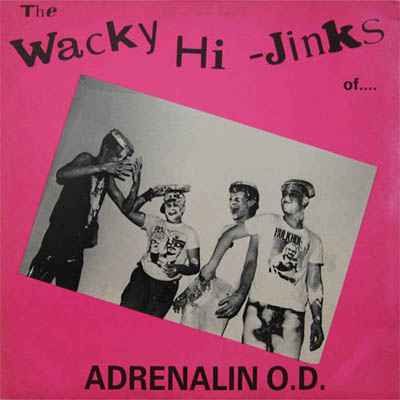 US LP 1984 (Buy Our Records - BOR-12-002). Click here for more (Thanks to Torsten Schitting)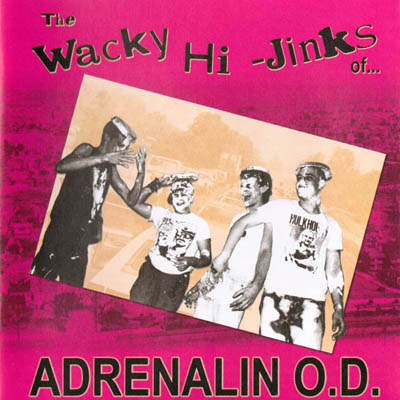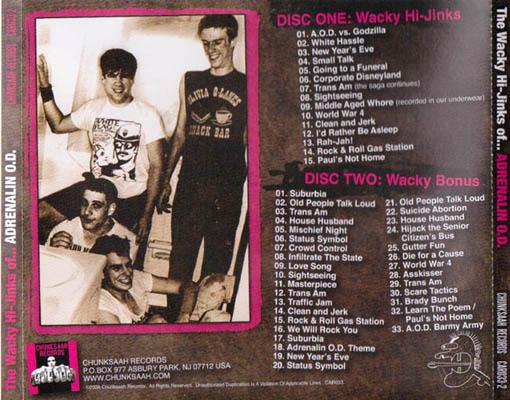 US 2xCD 2008 (Chunksaah - CAR033-2). Click here for more