Formed: London, England, UK


"We were lucky. There probably couldn't have been a better time and place to form a band than in late 1976 in London. People were sick of the bloated self-indulgent prog rockers and trite cliché-ridden pop that was filling the charts, and wanted something that related to their lives. For many kids who thought there was something missing, the answer was simple - go out and form a band. That's how the Adverts came about. Probably at no other time would we have found anywhere to play and get noticed - but at the beginning on 1977 we started playing regularly at the newly-opened Roxy club and found a steady audience similarly disenchanted with the way things were. We were all beginners, we couldn't play very well, but it didn't matter - in fact it was better that way. For a couple of years at the start of the UK punk rock scene, music was driven by what people wanted to hear instead of what the music business forced on them, and for this short time the Adverts were able to play hundreds of gigs and produce two albums". – Tim Smith, 2004.
One of the best bands of the '70s, The Adverts were real punks, inspired by the Sex Pistols and The Clash but not merely aping them. They oozed charisma and their lineup was a peculiar blend of the ultra-talented and the completely talentless. That in itself was something fresh and new: you couldn't imagine Steve Howe or Robert Fripp tolerating an bassist with no sense of rhythm or a drummer who couldn't keep a beat, but that was just one of the ways punk differed from prog. Fuck the old church, indeed.
Part 1 (1976-1978)
Devon-born vocalist T.V. Smith was already a veteran when he formed The Adverts in late '76 with girlfriend Gaye. His previous outfit Sleaze had split 12 months earlier, but was known on the West Country gig circuit and even recorded an LP comprising five long songs, one of which ('Listen Don't Think') was re-worked for The Adverts as 'New Boys'. 50 copies of the Sleaze LP were pressed, all in plain white sleeves, and none were available publicly. Have fun tracking down a copy!
After Sleaze split, Smith and Gaye bassist moved to London and joined up with fellow novices Howard Pickup on guitar and Laurie Driver on drums.
Three gigs later, including one at the Roxy where they were spotted by Brian James of The Damned, they secured their deal with Stiff, toured with The Damned and issued the sloppy classic One Chord Wonders (1977). Sadly, Stiff's marketing ideas were as old school as the major's, and they insisted on the (great, admittedly) cover being a big picture of Gaye. The band were disgusted, and decamped to Anchor (a subsidiary of ABC) and then Bright, a succession of unsuitable labels. From here they issued a brace of essential records, including the chart hit Gary Gilmore's Eyes (1977) and the brilliant Crossing The Red Sea With The Adverts (1978).
Any suggestion that Smith's lyrics didn't capture the mood of the time can be rectified by reading the words to that cracking debut single, issued in April:
ONE CHORD WONDERS

I wonder what we'll play for you tonight
Something heavy or something light
Something to set your soul alight
I wonder how we'll answer when you say
"We don't like you - go away,
"Come back when you've learnt to play"
I wonder what we'll do when things go wrong
When we're half-way through
our favourite son
We look up and the audience has gone
Will we feel a little bit obscure
Think "we're not needed here,
"We must be new wave
- they'll like us next year"
The Wonders don't care
- we don't give a damn
In June they had their first brush with the charts via a slot on The Roxy London WC2 (Jan-Apr 77) compilation with the brilliant 'Bored Teenagers'.
Their second brush with the charts was in August when they released their best-known 45, 'Gary Gilmore's Eyes', recorded in Worthing with producer Larry Wallis and a crate of beer. An appearance on 'Top of the Pops' and The Sun newspaper (Gaye featuring in a tasteful article about "Those saucy pop girls who are tearing up the pop chart") helped the single into the Top 40, peaking at No. 18.
However, by the time of October's Safety in Numbers single, the outburst of punk that had spawned the carefree, liberated abandon of 'One Chord Wonders' was turning to dissatisfaction, and Smith was now questioning where punk was heading:
The first phase of the band's life ended with the No Time to Be 21 (1978) single (popular enough to propel them into the Top 40 a second time) and, in February 1978, the extraordinary, classic 'Crossing The Red Sea With The Adverts' album.
Part 2 (1978-1979)
Phase 2 began badly with Driver driving off, reportedly in a strop after Gaye slated him in an interview for prima donna behaviour, also accusing him of not being able to get his shit together and forcing multiple takes of songs. He was replaced briefly by John Towe. Then, after new drummer Rod Latter joined that April, they were left without a label when Bright Records went bust. Although not inactive (they continued to gig and Smith began working with Richard Strange during the final days of Doctors of Madness), for those long months between the release of 'Crossing...' and them signing a new deal with RCA around September it seemed like the band was dead.
After this long delay (seven or eight months was an eternity in Punk Time), the band bounced back in late 1978 with and a slightly different, more "produced" sound with the excellent Television's Over 45, the last occasion on which, sonically speaking, they resembled a standard punk band. As Smith wryly commented, "Statistics show that this first post-'Crossing...' single sold less than one copy". He's wrong though, and it's one of their easiest singles to find in second hand record shops (remember them?). (The B-Side 'Back from the Dead' was one of the Strange/Smith songwriting collaborations.)
Cast Of Thousands (1979), released seventeen months after the debut LP, spelled the end of the group. Poorly received by arsehole critics who had given up on punk (except Garry Bushell, who would have given it a drubbing anyway for not being "street" enough), the LP featured a band completely uninterested in simply re-recording the first album. Worse news for punks: it (and the preceding single) was produced by none other than Tom Newman, the man who produced Tubular Bells and he even roped Maggie Riley in to do some backing vocals. And if that wasn't enough, new fifth member, keyboardist Tim Cross, was currently in Mike Oldfield's band. Well, folks, I actually happen to love Tubular Bells and there's nothing about this LP I would change, apart from the horrible front cover, and is still sounds like a punk to me.
The band struggled on for a few more months, even recording a Peel session (their third) in November with two new members, but before the decade was out the band was a thing of the past. Smith followed the Adverts with T.V. Smith's Explorers; Gaye went into retirement.
Smash Hits, November 1979: THE ADVERTS have decided to disband for good. Since going back on the road the band have been threatened with lawsuits by former band members Rod Latter and Howard Pickup who thought it unfair that TV Smith should continue to sue the name Adverts., Also, their recent album "Cast Of Thousands" (RCA) has not been well received and so the band called it a day after a gig in Slough three weeks ago.
The band's meteoric rise to the highest branches of the punk tree and their equally meteoric plunge back into obscurity is the story of punk personified, a bewildering blur of accelerated time and good luck. Within weeks of forming they gigged at the punk Mecca the Roxy and were promptly offered a one-off deal with the one of country's hippest label's Stiff. Three singles and an album later they were perceived as washed up, struggled on for a year or so and phuttered out in a quagmire of musical, critical and label indifference. Like the Pistols they crashed and burned, leaving a beautiful corpse behind, but their brief life demonstrated a band with flair, passion, adventure and imagination. Fortunately, they have not sullied their rep with unseemly reformations.
__________________________________________________________________________
DISCOGRAPHY
One Chord Wonders (7", 1977)

Gary Gilmore's Eyes (7", 1977)

Safety In Numbers (7", 1977)

No Time To Be 21 (7", 1978)

Crossing The Red Sea With The Adverts (LP, 1978)
Television's Over (7", 1978)
My Place (7", 1979)

Cast Of Thousands (7", 1979)

Cast Of Thousands (LP, 1979)
Extraneous Releases
Gary Gilmore's Eyes (7", 1983)

The Peel Sessions (12", 1987)
Live At The Roxy Club (LP/CD, 1990)
Live And Loud!! (LP/CD, 1992)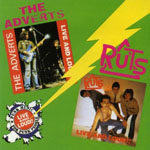 Live And Loud!! (CD, split with Ruts, 1995)
The Punk Singles Collection (CD, 1997)
The Wonders Don't Care - The Complete Radio Recordings (2xLP/CD, 1997)
Singles Collection (LP/CD, 1998)
The Best Of The Adverts (CD, 1998)
Anthology (2xCD, 2003)
2 Demos Wonders '78-'79 Bootleg The Bootleg (CD, 2007)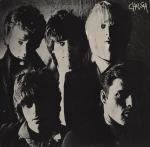 Box Set (5xCD, box set, split with Neon Hearts and Chelsea, 2008)
Bootlegs
Live (LP, 1982)
77-78 Outtakes & Rehearsals (LP, 2007)
The 1977 Basement Demo (7", 2018)
Various Artists
The Roxy London WC2 (Jan-Apr 77) UK LP 1977 (Harvest): Bored Teenagers
Excerpts From Stiffs Greatest Hits UK 7" 1977 (Stiff): One Chord Wonder
Ce N'Est Pas De La Couille, Voici La New Wave - New Wave Greatest Hits France LP 1977 (Ariola): Gary Gilmore's Eyes
Heroes & Cowards Italy LP 1978 (Stiff): One Chord Wonders
Wish You Were Hear (Jem Import Sampler NO. 6) US LP 1978 (Jem): No Time To Be 21
20 Of Another Kind UK LP 1979 (Polydor): Gary Gilmore's Eyes
Burning Ambitions (A History Of Punk) UK 2xLP 1982 (Cherry Red): Gary Gilmore's Eyes
The Best Of 20 Of Another Kind! UK 2xLP 1989 (Castle Music): Gary Gilmore's Eyes
Lipstick Traces UK LP/CD 1993 (Rough Trade): One Chord Wonders
Punk Explosion Live UK CD 1995 (Carlton Home Entertainment Limited): Bored Teenagers
1-2-3-4 Punk & New Wave 1976-1979 UK 5xCD 1999 (Universal): One Chord Wonders
Live From The Roxy UK CD 1999 (Castle): Bored Teenagers / Gary Gilmore's Eyes
No Thanks! The '70s Punk Rebellion US 4xCD 2003 (Rhino): One Chord Wonders / Gary Gilmore's Eyes
Sniffin' Glue: The Essential Punk Accessory UK CD 2003 (Castle Music): One Chord Wonders
White Dopes On Punk UK 2xCD 2005 (Castle Music): One Chord Wonders (Live)
The Roxy London WC2 - A Live Punk Box Set UK 6xCD 2005 (Castle Music): See entry for tracks
__________________________________________________________________________

Links
Record Collectors Of The World Unite