Various - The Roxy London WC2 (Jan - Apr 77)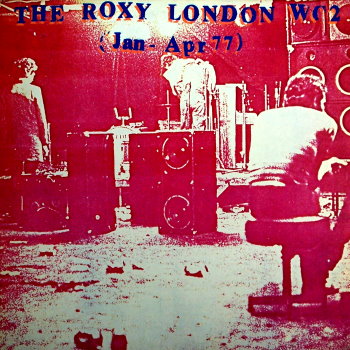 Original Release Date
1977
Release Information
UK LP 1977 (Harvest - SHSP 4069)
1 Slaughter And The Dogs - Runaway 2:35
2 Slaughter And The Dogs - Boston Babies 3:10
3 The Unwanted - Freedom 2:05
4 Wire - Lowdown 2:21
5 Wire - 1.2.X.U. 1:55
6 The Adverts - Bored Teenagers 2:00
7 Johnny Moped - Hard Lovin' Man 2:20
8 Eater - Don't Need It 1:45
9 Eater - 15 1:40
10 X-Ray Spex - Oh Bondage! Up Yours 2:45
11 Buzzcocks - Breakdown 2:05
12 Buzzcocks - Love Battery 2:07
__________________________________________________
UK 2xCD 2001 (Castle - CMDDD353)
1 Slaughter And The Dogs - Runaway 4:42
2 Slaughter And The Dogs - Boston Babies 3:54
3 The Unwanted - Freedom 2:49
4 Wire - Lowdown 2:48
5 Wire - 1.2.X.U. 2:16
6 The Adverts - Bored Teenagers 2:04
7 Johnny Moped - Hard Lovin' Man 4:15
8 Eater - Don't Need It 1:59
9 Eater - 15 1:57
10 X-Ray Spex - Oh Bondage! Up Yours 3:13
11 Buzzcocks - Breakdown 2:17
12 Buzzcocks - Love Battery 2:54
Disc 2
1 Buzzcocks - Orgasm Addict 3:12
2 Buzzcocks - What Do I Get 3:30
3 Buzzcocks - Time's Up 3:21
4 Buzzcocks - Boredom 2:56
5 Sham 69 - Borstal Breakout 2:10
6 Sham 69 - Angels With Dirty Faces 2:34
7 Sham 69 - If The Kids Are United 3:33
8 The Boys - Cop Cars 1:51
9 The Boys - Living In The City 2:27
10 The Boys - Sick On You 2:23
11 The Adverts - Safety In Numbers 3:56
12 The Adverts - One Chord Wonders 2:53
13 The Adverts - Gary Gilmore's Eyes 2:42
14 X-Ray Spex - Identity 2:28
15 X-Ray Spex - Let's Submerge 3:05
16 X-Ray Spex - I Am A Cliché 1:52
17 UK Subs - I Live In A Car 1:15
18 UK Subs - Tomorrow's Girls 2:23
19 UK Subs - CID 2:02
Chart Placings
UK Chart Hit: 24, 5 wks
Credits
LP:
On January 1st 1977 The Roxy opened exclusively for the New Wave.
There was nowhere else for most of the groups to play.
We promoted the music until April 23rd, and enjoyed it.
Andrew Czezowski
Ralf Jedraszczyk
Barry Jones
Recording by Manor Mobile.
Engineers: Phil Newell, Chris Hollebone.
Mixed in London.
Produced by Mike Thorne for Sisterdale.
X-RAY SPEX
Poly Styrene - vocals
Lora Logic - saxophone
Jak S. Fafford - guitar
Paul Dean - bass
Richard Tee - drums
THE ADVERTS
T.V. Smith - vocals
Howard Pickup - guitar
Gaye Advert - bass
Laurie Driver - drums
EATER
Andy Blade - vocals
Brian Chevette - guitar, vocals
Ian Woodcock - bass
Dee Generate - drums
WIRE
Klive - vocals
Gilbert - guitar
Lewis - bass
Robert Gotobed - drums
JOHNNY MOPED
Johnny - vocals
Slimey Toad - guitar
Fred Berk - bass
Dave Berk - drums

SLAUGHTER AND THE DOGS
Wayne Barrett - vocals
Mike Rossi - guitar
Zip Bates - bass
Brian Grantham - drums
THE UNWANTED
Ollie Wisdom - vocals
Mark Nelson - guitar
Paul Grotesque - bass
Danny Destroy - drums
BUZZCOCKS
Pete Shelley - lead vocals, guitar
Steve Diggle - rhythm guitar, vocals
John Maher - drums
Garth Smith - bass

Reviews & Opinions
None yet
Additional Notes
The reissue has an and an extra two minutes of ambient crowd noise during the intro. My timings for the vinyl are for the songs only, hence what looks like a much shorter running time. See also: The Roxy London WC2 - A Live Punk Box Set.
Images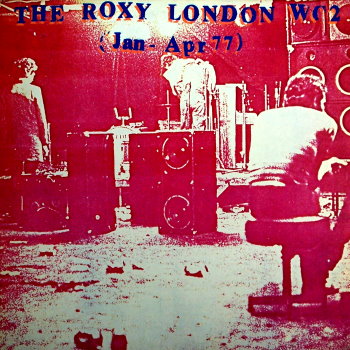 UK LP 1977 (Harvest - SHSP 4069). Click here for more
UK 2xCD 2001 (Castle - CMDDD353). Click here for more