Formed: Los Angeles, California, USA
NOTE: This discography will not be updated due to falling outside of the revised scope of this website. Please do not send me any information regarding this band!

Following Milo Aukerman's departure from the Descendents in 1987, the rest of band stayed together as ALL, and over the years recruited a succession of new singers to further propagate drummer Bill Stevenson's concept of caffeine-fuelled punk-pop. Despite being essentially the same band, ALL never achieved the popularity of Descendents for a number of reasons. Crucially, none of the vocalists (with the possible exception of Dave Smalley, ex-D.Y.S. and Dag Nasty) had the charisma of Milo. Although (and probably because) they made a lot of records, the band was maddeningly inconsistent, littering their LPs with silly experimental efforts and occasionally forays into hardrock/grunge territory. Also, as ancient punkers like The Boys found out to their cost, they were too pop (i.e. lightweight and frivolous) for the hardcore crowd, and way too noisy for the pop pickers.
Allroy Sez ..... (1988), recorded with vocalist Smalley, picks up Milo's baton with more high-speed odes to girls and caffeine, and even has a musical advert for their favourite Mexican coffee bar, 'Alfredo's's'. Smalley was replaced by Scott Reynolds on Allroy's Revenge (1990), which cranks up the guitars even further and goes out of its way to out-punk the first album, even to the extent of going (relatively) serious, but other than on the charming 'She's My Ex' Smalley's presence is missed.
While
Allroy Saves
(1990) and
Percolator
(1992) each boast a handful of gems, the misguided capriciousness is ultimately infuriating. There are far too many throwaways, including rubbishy instrumentals, ill-advised attempts at grunge/metal and over-complicated arrangements (an occasional problem with the Descendents), implying that their sense of humour is either too goofy for anyone other than themselves, or they're making too many records. (
Trailblazer
from 1990 is a shoddy, none-too-cleverly recorded live album.)
With new singer Chad Price, their subsequent albums don't muck around with the formula and are typically patchy but, when they hit the nail on the head, throw up some great pop-punk songs, as well as some punishing, unusually aggressive hardcore. Live Plus One is, plainly enough, another concert recording. They continue to record as ALL when not recording as Descendents.
An album recorded as Tonyall (New Girl, Old Story) is an ALL album in everything but name, the band teaming up with Descendents' bassist Tony Lombardo.
__________________________________________________________________________
Lineup #1 (1987-1988):
Dave Smalley - vocals
Bill Stevenson - drums
Karl Alvarez - bass, vocals
Stephen Egerton - guitar
Lineup #2 (1988-1992):
Scott Reynolds - vocals
Bill Stevenson - drums
Karl Alvarez - bass, vocals
Stephen Egerton - guitar
Lineup #3 (1992-2002):
Chad Price - vocals
Bill Stevenson - drums
Karl Alvarez - bass, vocals
Stephen Egerton - guitar
__________________________________________________________________________
DISCOGRAPHY
Allroy Sez .....
(LP/CD, 1988)
Just Perfect (12", 1988)

Allroy For Prez (12/CDS", 1988)

She's My Ex (10"/12"/CDS 1990)
Allroy's Revenge (LP/CD, 1990)
Trailblazer (LP/CD, live, 1990)
Allroy Saves (LP/CD, 1990)
Percolater (LP/CD, 1992)
Dot (10"/CDS, 1993)

Shreen (10"/CDS, 1993)
Breaking Things (LP/CD, 1993)
Guilty (10"/CDS, 1994)
Pummel (LP/CD, 1995)
All/Judge Nothing (7", split, 1997)
Mass Nerder (LP/CD, 1998)
ALL (Greatest Hits?!) (CD, 1999)
Problematic (LP/CD, 2000)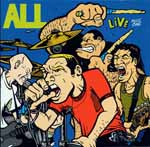 Live Plus One (2xCD, split with Descendents, 2001)
Extraneous Releases All / Wax (7", flexi, split, 1995)
Promos
Just Perfect (7", 1988)
Million Bucks (CDS, 1994)
Various Artists
Hard To Believe - A Kiss Covers Compilation US CD 1990 (C/Z): Christine 16
Hits Rock - New Sckoool, Volume 1 US CD 1994 (no label): Long Distance
Mallrats - Music From The Motion Picture US CD 1995 (MCA): Guilty
Punk-O-Rama III US CD 1998 (Epitaph): World's On Heroin
Before You Were Punk 2 US CD 1999 (Vagrant): Rebel Yell
Short Music For Short People US CD 1999 (Fat Wreck Chords): I Got None
Links