Born: John Baine, October 1957
A "ranting poet" from Harlow (home of The Newtown Neurotics, who backed him occasionally), Attila The Stockbroker really was a stockbroker. A perennial support act in the early '80s for the likes of The Jam and New Model Army, he was one of several John Cooper Clarke/Clash-inspired wordsmiths who cropped up at punk shows at the time, others including Swift Nick, that twat Phil Jupitus and Seething Wells (with whom he recorded).
Ranting At The Nation (More Poems About Flatfish And Russians) has one top punk tune ('Holiday In Albania', a rip-off of the Buzzcocks' 'Walking Distance'), a couple of songs using medieval instrumentation, and a surfeit of absurd social commentary delivered in a jackhammer Ben Elton style. Running gags about kippers, Russians and the Human League quickly become tiresome. To these ears, it just seems horribly smug and self-satisfied.

ABOVE LEFT: Punk Lives article and gig review; RIGHT Attila (seated) and Seething Wells signing debut EP (Picture from Attila's official site)
Later albums include Libyan Students From Hell (1987), Scornflakes (1988), Live At The Rivoli (1990) and Donkeys' Years (1991). In the same year as the latter he teamed up with John Otway on Cheryl - A Rock Opera, a stage production about "Satanism, trainspotting and unrequited love", spawning an album of the same name.
I have to plead ignorance to his other material, although in the mid-90's he formed a proper band, Barnstormer, with members of The Fabulous Fish Brothers, playing punk with medieval instruments (anyone know what a crumhorn is?).
The Pen & The Sword: Selected Songs - 1981-1995
is a compilation which was unavailable in the normal outlets, being issued via his website or sold at gigs. He has also written for The Guardian, Time Out, NME, and Sounds, as well as the following books: Cautionary Tales For Dead Commuters (1986), Scornflakes (1992), The Rat-Tailed Maggot And Other Poems (1998) and Goldstone Ghosts (2001).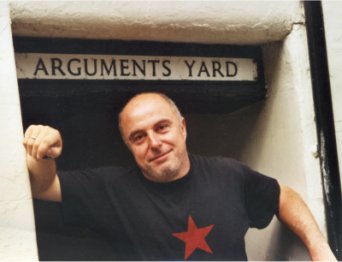 __________________________________________________________________________
DISCOGRAPHY
Subsequent studio albums: Libyan Students From Hell (1987), Scornflakes (1988), Donkeys' Years (1991), Cheryl - A Rock Opera (with John Otway, 1991). This Is Free Europe (1991), 668: Neighbour Of The Beast (1992), Restoration Tragedy (2018, as Barnstormer 1649). Be aware that Poems Ancient And Modern: A Live Anthology 1981-1999 was recorded entirely in 1999. Phasing Out Capitalism (Tape, 1981)
Rough, Raw & Ranting (7", split with Seething Wells, 1982)
Cocktails EP (7", 1982)
Ranting At The Nation (More Poems About Flatfish And Russians) (LP, 1983)
Radio Rap! (12", 1984)
Sawdust And Empire (LP, 1984)
Extraneous Releases
Greatest Hits (Tape, 1993)
The Pen & The Sword: Selected Songs - 1981-1995 (CD, 1999)
Spirit Of The Age (CD, 2008)
Various Artists
Oi! Oi! That's Yer Lot! UK LP 1982 (Secret): Willie Whitelaws Willie / Away Day
Poetry Olympics Vol. 1 UK LP 1982 (All Around): They Must Be Russians / Russians In The DHSS
Pillows & Prayers UK LP 1982 (Cherry Red): A Bang And A Wimpey
Burning Ambitions (A History Of Punk) UK 2xLP 1982 (Cherry Red): Russians In The DHSS
Son Of Oi! UK LP 1983 (Syndicate): Andy Is A Corporatist/Mindless Version
Viva La Revolution! UK 2xLP 1985 (Cambra): Holiday In Albania
Rock Army Fraction France LP 1986 (Bondage): The Ballad Of Comrade Enver
God Save Us From The USA UK LP 1987 (Happy Mike): Libyan Students From Hell
Alle Dagen Beest - Live In De Zwarte Zaag Netherlands Tape 1987 (De Zwarte Zaag): Holiday In Albania / I'm So Miserable / Radiorap [all three tracks recorded 20/9/86]
Punk - Past, Present And Future ... The Released Emotions Compilation (1988-1993) UK CD 1993 (Released Emotions): Washington Bullets
Oi! Oi! That's Yer Lot! / Back On The Streets EP UK CD 1993 (Step-1): Willie Whitelaws Willie / Away Day

__________________________________________________________________________
Links
Attila the Stockbroker - Official homepage

Wikipedia - Attila page
Facebook - Attila's Facebook page