Original Release Date
1979
Release Information
US 12" 1979 (White Noise - WNR 002)
1 The American In Me 2:10
2 Uh Oh! 3:06
3 Corpus Christi 3:32
4 White Nigger 3:35
Chart Placings
None
Credits
Penelope Houston - voice
James Wilsey - bass and vocals
D. Furious - drums and vocals
Greg Ingraham - guitars
Brad Kent - guitars on 'Corpus Christie'
Mr Steve Jones - piano on Uh Oh!!
1, 2 4: Produced by Steve Jones with Rene Daalder and The Avengers
3: Produced by The Avengers
Engineered by Geza X Gedeon

Reviews & Opinions
PUNKY GIBBON: Superb L.A. punk that would have been even better had it not been (mis)produced by Steve Jones, who tries making them sound like the Pistols (witness Furious's un-furious Paul Cook-esque drumming and Ingraham's fat guitar sound). "The American In Me" and "Corpus Christi' (Patti Smith goes full-on punk) are absolute smashers.
JIM GREEN/IRA ROBBINS, THE TROUSER PRESS RECORD GUIDE, 1991: The four-song Avengers boasts tight, memorable cuts instrumentally akin to Johnny Thunders and the Sex Pistols, though it's Penelope Houston's intoning words of some depth that makes the difference. Like X without any pretensions; too bad Steve Jones couldn't finish the production (the mix needed him).
Additional Notes
Posthumous release, partially produced by Steve Jones.
Images

US 12" 1979 (White Noise - WNR 002). 1st Pressing. Click here for more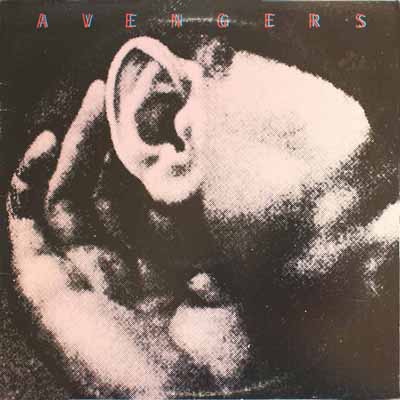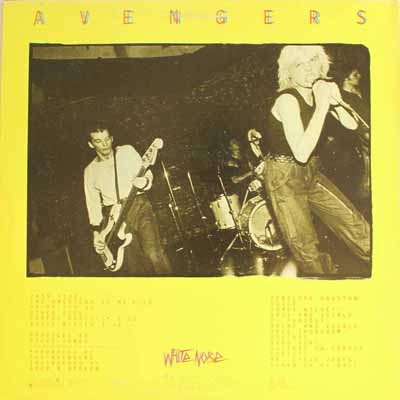 US 12" 1979 (White Noise - WNR 002). 2nd Pressing. Click here for more