"I know it might sound big-headed but we've done everyone who tried to have a go at us"
Mick Geggus, Rising Free fanzine, 1981
"Our music has always been about ourselves.
Our lives always revolved round a big shithouse of a place called East London.
We sang about violence because it was all we ever knew".
Vince Riordan, 1981
Very young East London skinheads, the Rejects were - musically speaking - lodged directly between Sham 69 and the Sex Pistols, but without the redeeming social conscience of either. As a matter of fact, vocalist Stinky Turner and his guitarist brother Mickey Geggus (the band's constants) were even more Neanderthal in attitude than the Gallagher brothers. Gratuitously artless in every respect, the Rejects swiftly became leading lights in the Oi! movement, and leant it it's name. They were aggressively proud of their "manor", London's East End, and also of their football team of choice, West Ham. This double whammy of working class pride turned their concerts into battlegrounds, as opposing factions congregated to beat the crap out of one another.
Did I mention that they were fucking great?
Formed in Canning Town in late 1978, in their original lineup Stinky Turner Mickey Geggus were complimented by bassist Chris Murrel and drummer Paul Harvey. They surfaced in July 1979 with a cracking EP on Small Wonder. They had deposited their demo tape at the Small Wonder record shop, and Pete Stennet had liked it so much that the same day he offered them a one-off single. Flares 'N' Slippers laid out the blueprint for their first two albums and simultaneous singles: football terrace "tunes", magnificently unsubtle guitar and walloping Paul Cook-esque drums. And over the top, Stinky shouts with absolute conviction, his lyrics full of references to fighting, extolling an "us against the world" attitude that is utterly compelling.
Mick Geggus, Safe As Milk, 1979: It was really funny cos Stinky was dancing all over the mixing desk and Pursey was saying "Don't do it man, don't break it" & Stinky told him to shut his trap & he did. Peter Stenning [sic] the bloke from Small Wonder is a right minge. We wanted to release an album for about 24 quid with say 14 tracks but he didn't wanna take the risk, said he couldn't afford it. Then we went round his house and he had a video machine and all that kind of gear - he's a minge. He even moaned about the single cos it sold out & he had to press more and it would cost a lot. One day we went in to ask for a £100 loan to get some amps. At first he said no so a few days later we went back and he said yeah alright.
Big T (ex-bass player now roadie): I mean you need amps to play, he's so stupid, he could make Small Wonder great but he doesn't take any chances. He could have had a MEnace album and all that kind of stuff but he doesn't wanna take risks.
Armed with the enthusiasm of John Peel, and a new rhythm section - drummer Andy Scott and bassist Vince Riordan - they soon found themselves with an EMI Record deal and Jimmy Pursey producing their first single.
Flares 'N' Slippers was a resounding success and led to patronage from Pursey, a deal with EMI, Garry Bushell stepping in as their manager (and influential PR man), and a great twelve months or so that included six singles in the Top 70, three Top 30 LPs, several appearances of Top Of The Pops, and a slew of unbelievably chaotic, often violent gigs up and down the country. The Rejects may have claimed that they didn't like the fighting, and they possibly didn't, but their eye-for-an-eye response to trouble, coupled with what sounded like bragging, just caused more of it.
Mick Geggus, Safe As Milk, 1979: Our fans are alright, they wouldn't do anything while we're on or cause us any aggro. They're a big and ugly looking bunch but good men. Sometimes they're trouble, like at the Upstarts gig at the Ballroom these mingey skinheads were beating up these punks so me and the bass player jumped in, then our roadies and mates helped and stopped it. Then later on they started again so me and Stinky sorted them out, it's the only way to stop them. Not like Pursey with all that "Peace, man" shit - they still carry on fighting.
They went through three drummers in this time, and were the absolute stars of Oi!, amassing rave review after rave review in Sounds, attracting the sort of fan who had gone off Sham 69 and having to fend off completely unfounded accusations of being racists.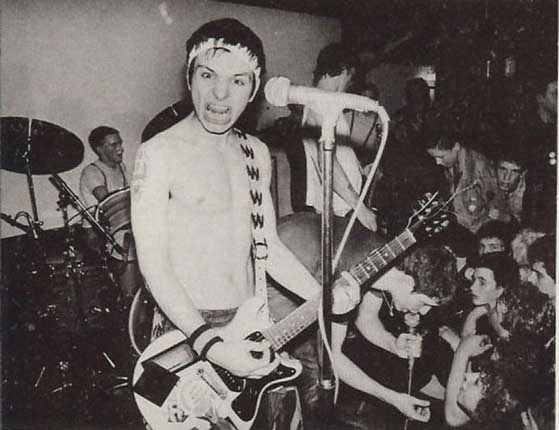 Their run of hit singles is remarkable, from the idiotic-and-proud-of-it I'm Not A Fool through to the hilariously moronic We Are The Firm, via the totally classic The Greatest Cockney Rip Off, which spills over into vaudevillian parody. Most of their single were proper hit records, with The Greatest Cockney Rip Off peaking at No. 21 and I'm Forever Blowing Bubbles reaching No. 35, no mean feat for such rowdy, radio-unfriendly fare.

Greatest Hits Vol. 1 and Greatest Hits Vol. II (both recorded with number Nigel Wolfe) are quintessential: thuggish in the extreme, practically each song boasts a chorus that sounds like a classic footer terrace anthem and the majority of the tracks seem to end with a barrage of burps, belches, jeering and general abuse. 'Oi! Oi! Oi!', on the second album, is a virtual manifesto.
Greatest Hits Vol 3 (Live & Loud!) was actually recorded in a studio (Abbey Road), with a large mob of their friends invited to cheer along to such ' as 'We Are The Firm' and 'We Can Do Anything'. A cover of 'Motorhead' is there to hint ominously at their future direction. Their first record with new drummer Keith "Sticks" Warrington, and it was also the last time they troubled the charts. Easy Life, taken from the album, was a tedious, lumpy piece of rock, and it bombed.
The Power & The Glory marked the Rejects entry into, well, not adulthood, but something beyond acne-ridden adolescence. It came housed in semi-tasteful artwork (although haters of West Ham might not agree) and the back cover photo showed the band sporting headbands and traces of eyeliner, while showing off their tats and generally looking macho. Along with the sub-standard tie-in single On The Streets Again, it died a total death: EMI did not like their new direction and simply let it go. A shame, as it has some of the group's best numbers and is thoroughly rousing.
ABOVE: The Rejects in go rock: 1981 (left) and 1982 (right).
After this they lost their manager, their record deal and their money (same old story: shafted by their erstwhile record company and their manager). They also lost their marbles, opting for a hard rock sound on a series of terrible albums that took them to obscurity and beyond, with Turner adopting a quasi-American accent and the abandonment of songs about football and fighting.
The Wild Ones (1982) was a boring heavy rock LP that somehow earned them a Top Ten Indie Hit. Although 'Rock N Roll Dream' was a guilty pleasure and 'Till The End Of The Day' was a fairly valid cover version, an artistic success it wasn't. By the time of 1984's Quiet Storm they had shortened their name to The Rejects and were in the doldrums. The LP came in one of the worst sleeves ever, even by heavy metal standards.
Stinky Turner, Cockney Reject: It was never going to go anywhere. I think the album went Teflon. It went wood in the Isle of Wight.
The low point might have been a US tour in 1985 where they showed up with long hair, were booed off stage every night and were even held at gunpoint by Roger Rogerson of the Circle Jerks. Or maybe it was worse when, in 1986, they tried recording an LP with Steve Marriott producing and ended up fighting not only with him but also gangsters who showed up to rob the studio. Lethal (1990) was their last gasp.
Anyway, after Lethal the Rejects were kicked into touch for the best part of a decade, until an invitation to re-record some old songs led to more LPs and gigs.
__________________________________________________________________________
LINEUPS
Lineup #1 (1978-1979)

Stinky Turner - vocals
Mick Geggus - guitar
Chris Murrel - bass
Paul Harvey - drums
Recorded Flares 'N' Slippers
Lineup #2 (1979)
Stinky Turner - vocals
Mick Geggus - guitar
Vince Riordan - bass
Andy Scott - drums
According to who you speak to and where you read it, either this lineup or next one is the "classic" one. Riordan was ex-Dead Flowers, Scott was ex-Tickets. Recorded their first Peel Session in August '79, and I'm Not A Fool (1979), Bad Man and Greatest Hits Vol. 1 (both recorded 1979, but released 1980).
Lineup #3 (1980)

Stinky Turner - vocals
Mick Geggus - guitar
Vince Riordan - bass
Nigel Woolf - drums
The other "classic" bootboy lineup. Recorded their second Peel Session in February 1980, and everything from The Greatest Cockney Rip Off to Greatest Hits Vol II (all 1980)
Lineup #4 (1980-1991)
Stinky Turner - vocals
Mick Geggus - guitar
Vince Riordan - bass
Keith "Sticks" Warrington - drums
The classic "rock" period lineup, recorded everything from Greatest Hits Vol. 3 (Live & Loud!) (1981) to Lethal (1990), although in the middle of this period they recorded Quiet Storm (1984) as a trio without Riordan. Ian Campbell also helped out on bass between 84 and 85.
__________________________________________________________________________
DISCOGRAPHY
Subsequent studio albums: Lethal ( 1990), Greatest Hits Vol. 4 (Here They Come Again) (2000), Out Of The Gutter (2002), Unforgiven (2007), East End Babylon (2012).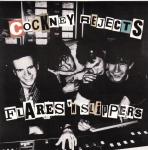 Flares 'N' Slippers (7", 1979)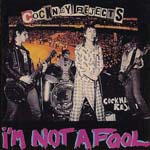 I'm Not A Fool (7", 1979)

Bad Man (7", 1980)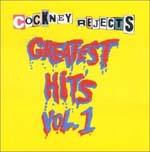 Greatest Hits Vol. 1 (LP, 1980)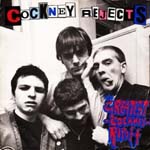 The Greatest Cockney Rip Off (7", 1980)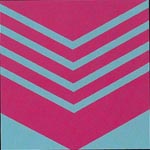 I'm Forever Blowing Bubbles (7", 1980)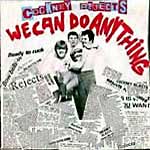 We Can Do Anything (7", 1980)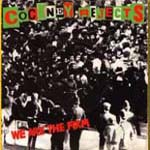 We Are The Firm (7", 1980)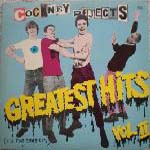 Greatest Hits Vol II (LP, 1980)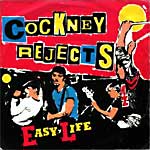 Easy Life (7", 1981)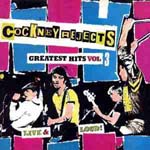 Greatest Hits Vol. 3 (Live & Loud!) (LP, 1981)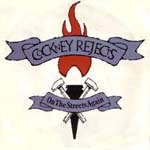 On The Streets Again (7", 1981)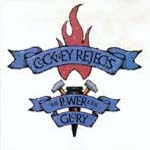 The Power And The Glory (LP, 1981)

The Wild Ones (LP, 1982)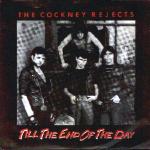 Till The End Of The Day (7", 1982)
Quiet Storm (LP, as The Rejects, 1984)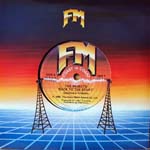 Back To The Start (7", as The Rejects, 1984)
Extraneous Releases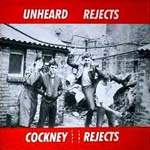 Unheard Rejects 1979-1981 (LP, 1985)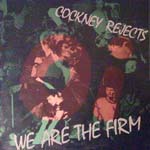 We Are The Firm (LP, 1986)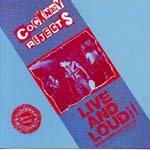 Live And Loud!! The Bridgehouse Tapes (LP, 1987)
Greatest Hits Vol. IV: Live In Spain (LP, 1987)
The Best Of The Cockney Rejects (LP+7"/CD, 1993)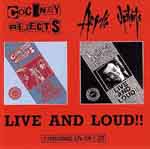 Live And Loud!! (CD, split with Angelic Upstarts, 1993)
The Wild Ones / Lethal (CD, twofer, 1994)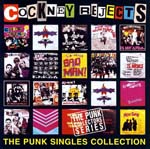 The Punk Singles Collection (CD, 1997)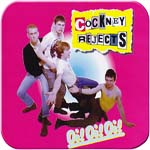 Oi! Oi! Oi! (CD, 1997)
The Very Best Of Cockney Rejects (CD, 1999)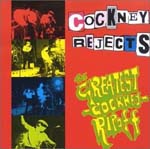 The Greatest Cockney Rip Off (CD, 1999)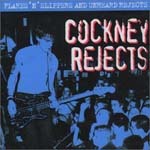 Flares 'N' Slipper And Unheard Rejects (CD, 2001)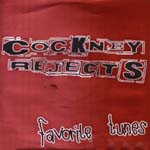 Favorite Tunes (7", 2001)
Join The Rejects The Zonophone Years '79 - '81 (3xCD, 2011)
East End Blitz & Pieces: Cockney Rejects Rarities 1980-2012 (CD, 2012)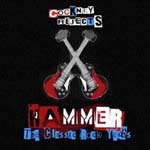 Hammer: The Classic Rock Years (CD, 2013)
Too Tough To Die 35 Years Undefeated (2xCD, 2014)
Bootlegs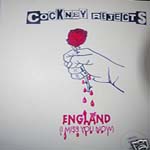 England (I Miss You Now) (7", 1991)

Various Artists
Back-Stage Pass UK LP 1980 (Supermusic): Wanna Be A Star / Police Car
Oi! The Album UK LP 1980 (EMI): Oi! Oi! Oi! / Here We Go Again / Generation Of Scars
The Last Stiff Compilation Album... ...Until The Next One US LP 1980 (Stiff): Flares 'N' Slippers
What's All This, John? Germany LP 1980 (EMI): Bad Man
Burning Ambitions (A History Of Punk) UK 2xLP 1982 (Cherry Red): Flares And Slippers
Oi! - The Resurrection UK LP 1986 (Link): I Wanna Be A Star
Oi! Chartbusters Volume 1 UK LP 1987 (Link): Police Car
Oi! Chartbusters Volume 2 UK LP 1987 (Link): Motorhead
Oi!.. The Picture Disc UK LP 1987 (Link): Police Car
Oi! Glorious Oi! UK LP 1987 (Link): Rip Off
Oi! Chartbusters Volume 4 UK LP 1988 (Link): Dead Generation
Oi! Chartbusters Volume 6 UK LP 1990 (Link): It Will Only Ever Be
Oi! Glorious Oi! / Oi! That's What I Call Music UK CD 1994 (Step-1 Music): Rip Off
Small Wonder: The Punk Singles Collection UK CD 1994 (Anagram): Flares And Slippers
Oi! The Singles Collection Vol 2 UK CD 1996 (Captain Oi!): Flares And Slippers / Police Car / I Wanna Be A Star
Small Wonder: The Punk Singles Collection Volume Two UK CD 1996 (Anagram): Police Car
Oi! The Singles Collection Vol 3 UK CD 1997 (Captain Oi!): I'm Not A Fool / East End
Zonophone Records: The Complete Punk Singles Collection UK CD 1997 (Anagram): Greatest Cockney Rip Off / I'm Forever Blowing Bubbles / We Can Do Anything / We Are The Firm / Easy Life / On The Streets Again
Lords Of Oi! UK 3xCD Box Set 1997 (Dressed To Kill): Police Car / Motorhead / Dead Generation / It Will Only Ever Be
Oi! The Demos UK CD 1997 (Captain Oi!): In The Underworld (Live)
Oi! This Is England UK 3xCD Box Set 1999 (Dressed To Kill): Police Car / Motorhead / Dead Generation / It Will Only Ever Be
__________________________________________________________________________
Links
Cockney Rejects Official Website

East End Babylon - Official site of the film

2010 Interview on the Flares n Seagulls