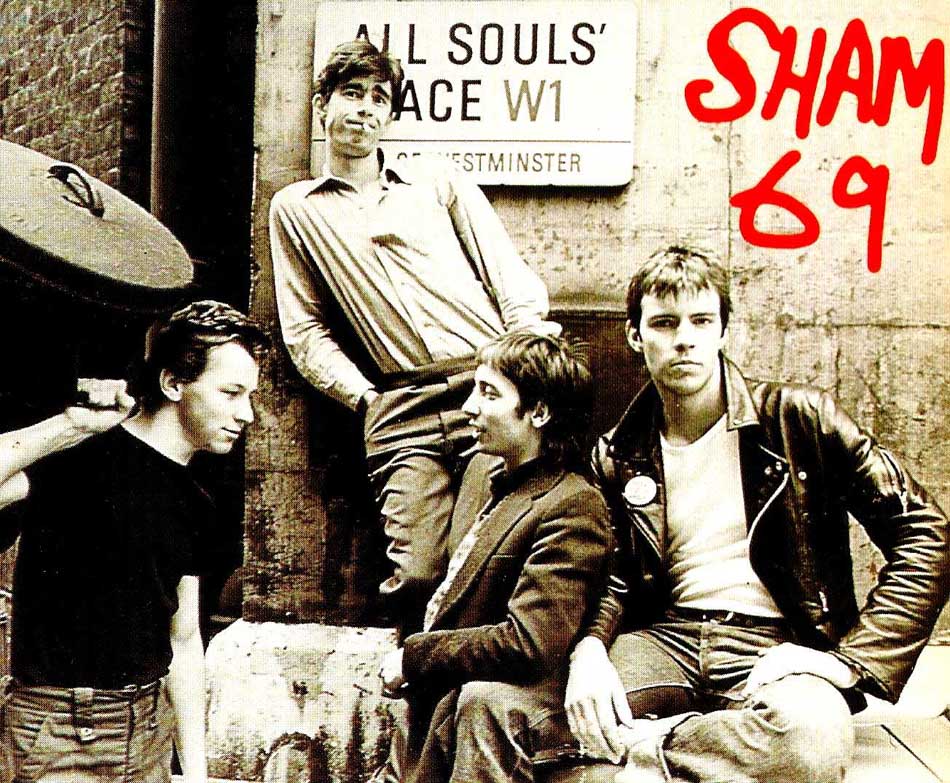 Formed: London, England, UK
The ultimate dole queue punk band, Sham 69 was one of the most popular (and populist) of the second wave of punk bands, scoring several chart hits (including a few that soared into the Top Ten) with a musical formula that rarely strayed far from this: paint-stripping guitars blazing out simplistic Ramones riffs, a solid and unpretentious bass/drums wallop, and brash football terrace type choruses.
Led by the indefatigable self-styled "Cockney cowboy" Jimmy Pursey, to say they polarised audiences would be a major understatement. The critics, generally, despised them, although Mark Perry, Tony Parsons and Julie Burchill were early supporters of what they considered to be the only punk band who genuinely spoke to (and came from) the working class. However by 1978, when the likes of Siouxsie & The Banshees and Mr Lydon were tiring of being seen as punks, they were held up as paradigms of what was wrong with the movement: they were artless street urchins who dressed normally (i.e. had no "style") and sang about life on the dole, and did not bow down at the altars of dub reggae or Krautrock.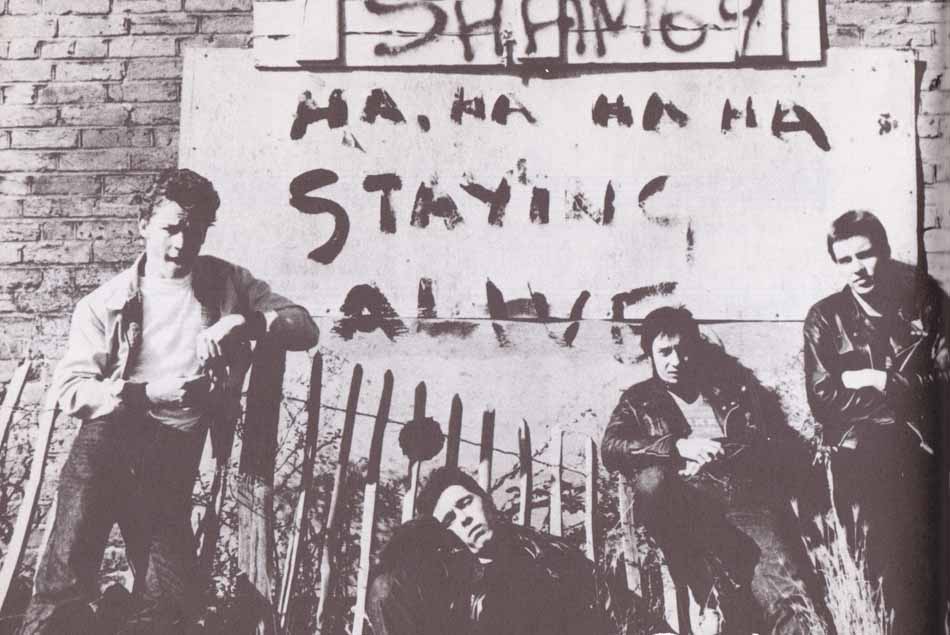 Their fans were utterly rabid, but unfortunately a small number of them were right wing trouble-makers, a following which they never really shook off, causing several splits before 1980. Pursey didn't help much by bursting into tears whenever a bout of fisticuffs broke out, and coming on stage to the strains of 'Land of Hope and Glory' was just plain stupid.
A bit of a chancer, Pursey leapt at being a media personality, and throughout the band's glory days was always somewhere: one week he'd be on the cover of Smash Hits, then you'd see him on Juke Box Jury, then Top Of The Pops, and then some television documentary about punk. Otherwise he was active behind the mixing desk for bands he directly inspired - producing early releases by Cockney Rejects and Angelic Upstarts - or attempting to kick start something called Jimmy Pursey Productions, a kind of umbrella organisation for new punk and mod groups. This didn't get very far off the ground, although a number of singles were released. An anguished soul, Pursey was elected by his fans as spokesman for a disaffected generation, and duly displayed equal amounts of cynicism, idealism and hopeless optimism, but he wasn't cut out for it, and was probably too self-serving to be convincing as such.
It was little wonder that by 1980 that the band fell victim to a backlash from its own fans. Punks don't appear to like success very much, for a start, and Sham 69 were very successful indeed. Pursey was also such a rentagob that it must have been extremely tiresome to see him on TV every other day talking bollocks about this or that. And by 1979 Sham had also softened their sound a bit, peppering their records with keyboards, whereas the likes of the aforementioned Rejects and Upstarts were "keeping it real", to coin a boring but apt phrase.
In truth, he and guitarist Dave Parsons made a very good songwriting team, with Pursey's Cockney shout the perfect compliment to Parson's catchy melodies and blaring guitars. They were one of the best punk bands of the '70s.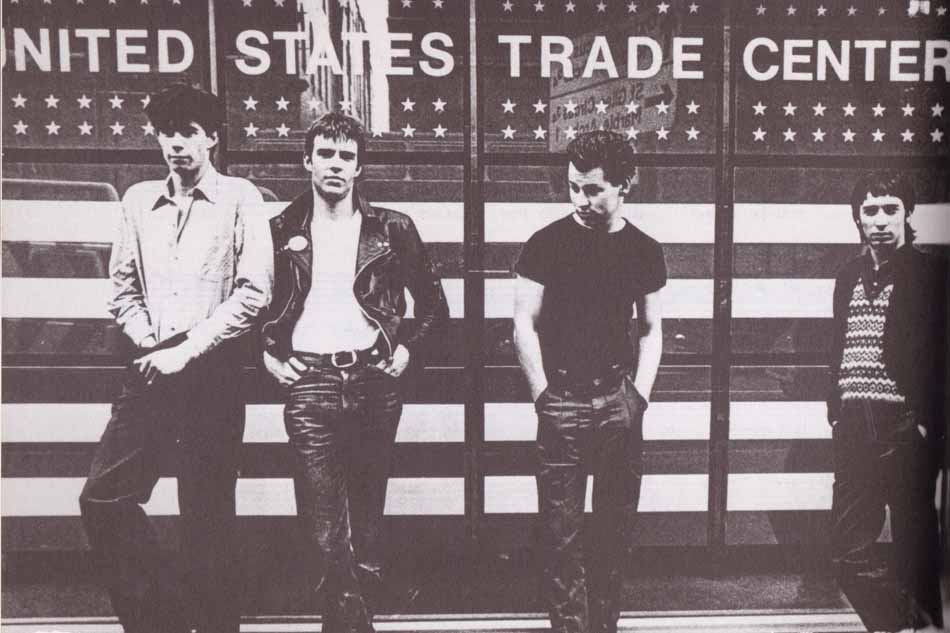 Part 1 (1975-1977)
According to Pursey, he formed the band in 1975 as a Bay City Rollers type band called Jimmy & The Ferrets. The Ferrets were Neil Harris (guitar), Johnny Goodfornothing (guitar), Albie Slider (bass) and Billy Bostik (drums). They used to play at the Walton Hop - rather infamously the haunt of convicted child sex offender Jonathan King - miming to songs by Gary Glitter and The Rolling Stones.
Come late 1976, though, they were playing basic four-chord punk rock, and by 1977 the newly punked-up band was gigging around, and in March supported Generation X at the Roxy.
The lineup, however, was problematic. In June, Goodfornothing and Billy Bostik were sacked for lack of commitment, and Harris had long since been gone. Goodfornothing and Bostik were replaced by Dave Parsons and Mark Cain respectively. The first proper Sham lineup was complete:
Jimmy Pursey - vocals
Dave Parsons - guitar
Albie "Slider" Haskell - bass
Mark "Dodie" Cain - drums

Pursey had met the new guys at the Walton Hop: Cain was a regular there, and Parsons' band at the time, Excalibur, shared a bill with Sham. Jettisoning all the old material - except for the lyrics to 'Borstal Breakout' - Pursey and Parsons formed a formidable song-writing partnership to rank alongside Lennon/McCartney, Jagger/Richard and Strummer/Jones, albeit as fed through the Ramones blender.
Jimmy Pursey, Q Magazine, 2002: They [Goodfornothing, Bostik] wanted to be in a band, but I wanted to be in notorious band. They didn't have the same ideology as me. I knew the music was more forceful and popular just by having verse and chorus, not by worrying how loud the hi-hats were or having a middle-eight here or an edit there. I just wanted a fast and furious music.
Dave Parsons: It wasn't conscious; we'd just sit down with a guitar and blast out what ever came into our heads. It was all very quick and spontaneous and once it had been written there was no mucking about with it, that was it. That was the whole point; we weren't going to do a Pink Floyd on it and spend half a year working on one track. Ten minutes and it was done! - as told to Punk77
June saw more gigs at the Roxy - including some with Skrewdriver supporting - and the gradual build-up of a skinhead following, somewhat preposterously spurred by a casual retort Jimmy made to a young crowd member who shouted "Skinheads are back". Pursey said something offhand like "Yeah, they are back aren't they"?, and that's where it all began. Within two years the skinheads became such a problem that Sham 69 were forced to quit - several times!
The skinheads were an immediate problem that alienated the band's core punk audience, and accentuated the schism between the more intellectual, arty end of punk and the "kids on the street" end. The band's lack of sartorial elegance had them earmarked as a band for the people, the real working class, not the middle class types who went in for the Seditionaries/Sex look, but people who couldn't actually afford to shop at those kinds of places.
Jimmy Pursey, Sniffin' Glue, Sept/Oct 1977: D'you know what a "real punk" is? A real punk today is the bloke with a belt joining the legs of his trousers together, or a girl in fishnet stockings. And they're the first people to shout wanker at my band. Cos they're in their little smug groups of fashion and they look just like the Sunday Times has told them to look. They'll tell ya bands are selling out to business too. Fuckin' snobs. What was it last year? Bryan Ferry, Glenn Miller?
And then went and ruined the effect with this nugget:
Jimmy Pursey, Sniffin' glue, Sept/Oct 1977: If you ask me punk goes back to, I dunno, the geysers [sic] with the Vikings goin' "oh fuck I'm bein' whipped", it's just saying what you feel.
Paul Weinling (Roxygoer), as quoted in Paul Marko's The Roxy London WC2: A Punk History: Sham 69 was playing the Roxy and there was about fifteen to twenty Skinheads in the place. I'm standing there watching the band and two of them start giving me a bit of grief and we had words. It turned into a bit of ruckus and before I knew it I had the whole bleeding lot of them onto me. I managed to grab one of them, pull them down on top of me and roll under one of the banquettes around the table. They were trying to get to me but couldn't and eventually a couple of doormen came down and broke it up. But what really pissed me off was that not one other Punk did anything to help me out. I thought thanks a lot. This is supposed to be our club and they basically were doing what they liked in it.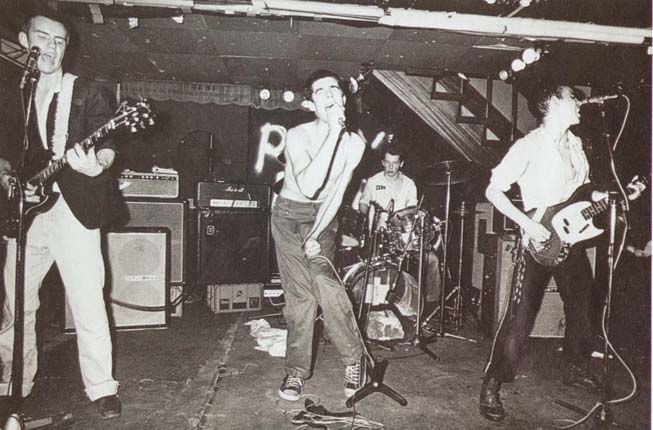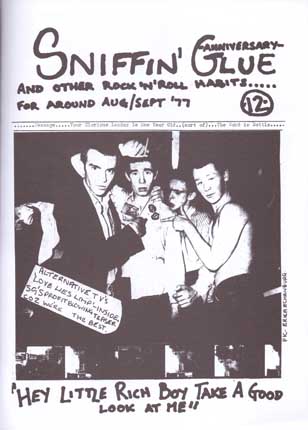 Their first single, the three track I Don't Wanna, laid the groundwork for next three years, and was a fair enough debut. Recorded at Pathway with John Cale producing, and released by Step-Forward, its three simple-minded, unembellished songs proved popular, especially the hilarious title track ("I don't wanna work in no factory/And I don't want no strike/And I don't want no dole queue") and the slow-burning 'Ulster', which reduced the very complex situation in Northern Ireland to some very simple observations ("Ulster, Ulster, you're all losers") but featured one of the best riffs Parsons ever wrote.
It was during the recording of the single that it was noticed that Slider was not very good, so after its release he became the band's road manager and Dave "Kermit" Treganna stepped in on bass. This was their classic lineup, and the one which propelled them to national fame and chart success.
However, before Slider left the lineup the band generated a great deal of publicity when they promoted the single with a gig on the roof of the Vortex record shop in Hanway Street. Unfortunately, the band played on the wrong roof and the police were alerted, and this resulted in some high profile press coverage.

Part 2 (1977-1979)
With manager Tony Gordon, in his days before Culture Club, orchestrating things behind the scenes, Sham signed to Polydor, after a one-single deal with Island was rejected.
Prior to the first Polydor single, though, the group self-released a one-sided gig freebie called Song Of The Streets, better known as 'What Have We Got', a classic rabble-rouser call-and-response rocker with the response being: "Fuck all!" (That December a new version was recorded for John Peel with "John Peel" being the new response.)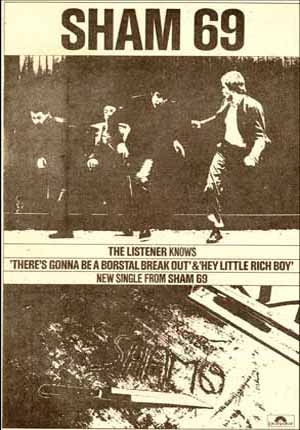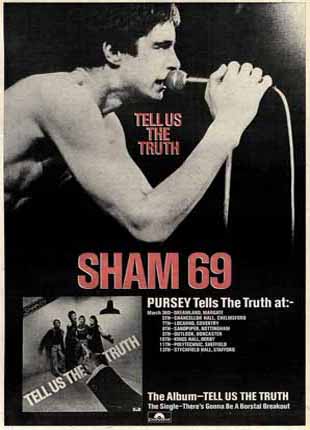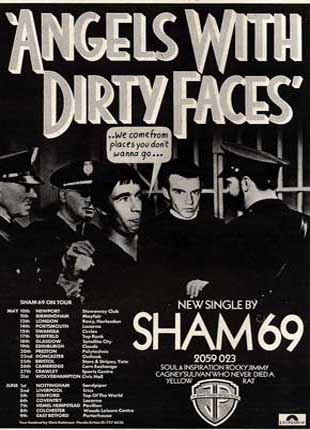 February 1978 saw the release of their first undisputed classic 45, the astonishing no nonsense smasheroo There's Gonna Be A Borstal Breakout, which did not chart despite being one of the finest singles of 1978. With great, meaty-but-raw production by Pursey and Pete Wilson, the song is a two-minute fireball that still amazes today.
Dave Parsons: We'd been playing a few London gigs and were signed to Step-Forward Records on a two single deal. At about the same time Tony Gordon was starting to manage us, and he simply bought a friend of his, Jim Crook from Polydor, down to see us at The Roxy Club on Neal Street. Fortunately, that night we had a great crowd in, who were queuing half-way down the street to see us. We played a great gig and were offered a deal with Polydor. As we'd only released one of our two singles with Step-Forward, Polydor had to buy us out, making 'Borstal Breakout' our first single for Polydor rather than our second for Step-Forward.
Their debut LP Tell Us The Truth followed in March, and scampered up the charts to No 25. In early '78 there was a bit of a lull in Punk Rock, and Sham 69 was the band that filled the gap left by the Pistols and The Damned splitting, The Clash taking ages to record their second LP, The Jam having fucked up with 'This Is The Modern World', and the early free-for-all chaos of punk having become distant and ever-more arty and jaded. 'Tell Us The Truth' announced the arrival of the first band for the people: working class types with no money who weren't even remotely interested in flamboyant musical experimentation. One side was recorded live - which sadly helped cement their reputation as the band of choice for beery aggressive skins 'n' herberts - while the other was a basic-as-bollocks studio set with virtually no production values at all. In short: a classic.
Dave Parsons: 'Tell Us The truth' was recorded at Polydor's in-house studio at Stratford Place just off Oxford St. Prior to recording we'd been playing live virtually non-stop. The last gig on the tour was in Manchester, we drove back to London through the night, and started recording on our arrival. It was important for us that at least half the album would be live, to try and catch the atmosphere of the time, and to say thanks to the people who had supported us. We recorded two gigs, one at the Vortex and the other at the Marquee. Most of the songs on the album were what made up out set list, I think the only ones we wrote at the time of recording were 'It's Never Too Late' and 'Whose Generation!'
Mid-'78 saw the band elevated from a promising band with a cult following to major stars. The first of their hit singles was Angels With Dirty Faces, which in May reached no 19 in the charts during its 10 week run there. A tribute to their fans, it was quintessential Sham. It was taken from their second album, That's Life, a concept album of all things!
If The Kids Are United followed in July and did even better, penetrating the Top Ten, and they chalked up another Top Ten placing with October's Hurry Up Harry, a beery anthem about the importance of "going down the pub". (Parsons still claims to be embarrassed by this song.) This chart activity was not bad for a movement everybody had written off a year earlier, but Sham's perky, cheeky and wonderful television appearances ("Who's on Top Of The Pops then, eh?") belied the fact that going to see them in concert could be genuinely dangerous.
ABOVE: 'Hurry Up Harry': Lyrics from Smash Hits, and Pursey and Cain in the promo video
Yes, their widespread popularity was also matched by the increasingly violent outbreaks at their shows. As early as February '78 the skinhead faction that had been a welcome novelty at their earliest shows was now a major problem, and it seemed that virtually every gig was being disrupted by them. The skins had claimed the band as their own and often decided that punks were also the enemy. Sham 69 played several Rock Against Racism shows but it didn't seem to deter the racist skins from seeing them as their band. Pursey's guest stint as co-vocalist with the vehemently anti-racist The Clash was smart, but why on earth did he (and they) choose to collaborate on 'White Riot'? The irony would be clearly lost on the dimmer skins. At another RAR show (playing alongside Elvis Costello) the aggro was so widespread that Pursey likened it to being in the trenches. Pursey attracted criticism from many quarters for not being vocal enough in condemning the violence. Sometimes he would just burst into tears, sometimes he would look on in impotent disbelief as the fists were flying, and sometimes he would try to engage the idiots in a discussion. Despite his fiery persona and angry vocals, Pursey was not one for diving in and sorting people out.
Gareth Holder (the Shapes), as told to the Punk 77 website: Thanks to the likes of Sham 69 and Co not making a stand against violence and right wing involvement until it was way too late, there was a time when going to *any* gig could result in violence. It was the violence at gigs that was one of the things that killed off the old punk. I fucking hated OI music and the bands that did nothing to stop the violence at gigs. That idiot Pursey had his head so far up his arse it wasn't true. He just didn't want to deal with it. He'd be singing "If the Kids are United" and the whole fucking place would be a war zone while he was doing it. Maybe I'm being a bit unfair to him, but they could really have done more to control the situation in my view.
The absolute low point of all this was at a gig at the Middlesex Poly on 26th January 1979. After constant fighting a fan was killed just 30 minutes into the set, and that all Jimmy would do was burst into tears (understandably). Worse, the gig was being filmed by the BBC for Arena and the band had bounced on stage to the music from A Clockwork Orange and 'Land Of Hope & Glory'. The band's ranks had been swelled by one at that show, as this was new keyboard player Tot Taylor's debut. Just five days later, on New Year's Eve at Friars in Aylesbury, after a largely trouble-free show, Pursey announced that they had played their last ever concert.
Part 3 (1979-1980)
In March the band made a welcome return to the Top 20 with the superb Questions And Answers, their poppiest effort to date. The violence over the last couple of months had clearly turned Pursey off on the rabble-rousing anthems of yore and he was now getting all philosophical ("There is no one that should tell you/What you can and cannot be/The world was made for all of us/For you and, yes, for me"). He and Parsons still knew the importance of a damn good tune, and 'Questions And Answers' was one. Increasingly musical sophistication was also in evidence: check out Dave Treganna's nimble bass-lines, the keyboard evident throughout, and Parson's guitar, which still slashed but was placed lower in the mix than normal.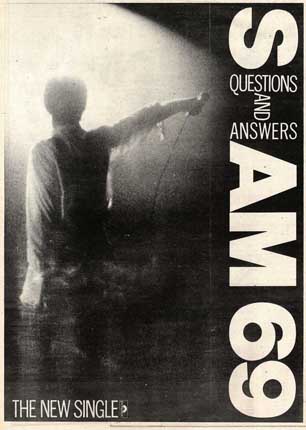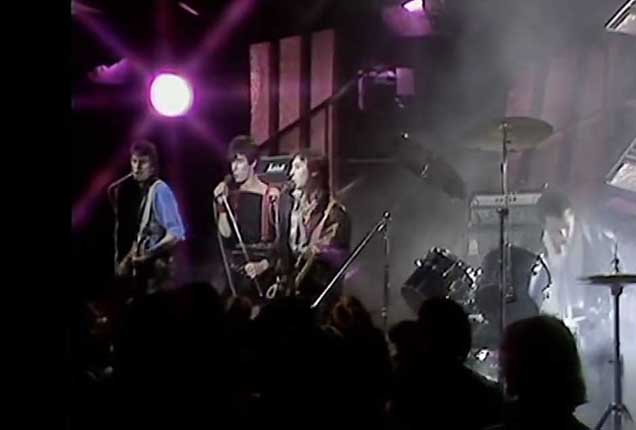 ABOVE: 'Questions And Answers': an advert for it, and Sham miming to it Top Of The Pops
The success of 'Questions And Answers' did not help the band falling into a period of disarray. First off, Pursey began nurturing two of the punk scene's newer rising stars, producing the Angelic Upstarts' debut album Teenage Warning, and then assisting the Cockney Rejects (eventual heirs to Sham's throne) in securing a deal with EMI Records. He also produced singles by The Invaders (new wave), Long Tall Shorty (mods), The Low Numbers (more bloody mods) and The Wall (gloomy punks). Amongst these production jobs was one for Jimmy Edwards & The Profile, Edwards being an old friend of Pursey's when they used to hang out at the Walton Hop. Edwards would join Sham many years later.
Rumours of a split were further fuelled (by Pursey) when he and Treganna began rehearsing with Paul Cook and Steve Jones with the aim of kick-starting a punk supergroup called the Sham Pistols (ahem!). This woe-begotten endeavour made it to the stage in the form off a one-off encore you can hear on the slightly mis-titled Sham Pistols Live: Live In Glasgow 1979 (Sham's Last Stand). This was another Sham 69 farewell gig, after which the Sham Pistols came on and performed four songs ('Pretty Vacant', 'White Riot', 'If The Kids Are United' and 'What Have We Got'), presumably pointing the way to the future. It didn't of course, and nor was it Sham's last gig. The Sham Pistols also managed to lay down two songs in the studio, 'Natural Born Killer' and 'Some Play Dirty', which can be heard on the bootleg of the same name, but contractual obligations meant that Polydor demanded more Sham product. (They can also be heard on The Complete Professionals CD set.)
And so the group reconvened to record a new LP, The Adventures Of The Hersham Boys. However, several months before it eventually came out in September, Sham had played yet another farewell show (their third that year!), which too had ended in violence, and had scored their biggest hit thus far with a new single, Hersham Boys, probably the punk/football terrace anthem of the year. When they appeared on Top Of The Pops to promote it in early August the lineup had changed: Cain had been replaced by Ricky Goldstein (ex-Automatics), and all four of them were having a whale of a time, especially during the song's country hoe-down middle eight. Cain was also missing from the excellent promotional video for the single, which had them riding horses and brandishing rifles, while Treganna dressed as a bumpkin, Parsons posed as Clint Eastwood and Pursey tried to impress as some kind of bandito.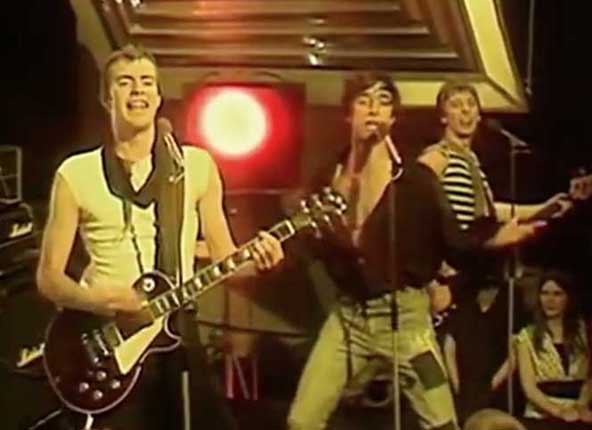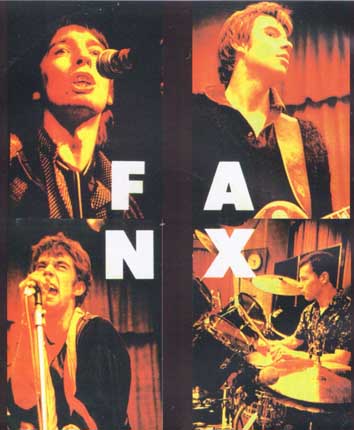 ABOVE: Parsons, Pursey & Treganna do 'Hersham Boys' on Top Of The Pops; 'Fanx' artwork from the 12" version of the same single
ABOVE: Smash Hits: Left from 19th may '79; Interview and lyrics from 9th August 1979. All images clickable
Jimmy Pursey, Q Magazine, 2002: I wasn't setting myself out to be the new messiah or prophet of doom as as, Hey Jimmy's gonna be the next politician. I wanted to be a Citizen Smith, a joke as well. If I did anything radical it was to turn around and say, I am Jimmy. There's nothing else to this. This is why punk is so much ME".
Dave Parsons: We had most of the tracks written before we got to the studio, but near the end of the recording we found ourselves short by one track. Jimmy had enough lyrics for a chorus relating to an area where he was born and brought up. I went back to my room with the lyrics and an acoustic guitar, emerging minutes later with a nearly finished song called 'Hersham Boys', so the last track we wrote and recorded become the album's title.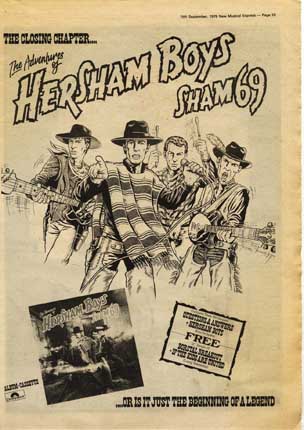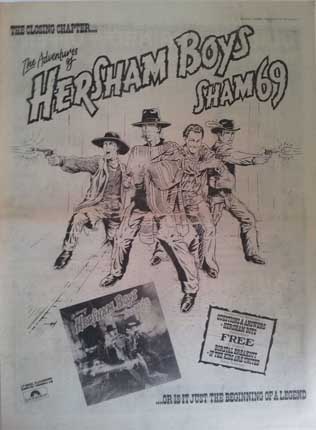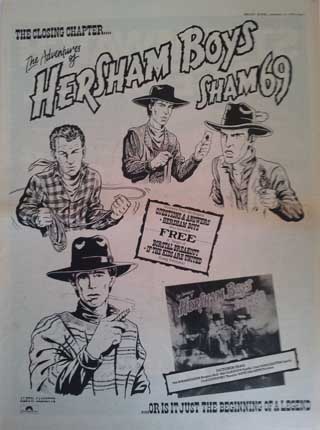 History does not record why Dodie quit. Maybe it was because some bright spark had decided to reinvent and market the band as "Cockney cowboys", a line taken 'Hersham Boys', and he could stand no more. The LP sleeve showed the band in full cowboy get-up, pistols blazing, with Pursey (not Parsons, this time) dressed as Clint Eastwood. The inside of the gatefold sleeve (Polydor threw a lot of money at Sham) had a cartoon variant of the front cover, with guns replaced by musical instruments. Anyway, he had finished his work on the LP and stayed around for the photo shoots, and then was no more a Shamster.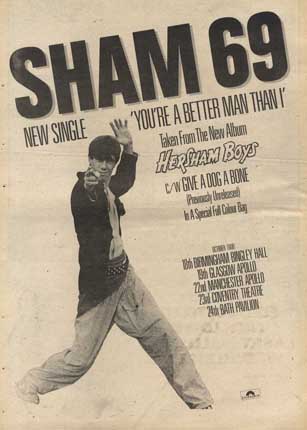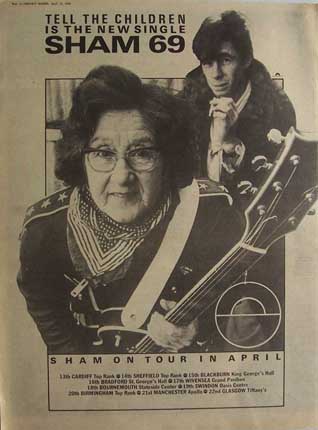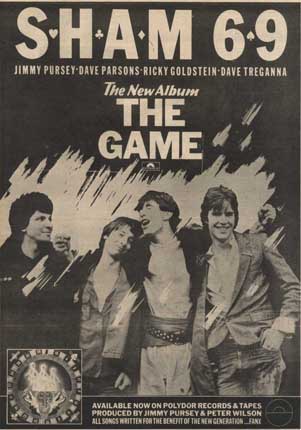 None of this really mattered, because with the LP and single, Sham 69 had peaked. Their cover of The Yardbirds' You're A Better Man Than I, which had raised eyebrows on the LP, came out that October and only just scraped into the Top 50, a poor showing for what was in fact an excellent cover version. The B-Side, 'Give A Dog A Bone', was much more in the traditional Sham vein and would have made a better choice as the A-Side. They followed this with another farewell gig (once more at the Glasgow Apollo), and then kept a low profile until the release of Tell The Children, which came out in April 1980 and fared only slightly better than the previous single. Album No.4 - The Game - came out the same month to no fanfare, failed to chart and won them poor reviews. It was in fact a great record, if a short on true anthems the caliber of 'If The Kids Are United' or 'Hurry Up Harry'. June's Unite And Win single did even worse, and signalled the end for the band's days at Polydor. The band split that summer.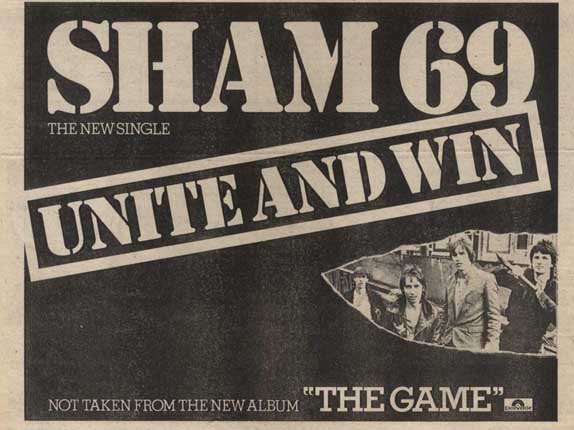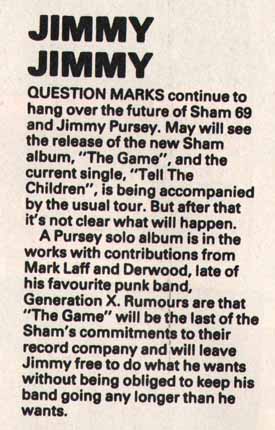 ABOVE: Advert and failed single, and Smash Hits clipping from 17th April 1980
Part 4 - Interim Years (1980-1986)
Pursey stayed with Polydor for 1980's pretentiously titled and packaged Imagination Camouflage, an LP that that featured Parsons, Treganna and ex-members of Generation X. Not a big seller, but a solid punky album that still attracts a fair amount of not entirely deserved scorn.
In the immediate aftermath of the split, Parsons, Treganna and Goldstein teamed up with Stiv Bators (ex-Dead Boys) to form The Wanderers. This band released one pretty good LP and a few singles before splitting, with Treganna and Bators forming The Lords Of The New Church with Brian James (ex-The Damned) and Nick Turner (ex-The Barracudas).
Over the next few years Pursey reinvented himself as something of a Renaissance man, embracing everything from "Avant garde dance" - you haven't lived until you've seen him doing God-knows-what to The Stranglers 'Meninblack' on Riverside - to recording singles in collaboration with Peter Gabriel. He also released two more increasingly difficult solo albums - 'Alien Orphan' (Epic, 1982) and 'Revenge Is Not The Password' (Code Black, 1983) - that registered fuck all on the tunes-o-meter but were - at least - brave and questing. None of which helped him from becoming a laughing stock. Billing himself as James T. Pursey on the 1983 LP didn't help. His last two solo efforts for a decade were a pair of singles, 'If Only Before' (Stage One, 1984) and 'Zap-Pow!' (Vide Cat, 1986). He also did some modeling for Gap.
RIGHT: Smash Hits clipping from October 1982
__________________________________________________________________________
DISCOGRAPHY
Subsequent studio albums: see here
I Don't Wanna (7"/12", 1977)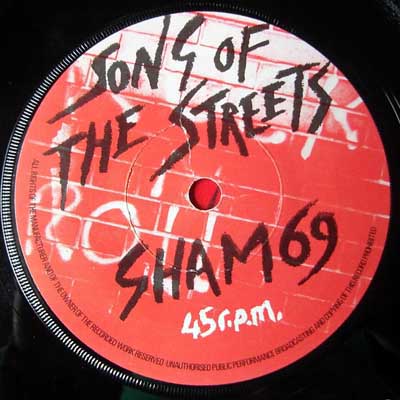 Song Of The Streets (7", aka What Have we Got, 1977)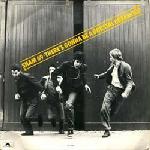 There's Gonna Be A Borstal Breakout (7", 1978)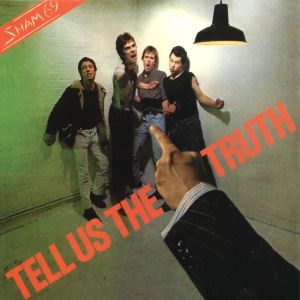 Tell Us The Truth (LP, 1978)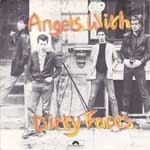 Angels With Dirty Faces (7", 1978)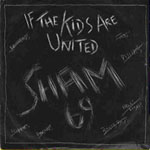 If The Kids Are United (7", 1978)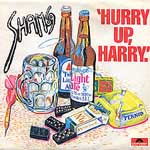 Hurry Up Harry / No Entry (7", 1978)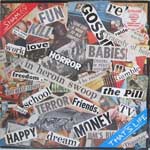 That's Life (LP, 1978)
Questions And Answers (7", 1979)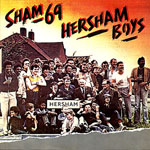 Hersham Boys (7"/12", 1979)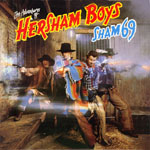 The Adventures Of The Hersham Boys (LP+12", 1979)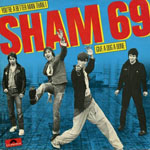 You're A Better Man Than I (7", 1979)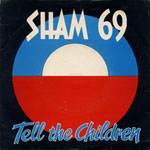 Tell The Children (7", 1980)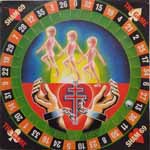 The Game (LP, 1980)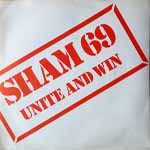 Unite And Win (7", 1980)
Extraneous Releases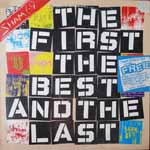 The First, The Best And The Last (LP+7", 1980)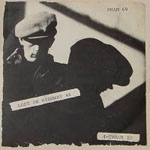 Lost On Highway 46 4-Track EP (7", split with The Only Ones, 1981)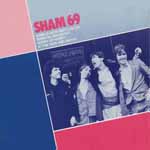 Angels With Dirty Faces (12", 1982)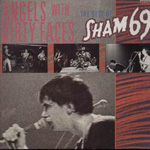 Angels With Dirty Faces - The Best Of Sham 69 (LP, 1986)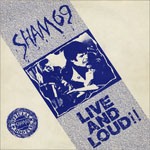 Live And Loud!! (LP, 1987)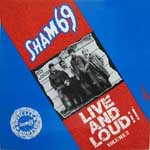 Live And Loud!! Volume 2 (LP, 1988)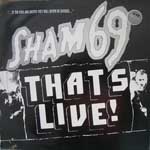 That's Live! (12", 1988)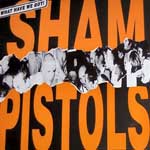 What Have We Got! (12", as Sham Pistols, 1988)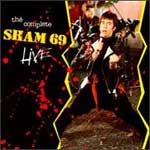 The Complete Sham 69 Live (LP/CD, 1989)
The Best Of & The Rest Of Sham 69 Live (LP+12"/CD, 1989)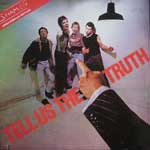 Tell Us The Truth / That's Life (2xLP, twofer, 1989)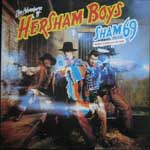 The Adventures Of Hersham Boys / The Game (2xLP, twofer, 1989)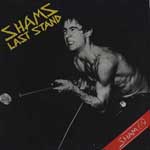 Shams Last Stand (LP/CD, 1989)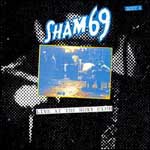 Live At The Roxy Club (LP/CD, 1990)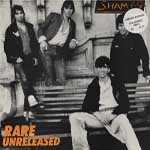 Rare And Unreleased (LP/CD, 1991)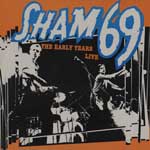 The Early Years Live (12", 1991)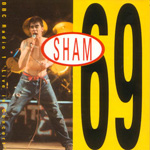 BBC Radio 1: Live In Concert (CD, 1993)
The Best Of Sham 69 (2xCD, 1995)
Live (CD, 1995)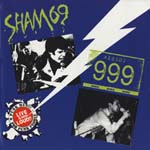 Live And Loud!! (CD, twofer, split with 999, 1995)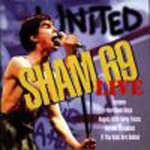 United Live (CD, 1996)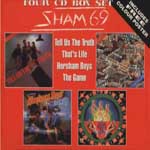 Four CD Box Set (4xCD, box set, 1996)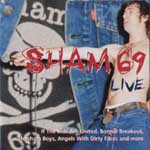 Live (CD, 1998)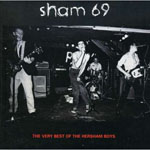 The Very Best Of The Hersham Boys (CD, 1998)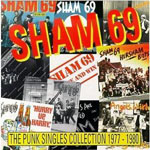 The Punk Singles Collection 1977-1980 (CD, 1998)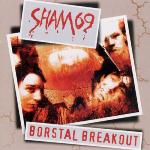 Borstal Breakout (CD, 1998)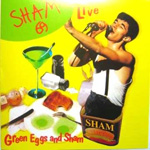 Green Eggs And Sham - Live (CD, 1999)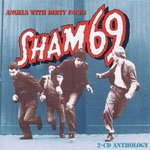 Angels With Dirty Faces (2xCD, 1999)
Live At Roxy (CD, 1999)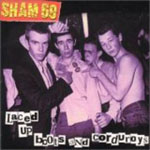 Laced Up Boots And Corduroys (CD, 2000)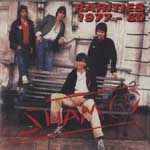 Rarities 1977-80 (CD, 2000)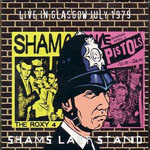 Sham Pistols Live: Live In Glasgow 1979 (Sham's Last Stand) (CD, as Sham Pistols, 2001)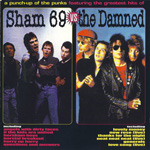 Sham 69 Vs The Damned (2xCD, 2001)
Cockney Kids Are Innocent - The Best Of Sham 69 (CD, 2001)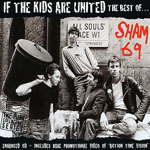 If The Kids Are United - The Best Of... (2xLP/CD, 2001)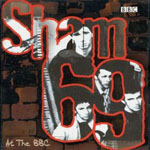 At The BBC (CD, 2003)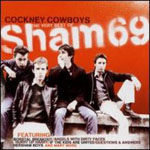 Cockney Cowboys - The Very Best Of Sham 69 (CD, 2003)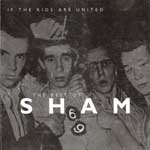 If The Kids Are United - The Best Of Sham 69 (2xCD, 2003)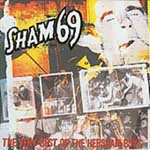 The Very Best Of The Hersham Boys (CD, 2004)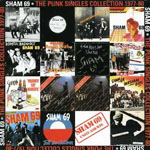 The Punk Singles Collection 1977-80 (CD, 2004)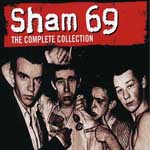 The Complete Collection (3xCD, 2004)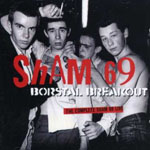 Borstal Breakout - The Complete Sham 69 Live (2xCD, 2004)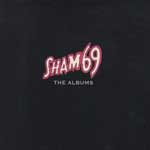 The Albums (4xLP/5xCD, box set, 2005)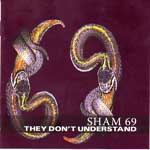 They Don't Understand (2xCD, 2005)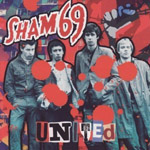 United (2xCD, 2007)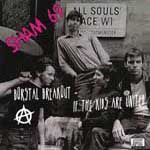 Borstal Breakout / If The Kids Are United (7", 2007)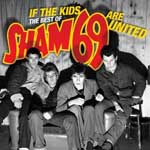 If The Kids Are United - The Best Of Sham 69 (2xCD, 2011)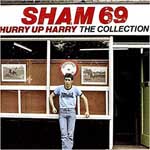 Hurry Up Harry - The Collection (CD, 2012)
Bootlegs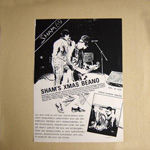 Sham's Xmas Beano (LP, 1979)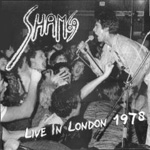 Live In London 1978 (LP, 2006)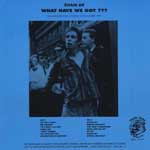 What Have We Got??? (LP, 2009)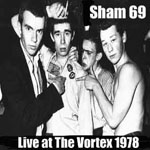 Live At The Vortex 1978 (CD)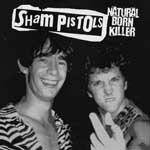 Natural Born Killer (LP, as Sham Pistols, 2008)
Various Artists
20 Of Another Kind UK LP 1979 (Polydor): If The Kids Are United / Borstal Breakout
20 Of Another Kind Volume Two UK LP 1979 (Polydor): No Entry Hersham Boys
New Rock Greece LP 1979 (Pop Olympic): Angels With Dirty Faces
The New Wave Times Brazil LP 1980 (Polydor): No Entry
Burning Ambitions (A History Of Punk) UK 2xLP 1982 (Cherry Red): Angels With Dirty Faces
The Defiant Pose UK LP 1983 (Illegal): Red London
Pogo A Gogo! UK Tape 1986 (New Musical Express): Borstal Breakout
Oi! Chartbusters Volume 2 UK LP 1987 (Link): Give A Dog A Bone (Live)
Oi!.. The Picture Disc UK LP 1987 (Link): Hersham Boys
Oi! Glorious Oi! UK LP 1987 (Link): Lost On Highway 46
Oi! That's What I Call Music UK LP 1988 (Link): Pretty Vacant
Oi! Chartbusters Volume 3 UK LP 1988 (Link): Tell Us The Truth (Live)
Oi! Chartbusters Volume 5 UK LP 1989 (Link): The Cockney Kids Are Innocent (Live)
The Best Of 20 Of Another Kind! UK 2xLP 1989 (Castle): If The Kids Are United / Borstal Breakout / No Entry Hersham Boys
The Oddities Of Oi! UK LP 1991 (Link): If The Kids Are United
The Oddities Of Oi / The Joys Of Oi! UK CD 1993 (Step-1 Music): If The Kids Are United
Punk - Past, Present And Future ... The Released Emotions Compilation (1988-1993) UK CD 1993 (Released Emotions): Questions And Answers
The Bright Side Of Oi! - Oi Classics Vol. I Germany LP 1994 (Street Kid's): Red London
Oi! Glorious Oi! / Oi! That's What I Call Music UK CD 1994 (Step-1 Music): Lost On Highway 46 / Pretty Vacant
Punk Explosion Live UK CD 1995 (Carlton Home Entertainment Limited): White Riot
Oi! The Singles Collection Vol 2 UK CD 1996 (Captain Oi!): Borstal Breakout / Hey Little Rich Boy
Oi! The Singles Collection Vol 3 UK CD 1997 (Captain Oi!): Angels With Dirty Faces / The Cockney Kids Are Innocent
The Best Punk Album In The World ... Ever! 2 UK 2xCD 1996 (Circa): If The Kids Are United
Lords Of Oi! UK 3xCD Box Set 1997 (Dressed To Kill): Give A Dog A Bone (Live) / Tell Us The Truth (Live) / The Cockney Kids Are Innocent (Live)
Oi! This Is England UK 3xCD Box Set 1999 (Dressed To Kill): Give A Dog A Bone (Live) / Tell Us The Truth (Live) / The Cockney Kids Are Innocent (Live)
1-2-3-4 Punk & New Wave 1976-1979 UK 5xCD 1999 (Universal): Borstal Breakout
Live From The Roxy UK CD 1999 (Castle): Rip Off / Borstal Breakout
No Thanks! The '70s Punk Rebellion US 4xCD 2003 (Rhino): Borstal Breakout / If The Kids Are United
Sniffin' Glue: The Essential Punk Accessory UK CD 2003 (Castle): I Don't Wanna
White Dopes On Punk UK 2xCD 2005 (Castle Music): (There's Gonna Be A) Borstal Breakout

'I Wanna Punk Rock' The Step Forward Singles Collection UK 10x7"/CD 2007 (Castle Music): I Don't Wanna / Red London / Ulster
Action Time Vision (A Story Of Independent UK Punk 1976-1979) UK 4xCD 2016 (Cherry Red): I Don't Wanna
1977: The Year Punk Broke UK 3xCD 2019 (Cherry Red): Red London
__________________________________________________________________________

Links
Facebook - For the real Sham 69
The Official Sham 69 Website - Read about the false Sham 69 here
Punk 77 - The story of Sham 69 and Jimmy Pursey - Punk Rock legends.