Though it can seem hard to believe now, what with his indoctrination into rock aristocracy and thirty-odd years of making making unbelievably boring records, Elvis Costello was an often controversial and intense singer in the late '70s. Despite the obvious shortcomings - scrawny frame, pub rock past, Buddy Holly specs, pathetic attempts to look hard - he was in 1977 considered a figurehead of punk, or at least the new wave arm of it.
This was partially due to his name, which some misconstrued as a dig at a certain dead hamburger-guzzlin pill-poppin Texan rock 'n' roller, and partly because he was a dab hand at rubbing people up the wrong way. Although older than punks were supposed to be, Costello fitted into the "angry young man" mould as typified by Paul Weller, Bob Geldof and (later) Joe Jackson, and wasn't impartial to sneering into cameras when required.
At his peak he deployed words like nuclear missiles, tossing off scathing lyrics in an almost offhand manner on a number of albums that appear to be in everybody's record collection. As a composer of well-crafted songs, for many critics he represented the "acceptable" face of punk.
As mentioned above, Costello had previous. He had served time as part of Flip City, an underachieving pub rock band that existed somewhere between 1973 and late 1975. The group didn't take off and he embarked on a solo career in 1976. Come 1977 he had signed with Stiff and with a pickup band called Clover (later Huey Lewis and the News) he recorded three brilliant singles, Less Than Zero, Alison and Red Shoes, the latter earning him a Top Of The Pops appearance but not a hit.
The classic My Aim Is True was released in July and eventually crept into the Top Twenty. None of these were real punk records: Clover was pretty mild-mannered and the arrangements sometimes harked back to C&W and Rock'n'Roll, but Costello's delivery was so vigorous and sneery that he simply had to be lumped in with the new music. The LP bridled with all the righteous indignation of someone who had been well and truly fucked over by his girl:
I'M NOT ANGRY
You're upstairs with the boyfriend while I'm left here to listen.
I hear you calling his name, I hear the stutter of ignition.
I could hear you whispering as I crept by your door.
So you found some other joker who could please you more.
I'm not angry, I'm not angry anymore.
I'm not angry, I'm not angry anymore.
Ooh, I know what you're doin'.
I know where you've been.
I know where, but I don't care,
'cause there's no such thing as an original sin.
I've got this camera click, click, clickin' in my head.
I got you talking with your hands, got you smiling with your legs.
Spent all my time in a vanity factory,
wonderin' when they're gonna come and take it all back.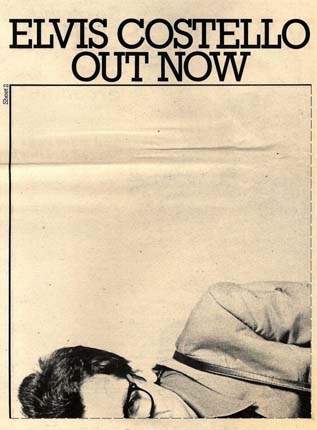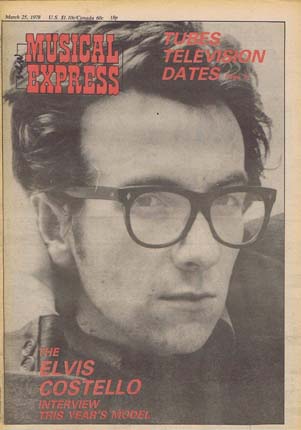 His manager was Jake Riviera, owner of Stiff, and his typically funny publicity stunts and ruses helped cement Elvis' popularity. In July he was arrested outside at the Park Lane Hilton while performing an impromptu audition for Columbia record company executives who had hoped for a quiet dinner but instead found an intense specky guy playing angry songs to them instead. In December, on his first US tour, he offended the producers of Saturday Night Live when he performed the scathing 'Radio Radio' instead of the scheduled 'Less Than Zero'.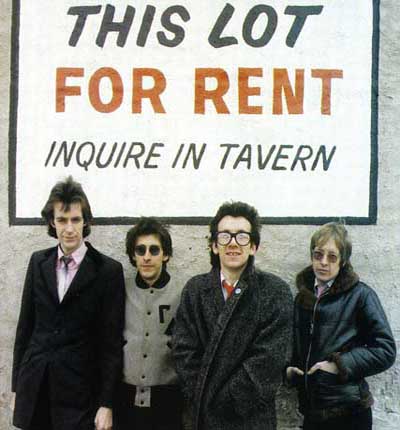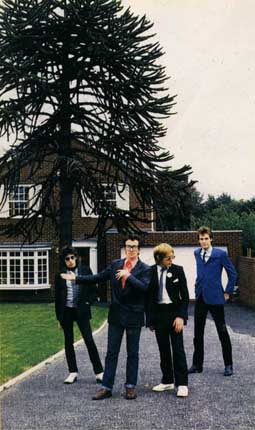 'My Aim Is True was memorably promoted with the "Help Us Hype Elvis" campaign, wherein purchasers of the LP found a form inside it, where they could out the address of a friend, who would subsequently receive his own copy free of charge.
By August Elvis had acquired his own proper backing band, The Attractions, who were considerably meatier sounding and slightly younger than Clover, and his fortunes changed. Watching The Detectives, a terrific film noir themed reggae/rock single, reached No 15 in the UK, and on the label's package tour he vied with Ian Dury for top billing.
After defecting to Riviera's new label Radar, he continued to score hits throughout 1978, including his sophomore album This Year's Model, which came with a freebie single, pairing two very different songs: a C&W ballad called 'Stranger In The House' and a not-especially-good version of The Damned's 'Neat Neat Neat'. Two singles from the LP, (I Don't Want To Go To) Chelsea and Pump It Up were issued as singles, while the US pressing featured a bonus track, Radio Radio, which had been issued as a single in the UK.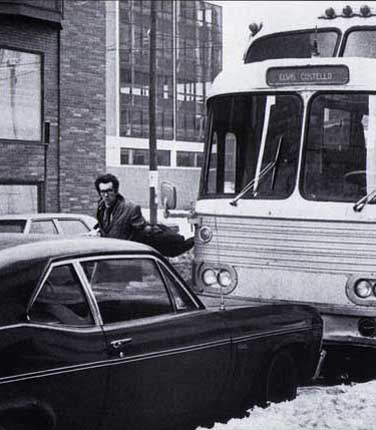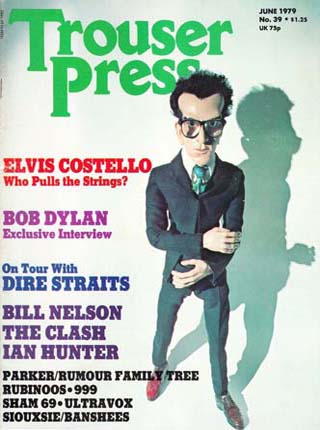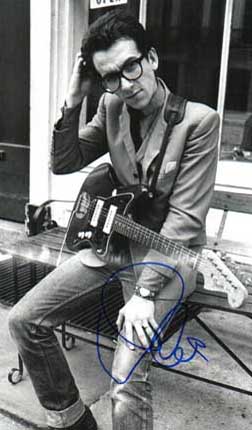 Recorded towards the end of summer '78 and released in January 1979, Armed Forces completed the trilogy of his "angry" albums, but despite the inclusion of the absolute killer single Oliver's Army, it was (and remains) the most unsatisfying of the three, too slick and too new wave, and with too many substandard tracks. Despite bristling with military metaphors and sophisticated arrangements,it was the sound of a band going into a cul-de-sac. Initial copies came with free live single and a a set of postcards. Whee!
Get Happy!! marked the culmination of his "new wave" period, with twenty short songs drawing heavily on R&B and soul music. Cynical buggers like myself would describe this as his "Elvis Costello - NOT A RACIST" album, his response to accusations of racism leveled at him in 1979 when, during a drunken argument with Stephen Stills and Bonnie Bramlett, Costello dubbed James Brown a "jive-ass nigger", and Ray Charles a "blind, ignorant, nigger". For Costello's part, 'Get Happy!!' was just a homage to the music he loved. Others saw it as an apologetic damage-limitation exercise. Either way, the LP is filled with duff tracks and is, certainly from a punk perspective, a tedious affair. In 1980, The Attractions issued a low-key solo album, 'Mad About The Wrong Boy'.
Since then he has dabbled in country, film scores, orchestral pieces, and acting.
Although not listed below, there are also three compilations worth acquiring which partially cover Costello's "new wave" period. The UK and US versions of 'The Man (The Best Of Elvis Costello)' are slightly different, but both offer excellent and representative selections of Costello's best works, beginning with 'Watching The Detectives' and climaxing with 'Shipbuilding', and including most of his best A-Sides. 'Girls + £ ÷ Girls = $ & Girls' is an ambitious double set which, in non-chronological order, recaps Costello's entire career, and makes for the perfect introduction for anybody wanting a succinct overview of Costello's varied, yet somehow unvarying, body of work. 'The Very Best Of' is another double, released on both sides of the Atlantic to coincide with a splurge of reissues.
__________________________________________________________________________
DISCOGRAPHY
Subsequent studio albums: Loads, and not in a punk/new wave sty;e.
Less Than Zero (7", 1977)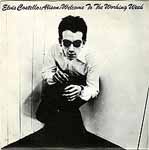 Alison (7", 1977)
Red Shoes (7", 1977)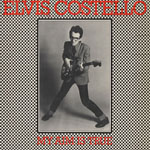 My Aim Is True (LP, 1977)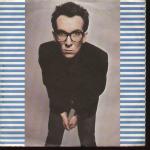 Watching The Detectives (7", 1977)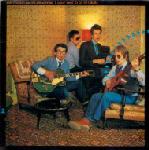 (I Don't Want To Go To) Chelsea (7", 1978)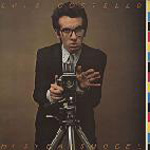 This Year's Model (LP+7", 1978)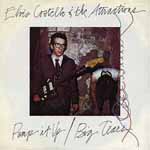 Pump It Up (7", as Elvis Costello & The Attractions, 1978)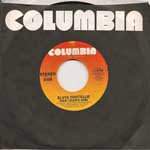 This Year's Girl (7", 1978)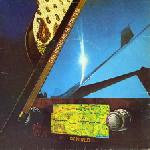 Radio Radio (7", as Elvis Costello & The Attractions, 1978)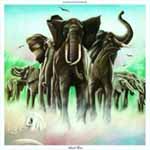 Armed Forces (LP+7", as Elvis Costello & The Attractions, 1979)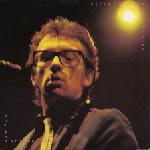 Oliver's Army (7", as Elvis Costello & The Attractions, 1979)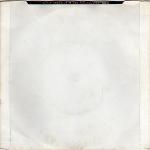 Accidents Will Happen (7", as Elvis Costello & The Attractions, 1979)

Get Happy!! (LP, as Elvis Costello & The Attractions, 1980)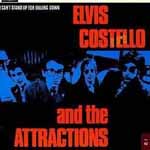 I Cant Stand Up For Falling Down (7", as Elvis Costello & The Attractions, 1980)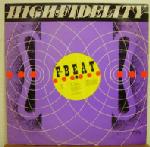 High Fidelity (7"/12", 1980)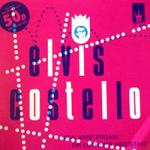 New Amsterdam (7"/2x7"/12",1980)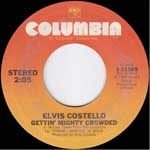 Gettin' Mighty Crowded
(7", 1980)
Extraneous Releases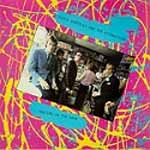 Talking In The Dark (7", gig freebie, 1978)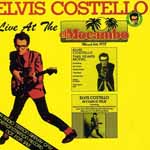 Live At The El Mocambo (LP, 1978)
Ten Bloody Marys And Ten How's Your Fathers (Tape, 1980)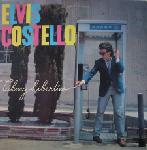 Taking Liberties (LP, 1980)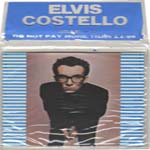 Four Pack (4x7", 1981)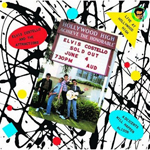 Live At Hollywood High (CD, as Elvis Costello & The Attractions, 2010)
Live At Hollywood High (7", 2010)
Promos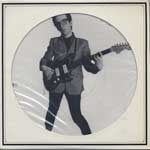 My Aim Is True / This Year's Model (LP, 1978)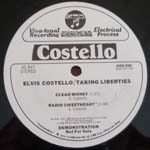 Taking Liberties (12", 1980)
Bootlegs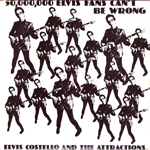 50,000,000 Elvis Fans Can't Be Wrong (2xLP, 1977)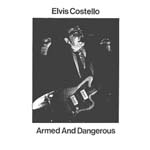 Armed And Dangerous (LP, 1977)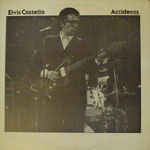 Accidents (2xLP, 1979)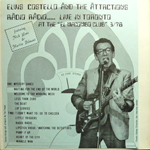 Radio Radio...Live In Toronto At The El Macombo Club 3/78 (LP, 1978)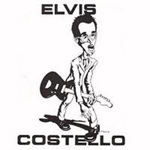 Revelations From The Very Middle (LP, 1978)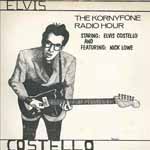 The Kornyfone Radio Hour (LP, 1978)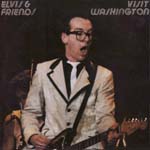 Visit Washington (2xLP, as Elvis Costello & Friends, 1979)
Elvis Goes To Washington And Dave Edmunds And Rockpile Don't (2xLP, 1979)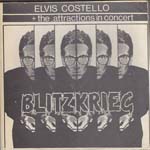 Blitzkrieg (3x7", as Elvis Costello & The Attractions, 1979)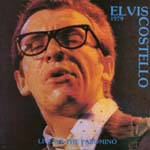 1979 Live At The Palomino (2xLP, 1979)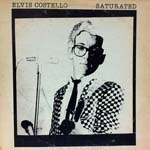 Saturated (LP, 1979)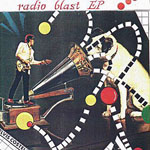 Radio Blast EP (7", 1980)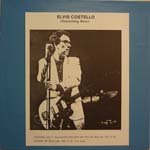 Something New (LP, 1980)
Rock Around The World (LP, split with Nick Lowe)
Various Artists
A Bunch Of Stiffs UK LP 1977 (Stiff): Less Than Zero
Hits Greatest Stiffs UK LP 1977 (Stiff): Radio Sweetheart
Excerpts From Stiffs Greatest Hits UK 7" 1977 (Stiff): Alison / Red Shoes / Watching The Detectives
Live Stiffs Live UK LP 1978 (Stiff): I Just Don't Know What To Do With Myself / Miracle Man
Heroes & Cowards Italy LP 1978 (Stiff): Less Than Zero / Mystery Dance / Alison
Now See Them Live! Spring '78 Tour US 12" 1978 (Columbia/Capitol): Radio Radio
That Summer! UK LP 1979 (Arista): (I Don't Want To Go To) Chelsea / Watching The Detectives
The Main Event UK LP 1979 (K-Tel): Radio Radio
Sharp Holland LP 1979 (WEA): Watching The Detectives
Rock Against Racism - RAR's Greatest Hits Netherlands LP 1980 (Ariola Benelux): Goon Squad
Pogo A Gogo! UK Tape 1986 (New Musical Express): Watching The Detectives (Demo)

The Best Punk Album In The World ... Ever! 2 UK 2xCD 1996 (Circa): Pump It Up
No Thanks! The '70s Punk Rebellion US 4xCD 2003 (Rhino): Mystery Dance / Radio Radio
Harmony In My Head: UK Power Pop & New Wave 1977-81 UK 3xCD Box Set 2018 (Cherry Red): You Belong To Me
__________________________________________________________________________
Links
The Elvis Costello Wiki