Formed: San Fernando Valley, Los Angeles, California, USA
"I can't believe a fucking band so retarded that no laugh is too cheap or too gross but hey, let's face it, it played then, it plays now. I can't quit talking about them and I hate 'em!"
- Lisa Fancher, 1986
Note: Items in the band bio below which are preceded by dates are from the band's website
Never as popular as they should have been, these Californian wacky boys played with the speed and dexterity of a hardcore band but wrapped up their slashing guitar sounds with bug-eyed humour of a zany, inoffensive nature that was almost impossible to dislike. Curiously, though, the great unwashed never took to their brand of pop in the same way as their nearest equivalents, the Ramones. It was probably the cover versions that did it: 100 MPH assaults on 'The Sounds Of Silence', 'Nights In White Satin' and the Monkees' 'She' had them labelled as a novelty act: no less than SIX of their first nine singles were covers. In hindsight the Dickies would have done well to relegate these to B-Sides, as they wrote entirely credible originals.
Musically they were superb: Stan Lee's high-octane guitar solos were (and, in concert, continue to be) a joy to behold, Leonard Philip Graves Philips' unbelievably snotty, on-helium vocals being equally wonderful. They also had one of punk's best keyboard players, Chuck Wagon, who sadly killed himself in 1981.

Part 1 (1977-1986)
Inspired by seeing The Damned, Leonard Graves Phillips (vocals), Stan Lee (guitar), Billy Club (bass), Karlos Kaballero (drums) and Chuck Wagon formed in early 1977 and quickly gained local popularity playing at the Starwood and Masque. Their zany image, unserious songs and colourful clothing earned them unwelcome comparisons with the Weirdos (indeed, some felt The Dickies a rip off act).
September 1977: Leonard (who is still recovering after a nervous breakdown and believes that being in a band will get him out of the house) attends his first audition in Billy's parent's family room and proceeds to wrap Stan in his own guitar lead, wrap everyone else up in Bugs Bunny 8mm film, cut up his own sweater into a Dickie and run out without singing a note! Stan dismisses him as an idiot and continues his search.
September 1977: Many band names are suggested. Karlos refuses to be in a band called the Imbeciles.
November 1977: At a gig at the Starwood, opening for the Quick, Leonard jumps off the PA scaffolding during 'You Drive Ape (You Big Gorilla)', breaks his right ankle, and sprains his left. He finishes the gig flat on his back while Stan kicks him repeatedly - he is under the impression that Leonard is doing his 'stupid Stiv Bators impersonation'!
November 1977:
The Dickies embark upon the 'Apocalypse' UK tour with The Jam, sets are kept short as the crowd are anxious to see The Jam and seem largely uninterested by 'these blokes from America'. The general consensus seems to be that they are 'taking the piss out of punk'.
Ex-John's Children (and current Sparks) manager John Hewlett spotted them and earned them a deal with A&M, making them the only true US punk band at the time to attract the attention of a major label.
Their first four offerings, all in 1978, were with one exception warp speed cover versions, and all came on coloured vinyl.
Paranoid
,
Eve Of Destruction
,
Give It Back
(their own song) and
Silent Night
were all reasonable UK hits. Single No. 5 was yet another cover,
Banana Splits (The Tra-La-La-Song)
, which entered the UK Top Ten, put them on Top Of The Pops.
These singles were a breath if fresh air: super fast, giddily good natured, and with gloriously unserious lyrics. 'Give It Back' concerned some bullying arsehole who "stole my books and they called me a clown"; our brave hero gets his own back by having them expelled, and then gets his head kicked in by them during the final verse. 'Hideous' is a mean diatribe about someone who "shouldn't t belong to the human race".
The Incredible Shrinking Dickies, housed in a great sleeve and issued and four different colours, presents the band at their giddiest. Three cover versions ('She', 'Eve Of Destruction', 'Paranoid') and ten originals, including a carnival-like - almost proggy! - instrumental ('Rondo (The Midget's Revenge)') and tracks like 'Mental Ward' and 'You Drive Me Ape (You Big Gorilla)' were crammed into 27 manically fast minutes. All the songs sounded the same and Graves' lyrics were indecipherable, but that was just part and parcel of its charm.
September 1979: The Dickies cover of the Moody Blues 'Nights In White Satin' is released. Justin Heyward (Moody Blues frontman) says he "likes the song but it's not the original". The singles' original, controversial, cover features the band dressed in KKK robes.
October 1979: The band's second album, 'Dawn of the Dickies' is released. The title is derived from George Romero's Dawn of the Dead movie, of which Leonard is a big fan. Robin Geoffrey Cable of Genesis, Van Der Graaf Generator fame, produces the album.
Dawn Of The Dickies, was IMHO even better (though many prefer the debut). With the tempos turned down a bit and the group rampaging through only one oldie, single No. 6 Nights In White Satin, this could be considered power-pop if the guitars weren't so blazing, the vocals so snotty, the lyrics so funny. Similar in impact to the Buzzcocks' full-blooded approach, 'Manny Moe & Jack' was a tale of spare parts dealer that had them accused of anti-Semitism, a charge reinforced by the US cover of the Nights In White Satin' single, where they dressed up as the Klan! 'Fan Mail' was lifted as another single, and gets that is my vote for the greatest pop-punk song ever written. Unfortunately, after the brilliant Gigantor singe (another cover version!) in 1980, A&M abandoned them, they fell out with Hewlett and the band seemed to fall apart. It hadn't in fact split, although sessions for a new album in late 1980 did not bear fruit.
September 1980: Neil Diamond is asked, via producer Ron Hitchcock, to write a love song for the band.
Phillips and Stan Lee returned three years with Stukas Over Disneyland, a thin-sounding mini-album taken from two sessions. Side one, from 1those LP sessions in 1980, was drummer Chuck Wagon's last for the band (he killed himself shortly after) and included one of their splendid "girls with deformities" numbers ('She's A Hunchback', the prompt for a spate of terrible jokes) and a mad version of Led Zep's 'Communication Breakdown'. Side two, from 1983, featured a new lineup (Lee, Phillips, guitarists Enoch Hain and Steve Hufstetter, bassist Lorenzo Buhne, drummer Jerome Angel) and two great, great songs: one of them a fantastic, swelling pop tune (Hufstetter's 'Pretty Please Me') and a ditty about Graves' penis ('If Stewart Could Talk').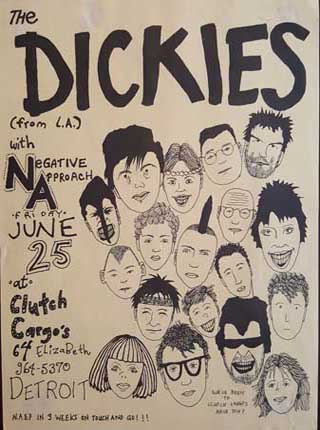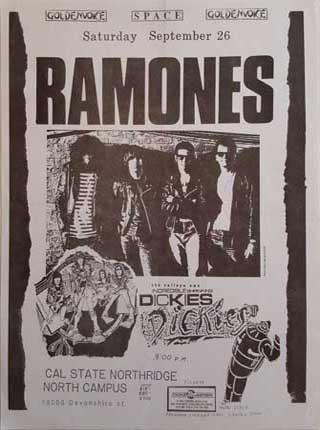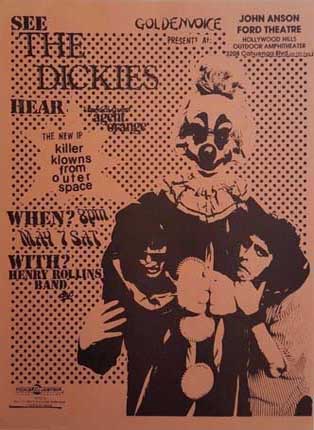 ABOVE: Flyers from 1982, 1987 and 1988
The mid-'80s were spent playing gigs and doing smack. With no new material in the pipeline, the cassette-only We Aren't The World! filled a gap, compiling live recordings dated between 1978 and 1985 and offering plenty of fun despite ropy sound. A nice bonus is the original four-track demo from 1977 that secured them their A&M deal, although as these were all re-recorded for A&M you can safely live without these. The title is a tasteless reference to the charity single 'We Are The World'. Another stop-gap stocking filler, although it claims to be "definitive" Great Dictations isn't (there's no 'Bowling With Bedrock Barney' for a start), but it serves as a handy introduction to their A&M period. Here are the liner notes, worth showing in their entirety:
Part 2 (1988-Onwards)

The sound of dropping jaws was heard throughout the civilised world upon the release of Second Coming (1989), immediately earning a reputation as one of the worst comebacks in recent memory. A dead-straight, and slow, rendition of Gene Pitney's 'Town Without Pity' and a six-minute epic entitled 'Caligula', complete with Latin chanting, were astonishing to anyone who remembered the Dickies' short 'n' speedy pop blasts from the '70s. Many years down the line, the album doesn't sound nearly so bad. In fact, much of it is great. 'Cross-Eyed Tammy', 'Monkey See, Monkey Do' and 'Going Homo' are pure Dickiedom: fast, funny and, in the case of 'Going Homo', offensive. Most of the rest is pretty good, too. (Some songs from the demo sessions were bootlegged as The Dawn Of The Out-Take - these are much rougher and better than the officially released versions.)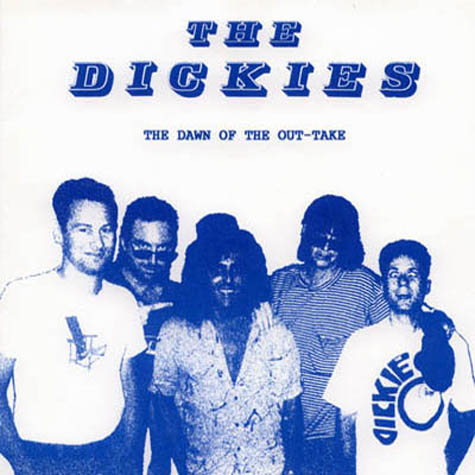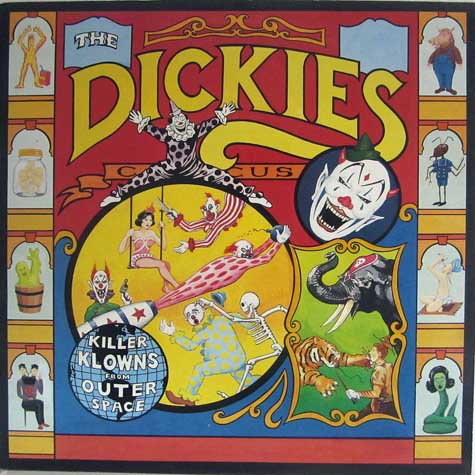 ABOVE: The Dawn Of The Out-Take EP and Killer Klowns From Outer Space EP - outside the Punky Gibbon scope but great releases anyway
Two of that album's eleven songs – 'Booby Trap' and 'Magoomba' - had previously been aired (in different versions) on the Killer Klowns From Outer Space EP (1988), the title number of which comes from the film of the same name and is, like the film itself, something of a guilty pleasure. 'Eep Oop Ork (Uh, Uh)' was the band's third, and thus far certainly least, kiddie theme tune cover, following 'Banana Splits' and 'Gigantor'. Eager to exploit the comeback, Locked And Loaded: Live In London (1991) is a well-recorded document that also doubles as a roughed-up 'best of'. This gig sees the band race through hits from all of their albums; invested with raw energy, songs from Second Coming are far more vigorous.
Given the rotten reviews that greeted Second Coming, one could be forgiven for approaching Idjit Savant (1994) with trepidation, but – honestly! – this nearly matches up to their glory days on A&M. The absence of keyboards is a small problem, robbing the band of some of their individuality, but the Star Trek-themed 'Make It So' and a couple of songs about Graves' and Lees' heroin addiction ('I'm On Crack', 'Just Say Yes') are superb, and 'Roadkill' is a pure burst of hardcore punk with funny lyrics about running over cats.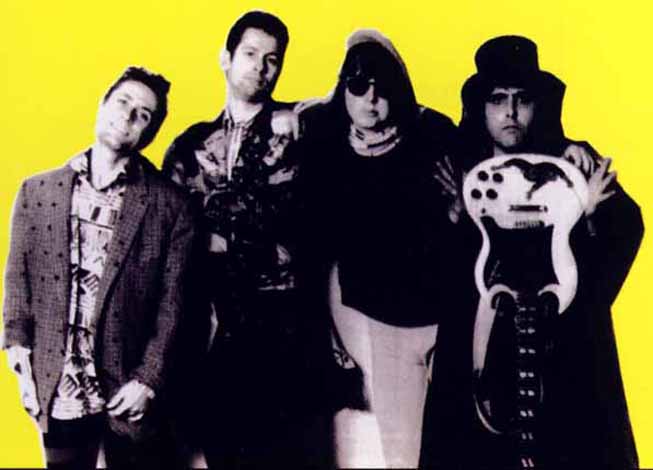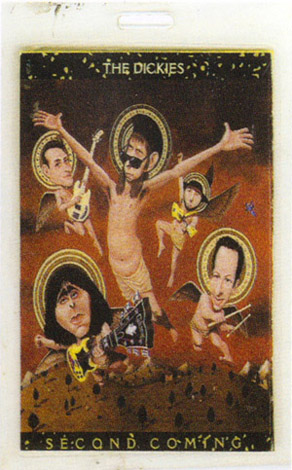 ABOVE: The Dickies in 1990, apparently; and a carrier back for their 1989 comeback LP Second Coming.
Dogs From The Hare That Bit Us (1998) is an eighteen-minute/eight-song covers disc, with the lads ripping through tracks by Weirdos, Human Beings, Hollies, Donovan, The Knack, Uriah Heap, Beatles and Iron Butterfly in a near-reverential manner. Not bad, but given their dismissal as a covers band perhaps not the most credibility-endowing move, and less entertaining then their versions of 'She' or 'Nights In White Satin'.
On All This And Puppet Stew (2001), Graves and Lee are joined by a different, slightly mediocre rhythm section and signed to a trendy record label guaranteed to earn them some new young fans. Still full of zip and bristling with both zaniness and catchy tunes, pop pearl follows pop pearl. While not up to the standard set by Idjit Savant, the likes of 'My Pop The Cop' and 'Whack The Dali Lama' are still pretty great.
__________________________________________________________________________

DISCOGRAPHY
Subsequent studio albums: Killer Klowns From Outer Space (mini-album, 1988) Second Coming (1989), Idjit Savant (1995), Dogs From The Hare That Bit Us (1998), All This And Puppet Stew (2001).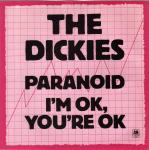 Paranoid (7"/10", 1978)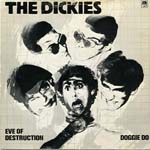 Eve Of Destruction (7", 1978)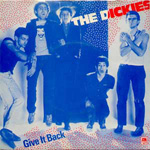 Give It Back (7", 1978)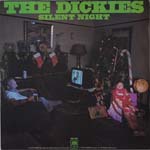 Silent Night (7", 1978)
Banana Splits (7", 1979)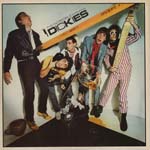 The Incredible Shrinking Dickies (LP, 1979)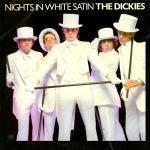 Nights In White Satin (7", 1979)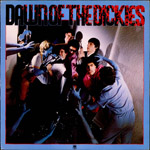 Dawn Of The Dickies (LP, 1979)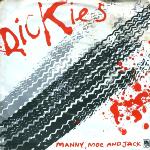 Manny, Moe And Jack (7", 1979)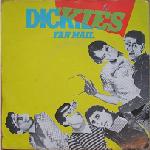 Fan Mail (7", 1979)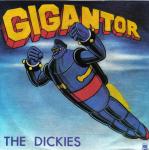 Gigantor (7", 1980)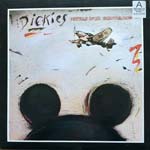 Stukas Over Disneyland (LP, 1983)
Extraneous Releases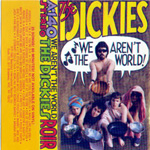 We Aren't The World! (Tape, 1986)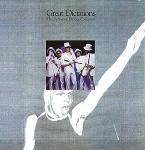 Great Dictations (The Definitive Dickies Collection) (LP/CD, 1989)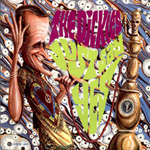 Just Say Yes (7"/CDS, 1990)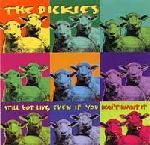 Still Got Live, Even If You Don't Want It (CD, 1999)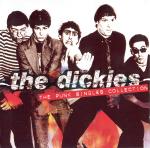 The Punk Singles Collection (CD, 2002)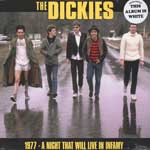 1977 - A Night That Will Live In Infamy (LP, 2014)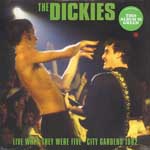 Live When They Were Five - City Gardens 1982 (LP, 2014)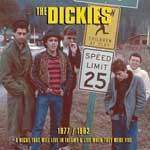 1977/1982 - A Night That Will Live In Infamy & Live When They Were Five (CD, 2014)
Bootlegs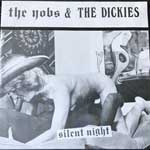 Silent Night (7", split with The Yobs, 1983)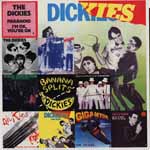 Dickies (LP, 1986)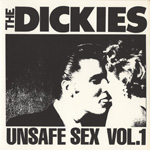 Unsafe Sex Vol. 1 (7", 1989)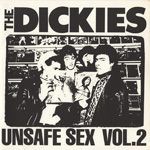 Unsafe Sex Vol. 2 (7", 1989)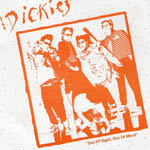 Out Of Sight. Out Of Mind (7", 1989)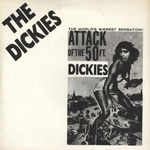 Attack Of The 50 Ft. Dickies (7", 1989)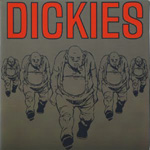 Live At The Wellingtons (CD, 1992)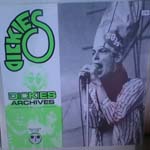 The Dickies Archives Vol. 1 (LP, 1998)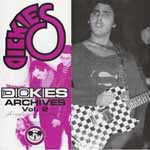 The Dickies Archives Vol. 2 (LP, 1998)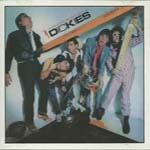 A&M Years (CD, 2000)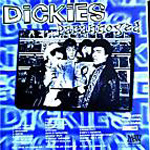 Parannoyed (LP, 2003)
Various Artists
No Wave US LP 1978 (A&M): Give It Back, You Drive Me Ape (You Big Gorilla)
No Wave UK LP 1979 (A&M): You Drive Me Ape / Hideous
The Main Event UK LP 1979 (K-Tel): Banana Splits (The Tra La La Song)

Street Level UK LP 1980 (Ronco): Banana Splits
Rock 80 Holland LP 1980 (CBS): Fan Mail
We Do 'Em Our Way UK LP 1980 (Music For Pleasure): Nights In White Satin
Flipside Vinyl Fanzine Volume 1 US LP 1984 (Gasatanka): Gigantor (Live In Cleveland)
Greetings From The Sunny Beach - Best Of Closer France LP 1984 (Closer): Stukas Over Disneyland
Off Limits
Germany LP/CD 1992 (Weird System): Gigantor [Live]
The Best Of Flipside Vinyl Fanzines US 2xCD 1992 (Flipside): Gigantor (Live)
We're Desperate - The L.A. Scene (1976-79) US CD 1993 (Rhino): You Drive Me Ape (You Big Gorilla)
1-2-3-4 Punk & New Wave 1976-1979 UK 5xCD 1999 (Universal): Paranoid
No Thanks! The '70s Punk Rebellion US 4xCD 2003 (Rhino): You Drive Me Ape (You Big Gorilla)

Live From The Masque US CD 2003 (Dionysus): Shake And Bake
__________________________________________________________________________
Links
All Music - Reviews Etc