Formed: Milton Keynes, Buckinghamshire, England, UK
These anarcho punks were formed in 1982, evolving out of the band Ethnic Minority. Ethnic Minority became Fuck Authority when two of its members - guitarist Dave Bancroft and singer Alison Wyn-de-Bank - got married and moved on.
A new lineup carried on, with drummer Sean Finnis moving from drums to vocals, but a minor scuffle with the law resulted in a name change. After being arrested and charged with "displaying offensive material in a public place" - the display being the band name on his leather jacket - Sean Finnis was bound over for a year and only escaped a heavier sentence by promising to give the band a less controversial name. And so: Exit-Stance. As Finnis told to Ian Gasper: "The name is basically a corruption of the word 'existentialism, a philosophy that places discipline and responsibility on the individual. A good state of mind to have, I believe, though I must admit that I stole it from a Poison Girls poster!"
The usual rounds of gigging (despite several bands in Milton Keynes) and recording lo-fi songs for obscure cassette-only compilations followed, the band having adopted a Killing Joke type sound, aided by their new drummer, 16-year-old Andy Williams. This is how Ian Gasper described them: "...one of the heavier anarcho bands, their powerful sound propelled by thundering tribal toms and edgy minor chord progressions".
Then Colin Jerwood saw them and invited them to contribute something to the latest Mortarhate compilation, Who? What? Why? When? Where? 'Operation Successful' was the song they cut, and the recording session for the song was indeed an operation successful: it went so well that they managed to record enough songs for a single, which were issued as the Crime Against Humanity 7", by Fight Back Records, prior to the LP's release. Several lineup changes later, the band released their mini-album While Backs Are Turned..., but despite touring with their friends Conflict, Exit-Stance parted ways in and around 1986 while preparing for their next record. (There was a short reformation in 2003, but that got nowhere.)
Ethnic Minority (circa 1981-1982):
Vocals - Alison Wyn-De-Bank
Guitar - Dave Paul
2nd Guitar - Dave Bancroft
Bass - Mark 'Jews' Heavens
Drums - Sean Finnis
Fuck Authority/Exit-Stance:
Vocals (1982-1987) - Sean Finnis
Guitar (1982-1987) - Dave Paul
Bass (1982-1987) - Mark 'Jews' Heavens
Drums (1982) - Mark Dinghy
Drums (1982 - 1986) - Andy Williams
Drums (1986 - stand in) - Pasco (Conflict)
Drums (1986-1987) - Darren 'Diaz' Ugh
After Exit-Stance, Jews played in numerous Milton Keynes bands, while Andy joined John Peel favourites Clare.

NOTE: This write-up is essentially a condensed version of a much longer essay in Glasper's excellent tome, The Day The Country Died.

__________________________________________________________________________
DISCOGRAPHY
Subsequent studio albums: Saying Nothing (But Speaking My Mind) (2017)
Singles & Albums
Crime Against Humanity (7", 1984)
While Backs Are Turned... (12", 1985)
Tapes Live At Worthing (Tape, 1984)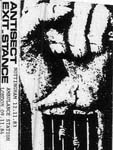 Nottingham 12.11.83 / Ambulance Station London 9.11.84 (Tape, split with Antisect 1984)
Various Artists
Persons Unknown Comp (2) UK Tape 1985 (LOL Tapes): Mankinds Hand
Is Music Dead? (Religious Vomit 2) UK Tape 1984 (Public Disturbance): The Shit Still Stinks
Who? What? Why? When? Where? UK LP 1984 (Mortarhate): Operation Successful
Symphonies For The Disaffected UK Tape 1985 (Beer Belly Tapes): Operation Successful
Crisis, What Crisis? UK Tape 1985 (Music Not Profit): Mankinds Hand / Ballykelly Disco
Punk.... The Acquired Taste UK Tape 1980s (Rentaracket): unknown
This Is The A.L.F. UK LP 1990 (Mortarhate): The Voiceless Now Have A Voice / Slaughter House
Mortarhate - A Compilation Of Deleted Dialogue - The Singles UK 2xCD 1997 (Mortarhate): Ballykelly Disco / Mankind's Hand / Blinded By Fear
This Is The A.L.F. - Second Edition UK 2xLP/CD 1998 (Mortarhate): The Voiceless Now Have A Voice / Slaughter House / They Kill Dogs
Anti-Society: Anarcho Punk Compilation Vol. 3 UK CD 2006 (Overground): Christian Militia
__________________________________________________________________________
Links
Listen And Understand
- Excellent band page with photos and lyrics