Formed: Edinburgh, Scotland, UK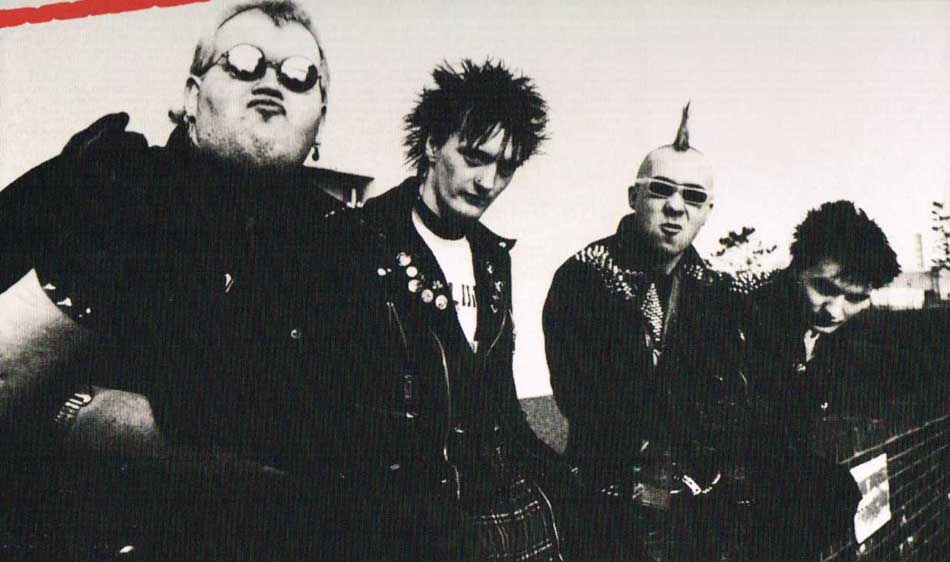 Record Collector magazine, 1992: In the aftermath of punk, many horrible creatures felt the time was right to crawl out of the primordial swamp. Among these deformed and debilitated reptiles were The Exploited who festooned themselves with tattoos and studded belts and declared themselves the new kings of punk. They shouted a lot, played songs that were two minutes long and totally devoid of melody, and generally looked and sounded horrible. Edwyn Collins once recounted that guitarist Big John used to chase Orange Juice's David McClymont around their college shouting, "You wee poof, you wee hippie, I'm gonna do ya!" Big John's no longer in the band but I'm sure his spirit lives on.
Teenagers when they formed the band, these Scots were at the forefront of the British hardcore movement, along with GBH and Discharge. A marked contrast to the "peace punk" brigade, The Exploited sang of the joys of "fucking a mod" to the tune of Jingle Bells ("fucking" not being a sexual reference here), calling the Queen "a dirty little bitch, fucking little cow" on 'Royalty' (from the first album), and singing the praises of glue-sniffing ('Crashed Out') and sex and violence ('Sex & Violence'). Naturally, they came into conflict with the anarcho punks who objected to their mindless devotion to "barmy armies" as well as their adoption of the word "anarchy" as a synonym for alcohol-fuelled chaos and disorder. Led by the diminutive, gobbing, mohican-sporting Wattie Buchan (a former squaddie), The Exploited are still going today with a new line-up, playing huge venues in South America and Japan, as well as maintaining a steady fanbase at home.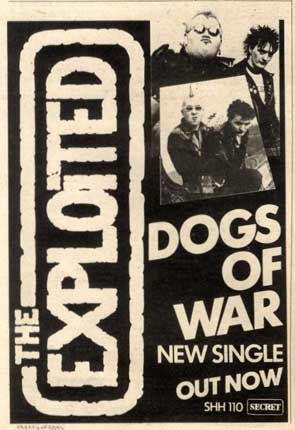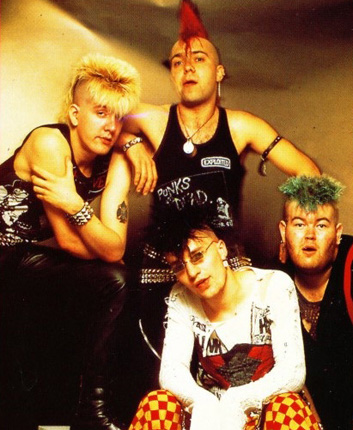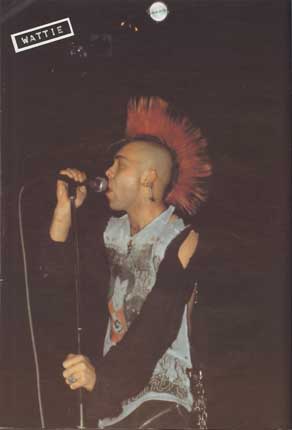 The group first barged onto the scene in June 1979, the original lineup consisting of Wattie (vocals), Hayboy (guitar), Mark Patrizio (bass) and Dru Stix (drums). They swiftly built up a large local following with their back-to-roots punk purism, pooh-poohing each and every then-popular youth cult going: Mods, teds, dour post-punk types, new wavers, power poppers. The group's effervescent singer was Wattie: his mum had deserted his dad (an unemployed brewery foreman) many years ago, and in 1977 Wattie had just left the army.
Wattie, Punk Lives, 1982: That music [Punk] changed my life. Before that I liked Alex Harvey, Slade and Alice Cooper but I'd never heard anything as exciting that made me want to be in a band.
First step for the group was an appearance on Oi! The Album, Garry Bushell's first Oi! compilation, to which they contributed 'Daily News' and 'I Still Believe In Anarchy', two cuts that set out the band's musical stall. Two singles followed, Army Life (June 1980) and Exploited Barmy Army (October 1980), both of which were released on their own label, The Exploited Record Company, and went on to sell thousands of copies, earning high places and extended runs in the Indie charts. 'Army Life' hovered around those charts for 18 months! The second single was a ludicrous chant effort which wasn't every good, but it featured new guitarist Big John, whose incredibly powerful playing became a vital component in the band's fortunes over the next few years (the rhythm section was less stable and would change fairly constantly over the next few years). The records' popularity led to a deal with Secret Records, which released the classic Dogs Of War 7" in March 1981, selling so many copies that it actually crossed over into the proper charts, propelling them to the giddy heights of No. 63.
Wattie 1981: We wouldna sign to a big record company, because I think it's important for a new punk band to stick with an independent in order to keep control, which we've done with Secret. We choose the records we wanna release and do the covers. The deal goes for three albums and three singles in three years. Moneywise, it's a fifty/fifty deal with a record producer and Secret. We were with Red Rhino but they're a bunch of wankers. We left because they wouldn't do the album, they didn't like the swearing and the two tracks 'Sex And Violence' and 'Ripper'. Anyway, Secret are better organised.
An album was called for, and that album was Punks Not Dead, considered, by some, to be the punk album, along with Never Mind The Bollocks Here's The Sex Pistols. It has none of the class of Bollocks but it's obvious why this album was so popular: its title confirmed what many people believed, and many people who believed punk wasn't dead enjoyed hearing other people and bands getting behind punk instead of slagging it off. The fifteen songs bear their scars with pride, laying into all the usual subjects - the cops ('Cop Cars'), the army ('Army Life'), prisons ('Son Of A Copper'), unemployment ('Dole Q'), the IRA ('Blown To Bits'), politicians ('Free Flight') - with a great deal of energy and not one iota of subtlety or intelligence. Wattie blurts out a four-letter-word at every opportunity atop a mass of impressive four-chord guitar damage and machine-gun drumming. It's a classic, and popular enough to earn them a Two 20 slot in the national charts.
In May 1981 their profile went through the roof when they embarked on the Apocalypse Now Tour, a package tour with Discharge, Anti-Pasti, Chron Gen and Anti-Nowhere League. A show from this tour was later immortalised on Apocalypse Tour 1981: check out their mangled version of the U.K. Subs' 'Warhead', where Wattie proves his bass playing is even worse than his singing, and a really dumb version of 'Belsen Is A Gas'.
Wattie Buchan, Punk Lives, 1982: Punk never died. It just went underground. The old bands like the Clash went shite and the new ones came through. Two years ago when the band was struggling and the press had written off punk, nobody wanted to know. Now everybody wants to interview us - it makes me sick. They all thought punk was a five minute fashion, but it wasn't. Nobody had a good word to say for us until now. But we're still the same musically as we were two years ago so it's good that we're changing people's attitudes even though none of us reckons we're special. We just want to make a noise and have a laugh; we're really into total chaos. I mean, like, Big John. He likes breaking beds. He jumped on his bed in Manchester and went straight through. We just couldn't stop laughing. To me the spirit of punk is having a laugh and looking after yourself. Do what you want to do and refuse to adjust to the system. Who don't give a shit about what people think about us because we're doing what we want to do. And if I ever do settle down, at least I can say I had a great time.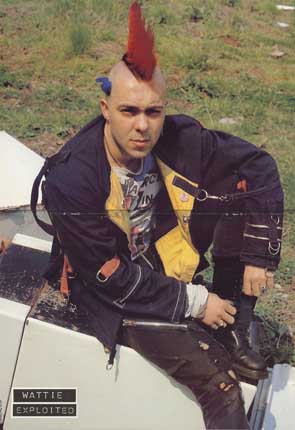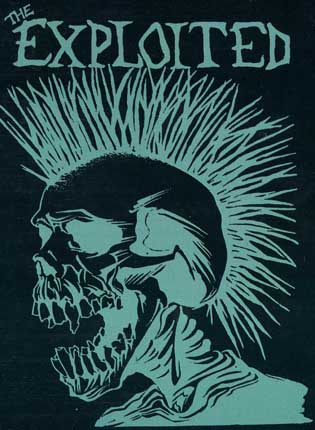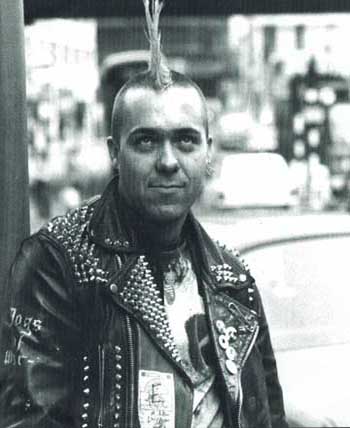 The LP was followed by a short tour of Holland in Autumn, and then a live effort, On Stage. Pressed on clear vinyl, the LP was an appalling attempt by the band's ex-manager to cash in on their success (a top 30 single, a top 40 album). The bootleg sound and musicianship is excruciating, with tediously extended bouts of tuning up (to no audible effect) in between songs. Avoid.
Much better was the incendiary Dead Cities single, a bona fide fireball of a 45 which fused a relentlessly furious pace with a vague sense of melody. This not only went into the Top 30 in September 1981 but even caught the ears of the BBC, who (probably reluctantly) allowed them to tread the boards of Top Of The Pops. It even warranted a release abroad, their first, when Roadrunner issued it in Holland in a totally different sleeve. More product followed, some of it dubious (Don't Let Them Grind You Down, a split release with Anti-Pasti, 1981, which dug up two shit live recordings), some of it okay (the Britannia Waives The Rules compilation 12", which featured the song 'Y.O.P.') and some of it exceptional (the Attack / Alternative 7" from April 1982, which reached no 50 in the real charts).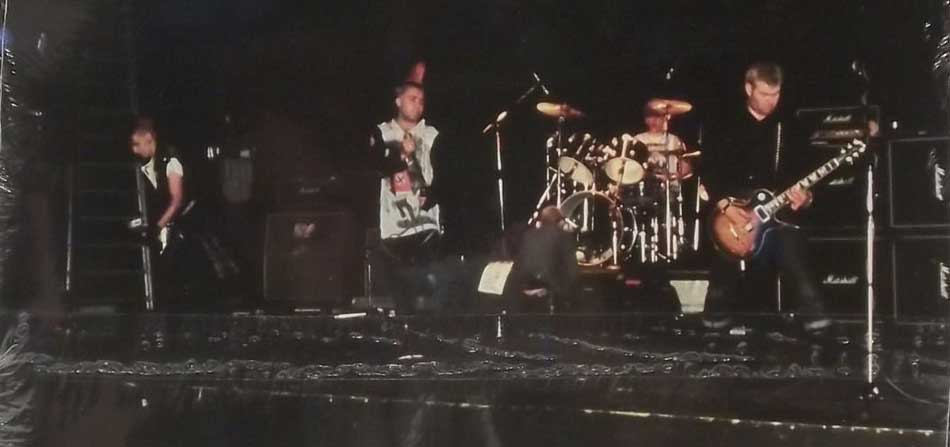 Coming out in May 1982, album number two Troops Of Tomorrow featured a major step forward in production values, and Big John's guitar in particular is extraordinarily powerful, the band raging its way through an extremely impressive state-of-the-nation address. The lyrics don't really bear much scrutiny (check out 'Sid Vicious Was Innocent' and 'War', the latter of which concludes that "Ronald Reagan is a cunt") but this rocks in a major way from start to finish, through such classics as 'Daily News', 'UK 82', 'Germs', 'Alternative' and an impressive brooding version of The Vibrators' 'Troops Of Tomorrow'. For completely gratuitous swearing, check out 'So Tragic' and an untitled track at the end, which consists chiefly of variations on the phrase "What you fuckin' lookin' at?"
The seemingly unstoppable onslaught continued with Computers Don't Blunder, their first single not to chart, purely because Secret had signed a distribution deal with a major label and the record was therefore excluded from the indie chart. It also did not sell enough to make it into a the national charts. None of which disguised the fact that record demonstrated the beginnings of a social conscience (both songs actually have proper messages) and an even more aggressive musical assault. The band's impetus however was slowed when Secret withdrew funds for a proposed European tour and then went down the tube as well.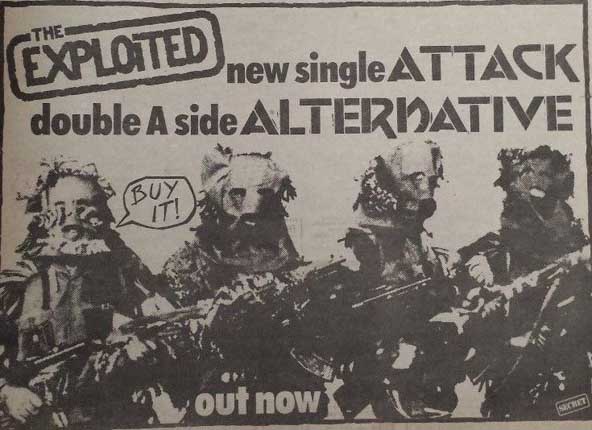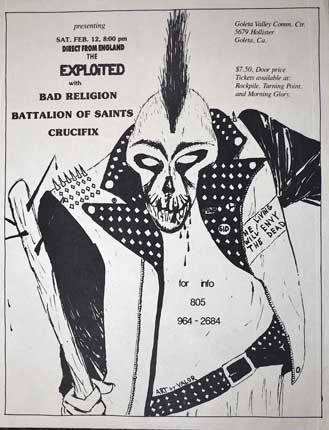 The group began 1983 with a short tour of Canada and the USA. Then in July 1983 they shared a surprise bill with Crass at the 100 Club in London. Three years after having described them as "a big bunch of wankers" on the closing track of Punks Not Dead, Wattie extended an olive branch to his hippie-punk enemies by inviting them to appear as an unannounced support act, possibly because Wattie's girlfriend at the time was Annie Anxiety. Despite idiots sieg heiling all the way through Crass's set and Annie Anxiety getting a rough ride, the gig went relatively smoothly, considering the amount of bad blood that had existed between both bands and both camps of fans.
Dave Lewer, commenting on the Kill Your Pet Puppy site: To be honest, in those days I was a skinhead and simply went along to see The Exploited play their set and was simply astonished when Crass made their presence on the stage. I thought and still believe it was completely inappropriate for the two bands to play the same venue as the Exploited fans weren't receptive to the more ethical and passive messages of the Crass promoting maxims. I was only about 13 at that time and felt pretty awful at the treatment Annie Anxiety received by the mixed audience of mostly punks and a lesser volume of skins who were hell bent on shouting abuse and throwing the contents of their plastic pint glasses at her. I can remember that after their set finished and as she left the stage I approached her and asked if she was OK – not much consolation I know after her being soaked with beer / spit and being viciously verbally abused. I was just too young and ill equipped I guess to know what to say to the poor girl. Anyway, I remember the main en-thesis on the evening was Wattie promoting the fact that The Exploited's music was due to be the released on the TV drama 'Made in England', which at that time incidentally, was really something for me myself to get excited about. The final offering was, as those who have viewed it, not a very accurate portrayal of the typical skinhead lifestyle but much a media fed interpretation of the very worst element, which incidentally was another heavy blow and another reason for the demise of the skinhead culture.
Steve Ignorant, Crass: Annie Anxiety was going out with Wattie...Christ, that would have been a wedding from hell...just imagine those kids! At first I was dead against it, but then I came round to the idea. We went on and played, and then I was stood there watching The Exploited, and they were okay: I didn't rate them that much, to be honest, a lot of stamping about. But there were no big first fights, no animosity between the bands; Wattie seemed a nice geezer, y'know? He asked us to play, and good for him; it was a shame that Special Duties couldn't have done something like that as well.
Signing to Pax, the Sheffield label set up by Marcus Featherby and home to the Mau Maus and Xtract, The Exploited bounced back with their second anti-nuclear war single in a row, Rival Leaders EP (featuring great political artwork), and album number three, Let's Start A War... Said Maggie One Day (their first international release, courtesy of Combat Core). By now The Exploited were even more pissed off, especially at Margaret Thatcher for causing mass unemployment and starting the Falklands War, and other world leaders for atrocities in the Lebanon and elsewhere. Taking a cue from Crass, the songs on side one are interlocked with shards of radio and television sound-bites, creating a state-of-the-nation effect that works in the album's favour. They give up the idea on side two, possibly because they got bored with it. Only twelve numbers this time, but 'Psycho', 'Insanity' and 'God Saved The Queen' are awesome, and 'Wankers' is such an amusing song title I thought I'd mention it. This ferocious platter was a massive influence on thrash metal, but don't let that put you off.
Prior to the LP's December 1983 release Big John left, and the group soldiered on with second guitarist Karl Morris (from Xtract) now being the sole guitarist.
Record Collector magazine, 1992: Edwyn Collins once recounted that guitarist Big John used to chase Orange Juice's David McClymont around their college shouting, "You wee poof, you wee hippie, I'm gonna do ya!" Big John's no longer in the band but I'm sure his spirit lives on.
The departure of their accomplished guitarist was a set-back, as was problems with the band's management and a dispute with Pax Records, with The Exploited accusing the Featherby of not paying royalties. The Exploited were then also accused of dirty deeds themselves when it was claimed that the famous skull logo that adorned the front cover of the third LP was used without the permission of its artist, Pushead.
Pushead, Maximum Rocknroll, July 1984: I get lots of letters asking what's being done about the EXPLOITED mess. First, I've been in contact with Marcus Featherby of Pax Records, who says he will reimburse me for damages done. That's Marcus, not the EXPLOITED. Garry Bushell and Savage Pencil did a writeup in SOUNDS on the EXPLOITED's ripoff of Pushead, and it was well-written and truthful. The following week, Wattie wrote a rebuttal which stated it was not intentional, and I should contact Marcus for payment. Then why does Wattie threaten Marcus at his home, and tell him no such monies should be paid? And why does Wattie sell the rights to the EXPLOITED's LP to bootleggers without Marcus' consent? So that brings us to why did Marcus trust Wattie in the first place, since Wattie completely turned around and burned Marcus. Marcus Weatherby [sic] and Pax Records is a highly respectable operation, not a multi-profit scam, and because of what Wattie did to them, the label has folded. So now the EXPOLITED are touring the US and how many people said "No way" to the rip-off artists?? And how many people said "Yes" to the profit off all the punx? You be the judge. Did you see the ticket prices? Do you know their contractual agreements? How many of you are being fooled? EXPLOITED had a show in SF but didn't even play, even though they were there and got paid. They tried to start a riot with the brainless punx who idiotically follow them. And on my part, the saddest thing is the EXPLOITED are using my art for their tour flyers, and for the gigantic banner they're using as a backdrop on this tour. Isn't this all fun? Someday, those of you who support types like this will all blow up instead of grow up because you gave fools the power they never should have had! Thanx to Hugo and Brad for putting their foot down!!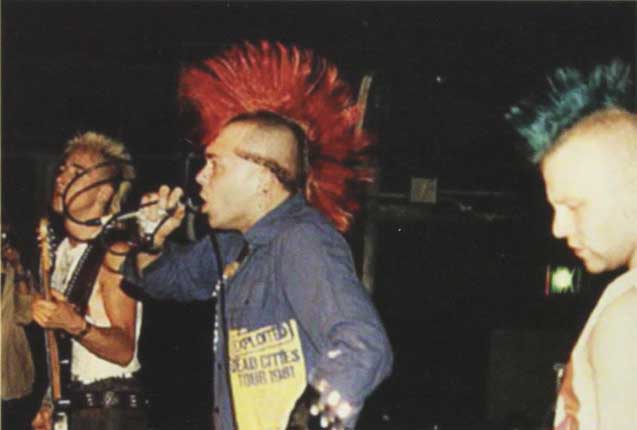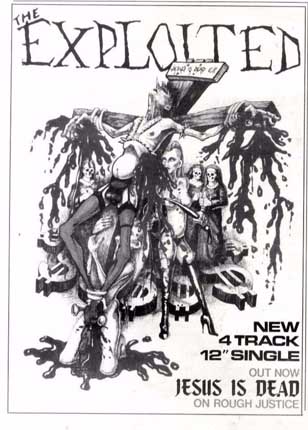 1985 saw the release of Horror Epics. Slower and harsher than earlier efforts, this was their bleakest statement to date, despite being housed in a comparatively humorous sleeve. One presumes they've been listening to Killing Joke. The title track is a reference to the famine victims in Ethiopia, displaying an extremely grim sense of humour that is not much evident anywhere else. The topics remain, as ever, war ('Safe Below'), unemployment offices ('Treat You Like Shit') and the police ('Law And Order'), although Wattie does pen a touching song about his girlfriend ('I Hate You'). 'Maggie' is their most belligerent attack on the arch enemy: 'Maggie, Maggie, Maggie, Maggie, You fucking cunt!" Not exactly insightful or original, but certainly something their fans could agree with.
Spring of the same year saw the band once again on tour in the US. Live At The Whitehouse wasn't actually recorded in Reagan's living room, but it was committed to tape in Washington on that tour. The band rage through their repertoire with much more sonic oomph than On Stage, but it's still just a live album, and not really all that interesting. The absence of the song 'Fuck The USA' from the set was explained by Karl Morris:
Karl Morris, as told to Ian Glasper in the book Burning Britain: We got in the van and went to the first gig. It was in New Jersey and when we got there, the place was full of Marines; I was asked if were going to play Fuck The USA' and I said, 'Maybe!' The Marine grabbed my shirt, almost picking me off the floor, and screamed in my face, 'Don't play that shit 'cos we are Marines and we will fuck you up!' Needless to say that song was not played in the USA. After that gig, we got back in the van and started the drive to Phoenix, ARizona, 3500 miles and three-and-a-half days of non-stop driving ...welcome to America!
The band's final release qualifying for inclusion in this discography, Jesus Is Dead E.P. found them verging ever close to thrash.
Post-1986
Subsequent releases, all progressively more angry-sounding: Death Before Dishonour (Rough Justice, 1987), War Now (Rough Justice, 12", 1988), The Massacre (Rough Justice, 1990), Beat The Bastards (Rough Justice, 1996) and Fuck The System (Dream Catcher, 2003).
Death Before Dishonour (1987) continues in a similar vein to Horror Epics but is completely vanquished by plodding material, muddy production and Wattie attempting to sing in a sub-heavy metal style. Proceed instead to The Massacre (1990), another step towards thrash metal/punk, the band (with a totally new line-up) blasting their way through such radio-friendly toe-tappers as 'Porno Slut' and 'Don't Pay The Poll Tax'. As usual, swear words abound and there's a complete lack of shade-and-light. After all this time, all Wattie can express is rage and hate and defiance. It's great.
Reasserting their position as the angriest band on Earth, Beat The Bastards (1996) shows them mixing their punk/metal thrash with industrial textures. My, they certainly do swear a lot, a fact borne out on Fuck The System (2000), easily their most agitated album to date. With titles like 'Fucking Liar', 'You're A Fucking Bastard', 'Never Sell Out' and 'Chaos Is My Life' they don't exactly tickle the brain cells into submission with their wit and originality, and the music is a genuinely formidable hardcore-punk-metal row. Declaring that 'All those cunts that slagged us off are just a bunch of fucking twats", the world clearly needs more bands (and records) like this.
DISCOGRAPHY
For CD buyers, the following releases will get you practically everything released by the band between 1980 and 1985: 1980-83 (4xCD), Exploited Barmy Army (3xCD), Horror Epics (Captain Oi! reissue) and Punk Singles & Rarities 1980-83.
Subsequent studio albums: Death Before Dishonour (1987), The Massacre (1990), Beat The Bastards (1996), Fuck The System (2003).
__________________________________________________________________________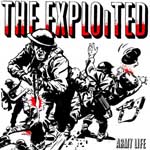 Army Life (7", 1980)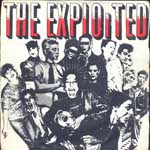 Exploited Barmy Army (7", 1980)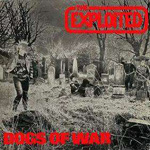 Dogs Of War (7", 1981)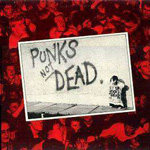 Punks Not Dead (LP, 1981)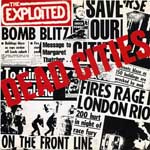 Dead Cities (7", 1981)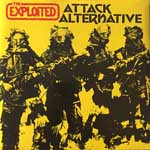 Attack / Alternative (7", 1982)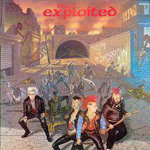 Troops Of Tomorrow (LP, 1982)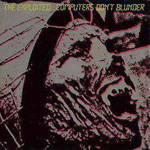 Computers Don't Blunder (7", 1982)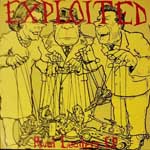 Rival Leaders EP (7", 1983)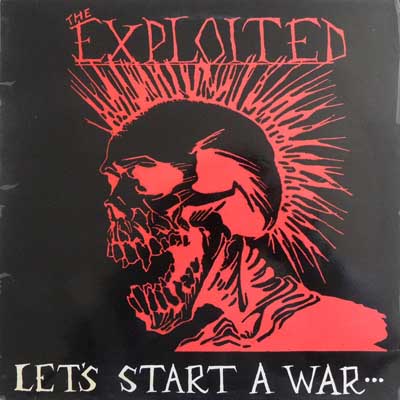 Let's Start A War... Said Maggie One Day (LP, 1983)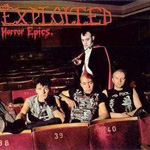 Horror Epics (LP, 1985)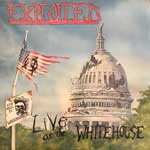 Live At The Whitehouse (LP, 1985)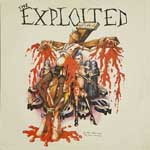 Jesus Is Dead E.P. (12", 1986)
Extraneous Releases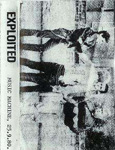 Music Machine 25/8/80 (Tape, 1980)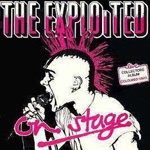 On Stage (LP, 1981)
Don't Let Them Grind You Down (7", split with Anti-Pasti, 1981)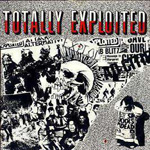 Totally Exploited (LP, 1984)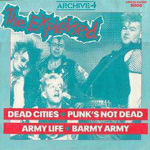 Archive4 (12", 1986)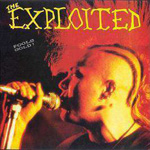 Fools Gold! (LP, 1986)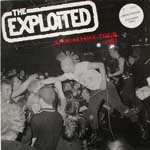 Apocalypse Tour 1981 (LP/CD, 1987)
Innercity Decay (LP, 1987)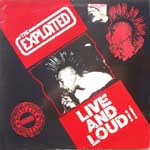 Live And Loud!! (LP, 1987)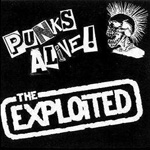 Punks Alive! (12", 1988)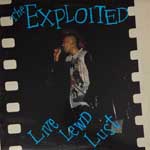 Live Lewd Lust (LP, 1989)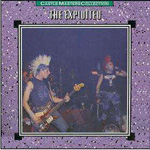 Castle Masters Collection (LP/CD, 1990)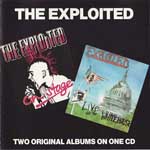 Live On Stage / Live At The Whitehouse (CD, twofer, 1991)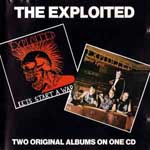 Let's Start A War / Horror Epics (CD, twofer, 1991)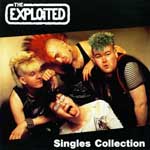 Singles Collection (CD, 1991)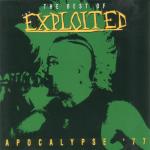 Apocalypse '77 - The Best Of The Exploited (CD, 1992)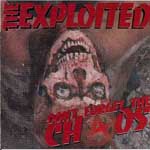 Don't Forget The Chaos (LP/CD, 1992)
Totally Exploited / Live In Japan (2xCD, 1997)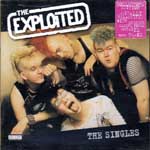 The Singles (CD, 1999)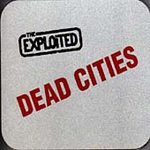 Dead Cities (CD, 2000)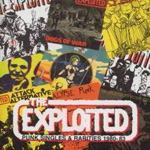 Punk Singles & Rarities 1980-83 (CD, 2001)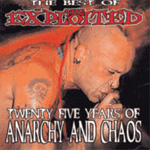 The Best Of The Exploited: Twenty Five Years Of Anarchy And Chaos (CD, 2004)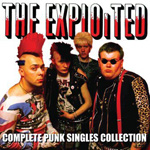 Complete Punk Singles Collection (CD, 2005)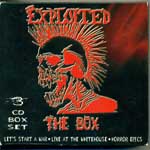 The Box (3xCD, box set, 2006)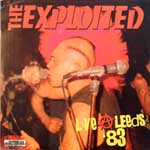 Live Leeds '83 (LP, 2007)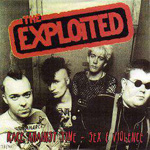 Race Against Time - Sex & Violence (7", 2007)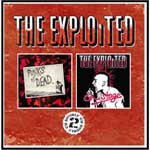 Punks Not Dead / On Stage (2xCD, twofer, 2008)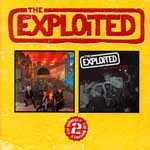 Troops Of Tomorrow / Apocalypse Tour 1981 (2xCD, twofer, 2008)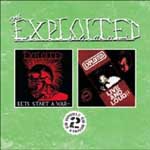 Let's Start A War / Live And Loud!! (2xCD, twofer, 2009)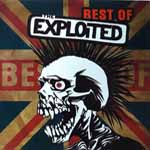 Best Of (CD, 2009)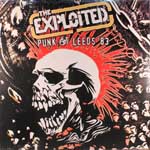 Punk At Leeds '83 (LP, 2011)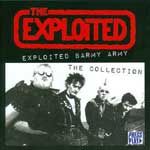 Exploited Barmy Army - The Collection (CD, 2013)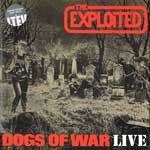 Dogs Of War Live (LP, 2015)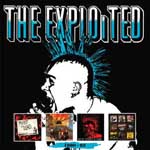 1980-83 (4xCD, box set, 2015)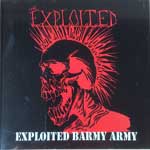 Exploited Barmy Army (3xCD, box set, 2015)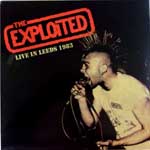 Live In Leeds 1983 (LP, 2016)
The 7X7 Box (7x7", 2018)
Promos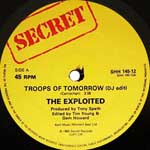 Troops Of Tomorrow (12", 1982)
Bootlegs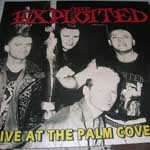 Live At The Palm Cove 1983 (7", 2013)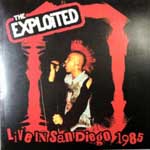 Live San Diego 1985 (7")
Videos/DVDs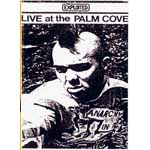 Live At The Palm Cove (VHS, 1983)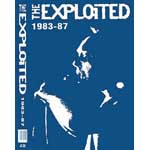 1983-87 (VHS, 1992)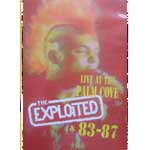 Live At The Palm Cove & 83-87 (DVD, 2004)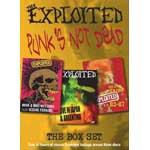 Punks Not Dead The Box Set (3xDVD, 2008)
Various Artists
Oi! The Album UK LP 1980 (EMI): Daily News / I Still Believe In Anarchy
Back-Stage Pass UK LP 1980 (Supermusic): Crashed Out
Britannia Waives The Rules UK 12" 1981 (Secret): Y.O.P.
The Secret Life Of Punks UK LP 1982 (Secret): Dogs Of War / Army Life
Wave News - The New Generation Of Music Germany LP 1982 (Intercord): Hitler's In The Charts Again
Wave News Independent Smash Hits Germany LP 1982 (Intercord): Attack
Burning Ambitions (A History Of Punk) UK 2xLP 1982 (Cherry Red): Dead Cities

Punk And Disorderly III - The Final Solution UK LP 1983 (Anagram): Computers Don't Blunder
UK/DK - The Original Video Soundtrack UK LP 1983 (Anagram): U.S.A.
Oi! Chartbusters Volume 2 UK LP 1987 (Link): Daily News (Live)
Oi!.. The Picture Disc UK LP 1987 (Link): Dogs Of War
Oi! Chartbusters Volume 5 UK LP 1989 (Link): Computers Don't Blunder
Oi! Chartbusters Volume 6 UK LP 1990 (Link): Class War
Apocalypse Punk Tour 1981 France CD 1992 (Link): Sex And Violence / Exploited Barmy Army / Daily News / Dead Cities
Secret Records: The Punk Singles Collection UK CD 1993 (Anagram): Dogs Of War / Army Life / Exploited Exploited Barmy Army / Dead Cities / Attack / Y.O.P. / Computers Don't Blunder / Troops Of Tomorrow
Secret Records: The Punk Singles Collection Volume 2 UK CD 1995 (Anagram): Blown To Bits (Live) / Fuck The Mods / I Believe In Anarchy / Hitlers In The Charts Again / Alternative / Addiction
Slam Chops US CD 1995 (Triple X): Don't Pay The Poll Tax
Pax Records Punk Collection UK CD 1996 (Anagram): Rival Leaders / Army Style / Singalongabushell
Lords Of Oi! UK 3xCD Box Set 1997 (Dressed To Kill): Daily News (Live) / Computers Don't Blunder / Class War
Oi! This Is England UK 3xCD Box Set 1999 (Dressed To Kill): Daily News (Live) / Computers Don't Blunder / Class War
__________________________________________________________________________
Links