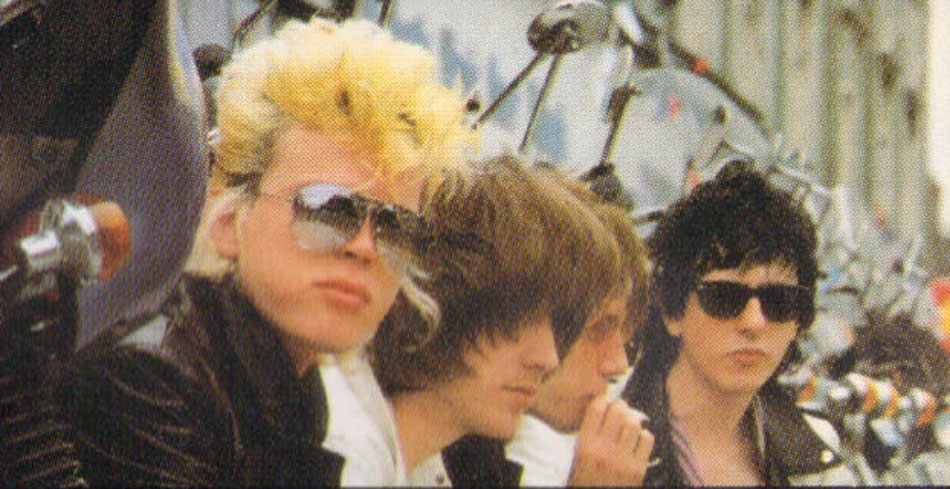 AKA: GEN X
Formed: London, England, 1976
The pretty boys of the first wave of British punk, Generation X were also its whipping boys. Reasons for this were numerous. They were indeed pretty, especially punk pin-up Billy Idol, occasionally seen in leather trousers with what looked like a cucumber in the crotch, who overdid the Sid/Elvis sneer. Some of the band were very middle class, a definite no-no at the time. They also had great t-shirts and haircuts and, as a consequence, looked bloody brilliant. This image consciousness had them earmarked early on poseurs.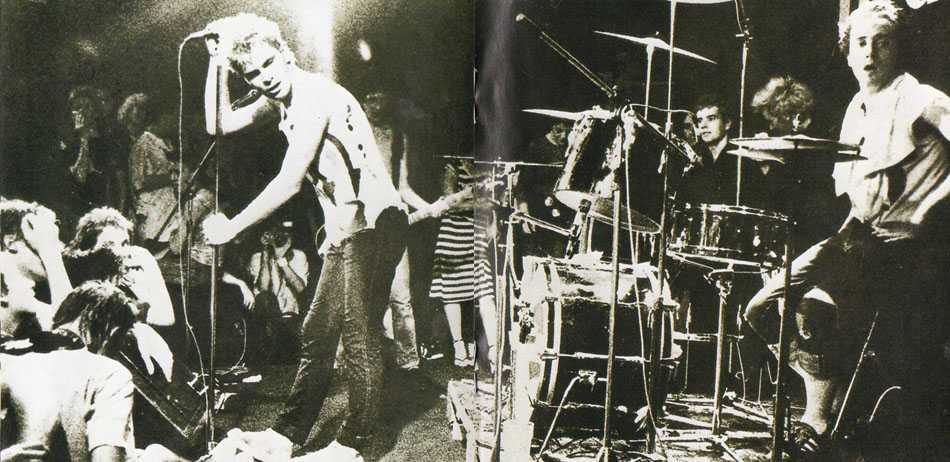 They also insisted on breaking the Punk Rock Rules. Firstly, they professed to wanting to make as much money as possible. They didn't object to appearing on Top of the Tops. They also wrote insanely catchy songs with proper melodies. They sang the praises of Bob Dylan and the Rolling Stones while all around them were declaring all-out war on the crinkly rockers of yore. Ironically, going against the punk grain made them one of the most punk of all the early bands, and they made at least five classic singles and one classic LP. However, their brief spurt of glory turned out to be overshadowed by the success of Billy Idol, who launched a solo career in 1981, in America of all places, and was transformed into a ludicrous, sneering stadium rock star.
But, some history.
At the tail end of 1976, there was Chelsea, featuring Gene October (vocals), Idol (guitar), Tony James (bass) and John Towe (drums). The latter three branched off to form Generation X, picking up former Paradox guitarist Bob 'Derwood' Andrews along the way, which left Idol free to do the singing and pose. They were managed by Andrew Czezowski, manager of the Roxy, and because of this Generation X played their first show, in December 1976, at the Roxy on its opening night. After recording their first Peel Session in April Towe was replaced by Andrew Laff and the band signed with Chrysalis Records in mid-77.
A series of awesome pop-orientated singles followed. The first, September 77's Your Generation was a vigorous riposte to The Who's old generation, and it was publicly slagged off by Elton John, which earned them substantial punk credits. While the rather corny and slightly damp Wild Youth sounded almost like Gary Glitter, they managed to beat The Clash by at least two years by featuring a dub version on the B-Side. The dub version is terrible, but it's there nonetheless, so some credit should be given for this.
It should be noted that three bootleg singles also appeared in 1977: Perfect Hits "The Demo Tapes" and Perfect Hits Vol 2 were apparently self-released by the band, and featured the Towe incarnation of the group racing through half a dozen or so songs in less than stellar sound quality. The third bootleg was a version of Your Generation which came out at around the same time as the proper single of the same name.
Despite being written off (by some) fairly early as being more into metal than punk (I know, I'm as baffled as you), Generation X is one of the finest albums of the period, although criticisms of overproduction bear some weight. Eleven songs, all of them classic, speed by in an adrenaline rush of enthusiasm, from the scene-celebration of 'One Hundred Punks', the fondly nostalgic 'Ready Steady Go' (also issued as their third single), the accusatory 'Promises Promises', the ripped-and-torn balladry of 'Kiss Me Deadly' and the six-minute display of pure unadulterated rockin' glory that is 'Youth Youth Youth'. Highly recommended.
One of the band's heroes, Mott the Hoople's Ian Hunter, produced LP Number Two, Valley Of The Dolls. This saw the beginning of a major backlash. It was dismissed in many quarters as bloated, and although it featured their biggest selling single (King Rocker), it was the beginning of the end for the classic lineup. Contrary to popular belief, there isn't much wrong with this record, it just doesn't have the same devil-may-care hell-for-leather attack of the debut. The title track, 'Running With The Boss Sound', 'Friday's Angels', 'Night Of The Cadillacs' and even the much-lambasted 'King Rocker' are great, and a pair of tear-jerkers ('Paradise West', 'The Prime Of Kenny Silvers') are quite lovely.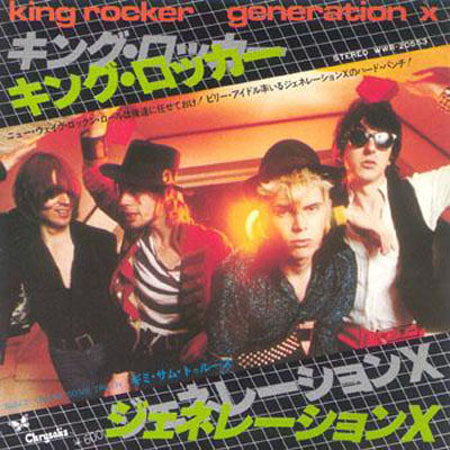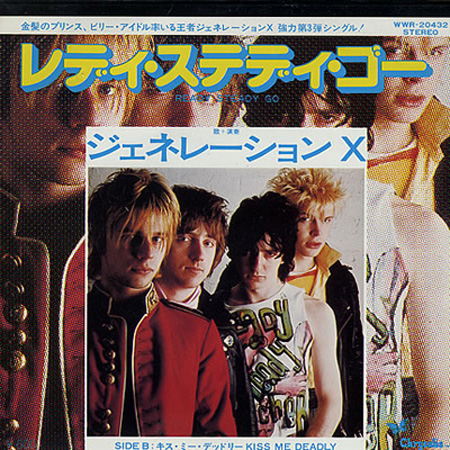 King Rocker and Ready Steady Go 7" (both japan)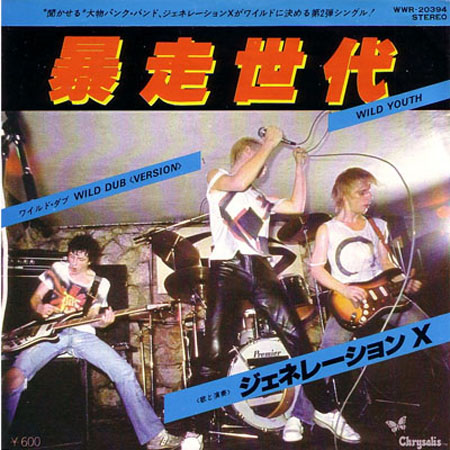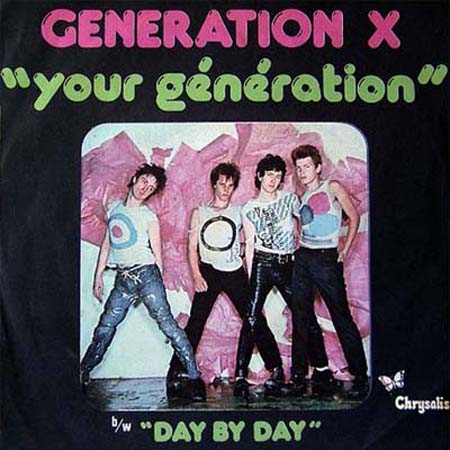 Wild Youth (7", Japan) and Your Generation (7", France)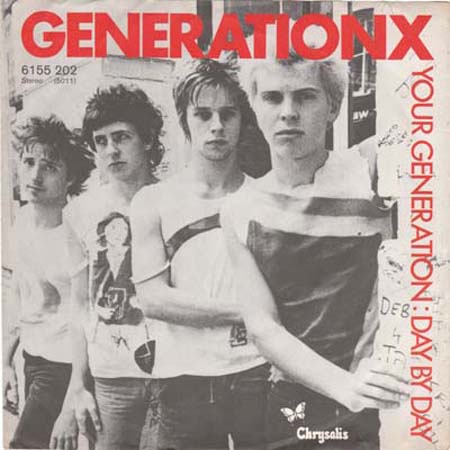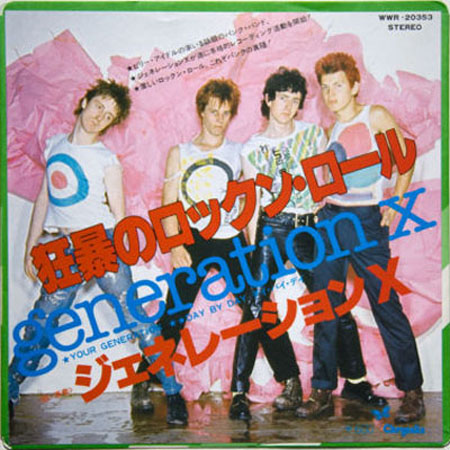 Your Generation (7", Germany and Japan)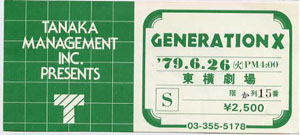 A third album, to be entitled Sweet Revenge, was recorded in late 1979, but Laff and Andrews quit to form the heavy metal act Empire, which released a roundly ignored album in 1980, Expensive Sound. Sweet Revenge finally emerged in 2003 as part of Anthology, and is interesting rather than exciting, presenting a handful of tracks unavailable anywhere else ('Girls', 'Modern Boys'. 'Cathy Comes Home'), and some ('Triumph', 'Revenge') the band went and re-recorded with even less fire. Truth be told, it sounds like demos, and the appended extended version of 'Dancing With Myself' is atrocious, dragging on for over five minutes without making it past the intro.
Idol and James soldiered on with a truncated name as Gen X, recording Kiss Me Deadly with musical assistance from Steve Jones, John McGeoch (Banshees, ex-Magazine), Steve New (ex-Rich Kids), James Stevenson (ex-Chelsea, ironically enough) and Terry Chimes (ex-Clash). Although lacklustre, it does boast 'Dancing With Myself', and side one has some strong material: the dub-influenced 'Revenge' and the peppy 'Triumph', but side two falls completely flat with five merit-free, unmemorable songs.
When the LP flopped, Idol fled to America, Chimes went back to The Clash, and Stevenson became a session musician. Tony James finally bounced back five years later with Sigue Sigue Sputnik.


__________________________________________________________________________
DISCOGRAPHY
Excluded from the discography below are numerous releases credited solely to Billy Idol which contain Generation X recordings (or remixed versions of the same)
Your Generation (7", 1977)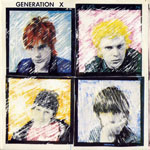 Wild Youth (7", 1977)
Ready Steady Go (7", 1978)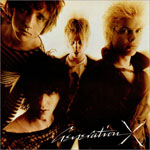 Generation X (LP, 1978)
King Rocker (7", 1979)
Valley Of The Dolls (7", 1979)
Valley Of The Dolls (LP, 1979)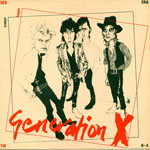 Fridays Angels (7", 1979)
Dancing With Myself (7"/12", as Gen X, 980)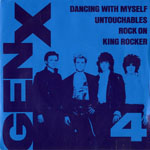 4 (7"/12", as Gen X, 1980)
Kiss Me Deadly (LP, as Gen X, 1981)
Dancing With Myself (7"/12", as Billy Idol and Gen X, 1981)
Extraneous Releases
Your Generation (7", 1977)
Perfect Hits "The Demo Tapes" (7", 1977)
Perfect Hits Vol 2 (7", 1977)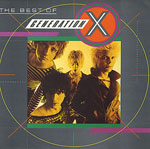 The Best Of Generation X (LP, 1985)
King Rocker / Valley Of The Dolls (7", 1987)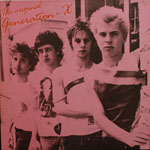 The Original Generation X (LP, 1987)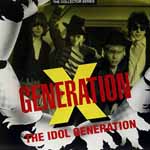 The Idol Generation (CD, 1990)
Perfect Hits 1975-1981 (CD, 1991)
3 Track 5" CD Single (CDS, 1993)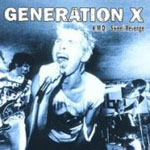 K.M.D. - Sweet Revenge (LP/CD, 1998)
Live At The Paris Theatre '78 & '81 (CD, 1999)
One Hundred Punks - BBC Live In Concert (CD, 2002)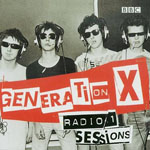 Radio 1 Sessions (CD, 2002)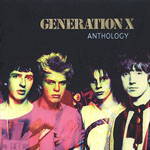 Anthology (3xCD, 2003)
Live At Sheffield (CD, 2003)
K.M.D. - Sweet Revenge Xtra (CD, 2004)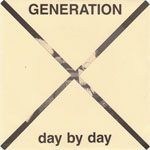 Day By Day (7", 2004)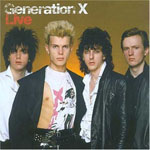 Live (CD, 2005)
BBC Sessions 1977-1979 (LP, 2006)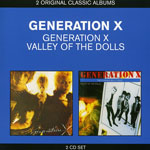 Generation X / Valley Of The Dolls (CD, twofer, 2011)
Bootlegs - A Partial Listing So Far
Untouchables (LP, 1980s)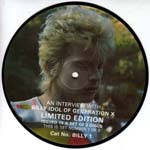 An Interview With Billy Idol Of Generation X (3x7", 1980s)
Ready Steady Go (CDR, 1997)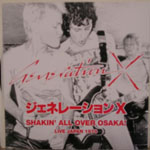 Shakin' All Over Osaka! Live Japan 1979 (LP, 2001)
Electric Ballroom 20th December 1978 (CD, 2010)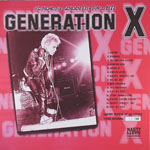 Roundhouse, London 10th April 1977 (LP)
Live At Sheffield Poly 8th December 1978 (CDR)
Retrogressive Regeneration (LP)
Various Artists
Geef Voor New Wave Holland LP 1977 (Ariola): Your Generation
Ce N'Est Pas De La Couille, Voici La New Wave - New Wave Greatest Hits France LP 1977 (Ariola): Your Generation
New Wave Is The Rave Australia LP 1977 (Festival): Your Generation
20 Of Another Kind UK LP 1979 (Polydor): Ready Steady Go
The Main Event UK LP 1979 (K-Tel): King Rocker
New Rock Greece LP 1979 (Pop Olympic): King Rocker
Hi-Energy UK LP 1979 (K-Tel): King Rocker
Vital Vinyl Volume Two. UK LP 1979 (Pickwick): Ready Steady Go
Burning Ambitions (A History Of Punk) UK 2xLP 1982 (Cherry Red): Your Generation
The Best Punk Album In The World ... Ever! 2 UK 2xCD 1996 (Circa): King Rocker
1-2-3-4 Punk & New Wave 1976-1979 UK 5xCD 1999 (Universal): Your Generation
No Thanks! The '70s Punk Rebellion US 4xCD 2003 (Rhino): Your Generation / Ready Steady Go
Sniffin' Glue: The Essential Punk Accessory UK CD 2003 (Castle): Your Generation
1977: The Year Punk Broke UK 3xCD 2019 (Cherry Red): Day By Day
__________________________________________________________________________
Links