Formed: London, England, UK

, 1976

Chief sources: Alex Ogg's 'No More Heroes' (great book), the CD liner notes for the Captain Oi! reissues, the band's Facebook page (where a number of the images come from), an old record Collector article, and the band's official homepage.
This great early, under-appreciated band was, for five years or so, one of the best of the period. While other - more fashionable - punkeroos swanned off to America and larked around on Top Of The Pops. unprofessional gobshite singer and chief songwriter
Gene October
was forced to gig relentlessly with a revolving door of sidemen, a sad and strange fate for a band once (briefly) considered to be amongst the best of the period. The indefatigable October had a knack for writing fascinating, if sometimes banal, lyrics, which he would grunt and bark in an amusing half-articulate manner. They played 1977-style punk well into 1982, and again off-and-on since 1993 - and for that I will be eternally grateful to them.
Despite the obviously quality of their songs, they were hated by the press (who considered them punk losers beneath contempt).
James Stevenson: We never got the credit we deserved. I'll stand by any of the records we made and I don't think they have dated that badly. The music papers at that time gave us an absolute hammering and we had few allies. I can remember when we were going up to a gig in Leeds and the hotel was raided and pulled out of our beds at 6 in the morning. We thought we'd mention it to the NME to get a bit in the gossip column. They wrote instead the police were probably trying to stop them playing !!! Its funny now but back then we were getting it all the time. Really nasty.
In between 1977 and 1982 they created an excellent body of work - two studio albums and eleven singles - that belies their reputation as eternal no-hopers. They were also a hot, intense live act, with singer October berating the crowd and his enemies, exhorting crowds to smash up theatres (which they occasionally did) and generally working his audience with style and passion. Phrases such as "hotter than a blast furnace" and "the most hair-raising - and satisfying - finale I've ever witnessed" were by no means uncommon when their shows were scrutinised, but the records they made were often treated with amused scorn.
Part 1 (1976-1978)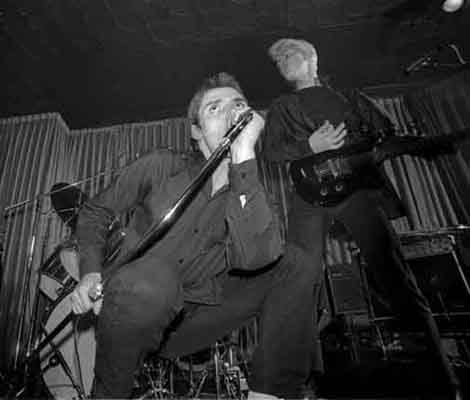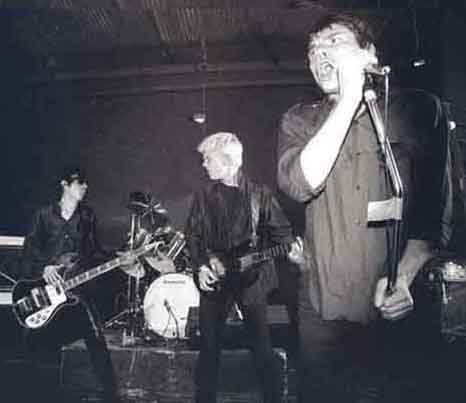 ABOVE: Chelsea live 1976 with original lineup. Both photos grabbed from the band's Facebook page
Chelsea formed in August 1976. Like the Sex Pistols they were originally managed by the owners of a punky clothes shop. In this case it was John Krivine and Steph Raynor, who ran the ACME Attractions boutique just down the road from Malcolm McLaren's Sex, and was in direct competition with the latter.
Gene October, as told to Record Collector magazine: Krivine used to let me sleep at the top of ACME. I never really had anywhere to stay. Somebody told me that Malcolm's band was playing at the ICA. Then I got the first Ramones album.
Original members were none other than Billy Idol on guitar, Tony James (ex-London SS) on bass, John Towe on drums and ex-gay porno actor/model Gene October on vocals. Marco Pirroni was also very briefly considered. Brought together via an advert in Melody Maker ("musicians wanted into Television and the Ramones"), their first proper gig was as part of Genesis P. Orridge's "art installation" Prostitution, held at London's Institute of Contemporary Arts, where Chelsea was billed as LSD because "everybody hated hippies then". This show was such a success that questions were raised in the houses of parliament about the alleged obscenity apparent that evening, although the furore was generated almost entirely by the headliners.
Gene October, as told to Record Collector magazine: We didn't want to advertise ourselves as Chelsea. We didn't want the Pistols, Malcolm, every other bugger to check us out. Mick Jones came along. Tony [James[ rang us Tony Parsons at the NME - 'first gig, Chelsea, gonna be mega'. The following week we had a half-page review!
This first lineup played just shows as Chelsea (so-named because "we were into the '60s thing and it summed up what we were doing to do"), both in November. First off was a spot at the Electric Circus in Manchester, supporting Buzzcocks), the next was at The Nashville with The Stranglers headlining, on 21st November. After that one, October's three band mates defected to form Generation X. October was left on his own, partially because he was apparently hard to work with and partially because the rest of the band had their own ideas of musical direction. When October was later asked about his former band colleagues he said "Generation X? Oh yeah they used to be in Chelsea."
It was at this time that October and the group's new manager Andy Czezowski talked the manager of a gay London nightclub called Shageramas into converting the club into a venue for punk bands. It was in Neal Street in Covent Garden and it was dubbed The Roxy. October rarely receives credit for this. And - in an odd and very strange twist of fate - the first band to play the Roxy (on December 14th) was...wait for it...Generation X. October must have been spitting blood, there!
Andy Czezowski, 3:AM magazine, 2002: At the time Gene October was being managed by Steph (Raynor) but I took over that and began managing Chelsea. Anyhow they decided on a name change and became Generation X, as well as kicking out Gene October and putting Billy Idol on vocals into the bargain, which made sense as Billy was better looking and couldn't really play the guitar. It all happened so quickly. Gene was a rent boy and knew this club on Neal Street which was known as Shageramas then, but became the Roxy soon after. It was owned by two queens, it being an early gay club, one of these was a barrister type just trying to make a quick buck. When he was in Chelsea, Gene had booked them to play at Shageramas and had mentioned this to me. The owners at the time were skint and the club was on its last legs so anything that could possibly bring in money was of interest to them. The booking changed to Generation X and I suggested to them that I put on a few nights as the Roxy and they agreed to me hiring the place as they thought it might prolong its life a bit longer. So Generation X was the first gig we put on at the Roxy, performing on the opening night…
ABOVE LEFT: Tony, Billy and Gene in happier times (image from band's Facebook page). RIGHT: Sniffin' Glue Nov '76 - these ones can be clicked to make them readable.
With Generation X gathering momentum, by early 1977 October had reactivated Chelsea with this lineup:
Gene October - vocals
Marty Stacey - guitar
Bob Jessie - bass
Carey Fortune (former roadie for The Stranglers) - drums
ABOVE LEFT: Chelsea in 1977 at the Roxy early '77 (photo from the band's Facebook page). ABOVE RIGHT: Article from Sniffin' Glue January '77
This new band made its debut supporting The Clash at the Roxy, and got into a concert-ending scuffle with teddy boys during their second gig (at the Hope & Anchor). Sometime in March or April they recorded their first single, Right To Work, a raunchy and intense mid-speed rant using just three chords, with silly grunted lyrics about trade unions and blathering some utter nonsense about "standing around, waiting for a career". It was an auspicious debut, and still ranks as one of the finest singles of the era. It was not, however, released until June, by which time James Stevenson had replaced Stacey and Henry Daze (aka Henry Badowski) had replaced Jessie. In a Stalin-esque move worthy of The Clash, October ensured that it was this new lineup which received the sleeve credit, with nary a mention of the now departed Stacey and Jessie. The single was the second release on the notable punk label, Step-Forward and was not, as many claim, to be a protest single about unemployment, but merely October venting his spleen because he was refused an Equity Card.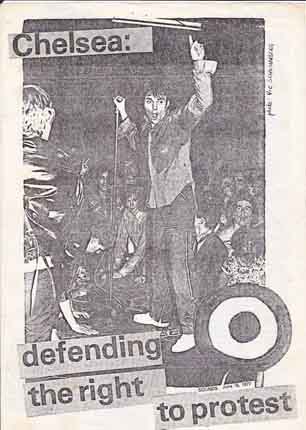 ABOVE: Sniffin' Glue article in three parts, from June '77
RIGHT TO WORK
Standing around just for seven days a week
I won't even get no signing on fee
I feel ripped off yeah, hey, what about you?
Why was I born?
What are we gonna do?
But this I say
We have the right to work
I don't even know what tomorrow will bring
But let me tell you, having no future is a terrible thing
Standing around just waiting for a career
I don't take drugs, no I don't drink beer
We have the right to work
Yes we do!
The label was owned by Mark Perry and Miles Copeland III (who managed The Police), and the group remained on the cash-strapped indie for the next five years, languishing in obscurity while The Police went stratospheric: Copeland devoted his time and money to propelling Sting and company to ever greater heights of stardom. Even Step-Forward label-mates The Cortinas and Sham 69 graduated to major labels.
Gene October, as told to Steve Keaton, Sounds (I think), 1982: Miles doesn't put millions into us! We have to constantly prove to him we can still play, write songs. The only help we get is Sting turning up for the occasional gig and playing with us.
There were however two positive side effects of being on Copeland's label: first, they were able to put out a steady string of records; second, Sting helped them out live on two occasions (which generated some positive publicity).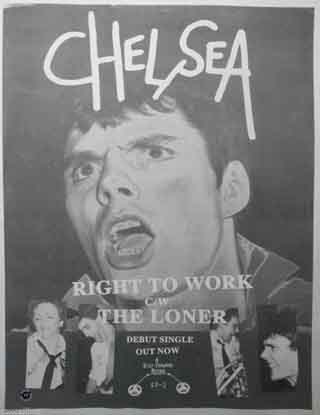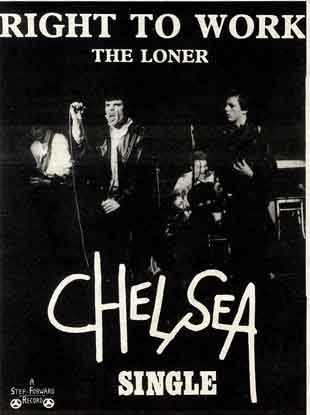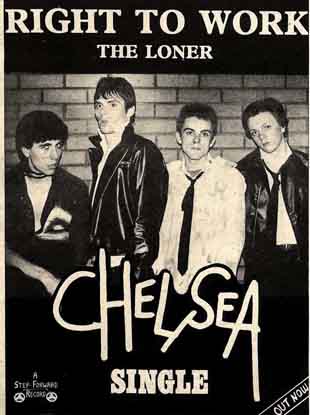 Anyway, fuck The Police, let's talk about Chelsea again. The single's release was followed by more London gigs - playing with The Boys, The Cortinas, Sham 69 and The Lurkers, as well as further afield in Birmingham and Glasgow. Towards the end of June the band was back in a studio once again, recording the first of two Peel Sessions, for which they contributed 'No Admission', 'High Rise Living', 'Right To Work', 'Pretty Vacant' and 'Blind Date': the last two of these were never recorded by the band anywhere else. And 'Pretty Vacant' is not a Pistols cover.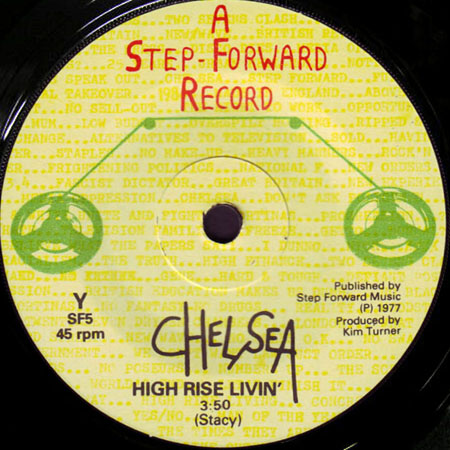 High Rise Living, their second single, was a disappointing and rather lumpy follow up, recorded with the same lineup that recorded the first single. Not long after its release, Chelsea played a "farewell" gig on October 6th 1977 at The Roxy.
Henry Badowski, as told to Alex Ogg in the No More Heroes book: I remember Chelsea being supported by a band called the Makers, who apparently turned out to be an early incarnation of Spandau Ballet! I sat on my amp for that one. James and I weren't told that after our brief set a new, more exuberant Chelsea, still with Gene on vocals, would storm the stage with lots of glammy hair and pouting power pop. James and I sloped off to continue The Mysterons project, which lasted one gig at the 100 Club supporting Alternative TV after which our bass player left to come a ballet student. James the rejoined Chelsea so it wasn't really a "farewell" gig more an excuse to showcase the new lineup.
This new lineup (which featured a bloke called Simon Vietesse on bass, described by October as "a total acid-head, off his face all the time") was, for a time at least, known not as Chelsea but Love And Kisses. When a new lineup was unveiled in December, the band had reverted back to its proper name, Chelsea. The new group was:
Gene October - vocals
James Stevenson - guitar
Geoff Myles - bass
Dave Martin - guitar
Steve J. Jones - drums
Martin had previously been in Peroxide Romance and (briefly) the Rich Kids, Jones was ex-Inner City (of which Stevenson had also been a member), while Myles had been in a proto-punk band called Stormtrooper, which hailed from the Isle of Wight of all places. Early '78 saw the band gigging all over London, while October resumed his acting career with a plum role of 'Happy Days' in Derek Jarman's weird and not entirely wonderful "punk movie" Jubilee, to which Chelsea contributed a re-recorded version of 'Right To Work'. (October's other acting parts were as an extra in the 1976 horror flick The Omen, as a fruit-eating model in Jarman's Caravaggio from 1986, and prior to Chelsea a string of gay porn movies: "I'm a bit of a bender", he told a journalist in 1982.)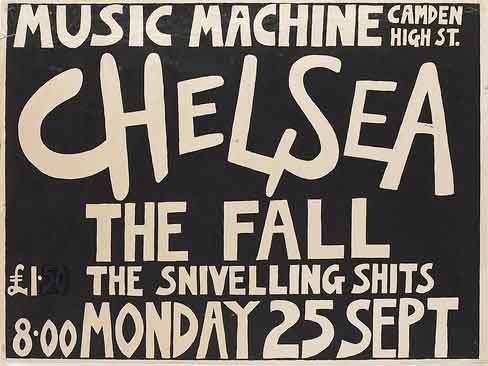 Summer '78 saw the band recording four songs for another Peel Session. One of these was re-recorded for their 1979 debut LP (more about that later), whilst two others - 'Urban Kids' 'No Flowers;, were re-recorded as the superb Urban Kids 7" in August. 'Urban Kids' was a great, anthemic tune that October had co-written with Mark Perry of Alternative TV, and the single version was produced by Kit Lambert (previously manager of The Who and co-founder of Track Records).
Gene October, as told to Record Collector magazine: I shared a flat with Mark Perry. He said he had written a great tune but ATV couldn't do it - they were going through their hippie phase, playing with Gong, hanging around with Here and Now. I got Kit Lambert to produce it, who got radio play, and it got to No. 65 in Record Mirror.
By the end of 1978 they clocked up shows with The Clash, Specials, The Fall, pragVEC, The Decorators and UK Subs. And, finally, after two years or October had finally arrived at the definitive - and best - Chelsea lineup when Chris Bashford (ex-Swank and Bazoomis) replaced Jones behind the drum kit. Hail:
Gene October - vocals
James Stevenson - guitar
Dave Martin - guitar
Geoff Myles - bass
Chris Bashford - drums
This lineup would remain stable for almost two years: an incredible amount of time in the weird and wacky world of Gene October.
Part 2 (1979-1982)
In June 1979 - almost three years after their formation - Chelsea released its debut album, which they cleverly called Chelsea. All ten songs were new to the record-buying public, and it has justifiably gone down in punk lore as one of its great forgotten albums. While other 1979 LPs from punk's first and second wave went on to achieve big sales and/or acclaim - i.e. Joy Division's 'Unknown Pleasures', The Clash's London Calling, The Damned's Music For Pleasure, The Jam's 'Setting Sons' etc - Chelsea's did not sell in large enough quantities to trouble to charts and is now merely a minor cult item, celebrated by those who know.
Nonetheless, they maintained a fairly high profile throughout 1979 - playing a major London show with Slaughter & The Dogs, appearing on The Old Grey Whistle Test, and recording four tunes for a third radio session, this time for Mike Read: 'Fools And Soldiers', 'Don't Get Me Wrong', 'Look At The Outside', 'Trouble Is The Day'. In November/December they also went out on tour with The Dickies, where October's antics were met with some bemusement by certain quarters of the press:
Ian Ravendale (reviewing a show in Newcastle): Chelsea play your standard bash no worse but certainly no better than hundreds of others for whom the world stopped turning after the first Clash album. It's no wonder the place is full of kids. And anyone over the age of 15 would laugh Gene October and his puerile rabble rousing off the stage. "Are we gonna smash this place up tonight? C'mon smash it up! Smash a few seats!" screams October in his role as king of the kids. So, a few would-be demolition experts oblige him. Security naturally intervenes and October inquires if the crowd are going to "let a few bouncers tell you what to do". They sure are when it comes to ripping the place apart. After the band have gone through their paces and trooped off, October re-emerges with one of the City Hall staff to survey the wreckage and gets a cheer for his pains before being, apparently, escorted off the premises. I hope the damages are stopped out of his Giro. Prat of the year? Could be. Not the sort of bloke to introduce to your friends. The Dickies you could take anywhere. Even your granny would like Stan Lee, Chuck Wagon and the rest.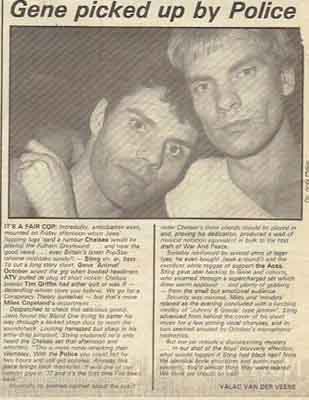 1980 saw no new studio album as they blitzed the public with a remarkable run of excellent singles: No-One's Coming Outside came out in February, Look At The Outside in April, No Escape (a Seeds cover) in July. Most of these were compiled on Alternative Hits (1980), a stop-gap collection which nonetheless served as a splendid introduction to the band. (Both sides of the 'High Rise Living' single were notable for their absence.) Unfortunately, October found himself without a band once more when Stevenson quit to join his arch-nemesis Billy Idol in Gen X (he also played on Charlie Harper's Barmy London Army 45 and on some early Kim Wilde singles), while Martin and Myles formed The Smart.
Only Bashford remained loyal, for three more shows at least. He had designed the 'Alternative Hits' sleeve and after Chelsea did a very short US tour with a pick-up band opted for a career in design instead, but not before smashing up a hotel in Boston. (This short-lived lineup can be seen in the film Urgh! A Music War.)
In early 1981, October debuted an all-new lineup with a show at London's Gossips:
Gene October - lead vocals
Nic Austin - guitar
Stephen Corfield - guitar
Tim Griffin - bass
Sol Mintz (real name Malcolm Asling) - drums
That year saw the release of two of their weirdest singles, a pair of hilariously basic and utterly artless punkers that went by the names of Rockin' Horse (April '81) and Freemans (August '81). It's possible that few listeners got past the extended intro of the former, with its repeated mantra of "Do you remember back in...'65?/Do you remember back in...'66?/Do you remember back in...67?/Do you remember back in...68?" etc all the way up to 1974! 'Freemans' was even funnier, a completely primitive piece of garage bashing with yobby backing vocals worthy of the Cockney Rejects.
Griffin left the band in September 1981, just a day before a show at the Fulham Greyhound. Like true troopers, the band did the gig with none other than Sting on bass. Sadly for Sting, who had to go back to playing stadiums with his "other" band, his tenure was for one night only, and Paul 'Linc' Lincoln stepped in or the new phase of the Chelsea saga. (This show was actually Sting's second for Chelsea: he'd helped out live in 1980 as well.)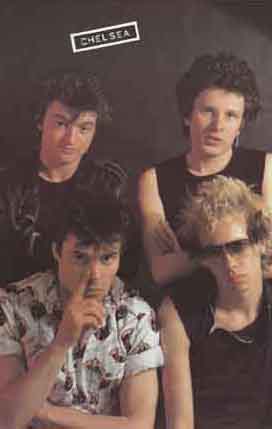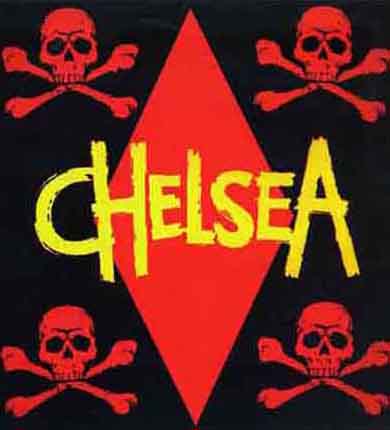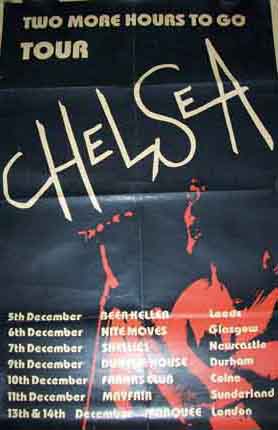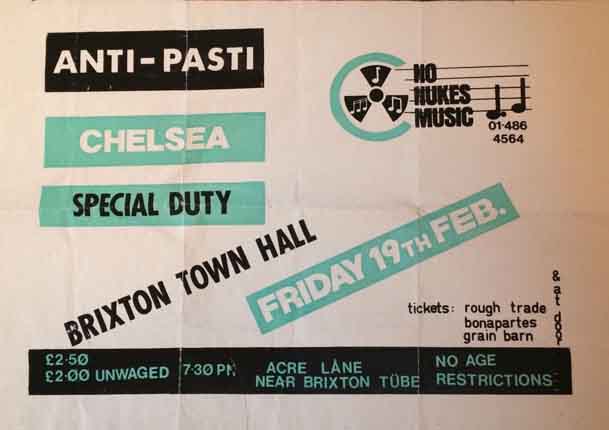 And that saga continued with album number two, Evacuate, which came out in May. Recorded as a quartet (second guitarist Stephen Corfield had left after the 1981 singles), it showcased a bunch of songs that were both melodic and hard, let down only by the boring tribal song that they called 'Tribal Song'. Two singles were plucked from the LP: Evacuate and the gripping War Across The Nation. Still, the band was often (but not always) the recipient of poor press, hardly helped by October's frequent mad outbursts:
Alex Ogg, No More Heroes: The fiery 'Evacuate', based around the then endemic anxiety about prospective nuclear war saw Linc make his debut. It was a great little number, not that the October wholly endorsed the sentiments, famously deriding the anti-war movement at, of all, things, a CND benefit in Brixton in the early '80s. Somewhere along the line he'd misread the script and decided being a contrarian about everything was a substitute for taking a view.
The group was enjoying its highest profile for some time, having been (mostly) accepted by the third wave of UK82-type punks, if not the anarchos, and they embarked on the "So What" tour with Anti-Nowhere League, Chron Gen and The Defects. Chelsea won some rave reviews for this one:
Colin Irwin reviewing show at Friars, Aylesbury: Gene October, bless him, at least knows what's required. "I see there are a lot of wankers here tonight", he yelled wittily as Chelsea dive-bombed the audience and quickly threw the monitors off the stage. It wasn't too long, either, before he was stopping the band and refusing to play on until a ceasefire was declared during a mild little bundle at the front. "I'd like to say to all the youth, whether they be skinhead, punk, rockabilly or whatever, we gotta stick together. We're all in this mess together - the mess the Tory party got us into." And they were away into 'Right To Work', a sea of clenched fists and cultivated solidarity. Beezer fun, if pretty silly...but they still played the best-constructed set of the night and were rewarded with the best reception. Gene was even to be found in the bar later chatting to the kids - what a man!
Part of Chelsea's appeal for the new punks was in that October actually still liked punk and was not embarrassed about it. As guest reviewer for Melody Maker in 1982 he praised new releases by Action Pact!, Antisocial, Undead and The Enemy. Not for him the snooty stance of (say) Siouxsie and the Banshees, who by then were refusing to acknowledge the Banshees were - or had ever been - a punk band. That sort of shit means a lot to punks, y'know.
Following a US tour and the release of another single, the pedestrian Stand Out single in October, the group fell apart yet again, when Austin left to form Bandits at 4 O'Clock with Steve Kent of The Business; and Linc joined Ligotage with Beki Bondage from Vice Squad.
Part 3 (1983-Present)
Although the band had never been hip and had never been very successful, the wilderness years beckoned. This period kicked off with the release of a couple of crappy solo singles - Suffering In The Land and Don't Quit (the latter featuring James Stevenson and Glen Matlock). In 1982, the previous year, October stated that he'd "been offered solo contracts. Big solo contracts. Sixty thousand advance and all that sort of rubbish. With A&M Records as it 'appens. But that'll never happen and I believe totally in a band concept. In Chelsea". The singles were actually released on the Miles Copeland's other label (Illegal) and the even smaller Slipped Discs.
In 1984 he decided to resurrect Chelsea and spent the remainder of the decade churning out strange and massively unpopular albums like Original Sinners (1985) and Rocks Off (1986) to ever-decreasing sales (some feat!), some with former members of Menace, Chron Gen and even Chelsea itself. By the time of 1989's Underwraps (which features a guest spot from Topper Headon), they were definitely a spent force.
But much to everyone's surprise, Chelsea bounced back in the early '90s with renewed enthusiasm, chiefly on the backs of the immensely popular (in Germany) German punk band Die Toten Hosen, who covered 'Right To Work' on the LP 'Learning English - Lesson 1', which went platinum. Nic Austin was back in tow, and they issued a pair of Dave Goodman-produced albums, The Alternative (1993) and Traitors Gate (1994), which reverted back to the sound of their salad days and offered two sets of accomplished rockers. Both bristle from start to finish with thrusting power chords, nursery rhyme lead bits, and plenty of shouting, but the latter LP suffers from muddy production and inferior songs.
The following is from Chelsea's official website:
1994 also saw the release of the first Gene October solo album Life And Struggle, which was co-produced by James Stevenson. Mat Sargent went on to join Sham 69, also becoming veteran bass player for Splodgenessabounds.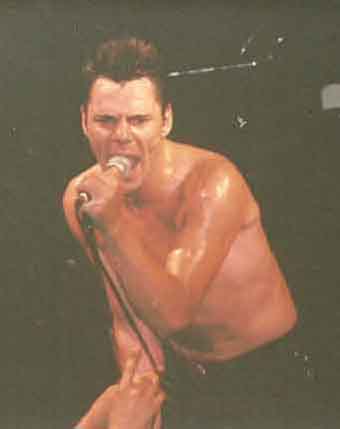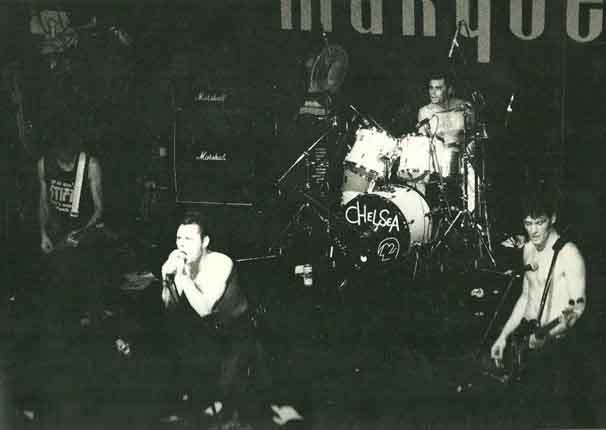 ABOVE LEFT/RIGHT: Live at the Marquee 1992. Both photos grabbed from the band's Facebook page
The classic Chelsea line up featuring Gene October, James Stevenson, Dave Martin, Geoff Myles and Chris Bashford reformed for the Social Chaos tour across America in 1999. These were their first shows together since 1980. [Punky Side note: They played the Social Chaos package alongside T.S.O.L., D.O.A., U.K. Subs, The Vibrators and others. Sadly, Chelsea had to cut short their participation when Geoff Myles was diagnosed with MS.]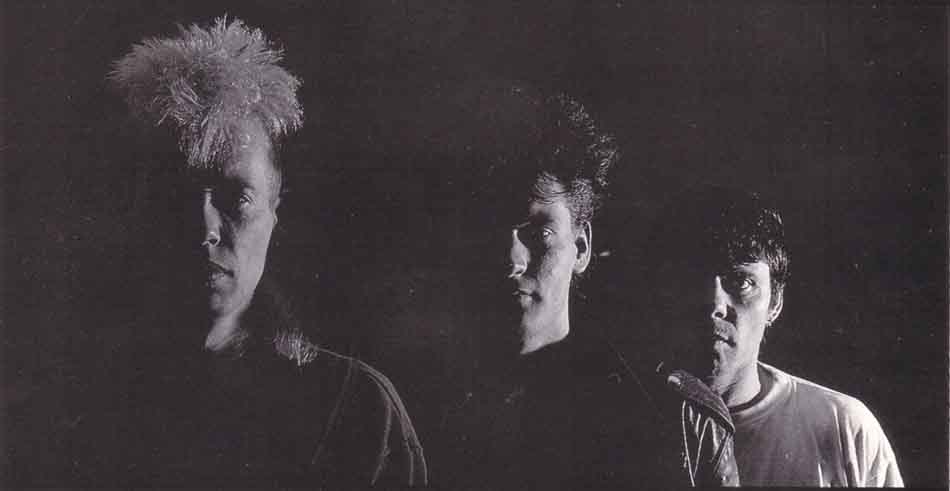 ABOVE: Chelsea in 1993
The line-up of October/Stevenson/Bashford/Myles did sporadic gigs including; Holidays In The Sun festival 2001, Punk Aid at The Garage in London in September 2000 and the 100 Club in London in September 2001. Bassist Tony Barber, borrowed from the Buzzcocks, stood in as bass player for tours of Germany, France, Czech republic and UK appearances. Stevenson joined Mike Peter's revamped 'The Alarm' although he continued playing in Chelsea.
2005 saw the release of a new Chelsea album; Faster, Cheaper And Better Looking. The Chelsea Anthology; Urban Kids - A Punk Rock Anthology was also released in January 2005 on Sanctuary, containing a wide cross section of the band's essential recordings made between 1977 and 1983 as well as some bonus Gene October solo tracks including his never before released version of The Stooges' 'Raw Power'.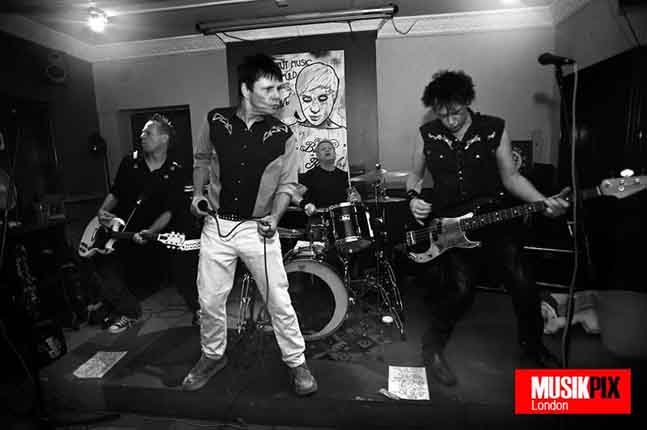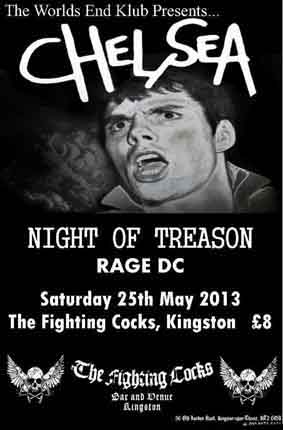 ABOVE LEFT: Live in Brixton, 2014. Both photos grabbed from the band's Facebook page
October 2011 saw the return of Mat Sargent & Nic Austin to the Chelsea fold after 18 years, joining Gene October & James Stevenson, Lee Morrell completing the line-up on drums. This the current line up of Chelsea have mostly been playing festivals over the past few years and toured the UK in 2014. The release of the 10th Chelsea studio album Saturday Night Sunday Morning in April 2015 brings new interesting writing collaborations spanning musicians throughout Chelsea's 40-year history. Chelsea tour the UK in 2015 promoting the new album also Right To Work - The Singles which has just been released on collectors white vinyl, and a brand new studio album set for release later this year on the band's new label - Westworld recordings.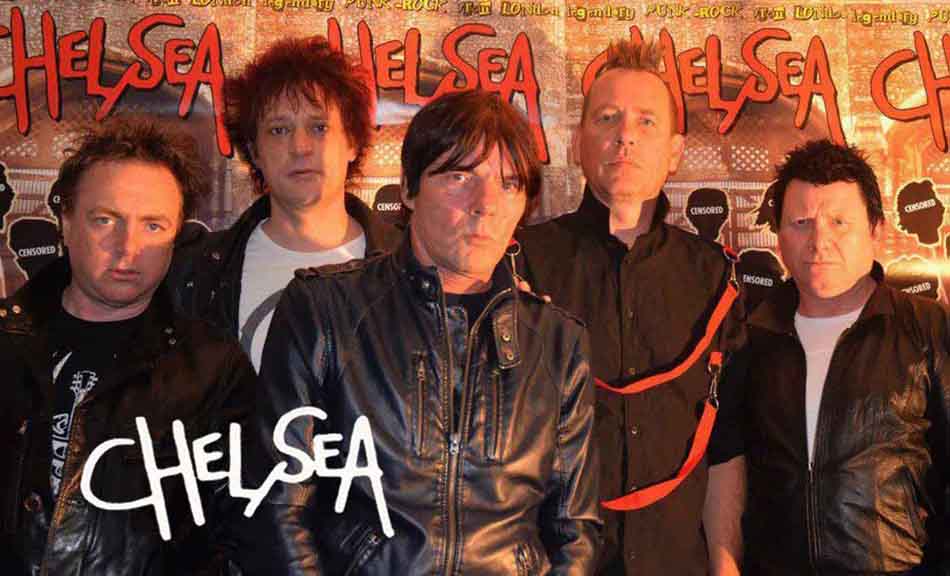 ABOVE Chelsea in 2011:
Gene October - lead vocals
James Stevenson - guitars, vocals
Nic Austin - guitars
Mat Sargent - bass, vocals
Lee Morrell - drums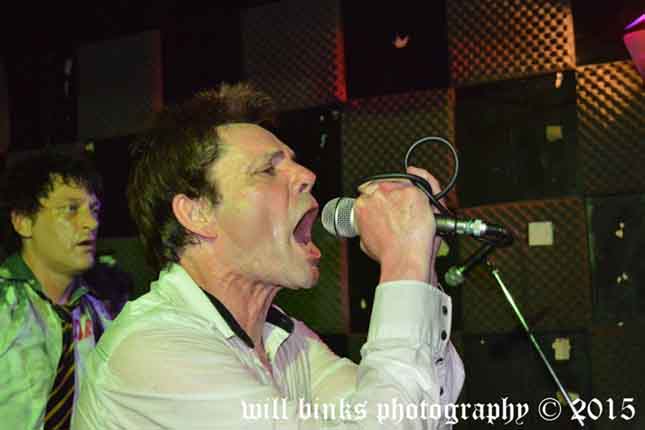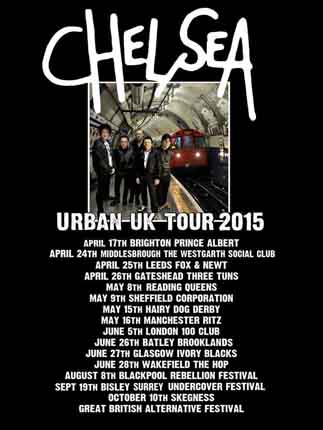 ABOVE LEFT: Mat Sargent and Gene October 2015. Photo by Will Binks. Both photos grabbed from the band's Facebook page
__________________________________________________________________________
DISCOGRAPHY
Subsequent studio albums: Underwraps (1989), The Alternative (1993), Traitors Gate (1994) Faster, Cheaper And Better Looking (2005), Saturday Night Sunday Morning (2015), Mission Impossible (2017)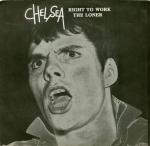 Right To Work (7", 1977)
High Rise Living (7", 1977)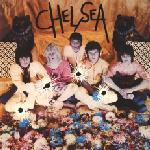 Urban Kids (7", 1978)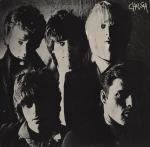 Chelsea (LP, 1979)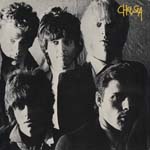 Decide / I'm On Fire (7", 1979)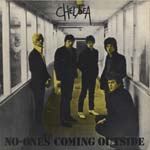 No-One's Coming Outside (7", 1980)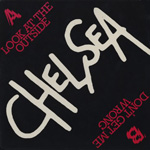 Look At The Outside (7", 1980)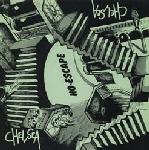 No Escape (7", 1980)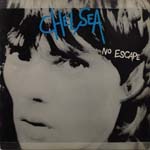 No Escape (LP, 1980)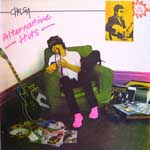 Alternative Hits (LP, 1980)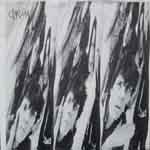 Rockin' Horse (7", 1981)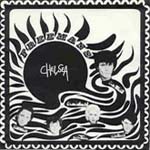 Freemans (7", 1981)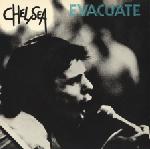 Evacuate (7",1981)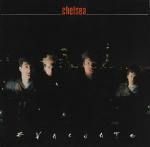 Evacuate (LP, 1982)
War Across The Nation (7", 1982)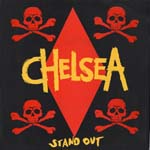 Stand Out (7", 1982)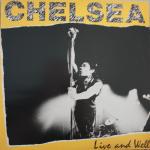 Live And Well (LP, 1984)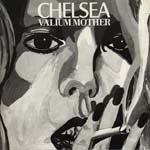 Valium Mother (7"/12", 1985)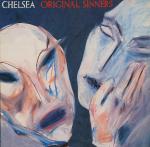 Original Sinners (LP, 1985)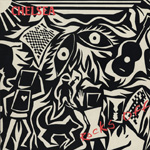 Rocks Off (LP, 1986)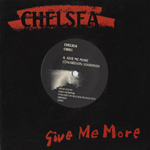 Give Me More (7", 1986)
Extraneous Releases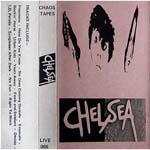 Chelsea (Tape, 1982)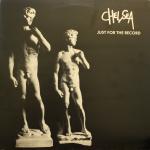 Just For The Record (LP, 1984)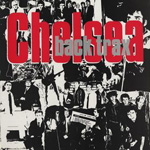 Backtrax (LP, 1988)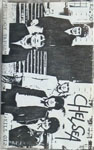 Urban Kids (Tape, 1988)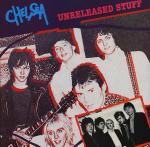 Unreleased Stuff (LP/CD, 1989)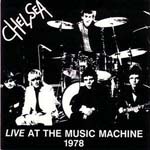 Live At The Music Machine 1978 (CD, 1992)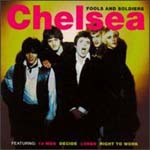 Fools And Soldiers (CD, 1997)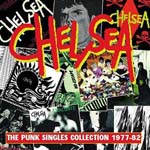 The Punk Singles Collection 1977-82 (CD, 1998)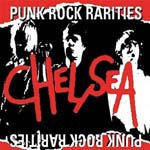 Punk Rock Rarities (CD, 1999)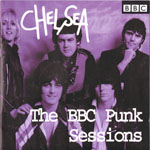 The BBC Punk Sessions (CD, 2001)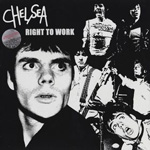 Right To Work (LP, 2004)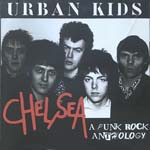 Urban Kids - A Punk Rock Anthology (2xCD, 2004)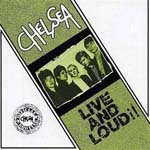 Live And Loud!! (CD, 2005)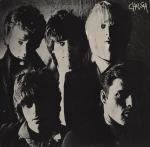 Box Set (5xCD, box set, split with The Adverts and Neon Hearts, 2008)
Right To Work - The Singles (2xLP/CD, 2015)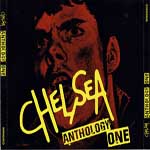 Anthology One (3xCD, 2016)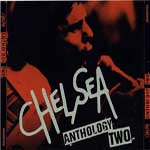 Anthology Two (3xCD, 2016)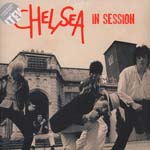 In Session (2xLP/CD, 2017)
Various Artists
English Waves! Italy LP 1978 (RCA Victor): High Rise Livin'
Jubilee UK LP 1978 (Polydor/EG): Right To Work
Illegal Greatest Hits UK LP 1981 (Illegal): I'm On Fire

I.R.S. Greatest Hits Vols. 2 & 3 US 2xLP 1981 (IRS): Urban Kids
The Defiant Pose UK LP 1983 (Illegal): Evacuate
Punk - Past, Present And Future ... The Released Emotions Compilation (1988-1993) UK CD 1993 (Released Emotions): Come On
Razor Records Punk Collection UK CD 1995 (Anagram): Urban Kids (Live)

The Punk Generation UK 4xCD 1995 (Castle): Right To Work (Live) / Urban Kids (Live)

1-2-3-4 Punk & New Wave 1976-1979 UK 5xCD 1999 (Universal): Right To Work
Sniffin' Glue: The Essential Punk Accessory UK CD 2003 (Castle): Right To Work
White Dopes On Punk UK 2xCD 2005 (Castle Music): Right To Work
Never Mind The S*x P*stols Here's The Bollocks UK CD 2006 (CIA): Right To Work
'I Wanna Punk Rock' The Step Forward Singles Collection UK 10x7"/CD 2007 (Castle Music): Right To Work / The Loner / High Rise Living / No Admission / Urban Kids / No Flowers
Harmony In My Head: UK Power Pop & New Wave 1977-81 UK 3xCD Box Set 2018 (Cherry Red): Look At The Outside
__________________________________________________________________________
Links
Punk '77 - Excellent detailed bio etc
Record Collectors Of The World Unite - Complete discography