RICHARD HELL AND THE VOIDOIDS
Formed: New York, NY, USA


"You know what's stopping me from sticking a pistol in my mouth? Nothing but me" – Richard Hell, 1981
One of rock's true originals, Richard Hell (real name Lester Meyers) took inspiration not only from the directness of 1960s rock and roll but also from poets like Verlaine and Rimbaud. Unlike the similarly influenced Patti Smith and Tom Verlaine he also knew how to rock hard as well. Having been kicked out of both Television and The Heartbreakers for usurping the perceived focal points of those bands (Verlaine and Johnny Thunders respectively), he formed the Voidoids, subsequently one of the best bands in New York, not least due to the maniacal guitar playing of Robert Quine and Ivan Julian (whose contribution to the band has never been truly appreciated). And with Hell's meat-and-potatoes bass playing forming a formidable rhythm section with Marc Bell (later Marky Ramone), they were probably unequalled in melding primal energy with artier tendencies. Hell himself, of course, was one of the major influences on UK punk, both in look (safety pins, sneering) and stance (nihilistic).
Blank Generation
is one of the finest albums of 1977, an extraordinarily potent mix of romanticism, nihilism, poetic beauty and heroin-raddled fury, best exemplified by the searing title cut, a three-minute anthem for the punk movement that was directly responsible for 'Pretty Vacant'. With funky but clunky bass, the angular, demented interplay of the guitars, and Hell's impassioned shriek, it's not really for all tastes (there's too much intelligence at work for some people), but for my money it's a start-to finish corker, with totally gonzoid songs like 'Liars Beware' and 'Love Comes In Spurts' and 'Who Says' ("Who says, who says it's good to be alive/Same ones who keep it a perpetual jive"). Two of the ten songs - the title track and 'Another World' - had been previously recorded for their debut EP, which many consider their greatest moment.
With not much in the way of new product, an archival release in 1980 offered a glimpse of early Richard Hell and was a welcome addition to discography. Richard Hell & The Voidoids / Neon Boys featured two very old Richard Hell recordings, dating back to 1973 when he and Verlaine were in the Neon Boys. There were also two new Hell efforts, 'Time' and 'Don't Die'.
'Time' and 'The Kid With The Replaceable Head' both appeared on Destiny Street in new versions, amongst eight songs that don't match up to the best on debut album but did nothing to dilute Hell's reputation as one of the most vital, enigmatic and charming singers in the music biz. 'Time' is a lovely ballad, 'Lowest Common Dominator' a typically inventive look at sexual relationships, and 'Downtown At Dawn' confidently mixes punk with danceable funk. Also, Hell gives Dylan's 'Going Going Gone' a proper tune (have you heard the original?). In 2009 he re-recorded the LP as Destiny Street Repaired.
ABOVE: The Voidoids in 1982
Outside of music, Hell has tried his arm at acting (in Ulli Lommel's Blank Generation, and Smithereens and Desperately Seeking Susan) and written/compiled several poetry books (including a collaborative effort with Verlaine, Wanna Go Out?) and a novel, The Voidoid. Hell has been virtually invisible since the mid-'80s: he surfaced in a middling supergroup called Dim Stars; he reformed The Voidoids (with Quine, Julian and Bell) for a one-off track in 2000, 'Oh'. The bad news? It's only available via a download. The good news? It can be found on Wayne Kramer's Beyond Cyberpunk compilation (Music Blitz 177961, 2001).
__________________________________________________________________________
DISCOGRAPHY
Subsequent studio albums: Across The Years (poetry reading, solo, 1991).
Another World (7", 1976)
Blank Generation (7"/12", 1977)
Blank Generation (LP, 1977)
The Kid With The Replaceable Head (7", 1979)
Destiny Street (LP, 1982)

Extraneous Releases
Richard Hell & The Voidoids / Neon Boys (7", 1980)
R.I.P. (Tape, as Richard Hell, 1984)
Funhunt: Live At CBGB's And Max's 1978 And 1979 (Tape/2xLP/CD, 1990)
Richard Hell & The Voidoids / Suicide (7", split, 2001)
Time (2xCD, 2002)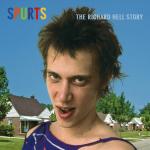 Spurts: The Richard Hell Story (CD, 2005)
Gone To Hell (CD, 2008)
Destiny Street Repaired (LP/CD, 2009)
Bootlegs
Recorded Live CBGB's '78 (7", 1988)
I Wanna Be Your Dog (CD, 2005)
Television, Richard Hell And The Voidoids, The Neon Boys (LP, split)

Various Artists
Punk Collection Italy LP 1977 (RCA Victor): Love Comes In Spurts
New Wave UK LP 1977 (Vertigo): Love Comes In Spurts
Hits Greatest Stiffs UK LP 1977 (Stiff): You Gotta Lose
The Sire Machine Turns You Up UK LP 1978 (Sire): You Gotta Lose / Blank Generation
That Summer! UK LP 1979 (Arista): Blank Generation
Sharp Holland LP 1979 (WEA): The Kid With The Replaceable Head
Shake To Date UK 1981 (Albion/Shake): Don't Die / Time
New York Rockers US Tape 1989 (ROIR): I Been Sleepin' On It
The Best Punk Album In The World ... Ever! 2 UK 2xCD 1996 (Circa): Love Comes In Spurts
1-2-3-4 Punk & New Wave 1976-1979 UK 5xCD 1999 (Universal): (I Belong To The) Blank Generation
Punk.UK 2xCD 2001 (Columbia): Blank Generation

Sniffin' Glue: The Essential Punk Accessory UK CD 2003 (Castle): (I Belong To The) Blank Generation
No Thanks! The '70s Punk Rebellion US 4xCD 2003 (Rhino): Blank Generation / Love Comes In Spurts
__________________________________________________________________________
Links
Richard Hell's Official Site - Full of photos, poetry, lyrics cool stuff
Richard Hell Finds His Peace in East Village Apartment