Formed: London, England, UK
Not just a subject on the first LP by The Clash, but a recording artist in her own right, Janie Jones' career dated back to the '60s, but her 1983 single featured three quarters of The Clash and one third of Ian Dury's Blockheads. It's a fine disc: 'House Of The Ju-Ju Queen' is a great Joe Strummer song with smoky vocals and a James Bond feel (think Shirley Bassey doing guest vocals on Combat Rock and you're near the mark).
Both sides of the single, along with a demo version of the A-Side sung by Joe Strummer, appear on the Janie Jones CD We're In Love With The World Of Janie Jones (RPM, 2001).
Here is what the Sons of the Dolls blogsite has to say about the single:
In December 1982, Janie Jones herself, backed by members of The Clash and the Blockheads and credited as Janie Jones & the Lash, recorded a 7" single, "House of the Ju-Ju Queen", which was written and produced by Joe Strummer and released on Big Beat in 1983. Strummer as well as Mick Jones also played guitar on the record, together with Paul Simonon on bass, Mickey Gallagher on keyboards, Mel Collins on saxophone, and Charley Charles on drums. The B-side of the single was a cover of James Brown's "Sex Machine".
"Janie Jones" is also a song by The Clash on their eponymous debut album. The subject of the song, Janie Jones, was a famous madam in London during the 1970s and had been a pop singer during the 1960s. Legendary film maker, Martin Scorsese, well known as an ardent fan of The Clash, claimed in the book "Scorsese on Scorsese", that he considers "Janie Jones" to be the greatest British rock and roll song.
__________________________________________________________________________
DISCOGRAPHY
Singles & Albums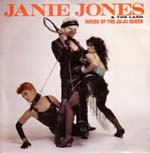 House Of The Ju-Ju Queen (7", 1983)
__________________________________________________________________________
Various Artists
White Riot Vol Two (A Tribute To The Clash) UK CD 2003 (Uncut): House Of The Ju Ju Queen
Radio Clash UK CD 2004 (Mojo Magazine): House Of The Ju Ju Queen
__________________________________________________________________________
Links