Formed: San Francisco, California, USA

The most impressive of Jello Biafra's post-
Dead Kennedys
projects, Lard was a part-time collaboration between Biafra (who takes care of "conceptual psychosis") and members of Ministry and Revolting Cocks (Al Jourgensen, Jeff Ward, Paul Barker). First surfacing in 1989, they released the outrageously good
Power Of Lard E.P.
., which utilises deafening guitars with stiff industrial drumming on three lengthy songs. The title track and 'Hellfudge' are hugely entertaining ("If you love your fun...die for it!"), although the 32-minute grind of 'Time To Melt' (a meditation on censorship) makes for arduous, uncomfortable and ultimately patience-testing listening.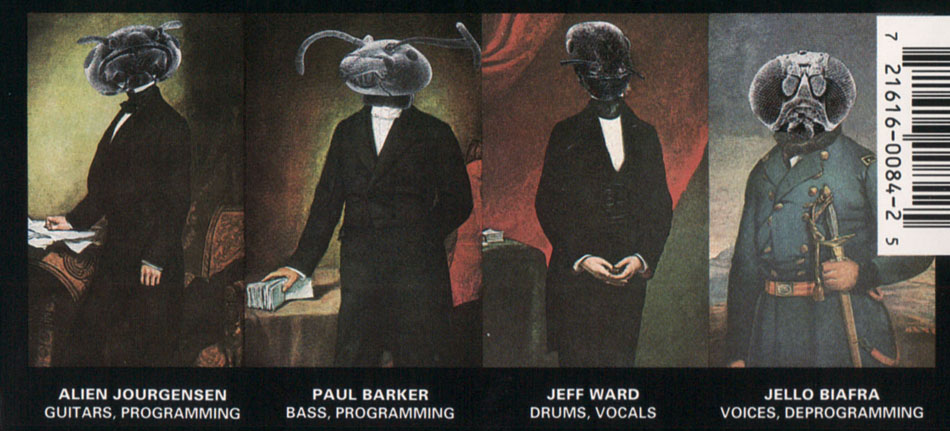 Better still is The Last Temptation Of Reid, which somehow manages to be ten times louder than the previous EP, with some of Biafra and company's most aurally stunning numbers. Delving into political corruption with migraine-unfriendly results (that's a compliment), 'Mate Spawn & Die' builds on the 'Holiday In Cambodia' guitar riff, and 'Can God Fill Teeth?' makes use of power tools for instrumentation. An eight-minute cover of 'They're Coming To Take Me Away, Ha-Ha' is the perfect vehicle for Jello Biafra's funhouse singing style, and uses martial drumming and cuckoo noises to great effect. (The song was presumably chosen to document the breakup of his marriage.) As a bonus, the CD comes with an extra track, the doom-laden 'I Am Your Clock', which spreads unfettered paranoia over 15 monstrous minutes. (This song was also issued as a one-sided 12" single.)
The eagerly awaited Pure Chewin' Satisfaction was to my ears a major disappointment: it lacks all of the power of the first Lard album, instead relying on tuneless heavy metal riffing. The subject matter remains highly sociopolitical (as evidenced on 'Feeling Back The Foreskin Of Liberty') but one gets the feeling that Biafra has been covering the same issues for too long: this effort is uninspired and, to be frank, boring. And the same can be said of the 70s Rock Must Die EP, three long tunes which actually sound like '70s rock in an industrial setting.
__________________________________________________________________________
DISCOGRAPHY
Singles & Albums
Power Of Lard E.P. (12"/CDS, 1989)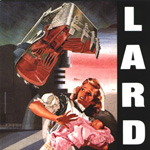 The Last Temptation Of Reid (LP+12"/CD, 1990)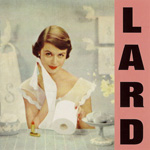 Pure Chewing Satisfaction (LP/CD, 1997)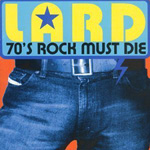 70's Rock Must Die (12"/CDS, 2000)
Various Artists
The Futility Of A Well Ordered Life US CD 1994 (Alternative Tentacles): Forkboy
Natural Born Killers Soundtrack UK/US CD 1994 (Universal/Interscope): Forkboy
The Virus That Would Not Die US CD 1997 (Alternative Tentacles): I Wanna Be A Drug-Sniffing Dog
__________________________________________________________________________
Links