Formed: Wythenshawe, Manchester, England, UK

Ed Banger RN Edmund Garrity (vocals) and Toby RN Phillip Toman (drums) were in a struggling hard rock band when they saw the
Sex Pistols
at the Lesser Free Trade Hall Manchester on the band's second Northern jaunt in late 1976. Wild Ram became The Nosebleeds and were duly accused of climbing onto the punk bandwagon when they released the wonderful
Ain't Bin To No Music School
in July 1977. It's a pity that at the time people had to be rank amateurs with no musical pasts to achieve credibility; if you genuinely "saw the light" and changed direction, then you were labeled opportunists. Which is what happened to the Nosebleeds.
Despite selling 10,000 copies of 'Ain't Bin To No Music School and appearing on the So It Goes television programme, internal bickering saw Banger and guitarist Vini Reilly leave. A new lineup surfaced in 1978 with no less than Stephen Morrison (aka Morrissey) on vocals and Billy Duffy (The Cult) on guitar, but this didn't do much. Banger bounced back with a new Nosebleeds in late 78 with himself as the only original member, but this did nothing either, and that was the end.
Banger later released solo singles and joined Slaughter And The Dogs during their period as Slaughter. Bassist Pete Crookes and Reilly formed Durutti Column, Toman appeared with Ludus, Blue Orchids and Primal Scream.
A reformed Nosebleeds recorded an mp3 single in 2013, You've Been Tango'd.
__________________________________________________________________________
DISCOGRAPHY
Singles & Albums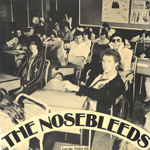 Ain't Bin To No Music School (7", 1977)
Extraneous Releases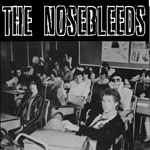 The Nosebleeds (CD)
Various Artists
Streets UK LP 1977 (Beggars Banquet): Ain't Bin To No Music School
The Crap Stops Here. UK LP 1980 (Rabid): Ain't Bin To No Music School
Rabid/TJM Punk Singles Collection UK CD 1996 (Receiver): Ain't Bin To No Music School / Fascist Pigs
1-2-3-4 Punk & New Wave 1976-1979 UK 5xCD 1999 (Universal): Ain't Bin To No Music School
White Dopes On Punk UK 2xCD 2005 (Castle Music): Ain't Bin To No Music School
Manchester North Of England - A Story Of Independent Music Greater Manchester 1977 - 1993 UK 7xCD 2017 (Cherry Red): Ain't Bin To No Music School
1977: The Year Punk Broke UK 3xCD 2019 (Cherry Red): Fascist Pigs
__________________________________________________________________________
Links
Stereo Candies- Excellent page about the band
Punk 77 - In depth bio and an Ed Banger interview
Lourder Than War - You've Been Tango'd
John Crumpton - The Rise and Fall of The Nosebleeds
Killed By Death Records - Download the first single here!