Formed: Bridgend, South Wales, UK
This Welsh quartet were one of the best third wave bands (although they actually formed in 1978 or 1979, depending on your storyteller/source), issuing a handful of tightly played high-octane singles with better-than-average lyrics declaimed in a distinctive quasi-Cockney adolescent strop by Spike. They also sported some nimble bass-playing (matching the guitar precisely) from the "punk pinup" Louise. The high quality of their music (and musicianship) is all very surprising considered they all still at school when they formed.
This was their original lineup:
Phil Stanton - vocals
Rob "Spike" Harrington - guitar, vocals
Andy Lealand - guitar
Mark 'Savage' Parsons - bass
Mark 'Shark' Harris - drums
This lineup lasted until 1979, when a few changes left it looking like this:
Rob "Spike" Harrington - vocals
Andy Lealand - guitar
Louise Wright - bass
Mark 'Shark' Harris - drums
This lineup entered the 123 Studio in Cardiff, 1981 to record their first demo, copies of which were sent to the ubiquitous Garry Bushell, who championed them in Sounds and invited them to contribute to Carry On Oi!, and they came up trumps wit two of the best songs on it, the manic 'Arms Race' and the even more manic 'No U Turns'.

Their best known song was their first 7", Police Story, released in October 1981 by No Future. Kicking off with a parody of the Dixon of Dock Green theme tune, it surges into life with a hearty cry of "Dixon, you're gone forever!" and proceeds to rage in a righteous if slightly ramshackle, fashion for two minutes, getting increasingly agitated throughout, ending with a demented yell of "James is dead!!". 'Killing Machine' on the flip was good fun, too, but lyrics-wise was standard issue anti-army punk.
It was a big indie hit, and so was the follow-up, a more measured but no less potent slice of teen angst called 17 Years Of Hell. The B-Sides were common or garden variety punk (did the world really need another song called 'Bastards In Blue'???), but the A-Side was mature and melodic.
Both singles spent months in the Indies, and they gigged throughout the year, as headliners and as part of a No Future tour.
The Partisans was recorded under contractual obligation, as the band had actually split up towards the end of 1982. Here is how the band described their demise in a Sound interview in September 1982:
Andy: "Everyone just sort of got bored with the band".
Shark: "I don't think we were really dedicated and, well, we had no jobs and no money and it's hard to stay in a band because you need a bit of money to keep it going".
Louise: "And the gigs got boring too..."
Andy: ":No they didn't they were great!"
Louise: "Oohh, come off it"
Rob: "It became difficult to gig because we couldn't afford the petrol to hey to the gigs. No Future didn't help at all"
Andy: "Things started to get bad when all our equipment was nicked. That was the worst thing. Me and Rob spent loads in gear, we bought in on HP and it got stolen. We couldn't practise or anything and we were still paying for it, I hated it after that because every gig I had to worry about finding an amp. And then she got glassed by a skinhead in Birmingham. He was drunk and fell on top of her and his glass smashed her in the her face. So I hit him and he hit me back and it ended up in a riot. This kid's drum kit was smashed to bits and couple of guitars got broken. I got a little pissed off with all these kind of things so I left and moved up to London".
Rob: "I didn't know anything at all about him leaving until he phoned me from Brixton. It was a bit of a shock".
The LP it is predictable but very entertaining, with topics covering war, drugs, civil unrest, the army etc etc etc. The titles pretty much say it all ('Mindless Violence', 'I Don't Give A Fuck' and so on) but Spike's lyrics are quite sharp, the choruses are catchy and it doesn't let up for a minute. As Andy told Ian Glasper in Burning Britain: "It was all done and mixed within eight hours or something; we really had no idea what we were doing, and I don't think we cared that much".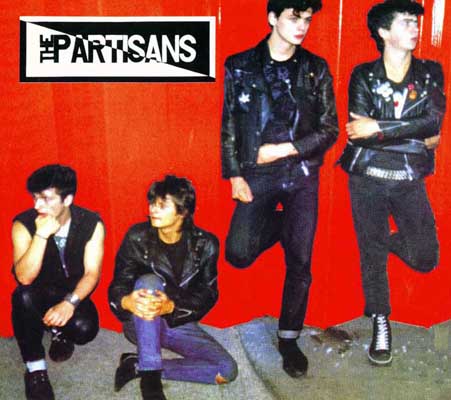 After the LP's release the band moved to Bayswater in west London. Following a protracted silence they resurfaced in late 1983 with a new lineup:
Rob - guitar, vocals
Andy - guitar
Dave Parsons (ex-Dig Dig Dig, later of Transvision Vamp and Bush) - bass
Shark - drums

...and a new single,
Blind Ambition
. It was a much more melodic Partisans sound, but all three songs are great, the title tune about the tedious, parochial boredom of "normal" life. As Shark told Bev Elliott of
Punk + Disorderly
in October 1983: "We are trying to be different - we want our own sound, and to be original. We wanted to sound different from the middle of the road punk bands. We just wanted a change, and to obtain our own identity, away from the old No Future type image.
'Blind Ambition' (the song) was shoved onto the end of the undisciplined The Time Was Right, released nearly two years after the debut LP and with the lineup reduced to a trio (Parsons was gone). Increased tunefulness and slower tempos placed them close in stylistic terms to the rockier sound of The Professionals or early Clash, and the debut's 'I Never Needed You' was given a makeover. Unfortunately, the songs weren't that great, the production was certainly iffy, and the live side was a waste of time.
The group folded in 1984, whereupon Andy moved to Scandinavia, Spike became a hospital orderly and Shark went first to work on the oil rigs and then to the Far East. Rob and Lealand attempted a new group in 1989, Agent Orange (add that to the list of Agent Oranges already in existence), going so far as to record a couple of songs, 'Run Go Grab' and 'Eyes Shut', but nothing else came of this and the pair disappeared once more.
In the late '90s they came back with a new lineup:
Rob "Spike" Harrington - vocals
Andy Lealand - guitar
Magnus Neundorff - bass
Mikael 'Gustaf' Gustavsson - drums
This lineup recorded Idiot Nation (2004) as well as a couple of singles.
__________________________________________________________________________
DISCOGRAPHY
Subsequent studio albums: Idiot Nation (2004).
Singles & Albums
Police Story (7", 1981)
17 Years Of Hell (7", 1982)
The Partisans (LP, 1983)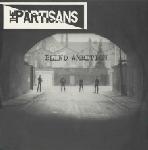 Blind Ambition (7", 1983)
The Time Was Right (LP, 1984)
Extraneous Releases
Police Story (CD, 1992)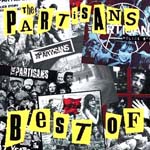 The Best Of The Partisans (CD, 1999)
Various Artists
Carry On Oi! UK LP 1981 (Secret): Arms Race / No U Turns
The Secret Life Of Punks UK LP 1982 (Secret): No U Turns
Punk And Disorderly UK LP 1982 (Abstract): Police Story
Burning Ambitions (A History Of Punk) UK 2xLP 1982 (Cherry Red): Police Story
There Is No Future (The History Of No Future) UK LP 1984 (No Future): Police Story / 17 Years
We Don't Want Your Fucking Law! UK LP 1985 (Fight Back): Anger & Fear
Maggie, Maggie, Maggie - Out! Out! Out! UK LP 1987 (Anagram): Police Story
Oi! Chartbusters Volume 1 UK LP 1987 (Link): Blind Ambition
Oi!.. The Picture Disc UK LP 1987 (Link): 17 Years
Oi! Chartbusters Volume 3 UK LP 1988 (Link): Change
Oi! Chartbusters Volume 4 UK LP 1988 (Link): Come Clean
Oi! Chartbusters Volume 5 UK LP 1989 (Link): The Time Was Right
The Best Of Oi! Volume 2 UK CD 1992 (Link): Arms Race
No Future: The Singles Collection UK CD 1993 (Anagram): Police Story / 17 Years Of Hell
No Future: Punk Singles Collection Volume Two UK CD 1995 (Anagram): Killing Machine / Bastards In Blue
The Punk Generation UK 4xCD 1995 (Castle): Blind Ambition / Arms Race
Oi! The Singles Collection Vol 1 UK CD 1995 (Captain Oi!): Police Story / Killing Machine
Oi! The Rarities Vol 3 UK CD 1995 (Captain Oi!): Blind Ambition / Come Clean / Change
Oi! It's Masocism Germany LP 1996 (Street Kid's): Come Clean
Lords Of Oi! UK 3xCD Box Set 1997 (Dressed To Kill): Blind Ambition / Change / Come Clean / The Time Was Right
Oi! This Is England UK 3xCD Box Set 1999 (Dressed To Kill): Blind Ambition / Change / Come Clean / The Time Was Right
Oi! Chartbusters Volume 6 UK CD 2004 (The Harry May Record Company): 17 Years
Burning Britain - A Story Of Independent UK Punk 1980-1983 UK 4xCD 2018 (Cherry Red): 17 Years Of Hell

__________________________________________________________________________
Links