Various - Carry On Oi!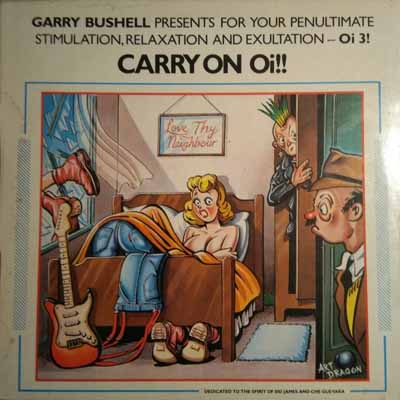 Original Release Date
1981
Release Information
UK LP 1981 (Secret - SEC 2)
UK CD 1999 (Captain Oi! - AHOY CD 119)
1 Garry Johnson - United 0:49
2 JJ All Stars - Dambusters March 2:13
3 The Business - Suburban Rebels 2:18
4 Infa Riot - Each Dawn I Die 2:21
5 The Partisans - Arms Race 2:08
6 The Ejected - East End Kids 1:35
7 Peter And The Test Tube Babies - Transvestite 3:19
8 Blitz - Nation On Fire 3:08
9 Last Resort - King Of The Jungle 4:04
10 The Gonads - Tuckers Ruckers Ain't No Suckers 1:51
11 The 4 Skins - Evil 1:38
12 The Business - Product 2:33
13 Red Alert - SPG 2:22
14 Oi! The Comrade - Guvnors Man 0:43
15 Peter And The Test Tube Babies - Maniac 2:40
16 The Ejected - What Am I Gonna Do 1:48
17 The Partisans - No U Turns 1:50
18 Blitz - Youth 1:56
19 Oi! The Choir - Walk On 1:46
CD Bonus Track
20 Red Alert - We've Got The Power 2:10
Chart Placings
UK Indie Hit: 4, 19 wks
Credits
LP:
Produced by Martin Hooker/Tim Thompson for Django Productions
'Carry On Oi!' was compiled by the incredibly modest Garry Bushell with a little help from Gary Gonad, a lot of help from Carol and no help at all from Sandra Bigg (Really Bigg). It was recorded in August 1981 at the Matrix Studio, a Dayglo Production
Reviews & Opinions
PUNKY GIBBON: Another cracking installment in this series. The expected Oi!/punk anthems are however interspersed with a bit of ska ('Dambusters March'), some excruciating street poe-oi-try ('United', 'Guvnors Man'), and a painful pissed-up pub singalong ('Walk On'). The "normal" stuff here is excellent, with the The Business, The 4-Skins, The Last Resort, Blitz, Peter And The Test Tube Babies, The Partisans, Red Alert, The Ejected and Infa-Riot all on absolute top form. Only The Gonads misfire with the tuneless 'Tuckers Ruckers Ain't No Suckers', but even that has a galloping charm.
Additional Notes
The third in the series inaugurated by Oi! The Album. The Captain Oi! bonus track, 'We've Got The Power' was supposed to go on the album but was left off due to time restrictions. Next in the series is Oi! Oi! That's Yer Lot!.
Images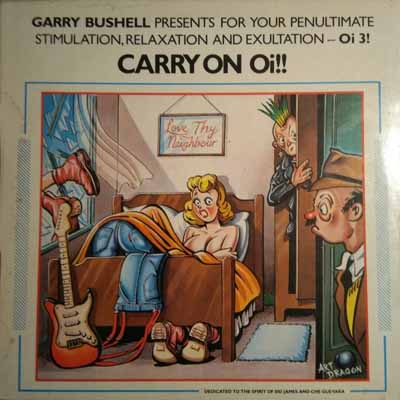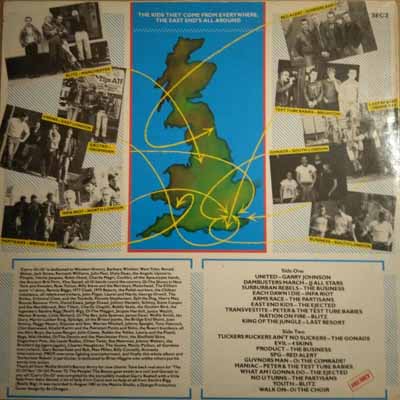 UK LP 1981 (Secret - SEC 2). Click here for more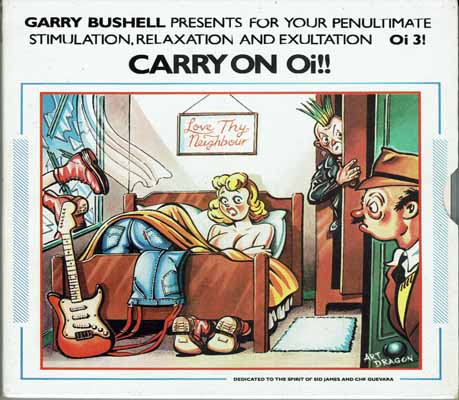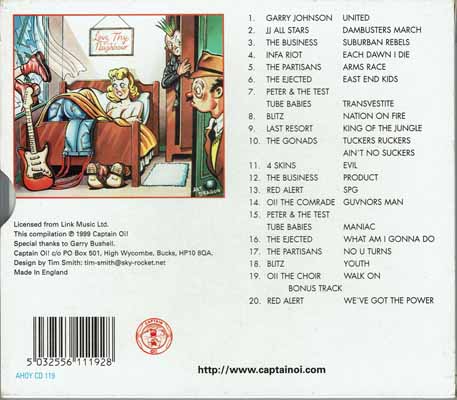 UK CD 1999 (Captain Oi! - AHOY CD 119). Click here for more