Formed: County Durham, England, UK
One of the first bands outside London to get hip to this newfangled punk thing were County Durham's Penetration, who found themselves up and gigging less than three months after seeing the Sex Pistols for the first time. By January 1977 they were playing at the Roxy, where they debuted supporting Generation X. Although their championing of punk as the start of a revolution seems naive now, back then Pauline Murray and company believed the possibilities were endless. Within two years they had split, disillusioned.
Two powerful yet almost understated singles (
Don't Dictate
and
Firing Squad
) and their
Moving Targets
album earmarked them as a breed apart from the likes of
Eater
and
V2
, not least due to Murray's breathy, urgent singing. For a start, despite being anthemic, from the second single onwards they had a rhythm guitarist (Neale Floyd) who wasn't taken to bashing barre chords into oblivion, and from the third single onwards they had a lead guitarist with a penchant for intricate and extensive soloing (Fred Purser). Much more melodic than their peers but still maintaining that all-important energy and rebellious streak, Moving Targets offers two covers (Patti Smith's 'Free Money' and the Buzzcocks' 'Nostalgia') and impressive originals like 'Movement', 'Life's A Gamble' and the lovely 'Reunion'. Nowadays it seems a little too restrained, a bit too tame alongside the blitzkrieg assault you'd normally associate with the period, and the production is a tad lumpy, but it's still essential.
Though swiftly designated a flop by critics and all concerned, Coming Up For Air captures the group in a much more obstreperous frame of mind, blasting their way through eleven rave-ups of immense proportions. Produced by Steve Lillywhite, this actually sounds more like a debut than their debut, with little in the way of subtlety but plenty of spit and grit, and headlong adrenaline charges like 'Killed In The Rush' and 'On Reflection'. The debut has the songs, but this has the firepower.
Race Against Time is an official bootleg that commemorates the memory of this fine band with a live side and a studio side. The studio side dates from 1977 and is superb, featuring 'Duty Free Technology', a song so great that one wonders why they never recorded it properly. The live side is okay, but nothing special.
__________________________________________________________________________

DISCOGRAPHY
Subsequent studio albums: Resolution (2015).
Singles & Albums
Don't Dictate (7", 1977)
Firing Squad (7", 1978)
Life's A Gamble (7", 1978)
Moving Targets (LP, 1978)
Danger Signs (7"/12", 1979)
Come Into the Open (7", 1979)
Coming Up For Air (LP, 1979)
Extraneous Releases
Race Against Time (LP, 1979)
Penetration (12", 1983)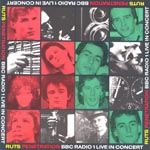 BBC Radio 1 Live In Concert (CD split with Ruts, 1991)
Don't Dictate: The Best Of Penetration (CD, 1995)
Penetration (CD, 1995)
The Early Years (LP, 1997)
The Best Of Penetration (CD, 2005)
Live 1978-1979 (2xCD, 2008)
The Virgin Years (4xCD, box set, 2015)
Various Artists
Guillotine UK 10" LP 1977 (Virgin): Don't Dictate
Dead On Arrival UK 2xLP 1978 (Virgin): Firing Squad
New Rock Greece LP 1979 (Pop Olympic): Don't Dictate
Fun, Filth And Fury! UK CD 1991 (Virgin): Firing Squad / Don't Dictate
The Best Punk Album In The World ... Ever! 2 UK 2xCD 1996 (Circa): Don't Dictate
1-2-3-4 Punk & New Wave 1976-1979 UK 5xCD 1999 (Universal): Don't Dictate
No Thanks! The '70s Punk Rebellion US 4xCD 2003 (Rhino): Don't Dictate
Sniffin' Glue: The Essential Punk Accessory UK CD 2003 (Castle): Don't Dictate
Silhouettes & Statues (A Gothic Revolution 1978 - 1986) UK 5xCD 2017 (Cherry Red): Stone Heroes
__________________________________________________________________________
Links