Formed: Finchley, London, England, UK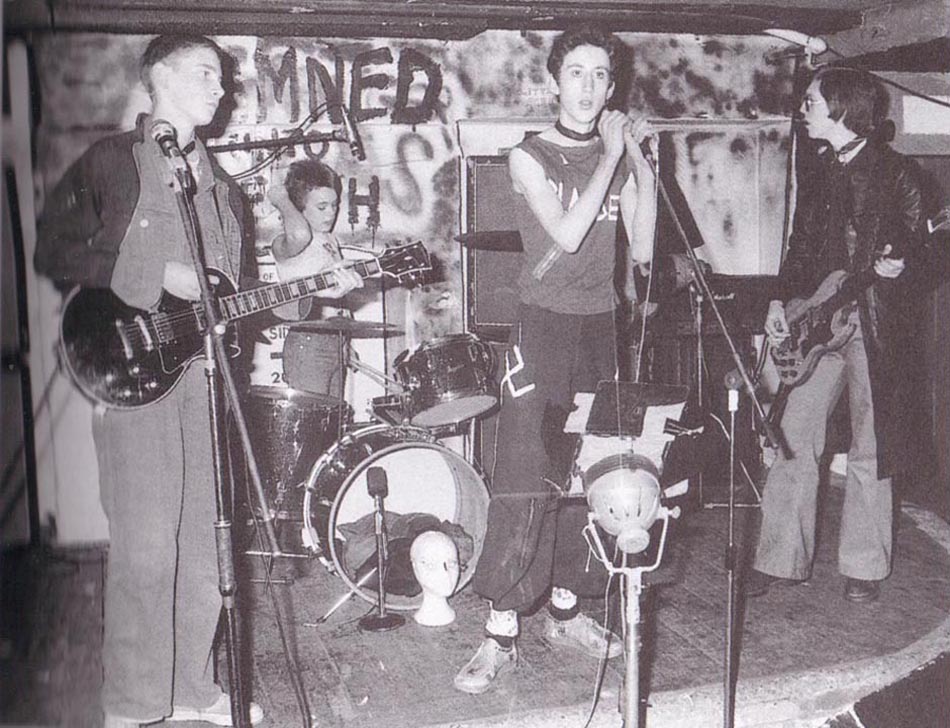 "Why don't you get raped?" sang Eater on their one and only album. Most critics, reviewers and observers wished they'd get fucked.
Thus:
John Savage, England's Dreaming: "Youth by itself is not enough."
Frank Kelly, Punk book, 2001: "Eater were the last straw, the one that broke the camel's back, the salt in the wound, the nail in the bleedin' coffin. No more had to said."

Walter Lure, Punk book, 2001: "They were kids, and didn't do anything for me musically".

Mark P, And God Created Punk, 1996: "Totally devoid of musical ideas, their sound was as brash as anything around at the time. At least they didn't outstay their welcome".
In truth, these stroppy, petulant school-age punksters were a great little band, a true working class punk band, who wrote good songs and made the Sex Pistols look like old men.
Punk 77: They had the songs, look and ability to develop...so many ifs and maybes but at the end of the day one fact remains: They left behind a string of classic punk singles and a classic punk album. Their place in history is confirmed...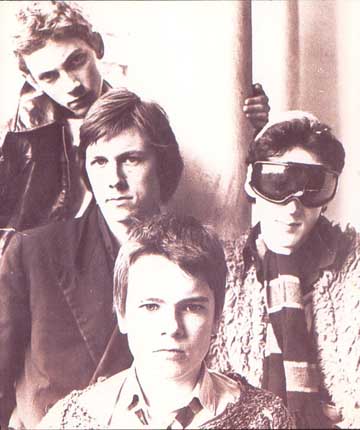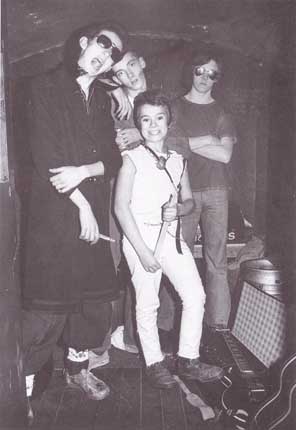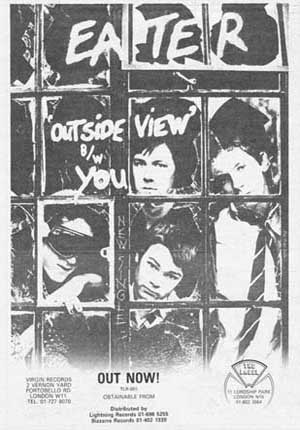 They formed in August 1976 with Social Demise on drums, but he was swiftly replaced by Rat Scabies protégée Dee Generate. Oddly for a London band they made their live debut in Manchester that November, supporting Buzzcocks, having been deemed too young to be allowed a slot at the 100 Club Punk Festival. That Northern gig ended with the band being booed off and Blade being consoled backstage by Howard Devoto. Their dad had driven the band there!
Andy Blade: "They were great and we were shit, and we had no following and they had a very good following. We got sandwiches and bits of shit thrown at us while we were on stage, but at the time it was great, it didn't matter at all, we just thought, "We did a gig, that's good".
That September Eater were invited to play at the 100 Club Punk Festival by Ron Watts, but were refused permission to play due their age. Maybe if they'd participated they'd have been invited into the upper echelons of the punk hierarchy rather than become known as also-rans. But hell, playing there did no favours for The Vibrators or Stinky Toys either. Which didn't mean EVERYBODY hated them , as this review from Bondage #1 (December 1976) attests:
EATER PLAYED down the Hope & Anchor on Wed 1st Dec. They didn't advertise so it was a hardcore audience plus a few locals. Quite boring really but when Eater came on things got good. Eater are a bunch of school kids from Finchley and they're really hot. They played loud fast and exciting - there's no time for messing around in milkbreak - but the sound was a bit rough so you couldn't hear Brian Chevette (guitar-boilersuit) properly. Still it was great. Chevette played tough simple rhythm chords while Andy Blade (vocals - earring) strode around the stage menacingly or sat and looked bored. The bass player's a bit anonymous (he's called Ian Wood) but Dee Generate (drums - 14) was great. He sits there and whacks away like Rat Scabies. They feed him baby food and he's so small he makes the other blokes look like old farts. They played lots of originals which sounded like the Damned, including "Bedroom Fix" which led into a great double-speed version of "Sweet Jane", and a totally deranged "Waiting For The Man". They also did "You" which is going to be their single and a great "Queen Bitch" which beat the original cos they're young & sharp and Bowies just an old poof. [Read the full review here]
Eater won a consolation-prize record deal with Dave Goodman's
The Label
. According to legend, they were not enthused about the deal until Goodman lied to them that Malcolm McLaren and/or Johnny Rotten would be involved.
Outside View
was duly recorded in November 1976. Had it been released at the time,it would have been the third true UK punk single, hard on the heels of
New Rose
and
Anarchy In The U.K.
, and earlier than
Spiral Scratch
. Unfortunately, it was finally released as a single in March the following year, by which time the band had lost faith in it. Reviews were not favourable, but I would actually consider it their best effort. Amazingly, it was released by Polydor in Japan!!
ABOVE: Sniffin' Glue magazine article, January 1977, and advert for the 2nd single.
Thinkin' Of The U.S.A. - deemed by many to be their finest moment - followed soon after, as did their appearance on The Roxy London WC2 (Jan-Apr 77). The group then recruited Phil Rowland, a more gifted drummer than Dee Generate, soon after and they spent summer gigging. Live At Barbarellas 1977 was recorded 30th August 1977, as part of a 3-day punk festival organised by the club, and captures the band's racketsome energy at its peak.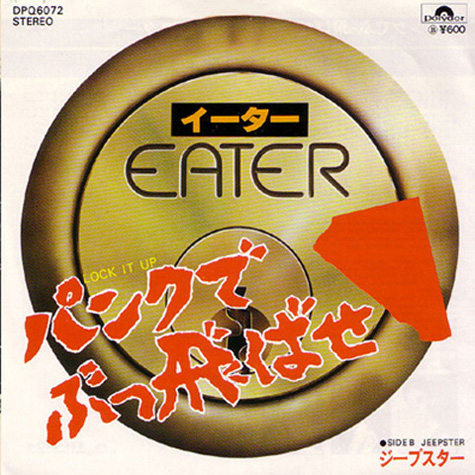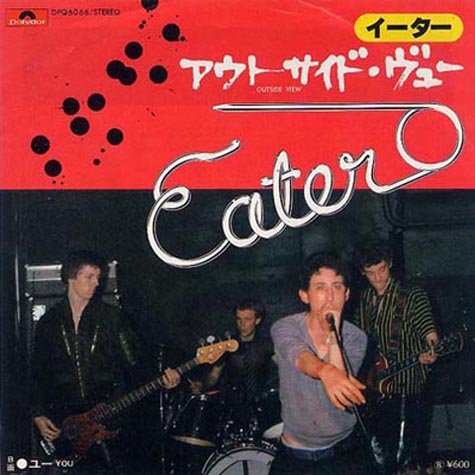 ABOVE: Japanese 7" Picture Sleeves for 'Lock It Up' and 'Outside View'
Recorded late that year and previewed with a great single (Lock It Up), The Album is quintessential 1977 punk: scratchy guitar, the same (tinny) bass-line for every song, indecipherable quickfire Cockney-snotto vocals by Andy Blade, zero production (by Dave Goodman), and very-much-of-the-time songs like 'No Brains' and 'Public Toys'. Covers of 'Queen Bitch', 'Sweet Jane', 'Waiting For The Man' and Alice Cooper's 'Eighteen' (or 'Fifteen' as Eater would have it) demonstrate where they're coming from, and originals such as 'Get Raped' and 'I Don't Need It' reveal their limitations. The LP closes with a sarcastic five-minute number called 'H-Bomb (Peace And Love)', where Andy declares his love for his bandmates, his mum, and the studio engineer. Oh, and the cover has a giant ant on it. Tee hee. A classic LP.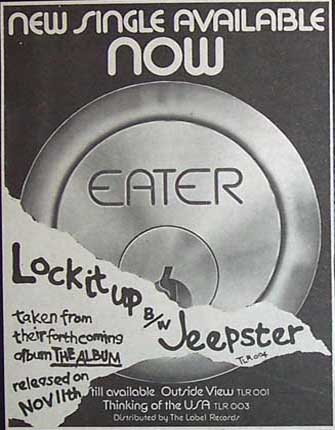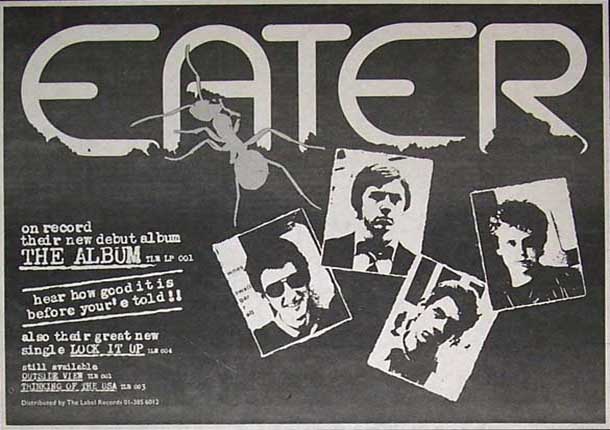 Following the sarcastically-titled live EP Get Your Your Yo Yo's Out, guitarist Brian Chevette departed, and with his replacement Gary Steadman they attempted to change their sound with What She Wants She Needs. It diffident really work, and just sounds like Eater running out of spit. It was their last release.
Andy Blade: "Brian left the band, and after Dee had been kicked out, I just felt that it wasn't really the same band anymore. Didn't like it. And Ian was becoming a bit more kind of boisterous in his input and I didn't like that, didn't wanna get on with it. It became not Eater anymore; it became just a kind of job and so eventually I quit in 1979, and said "I don't want any more of this". It fizzled out, it basically fizzled out, there was no really big blow-up, it just fizzled out."
The band reformed for a one-off at the 1996 Holidays In The Sun festival in Blackpool, looking noticeably bewildered and unamused by it all ("We've changed but you haven't").
Post-Eater, Phil Rowland surfaced briefly in Studio Sweethearts (essentially Slaughter & The Dogs) and then London Cowboys. Bassist Ian Woodcock joined The Vibrators. Blade released a solo single ('Break The News') in 1980 before vanishing again.
For those who want to know: The Compleat Eater and All Of Eater are the same record, compiling all of 'The Album', some of the singles, and a few unreleased demos. The Eater Chronicles recaps the same material over two discs but adds some new studio recordings of old material.
The History Of Eater Volume One is another comp, this time with a free single from 1979 (two songs that were recorded during the short lived collaboration between Andy Blade and Brian James - thanks to John McGowan for this info).
So to recap: fine band.
__________________________________________________________________________
DISCOGRAPHY
Singles & Albums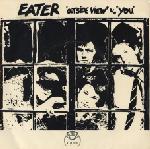 Outside View (7", 1977)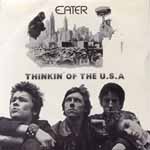 Thinkin' Of The U.S.A. (7", 1977)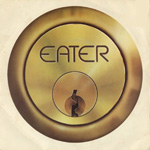 Lock It Up (7"/12", 1977)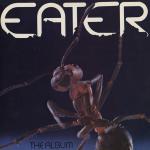 The Album (LP, 1977)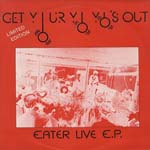 Get Your Your Yo Yo's Out (7"/12", 1978)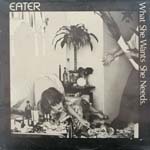 What She Wants She Needs (7", 1978)
Extraneous Releases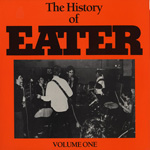 The History Of Eater Volume One (LP+7", 1985)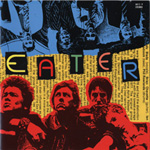 The Rest Of Eater (CD, 1989)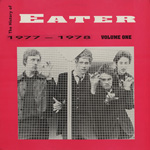 The History Of Eater 1977-1978 Volume One (LP, 1991)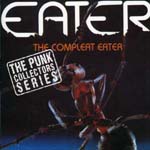 The Compleat Eater (CD, 1993)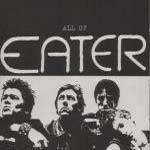 All Of Eater (CD, 1995)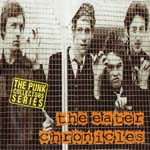 The Eater Chronicles (2xLP/2xCD, 2003)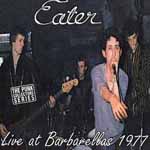 Live At Barbarellas 1977 (LP/CD, 2004)

Various Artists
The Roxy London WC2 (Jan-Apr 77) UK LP 1977 (Harvest): Don't Need It / 15
Punk Collection Italy LP 1977 (RCA Victor): Thinking Of The USA
Punk Rock '77 New Wave '77 Portugal LP 1978 (Pirate Dream): Outside View / Thinkin' Of The USA
The Label Sofar! UK LP 1979 (The Label): Outside View / Typewriter Babies / Point Of View
Burning Ambitions (A History Of Punk) UK 2xLP 1982 (Cherry Red): Lock It Up
Anarchy In The U.K. Volume One France CD 1990 (MPO): Outside View
1-2-3-4 Punk & New Wave 1976-1979 UK 5xCD 1999 (Universal): Thinkin' Of The USA
White Dopes On Punk UK 2xCD 2005 (Castle Music): 15 (Live)
The Roxy London WC2 - A Live Punk Box Set UK 6xCD 2005 (Castle Music): Don't Need It / 15
Action Time Vision (A Story Of Independent UK Punk 1976-1979) UK 4xCD 2016 (Cherry Red):Outside View
Harmony In My Head: UK Power Pop & New Wave 1977-81 UK 3xCD Box Set 2018 (Cherry Red): My Business
1977: The Year Punk Broke UK 3xCD 2019 (Cherry Red): Thinkin' Of The USA
Optimism / Reject (UK D-I-Y Punk and Post-Punk 1977-1981) UK 4xCD 2019 (Cherry Red): Thinkin' Of The USA
__________________________________________________________________________
Links
Punk 77 - A Punk Rock History of Eater with images and reviews
The Secret Life of a Teenage Punk Rocker: the Andy Blade Chronicles