Formed: Vauxhall, New Jersey, USA
Hardcore band from the central/north Jersey area of Vauxhall. formed in 1983 by drummer Greg Walker (ex-Bodies in Panic) and two members of the area's first hardcore band NFJ [New Jersey's Finest], bassist Andy Skovran and guitarist Paul Decolator. The original lineup was completed by second guitarist Doug "Sluggo" Vizthum and vocalist Dave Scott (who was currently drummer in Adrenalin O.D.). The lineup recorded an album in 1983 which was sadly never released, and a demo in 1984, Sure We're Pleased, which was. Released, that is.
Dave left after the demo and was replaced by Keith Hartel. By 1986 Hartel assumed bass playing duties as well as singing after Skovran had departed. The lineup recorded Dangerous Choo-Choo in 1986. Where are they now?
__________________________________________________________________________
Lineup 1 (1983-1984):
Vocals: Dave Scott (Adrenalin O.D.)
Guitar: Doug "Sluggo" Vizthum (pre-Bad Karma)
Guitar: Paul Decolator (ex-NFJ, , pre-Loose) R.I.P. 2002
Bass: Andy Skovran (ex-NFJ, pre- Niblick Henbane)
Drums: Greg Walker (ex-Bodies in Panic, pre- Moby Dick, pre-Loose)
Lineup 2 (1984-1986):
Vocals: Keith Hartel (pre-The Nymphs, pre-True Love)
Guitar: Doug "Sluggo" Vizthum
Guitar: Paul Decolator
Bass: Andy Skovran
Drums: Greg Walker
Lineup 3 (1984-1986):
Vocals/Bass: Keith Hartel
Guitar: Doug "Sluggo" Vizthum
Guitar: Paul Decolator
Drums: Greg Walker
__________________________________________________________________________
DISCOGRAPHY
Singles & Albums
Dangerous Choo-Choo (LP, 1986)
Demos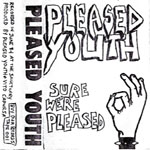 Sure We're Pleased (Tape, 1984)
Various Artists
New Jerseys' Got It? US LP 1985 (Buy Our Records): I'd Rather Be An Asshole / Obedience School
Big City's One Big Crowd US LP 1985 (Big City): Nightmare Reality / Your Different
Suburban Uprising: The Jersey Beat Collection US Tape 1985 (Jersey Beat): Amerika
Great Rock N Raoul Swindle US Tape 1986 (Datchord): Lunkhead / America The Beautiful / I Was Poisoned
Die Freiheit US Tape 1980s: The Calling / Lunkhead / Thrash-O-Rama
__________________________________________________________________________
Links