Formed: Amsterdam, Holland, Europe
Lineup 1:
Michael B. Smith (RP 2005) - vocals, guitar
Frank Cambach (aka Frank 'N' Stein) - bass
Keith Line - drums
Theo Outhuyse - drums
with: Captain Sensible - guest vocals
Lineup 2:
Michael B. Smith - vocals, guitar
Jack Boothe - bass
Keith Line - drums
One of the first Dutch punk bands, The Softies were led by Michael B. Smith aka Big Mick, former Beatles chauffeur and roadie for The Damned. They are best known for their excellent gay-themed version of Jet Boy, Jet Girl, on which they were joined by Captain Sensible on guitar and vocals, who went to Holland in the immediuate period after The Damned had their first split. He toured with them in Holland before he went back to England to reform his former group.
Before the Captain joined The Softies had released a well-receieved single, Suicide Pilot, which came out as a single in Hollad (on Poker) and in the UK (on Charly). After he left, the band - now a trio with a new bassist - recorded their one and only album, the appallingly packaged Nice And Nasty, which came out in 1979 via Charly (in the UK and Spain) and Bellaphon (in Germany).
__________________________________________________________________________

DISCOGRAPHY
Singles & Albums
Suicide Pilot (7", 1978)
Jet Boy, Jet Girl (7", as Captain Sensible & The Softies, 1978)
Killing Time (7", 1978)
Nice And Nasty (LP, 1979)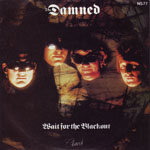 Wait For The Blackout / Jet Boy Jet Girl (7", as Captain Sensible & The Softies, split, 1982)
Various Artists
Killed By Death #1234 ?? LP 2000 (Redrum): Suicide Pilot
I Don't Care Collection (Dutch Punk 1977-1983) Netherlands 2xCD 2016 (Pseudonym): Suicide Pilot (Demo)
I Don't Care Volume 2 - Dutch Punk 1977-1983 Netherlands 2xLP 2016 (Pseudonym): Suicide Pilot
__________________________________________________________________________
Links