AKA: VIC GODARD AND SUBWAY SECT
Formed: London, England, UK
THEY MADE GUITARS TALK INFORMATION, APPARENTLY
Led by singer/guitarist/songwriter Vic Godard, Subway Sect was at the forefront of the punk movement and debuted at the 100 Club Punk Festival, where they dressed in grey, perfected the art of looking bored and detached, and blared lashings of Velvet Underground-inspired guitar noise. Not for them the Stooge-y racket of The Damned or the rock n roll of The Vibrators (both of whom also played on the bill): they excelled at sounding very English, marrying their surprisingly melodic and intelligent songs with monotonous dirge guitars. They were certainly one of the most interesting and exciting bands of the time, the only thing stopping their elevation to (say) Joy Division, Banshees or Public Image Ltd status as major catalysts for a new sound after punk's initial outburst being the lack of material available: the original Subway Sect (1976-1978) left behind just two singles, eight songs spread across two Peel Sessions, an unreleased album and a number of scratchy demo/live recordings. Personally, I would consider Godard's decision to quit music in 1986 to become a postman because people in that job tended to be "all right" is, on its own, enough to secure immortality.
1976
As noted, the band made its debut at the 100 Club Punk Festival in September 1976. The band - Vic Godard (vocals), Rob Symmons/Simmons/Miller (take yer pick) (guitar), Paul Myers (bass), Paul Packham (drums) - had formed several months earlier that year. Godard had already seen the Sex Pistols in action was suitably impressed:
Vic Godard: The first time I saw the Pistols I was walking past the Marquee and saw Malcolm McLaren in a hallway having an argument with the manager of the club. I recognised Malcolm and thought, That looks interesting, so I went inside. I'd never seen anything like it before. It was total chaos. The manager hated the Pistols and in between songs was trying to drag them off the stage. What appealed most to me were the lyrics Johnny Rotten was singing. They were completely overpowering. Before that it had just been bands like Dr Feelgood and the Count Bishops doing covers of Chuck Berry. (as told to Lois Wilson in Q Punk Special, 2002)
ABOVE: Handbill for The 100 Club Punk Festival. Photo L-R Vic Godard, Paul Packham and Paul Myers (pic by Barry Plummer)
McLaren was organising his Punk Festival at the 100 Club, but had a problem. Apart from the Sex Pistols, The Clash, Buzzcocks and The Damned, the punk movement did not really exist. To make up numbers he allowed The Vibrators to play (despite them not being a real punk band) and found a dodgy French band called Stinky Toys. The two other bands on the bill were Subway Sect and Siouxsie & The Banshees, the latter having formed especially for the occasion. It did not matter that Subway Sect (and the Banshees) were absolute amateurs.
Vic Godard: Malcolm wanted as many groups as he could get. When he saw us we'd never played in front of an audience and he thought we were so awful that there was no way we could do it. So he booked us for rehearsals at a place in Chelsea from eight in the morning till seven at night, all week, and paid for it. We only had five songs. (as told to Lois Wilson in Q Punk Special, 2002)
Steve Mick (Sniffin' Glue): Subway Sect came on first. I loved them. They chewed gum on stage and looked vacant. (Caroline Coon, 1988: The New Wave Punk Rock Explosion)
Vic Godard: We were awful, really dreadful. (as told to Lois Wilson in Q Punk Special, 2002)
ABOVE: Caroline Coon's review; Paul Simonon, Paul Packham and Joe Strummer before the festival. (Photo by Barry Plummer)
ABOVE: The original lineup and handbill for "A Night Of Pure Energy" at the ICA Theatre Saturday 23rd October 1976
The week after their punk festival appearance they found themselves a manager in the shape of Bernie Rhodes. Rhodes was a haberdasher who had looked after the Pistols while McLaren was in New York playing with his Dolls (and had in fact "discovered" Johnny Rotten), and was currently managing The Clash. Subway Sect were put on a wage (£15 a week each) and were allowed to use The Clash's practise area Rehearsal Rehearsals. By the end of the year Packham had been replaced by Mark Laff.
1977-1978
ABOVE: Poster for show at The Coliseum, March 1977: L-R: Robb Miller, Vic Godard, Mark Laff and Paul Myers
The group spent the first few months of '77 writing new material and rehearsing, and playing the odd show here and there, such as at the Colisuem in Harlesden, where they supported The Clash on a bill with Buzzcocks, The Slits and "late night kung fu films" (the venue specialised in screening uncut chop-sockies and Bollywood movies). All of these bands embarked on the White Riot tour in May/June 1977 with occasional appearances from The Prefects. (The Jam were also on the tour for short time but pulled out early-on over a money dispute).
Caroline Coon, July 1977: Vic, Rob and Paul (they have difficulty keeping drummers) are an impenetrable unit, deadpan, grave and shy, On stage, Vic likes to impersonate insanity in slow motion. He rarely utters a word between numbers like 'Parallel Lines', 'Nobody's Scared', and 'Rock 'n' Roll Even'. They wear dustbin-grey jerseys and trousers. But they once delighted fans with stark black and white. Over the months it has become possible to determine vestigial melodies in their music. A mine of talent. (1988: The New Wave Punk Rock Explosion by Caroline Coon)
That October the group - with new drummer Bob Ward - finally got around to recording something, and that was a classic radio session for John Peel (''Nobody's Scared', 'Don't Split It', Parallel Lines', 'Chain Smoking').
ABOVE: Paul, Vic and Robb at the Coliseum'; poster for 'Nobody's Sacred'; and fanzine interview from March (or April) 1978
Five months later the group made it first vinyl statement, with the masterful Nobody's Scared, released on Braik Records (owned by Bernie Rhodes) in March '78. The single surprised many because it revealed that, although still cacophonous and dirgey, they could also write properly good songs. It no doubt benefited from Rhodes, deciding that the songs were not punk enough, speeding up the master tapes without the band's knowledge. A second single, Ambition, came out in November and was even better, despite or because) of more Rhodes meddling. It was produced by The Clash's sound man Mickey Foote, but Rhodes himself added some ping-pong effects and a terrific keyboard sound.
Vic Godard: We thought 'Different Story', [Ambition's] B-Side, was going to be single instead. It was much better. And it wasn't even called that at the time. It was called 'Rock 'n' Roll Even'. I hated [Ambition']. But Bernie had complete control at that time. He sent us off on tour then completely rearranged the track, adding the synthesizer. I'm glad he did though, because now I hate it even more. (as told to Lois Wilson in Q Punk Special, 2002)
Although by this time Godard was claiming that the Subway Sect "really hated punk" and was name-checking Debussy and Frank Sinatra, each of these records were proper punk records.
An album was recorded at around the same time as the 'Ambition' single, but for reasons that remain unclear, Rhodes decided to sack Symmons and Myers (Ward somehow survived).
Vic Godard: It was originally recorded in early 1978 in a Gerrard Street basement in London, called Gooseberry Studios. It was to be called Subway Sect and would have been on Bernie Rhodes' label Braik records. It had Bobby Ward on drums, Paul Myers on bass and Rob Symmons on guitar, with added backing vocals and percussion from the Black Arabs. It also featured Dan Kelleher of the 101'ers on keyboards on a couple of songs - don't ask me which ones though! The Slits were already there recording their debut LP, with Dennis Bovell producing. We had Mickey Foote (who had produced the first Clash album) and Bernard Rhodes. The Slits had nights and we had days. The results of our efforts were never mixed we were told because we weren't good enough on our instruments and shortly after this the group were sacked by manager B. Rhodes, who offered me a job as his house songwriter. He said he wanted to recreate a Motown type set-up with several different bands, first of which was the Black Arabs.
As the master tapes for the LP subsequently went missing, in 2007 Godard, Laff and a different rhythm section recorded 1978 Now, intended to be be what that LP would have been like had it ever been released. ('Parallel Lines' from the unreleased LP surfaced in 1981 on the cassette-only NME / Rough Trade C81, and a handful of other cuts made it onto the CD reissue of "We Oppose All Rock 'N' Roll" 1978-1980.)
That December Godard and Ward - along with 16-year-old jazz-funk bassist Colin Scott, keyboard player Steve Atkinson and guitarist Johnny Britton - recorded a second BBC Peel Session, much poppier and less oddball than before, with swing influences on 'Watching The Devil' and 'Stool Pigeon' sounding like a punked up soul standard. The other two songs were 'Double Negative' and a very rocking version of The Velvet Underground's 'Head Held High'.
1979 Onwards
1979 saw no new recordings but a change of direction nonetheless, with Godard writing a batch of Northern Soul-inspired tunes with former bandmate Paul Myers, their set of such songs at the Music Machine in London proving inspiration for Orange Juice, who took the Sect song 'Holiday Hymn' and covered it. (The group eventually recorded this bunch of songs properly on 1979 Now in 2014.) Myers' next stop was a stint with The Professionals.
ABOVE: Promo material
Godard and an entirely new Subway Sect - actually "Vic Godard & Subway Sect" - re-emerged in the new year with What's the Matter, Boy?, an excellent LP which marked yet another change of direction, moving farther away from punk yet still retaining its lyrical bite. Reviewers compared this eclectic release with everything from Elvis Presley to The Velvet Underground to early rockabilly, folk and skiffle. Although prone to bouts of cynicism - "All these wicked people/Who do they think they are?/They want the keys to the city/Watch 'em fumble for the keys to their cars" he sings on 'Double Negative' - Godard also comes across as a hopeless romantic on beautiful songs like 'Make Me Sad', which is highly suggestive of the Velvets circa 1969, while spikier numbers such as 'Stand Up' and 'Split Up The Money' look back to his punkier beginnings. A magnificent and intelligent scratchy pop album, this was actually mastered at the wrong speed (presumably another Bernard Rhodes wheeze), a fault corrected on the CD reissue.
ABOVE: Subway Sect in 1982; and Vic in 1982 in The Face magazine (see here for full article)
And this marked the end of Godard's "rock" period. On the singles Stamp Of A Vamp and Hey Now (I'm In Lové) and the long-player Songs For Sale, Godard and yet another version of the Subway Sect actually abandoned rock n roll entirely, going the Joe Jackson route of harking back to to the 1940s for inspiration. These records acted as a collective homage to Godard's idol, Cole Porter, with Godard now crooning his way through a bunch of Tin Pan Alley type tunes. The public did not exactly rush out in droves to buy these, and after a solo album ('T.R.O.U.B.L.E.') Godard quit the music business to become a postman.
Subway Sect have reformed several times since, initially in 2002 to record Sansend (Wikipedia: "a sample and beats heavy collection of new songs"), then in 2007 for 1978 Now, a new version of their unreleased (and lost) debut album. Another LP, We Come As Aliens, came out in 2010, followed by 1979 Now in 2014.
It is also worth noting that in 2004 Rob Symmons and Paul Myers from the very first Subway Sect lineup formed a band called The Fallen Leaves, playing garage rock. They are still at it.
ABOVE: Subway Sect in 2007
__________________________________________________________________________
DISCOGRAPHY
Subsequent studio albums: The End Of The Surrey People (1993), Sansend (2002), 1978 Now (see below, 2007), Long Term Side Effect (2009), We Come As Aliens (2010), 1979 Now (2014).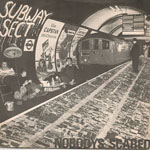 Nobody's Scared (7", 1978)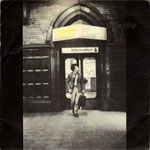 Ambition (7", 1978)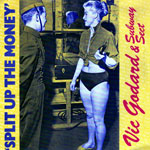 Split Up The Money (7", as Vic Godard & Subway Sect, 1980)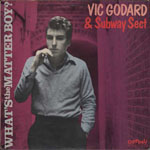 What's The Matter Boy? (LP, as Vic Godard & The Subway Sect, 1980)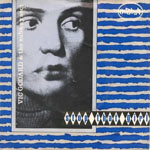 Stop That Girl (7", as Vic Godard & The Subway Sect, 1981)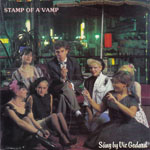 Stamp Of A Vamp (7", as Vic Godard / The Subway Sect, 1981)
Hey Now (I'm In Lové) (7"/10", as Vic Godard & The Subway Sect, 1981)
Songs For Sale (LP, as Vic Godard & The Subway Sect, 1982)
Extraneous Releases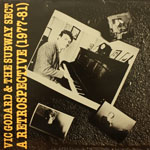 A Retrospective (1977-81) (LP, as Vic Godard & The Subway Sect, 1984)
"We Oppose All Rock N Roll" 1978-1980 (CD/2xCD, 1996)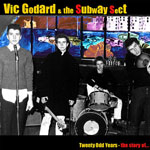 Twenty Odd Years - The Story Of... (2xCD, as Vic Godard & The Subway Sect, 1999)
Singles Anthology (CD, as Vic Godard & Subway Sect, 2005)
1978 Now (CD, 2007)
Subway Sect / Port Sulphur (7", split, 2008)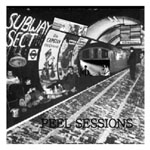 Peel Sessions (CD, gig freebie, 2011)
Live And Rare Vol 1 (CDR, 2011)
Live And Rare Vol 2 (CDR, 2012)
Bootlegs
Parallel Lines (2xCD)
Various Artists
NME / Rough Trade C81 UK Tape 1981 (New Musical Express): Parallel Lines
Pogo A Gogo! UK Tape 1986 (New Musical Express/Rough Tapes): Ambition
DIY: The Modern World - UK Punk II (1977-78) US CD 1993 (Rhino): Ambition
1-2-3-4 Punk & New Wave 1976-1979 UK 5xCD 1999 (Universal): Ambition
Punk. UK 2xCD 2001 (Columbia): Ambition
No Thanks! The '70s Punk Rebellion US 4xCD 2003 (Rhino): Ambition
Sniffin' Glue: The Essential Punk Accessory UK CD 2003 (Castle): Nobody's Scared
Lounge Story 3 France CD 2005 (Le Maquis): Caribbean Blue / [untitled]
Optimism / Reject (UK D-I-Y Punk and Post-Punk 1977-1981) UK 4xCD Box Set 2019 (Cherry Red): Nobody's Scared
__________________________________________________________________________
Links
Vic Godard & Suwbay Sect - Official site
We Oppose Rock And Roll: The Story of Subway Sect
3:AM Interview: Still Swinging: An Interview With Subway Sect's Vic Godard