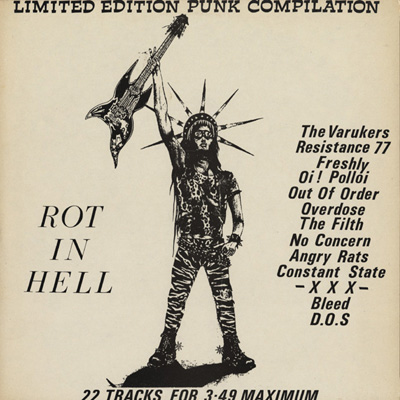 Original Release Date
1984
Release Information
UK LP 1984 (Rot - ASS 15)
UK CD 1996 (Step-1 Music - STEP CD 087)
1 Out Of Order - Annihilator 2:33
2 Overdose - The Fugitive 3:08
3 The Filth - Emmerdale Farm 2:50
4 No Concern - Shall We Shan't We 4:37
5 The Varukers - The Bomb Blast 1:39
6 Constant State - I Can See Through You 3:14
7 Oi Polloi - Thugs In Uniform 3:19
8 -XXX- - Buy 'N' Roll 2:37
9 D.O.S. - Fighting Factions 2:41
10 Freshly - Fry 3:59
11 Bleed - Liar 2:32
12 Resistance 77 - The Joke's On Me 4:01
13 Overdose – One More Time 3:16
14 Out Of Order – Lynching Party (Lets All Have A Swinging Time) 4:25
15 Angry Rats – New Clear War 3:00
16 Oi Polloi - Never Give In 2:39
17 No Concern – Enough Is Enough 5:12
18 Bleed – Up In The Morning 2:32
19 -XXX- – We Rule OK.... 2:28
20 Constant State – So This Is Transilvania 4:03
21 Freshly – Born Under The Stars 2:32
22 D.O.S. – D.O.S. 1:47
Chart Placings
None
Credits
Sleeve design by Pip.
LP Cover Sticker (some copies):
This L.P. contains mostly Demo Tracks and is a Limited Edition of only 1,000 records. It is over one hour in length and features 22 tracks. Because of the length the Sound Quality is low so OPLAY VERY LOUD.
Reviews & Opinions
PUSHEAD, MAXIMUM ROCKNROLL #27, AUGUST 1985: Rot's international comp. with thirteen bands and 22 songs featuring the VARUKERS (always kicking ass), D.O.S., BLEED OVERDOSE, OI POLLOI, ANGRY RATS, XXX, NO CONCERN, and more. Lots of good music in a melodic vein, some fast, most medium paced. Enjoyable for a whole sitting. Check into this.
Additional Notes
None yet
Images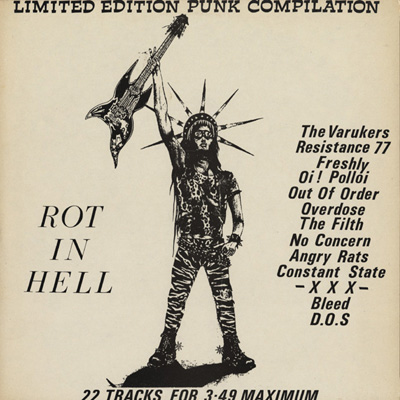 UK LP 1984 (Rot - ASS 15). Click here for more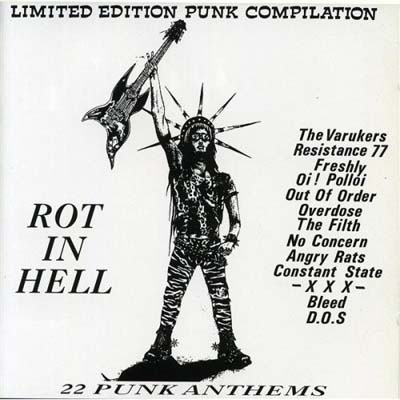 UK CD 1996 (Step-1 Music - STEP CD 087). Click here for more