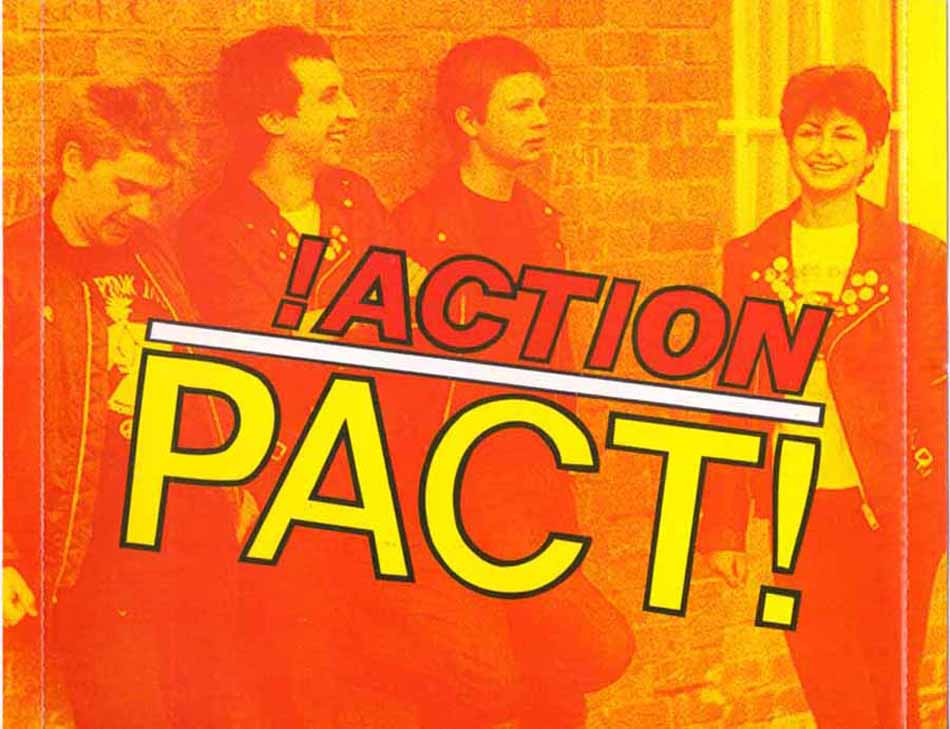 Formed: London, England UK
Though active at the time of the hardcore movement, this bunch of Londoners opted for a more 77-ish sound instead, with female vocalist George Cheex's snotty shriek occasionally evoking comparisons with (the vastly superior) X-Ray Spex. Meanwhile, her male cohorts hid behind such pseudonyms as Dr Phibes and Joe Fungus and whacked out basic four-chord guitar noise at mid-speed.
Initially linked to Dead Man's Shadow (in addition to the split EP in 1981 they shared some band members) and Newtown Neurotics (Steve Drewitt guested on the Pact's version of 'Rockaway Beach'), they had enough character of their own to be of some interest, although perhaps not outside of punk circles. Let's face it, Cheex had a voice that was horrible (yet, somehow, utterly wonderful). As Trouser Press put it, she "sounds perennially outraged, terrified and amazed, all at once". Just about everything they recorded is excellent.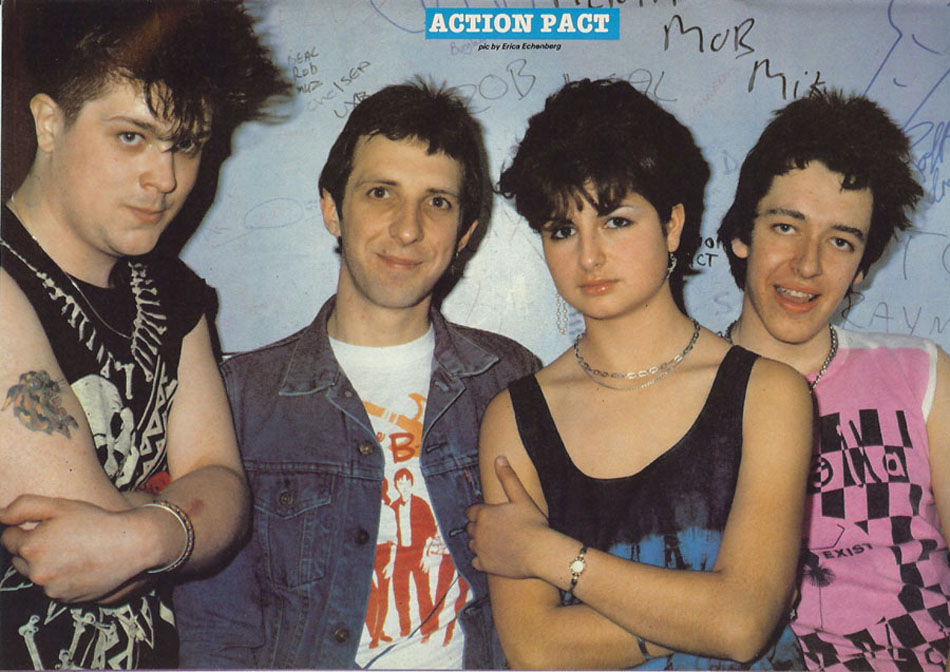 They formed in early 1981 as The Bad Samaritans, with Dead Man's Shadow singer John on vocals. When he was replaced by schoolgirl Cheex, !Action Pact! was born:
George Cheex - vocals
Wild Planet - guitar
Dr. Phibes - bass
Joe Fungus - drums (ex-Savage Upsurge)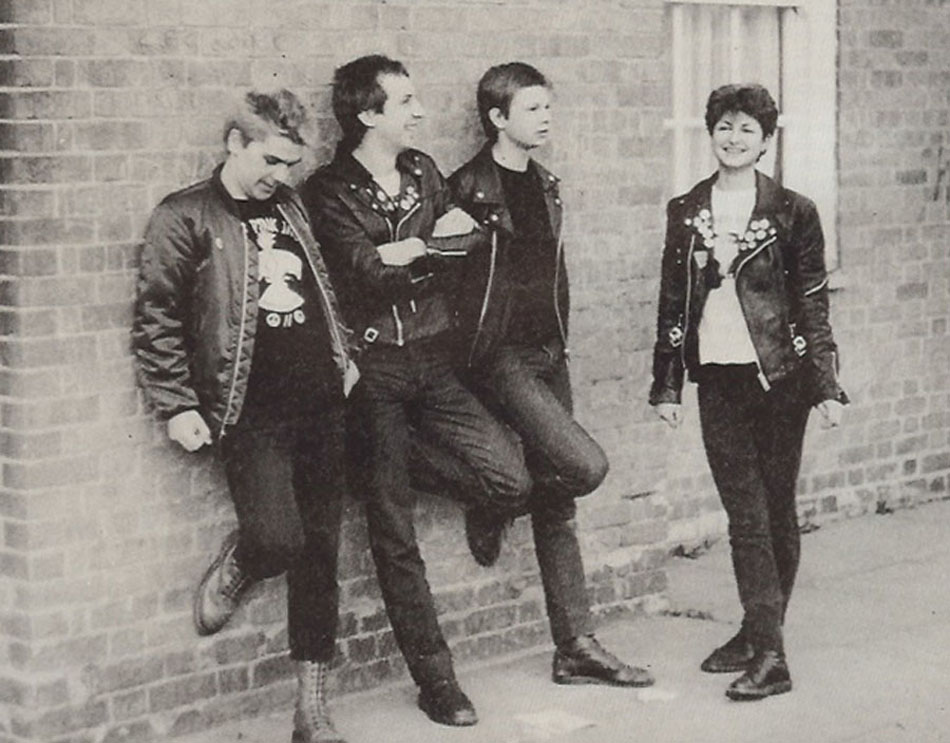 They rose to national prominence via The Heaththrow Touchdown EP (split with DMS). The record was naive (both George and Joe were only 15 when they recorded it) but amusing, and it came out in October 1981, whereupon John Peel invited Action Pact! in for their first Peel Session, which was broadcast in February 1982, and featured five songs: 'People', 'Suicide Bag', 'Mindless Aggression', 'Losers' and 'Cowslick Blues'.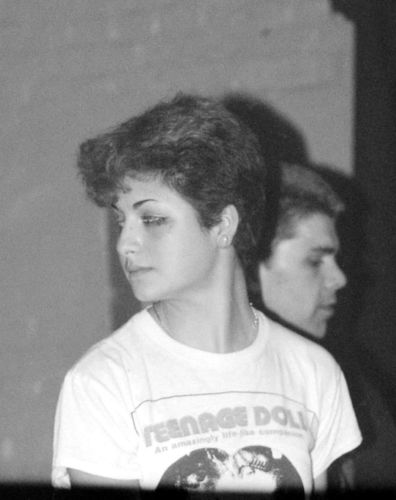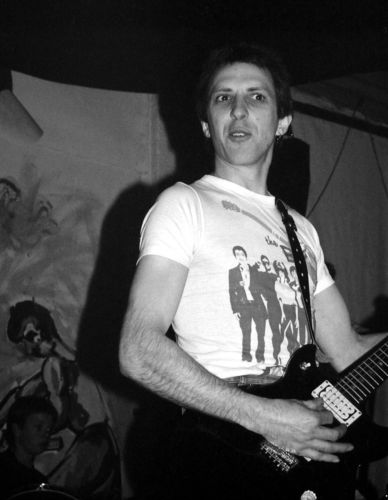 Signing to Fall Out, their first "proper" single in their own right featured their best known song, a scathing and somewhat preachy ode to the perils of glue sniffing. Suicide Bag EP was a Top Ten Indie hit in July 1982 that bothered the charts for nearly three months.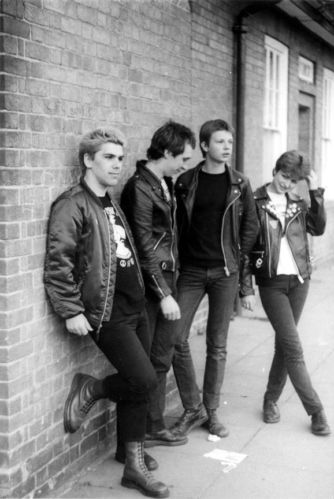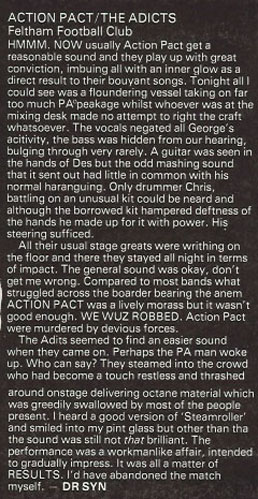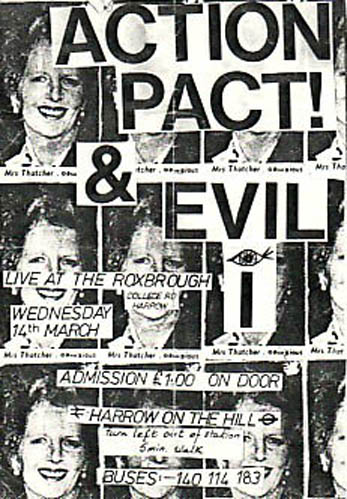 A second Peel Session was broadcast that August, airing no less than six new songs: "Times Must Change', 'Drowning Out The Big Jets', 'Fools Factions', 'These Are A Few', 'Protest Is Alive' and 'Fouled On The Footpath'.
SUICIDE BAG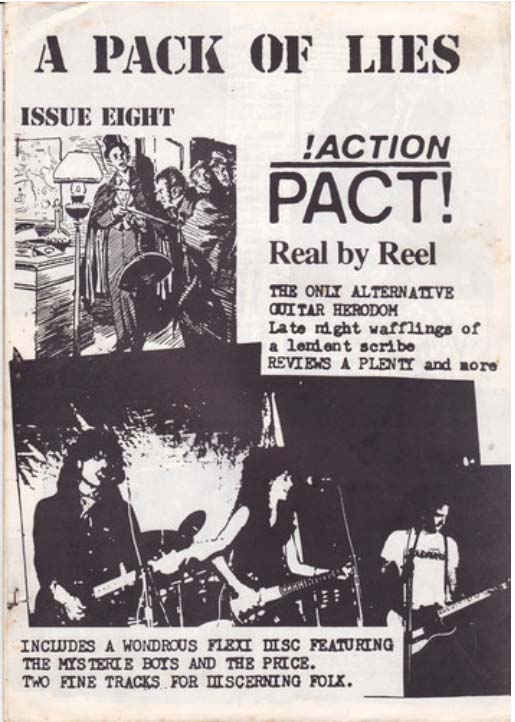 In the youth club or in the school
It may be hip but it ain't cool
On the floors where they like you best
Let's get this thing laid down to rest
I know they've stripped you of your pride
The desperation you feel inside
I ain't preaching, you know i'm right
Hold on to life, stand up and fight
Throw away that suicide bag
Get up and look straight ahead
Throw away that suicide bag
I don't wanna see you dead
The system gives you a bad deal
Convince yourself, up on your feet
You're nobody's fool so don't be beat
I'm only trying to offer hope
You don't need glue to help you cope
The novelty is wearing thin
Come with us there's a world to win
Throw away that suicide bag
Get up and look straight ahead
Throw away that suicide bag
I don't wanna see you dead
PEOPLE
So what's the price fortune and fame?
Friendship going down the drain
What becomes of those you meet
Stepping stones beneath your feet
You've got to reach the highest peak
Ambition isn't for the weak
Determined so you are inside
But who are those you push aside?
People...People...People...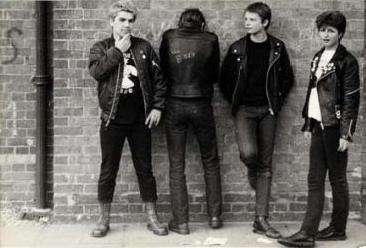 Something just won't let you stop
Till you make it to the top
When you're there you'll soon forget
All the kindness you once met
So don't forget as you grow older
Keep on looking over your shoulder
Bitterness is all you'll find
Don't tread on those you leave behind
People...people...people...
Fungus was subsequently replaced by Grimly Fiendish, who bowed in with March 1983's excellent People EP, the title track of which appeared in a different version on their debut LP, Mercury Theatre - On The Air!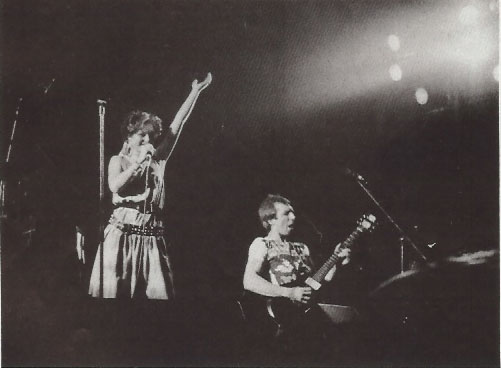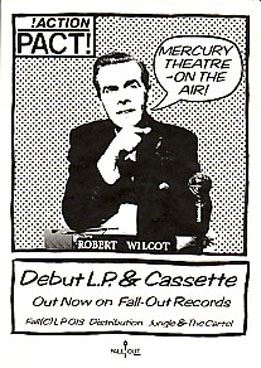 May 1983 saw another lineup shuffle - Dr Phibes quit and was replaced by Phil Langham of The Dark in time for another radio session, this time for ubercunt Kid Jensen. 'Question Of Choice', 'The Cruellest Thief', 'Gothic Party Time' and 'New Kings Girl' were the songs they recorded.
Three more singles and a second album followed. Of the singles Yet Another Dole Queue Song was far and away the strongest, and was issued in both 7" and 12" formats, and boasted Steve Drewitt of Newton Neurotics handling vocal chores on a version of 'Rockaway Beach'.
Survival Of The Fattest, their second LP, failed to even make it into the indies, and the band split up in Autumn 1985 during rehearsals for a third album when Cheex jacked it in.
LINEUP #1 (1981-1982):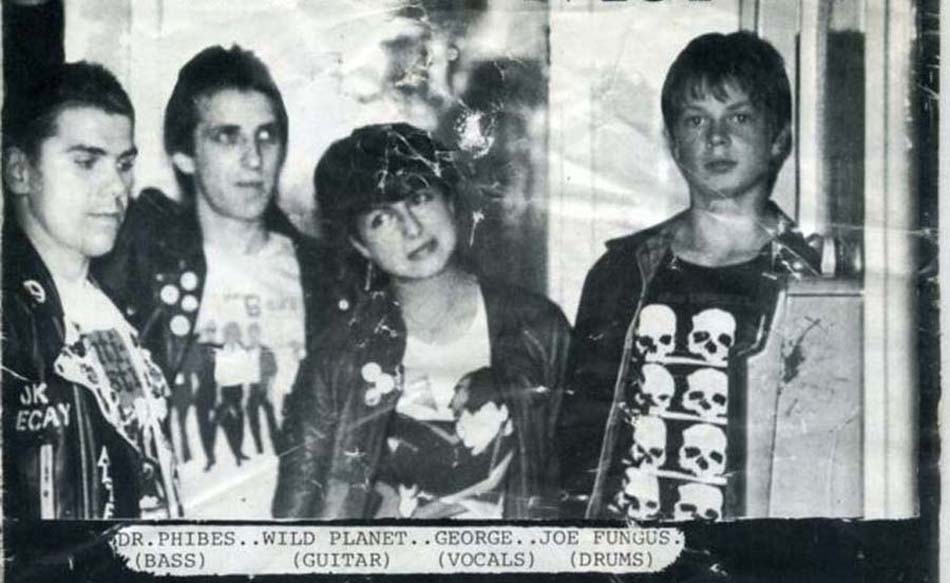 George Cheex - vocals
Wild Planet - guitar
Dr. Phibes - bass
Joe Fungus - drums
LINEUP #2 (1983):

George Cheex - vocals
Wild Planet - guitar
Dr. Phibes - bass
Grimly Fiendish - drums
LINEUP #3 (1983-1985):

George Cheex - vocals
Wild Planet - guitar
Thistles - bass
Grimly Fiendish - drums
Elvin Pelvin RN Phil Langham played bass briefly between these last two lineups
Article from Punk Lives magazine:
Click images to big them bigger
DISCOGRAPHY
Singles / Albums

The Heaththrow Touchdown EP (7", split with Dead Mans Shadow, 1981)
Suicide Bag EP
(7", 1982)

People EP (7", 1983)

Mercury Theatre - On The Air! (LP, 1983)
London Bouncers (Bully Boy Version)
(12", 1983)

Question Of Choice
(7", 1983)

Yet Another Dole Queue Song
(7"/12", 1984)
Cocktail Credibility
(7", 1984)

Survival Of The Fattest
(LP, 1984)


Extraneous Releases

The Punk Singles Collection
(LP/CD, 1995)
Mercury Theatre - On The Air! /Survival Of The Fattest
(CD, twofer, 1995)
Singles 81/84
(LP, 2015)
Various Artists
Punk And Disorderly - Further Charges UK LP 1982 (Anagram): London Bouncers
Punk And Disorderly III - The Final Solution UK LP 1983 (Anagram): Suicide Bag
UK/DK - The Original Video Soundtrack UK LP 1983 (Anagram): Things That Need
State Of Affairs UK Tape 1984 (Pleasantly Surprised): Mindless Aggression
Viva La Revolution UK 2xLP 1985 (Cambra Sound): Suicide Bag
Radio Active UK LP 1986 (Fall Out): Yet Another Dole-Queue Song / People / Suicide Bag
Maggie, Maggie, Maggie - Out! Out! Out! UK LP 1987 (Anagram): Open Your Eyes
Fall Out Records - The Punk Singles Collection UK CD 1994 (Anagram): Suicide Bag / People / London Bouncers / Question Of Choice / Yet Another Dole Queue Song / Cocktail Credibility
Links
!Action Pact! page on Wikipedia