Original Release Date
1982
Release Information
UK LP 1982 (EMI Zonophone - ZONO 106)
UK CD 2003 (Captain Oi! - AHOY CD 224)
1 Never Say Die Die3:10
2 Flames Of Brixton 4:01
3 Action Man Die 3:33
A Wasted (Love By None) 4:03
5 Here Comes Trouble Die 3:05
6 Theme For Lost Souls 3:24
7 I Stand Accused 3:34
8 Black Knights Of The 80s 3:09
9 Cry Wolf 1:51
10 Soldier 7:31
CD Bonus Tracks
11 Different Strokes 2:31
12 Different Dub 2:40
13 We Defy You 2:17
14 Action Man (Demo Version) 2:38
15 Cry Wolf (Demo Version) 2:01
16 Soldier (Demo Version) 4:57
17 Gonna Be a Star (Demo Version) 2:04
Chart Placings
None
Credits
LP:
Mensi - vocals
Decca - drums, percussion, backing vocals
Mond - guitars, vocals
Tony Feedback - bass, vocals
Produced by Steve Levine for Do Not Erase Productions Ltd.
Musicians:
Steve Granger on tenor and alto sax
Tony Hughes on trumpet and trombone
Phil Pickett - backing vocals and organ on 'Here Comes Trouble'
Steve Levine - backing vocals and keyboards
Additional Credits
Bonus Tracks on CD:
11-12: Different Strokes 7", released October 1981
13: B-Side of Never Say Die 7", released March 1982
14-17: EMI Demo, recorded August 1981
Reviews & Opinions
GARRY BUSHELL, SOUNDS, 1982: This isn't from the heart, it's rubbish, a pathetic, calculated shot at playlists and coffee-table credibility. 'Action Man' is Depeche Mode on morphine, flabby futurism fighting to keep its eyes open, while 'Wasted' sounds more like Brotherhood Of Man being brassy Euro Song style pop pap delivered with about as much clout as a sleepwalking Marc Almond.
CAROL CLERK, MELODY MAKER, 10TH APRIL 1982: Quite extraordinary. This has got to be the most astonishing thing I've heard in months; a shock so devastating that I'm shaking still.
PUNKY GIBBON: A heavily compromised work, recorded under record company pressure as a "pop" album, hence the airbrushed sleeve, synthesisers, synthetic drums and saxophones. Oh, the guitars have been pushed well into the background as well. Though not a total flop, some of it is dire: 'Wasted (Loved By None)' is a poor stab at Motown, 'Theme For Lost Souls' a keyboard-driven semi-instrumental that aims for portentousness and falls flat, 'Flames Of Brixton' weak reggae. Yup, the Upstarts sure are one terrible pop band (the slick production can do nothing to disguise Mensi's rough-as-bollocks vocals)! Yet, actually, given the competition (Chaos U.K., The Ejected, Disorder et al) it's one of the better British punk LPs Of The '80s: the ambition is there, the songs are catchy, and 'Here Comes Trouble' and 'Soldier' are remarkably touching ballads.
ALL MUSIC GUIDE: Tentative new wave influences, inflections of dub, and expressive horn sections are all over the album, which often make it sound like Joe Jackson's 1980s pop experiments or the dark social pop of Matt Johnson and The The. These tendencies definitely date 'Still From The Heart' at points. However, its fiery heart definitely still burns...
MENSI, 2005: I still agree with it in principal, to get across to a new audience. If I could go back in time I'd still do the same thing as there were a lot of good songs on it. The record company were putting a lot of pressure on us to go real commercial and I was the only one in the band who wasn't happy with it, though I still think it was a chance worth taking.
Additional Notes
None yet
Images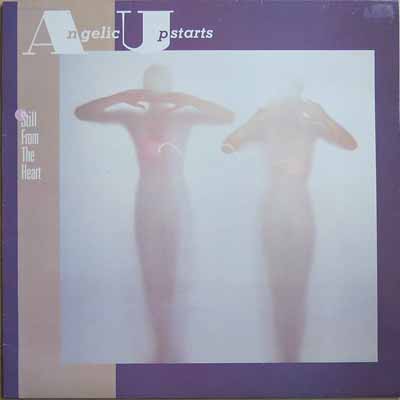 UK LP 1982 (EMI Zonophone - ZONO 106). Click here for more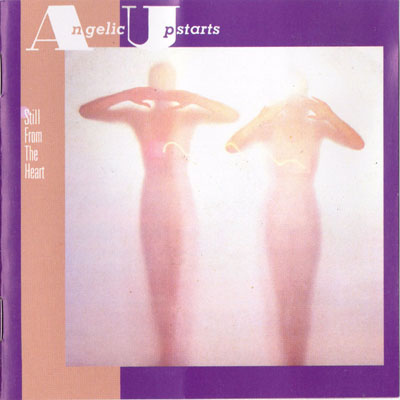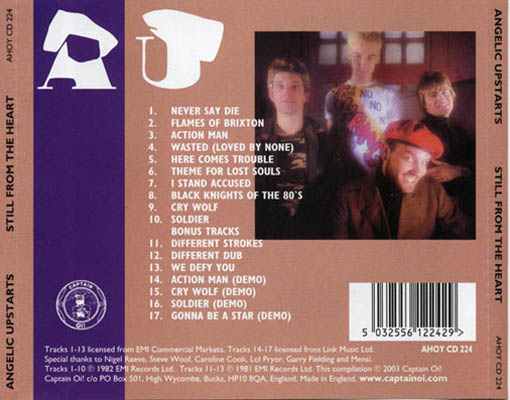 UK CD 2003 (Captain Oi! - AHOY CD 224). Click here for more