Formed: Bristol, England, UK
These West Country chaos punks - a mob of headbanging, glue-sniffing cider-heads - went out of their way to be as deliberately hard on the ears as possible and did a great job of it, too. They shared stages, some similarity and occasionally some band members with Chaos U.K. but were better than them. Their brand of unhinged racket seemed genuinely deranged, but in amongst all the squalling feedback and screamed vocals, it was possible to discern genuine musical talent, although that may be merely me being fanciful.
They formed in 1980 and before long had a demo in their sweaty hands, which they sent off to local label Riot City, which had been set up by Simon Edwards and members of Vice Squad to release the Last Rockers EP. Vice Squad however, did not want them on the label and so Edwards started up a second label, Disorder, using the same distributor as Riot City, which is where they remained until 1986. Their records during this period were popular on a cult level and the band proved very influential in continental Europe, where they were toured extensively, and also in Japan and the U.S.A.
"Wanna riot, drugged up, fucked Up/Complete disorder, complete disorder, complete disordaaarrrr" they bawled on their astonishing debut single Complete Disorder EP. Their next single had an equally descriptive title (Distortion To Deafness) and boasted some more poetical gems, as on 'Daily Life': "Daily life uuurggh/Daily life bleeagh/Daily life is boring/Daily life is crap/Daily life, I hate it/ Daily life, not that/Boring fucking daily life, it drives me up the wall". All this over a barrage of what can best be described as a right horrible din, but it is a thrilling din as well.
The band underwent major lineup changes after these two releases, with guitarist Steve Allen being the only member to survive the shuffle. New singer Boobs (real name Chris Neill) was gruffer than first singer Steve Curtis, but this wasn't really an improvement as it made them seem slightly more conventional. Some of the wacky humour seemed to evaporate as well as the band took on more standard anarcho/chaos punk concerns. The new bassist was Taf, formerly of The X-Certs, and he remained the sole constant over the rest of the band's career.
Nonetheless, it was basically business as usual on the 12" format Perdition EP and Mental Disorder EP, the latter notable for one of their best ever "tunes" - 'Rampton Song' - and a totally gonzoid version of 'Three Blind Mice'.
Boobs remained aboard for 1984's Under The Scalpel Blade, which rages with uncontrolled hysteria through such diatribes as 'Fuck Your Nationality' and 'Victim Of The N.H.S.' (they should be glad they've got the N.H.S.) but finds time for a pleasant singalong about lost ducks at the end. The title of Gi Faen I Nasjonalitenten Din (Live In Oslo) is self-explanatory. One Day Son All This Will Be Yourz is a split LP, with one side of Disorder paired with one side of Oslo's hardcore punksters Kafka Prosess.
Finally, some great information from The Virgin Encyclopedia of Indie & New Wave: "[Steve] Robinson split from girlfriend Beki Bondage and took up glue-sniffing as a hobby. Then the CID caught up with [drummer] Virus concerning the ownership of his new drumkit. Dean [vocals] left too, going on to salubrious employment as a toilet cleaner in Taunton. He was replaced by Taff, who took up bass, and the group persuaded Boobs, their roadie, to take over vocals. Luckily, he had almost completed his then-current prison sentence for defrauding his electricity company. Their first foreign tour was sabotaged by a typical series of farcical miscalculations concerning European geography and train timetables."
Note: The 1979 singles 'Air Raid' and 'Reality Crisis'/'1984' on Durham Book Centre Records are by a different Disorder.
__________________________________________________________________________
DISCOGRAPHY
Subsequent studio albums: Violent World (1989), Masters Of The Glueniverse (split with Mushroom Attack, 1991), Sliced Punx On Meathooks (1997), We're Still Here (2003), U.K vs Japan Noize Core Wars II (split with Stagnation, 2015), Human Cargo (2016), Viva El Squato (2018).
Complete Disorder EP (7", 1981)
Distortion To Deafness (7", 1981)
Perdition EP (12", 1982)
Mental Disorder EP (7", 1983)
Under The Scalpel Blade (LP, 1984)
Gi Faen I Nasjonalitenten Din (Live In Oslo) (LP, 1985)
One Day Son All This Will Be Yourz (LP, split with Kafka Prosess, 1986)
Extraneous Releases
The Singles Collection (12", 1985)
The Complete Disorder (CD, 1991)
Under The Scalpel Blade / One Day Son All This Will Be Yourz (CD, twofer, 1993)
Live In Oslo / Violent World (CD, twofer, 1994)
Driller Killer - The Collection (CD, 1996)
The Best Of... Disorder (CD, 1998)
Total Disorder (CD, 2003)
The Riot City Years (CD, 2005)
Distort Bristol (LP, 2013)
Demo 1980 / Live 1982 (CD, 2013)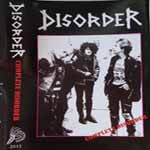 Complete Disorder (Tape, 2015)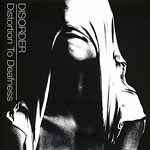 Distortion To Deafness (2xCD, 2016)
Bootlegs
Violent Crime (CDR)

Various Artists
Punk And Disorderly UK LP 1982 (Abstract): Complete Disorder
Punk And Disorderly - Further Charges UK LP 1982 (Anagram): More Than Fights
Burning Ambitions (A History Of Punk) UK 2xLP 1982 (Cherry Red): Complete Disorder
UK/DK - The Original Video Soundtrack UK LP 1983 (Anagram): Life
Symphonies For The Disaffected UK Tape 1985 (Beer Belly Tapes): Daily Life
__________________________________________________________________________
Links