/
Formed: Melbourne, Australia
In my opinion, Australia's fourth-finest band - after
The Saints
, Radio Birdman, and The Celibate Rifles. The Birthday Party began life as The Boys Next Door and introduced of of the major players in alternative/indie rock: Nick Cave, their manic, obsessive singer who went on to become King of the Goths (an accolade I believe he wasn't cock-a-hoop about). However, the Party was far from solely the product of Cave's fevered imagination. His band mates - Rowland S. Howard (guitar), Mick Harvey (guitar, drums, organ, piano), Tracey Pew (bass) and Phill Calvert (drums) - provided lyrics, tunes and playing just as destructive as Cave's. They started off as a fairly normal Roxy/Velvets-influenced rock band but went punk in late 1976 and, with the addition of second guitarist Rowland S. Howard in 1978 began producing wild music, borrowing from artists as diverse as Howlin' Wolf and The Velvet Underground.
Their first album, Door, Door was recorded when they were called The Boys Next Door, and is fairly straightforward new wave art-punk with a vaguely paranoid edge. On 'Brave Exhibitions' and 'Roman Roman' (a silly homage to Polanski) saxophones are played in standard fashion and melodic backing vocals are the order of the day. Side one is given over to tightly strummed guitars and a steady 4/4 beat. It is probably the band's most honestly enjoyable record, with only 'Shivers' really offering any hint of the majesty to follow. A big slushy ballad, it turns the act of being dumped into major melodramatic teen angst. And it's great.
The Hee Haw 12" single introduced more abrasion and murk into the brew and took them further away from the mainstream, as did their second album The Birthday Party, released first as The Boys Next Door and then as The BIrthday Party. This was by some measure their most deranged sounding record yet, and coincided with their move to London.
In the UK The Birthday Party's music was met with much favour amongst music critics and high-cheekboned kids dressed in black who were looking for more than Anti-Pasti and their ilk had to offer. They signed to the happening 4AD Records (and then Mute) and in between 1980 and 1983 issued a brace of mad-sounding barrier-breaking singles and two LPs, Prayers On Fire and Junkyard (They also released records back home via the Aussie label Missing Link.)
One of their EP's, the live Drunk On The Pope's Blood was aptly self-described on its sleeve as "16 minutes of sheer hell!", and it was split with the like minded Lydia Lunch.
All of these records are notable for the astonishingly violent lyrics and music, full of brutally pummeled rhythm guitars, piercing lead runs and loose-sounding arrangements which often obscures the fact that the band's skills are highly developed, their ability to twist the screw unmatched by any other at the time.
ABOVE: Article from Punk Lives #6, and an advert
Following two excellent 12" EPs in 1983 - The Bad Seed and Mutiny! - they split.

For anybody wishing to delve further into their formative period, the bootleg album Boys Next Door (1988) features the contents of a studio tape from August 1977, recorded prior to Howard joining. Interesting poppy punk, it even has versions of 'Blitzkrieg Bop', 'Louie Louie' and 'These Boots Are Made For Walkin'' (not the 7" version) alongside spunky originals like 'Masturbation Generation' and 'Who Needs You?'.
__________________________________________________________________________
DISCOGRAPHY
These Boots Are Made For Walking (7", as The Boys Next Door, 1978)
Shivers (7", as The Boys Next Door, 1979)
Door, Door (LP, as The Boys Next Door, 1979)
Hee Haw (12", as The Boys Next Door, 1979)
The Birthday Party (LP, as The Boys Next Door, 1980)
The Friend Catcher (7", 1980)
Mr. Clarinet (7", 1980)
Prayers On Fire (LP, 1981)
Nick The Stripper (7"/12", 1981)
Release The Bats (7", 1981)
Junkyard (LP, 1982)
Drunk On The Pope's Blood (12", split with Lydia Lunch, 1982)
The Birthday Party (LP, reissue, 1982)
The Bad Seed (12", 1983)
Mutiny! (12", 1983)
Extraneous Releases
Boys Next Door / Models (7", gig freebie, split, as The Boys Next Door, 1979)
Happy Birthday (7", gig freebie, as The Boys Next Door, 1980)
Dead Joe (7", flexi, 1982)
Live (Tape, as The Boys Next Door, 1982)
The Birthday Party (12", 1983)
It's Still Living (LP, 1985)
A Collection (LP, 1985)
The Peel Sessions (12"/CDS, 1987)
The Peel Sessions II (12"/CDS, 1988)
Mutiny / The Bad Seed (CD, 1989)
Hee-Haw (LP/CD, 1989)
Drunk On The Pope's Blood (CD, 1991)
Definitive Missing Link Recordings 1979-1982 (5xCD, box set, 1991)
Hits (2xLP/CD, 1992)
Live 1981-82 (CD, 1999)
The John Peel Sessions (CD, 2001)
Peel Sessions (2xLP, 2011)
Bootlegs
Live (Tape, as The Boys Next Door, 1982)
Live In Berlin (Tape, 1982)
Coitus Sanctus Amen (LP, 1984)
Boys Next Door (LP, as The Boys Next Door, 1984)
Devil In A Bottle (LP, 1985)
A Social Gathering For The Celebration Of Someone's Birth (LP, 1987)
Next Door (CD, as The Boys Next Door, 1994)
The Front Row Is Not For The Fragile (LP, with Lydia Lunch, 2004)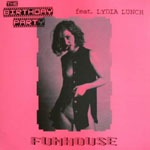 Funhouse (LP, feat. Lydia Lunch, 2006)
Born Dead: The John Peel Sessions 1980 & 1981 (LP, 2007)
A Fuckin' Rotten Business This! (LP, 2007)
Masturbation Generation Live 1977 (LP, as The Boys Next Door, 2008)
Drunk On Deutschen Blood (CDR, 2009)
The Lost & Brave Exhibitions Of... (LP, as The Boys Next Door, 2009)
Slum Church (CDR, 2009)
What's The Storey? (LP, as The Boys Next Door, 2011)
Peel Sessions 1980-1982 (LP, 2011)
Welcome To The Car Smash... (LP, as The Birthday Party with Lydia Lunch, 2012)
God Gave Them Sex Appeal (Tape, 1980s)
Cremation (LP)
Your Birthday Party Have Now Begun! (LP)
Various Artists
Lethal Weapons Australia LP 1978 (Suicide): These Boots Are Made For Walking / Masturbation Generation / Boy Hero
Fast Forward #2 Australia Tape 1980 (Fast Forward): Figure Of Fun / Yard / Interview
Fast Forward #10 Australia Tape 1982 (Fast Forward): Release The Bats / Interview
Dogs In Space UK LP/CD 1987 (WEA): Shivers
Inner City Sound Australia 2xCD 2005 (Laughing Outlaw): Sex Crimes
Tales From The Australian Underground - Vol. 2: 1977-1990 Australia 2xCD 2006 (Feel Presents): Dive Position
Silhouettes & Statues (A Gothic Revolution 1978 - 1986) UK 5xCD 2017 (Cherry Red): Release The Bats
__________________________________________________________________________
Links
Nick Cave Collector's Hell 1977-2011