Formed: London, England, UK
Truly tasteless they may have been, but before reinventing themselves as dodgy glam rockers Cuddly Toys, Raped released two entertainingly dumb singles, taking the outrage and horror tactic as far as it would go. The band wore androgynous clothing, singer Sean Purcell claimed to be related to Aleister Crowley, and they all gained a certain amount of tabloid coverage by playing songs like 'Foreplay Foreground' in front of an audience of schoolchildren. Their transvestite drummer later changed sex. Like Eater and The Drones, they were the kind of superb punk band the scribes hated, but as with those bands they were far from untalented and had a knack for writing infectiously catchy and memorable tunes.
According to Alan Hauser: "Raped formed in early 1977, a musical; quasi-gay punk antidote to the macho posturing of some punk protagonists. Singer SEAN PURCELL was one day a wired baby Iggy Pop mutilating his torso, another day a prettier, fey version of Billy Idol; guitarist FAEBHEAN KWEST a manic in-your-face gay Liverpudlian Hendrix freak (immortalised in John Savage's book for being rejected by the Sex Pistols); drummer PADDY FIELDS a Japanese with dyed pink purple and blonde hair in high heels, tights and hot pants; and bassist TONY BAGGETT the token ordinary member of the group. For their very first interview, with 'Ripped & Torn' fanzine, they took the very young editor Tony D who'd just moved to London with his nice new punk leather-studded jacket, to where they wanted to conduct the interview. It was The Colherne, the internationally famous sadomasochistic gay, pre-Aids pickup bar in Earls Court. All the clientele, muscle-bound, leather-clad bike-boys with handlebar moustaches, circled round the ensemble like vultures, while Faebhean and Sean just giggled into their pints, Paddy as always oblivious to the stares".
Re the Pistols audition, Kwest told 'Punk Globe: "The truth is! I was asked to audition by McLaren, along with Steve New (later of the Rich Kids with Glen Matlock), we both walked out!"
They weren't the only openly gay band on the scene - there was Handbag and, if you want to include transvestites, Wayne County - but they were definitely the punkiest one.
On Pretty Paedophiles they made Sham 69 look like serious musos, Purcell singing in an exaggerated Cockney sneer about dodging tube train fares and slagging people off for being 'Normal':
Normal, you're not normal
Normal, so informal
Normal, you're not normal
Normal, so informal
Your normal and exciting
You body's so inviting
Don't you end up fighting with me
Stupid and funny, it's a great punk record: minimal musical ability but plenty of vim and a healthy desire to annoy. It's precisely the sort of unsophisticated punk-a-rama that the intelligentsia and punk rock elite hated, and utterly charming:
B.1.C.
I've got a B1C
And now I'm free
I'm out of a rut
I'm a dole queue slut
I've got a right to see
What belongs to me
You can stick your benefit
Cos I'm getting out of it
Cos I've been issued a B1C
The right to doss belongs to me
I ain't gonna join no TUC
I ain't gonna use my B1C
I've got a B1C
And now I'm free
To do what I want
And that's not a lot
It's the social security
That light my lamps
No unemployment benefit
I ain't got no stamps
ESCALATOR HATER
I'm an tube train runner
I never pay no fare
I'm gonna jump your barrier
Most anywhere
I'm an escalator hater
I ride them everyday
Ain't gonna pay
No way
Cos I'm an escalator hater
And I'm your man of the month
You know you can't catch me
The single was banned (and even burnt) by Rough Trade, and the coverage in the national earned them some notoriety, although not enough to propel them into the Top 40 (no chance of that anyway). One newspaper later stated: "The record brought a request from a paedophile group that Raped put on a charity concert for their benefit. They refused, but Kwest claims they are still suffering from the publicity".
By the end of 1977 they were regulars at the Roxy, which by now of course had changed hands and was attracting decidedly second rates band rather than the likes of Wire and Buzzcocks. Despite being approached to appear on the Farewell To The Roxy LP, they turned down the opportunity because, as Kwest stated, "It was some really ridiculous deal that I can't remember. We would have done it but they were offering us nothing".
By the time of the follow-up they had discovered an ability to write pop songs, albeit ones about prostitution, dirty magazines and underage sex, and Cheap Night Out is borderline sophisticated (for them).
The band played its final shows in Belfast in Christmas '78, having been invited over by Rudi. Whilst there Paddy was put into protective custody after having been wandering the streets wearing his high heels and tights. A brave thing to do anywhere in those days, but practically suicidal in Belfast!
Come 1979, they had added a keyboard player and changed their name to Cuddly Toys, a name suggested by John Peel.
The Complete Raped Punk Collection compiles both singles, some demos (including a ditty about being on the dole and another one with the same tune but new lyrics about electro-convulsive therapy), and nine live songs, among which there is 'Slits' (about the group of the same name), 'Cheap Trash' and 'L.O.N.D.O.N.' Their mangling of 'Knock On Wood' is totally inept. (These live tracks originally appeared on an official bootleg album (Philes 'N' Smiles) in the mid-'80s.
__________________________________________________________________________
DISCOGRAPHY
Singles & Albums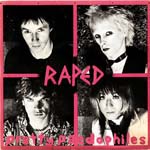 Pretty Paedophiles (7", 1978)
Cheap Night Out (7", 1978)
Extraneous Releases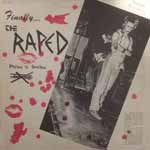 Philes 'N' Smiles (LP, 1984)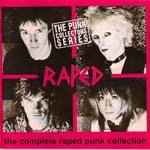 The Complete Raped Punk Collection (CD, 1994)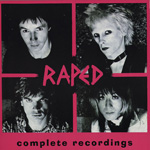 Complete Recordings (LP, 1998)
Various Artists
Action Time Vision (A Story Of Independent UK Punk 1976-1979) UK 4xCD 2016 (Cherry Red): Moving Targets
1977: The Year Punk Broke UK 3xCD 2019 (Cherry Red): Raped
Links
Punk 77 - HIstory, photos etc
Punk Globe - Interview