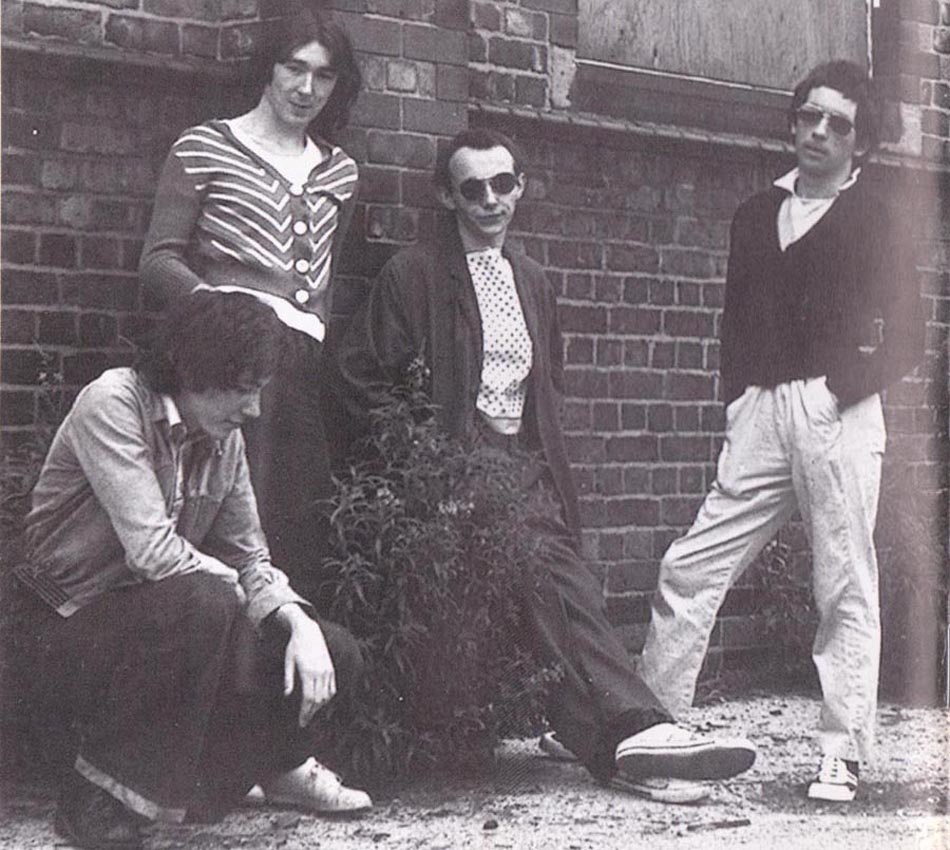 ABOVE Left to Right: John Maher, Steve Diggle, Howard Devoto, Pete Shelley
Formed: Manchester, Engl
a

nd, UK
One of the greatest, most tuneful and interesting of the punk bands. Between January 1977 and December 1980 they were the singles band of the period, popping off glorious 45's every few months, encroaching heavily into the charts, and making superb LPs.
While The Damned and the Sex Pistols were the first genuine British punk bands to get records out, Manchester's Buzzcocks became the first Brits to independently release material off their own backs, and thus inspired a multitude to do the same. In other words, their influence is far-reaching. At their commercial height Buzzcocks were a fantastic group, mixing gorgeous pop melodies with blazing guitars and naive arty trappings, but when Howard Devoto was singing, they were arch-nihilists with Rotten-esque vocals and scampering songs.
Buzzcocks represented the intellectual, arty end of the punk spectrum, in direct opposition to the yobby likes of fellow Mancunicans Slaughter & The Dogs and The Drones. Band members at various times quoted Dostoyevsky and Camus, and they displayed a fondness for repetition that was borne out of a love for Can and Neu! They graduated from noisy sneering punk to melodic art-punk-pop with stunning speed, but music was just part of their package. Their manager Richard Boon was also fond of this approach to music and art, as was Malcolm Garrett and Linder, who designed their early sleeves. Their records were adorned with eye-grabbing, splashily colourful graphics that set them apart from the hordes. Not for them photos of the group lurking outside fire escapes looking surly. The Buzzcocks' record sleeves were revolutionary, employing abstract images, shapes and interesting fonts, making artistic use of record company logos and even catalogue numbers. They were innovative and witty, terrific examples of branding: their sleeves were unmistakable. They even had posters selling their records that bore slogans such as "Sales Strategy" and "Marketing Ploy'.
Sounds, 1978: Boon wears his art college background in a blaze of gaudy green and red mix'n'match, declares himself an avid watcher of the advertising world, and must take most of the responsibility for Buzzcocks sharp packaging manoeuvres - though the goods are executed by Malcolm Garrett in the case of Appetent Images (as it's to be known until the next piece of product) and a girl named Linder in the case of the surrealist adornments of the 'Orgasm Addict' and 'Secret Public' broadsheet, put out by New Hormones recently.
Howard Devoto, their first singer, was one of punk's brainiest brains. For example:
Devoto:
Breakdown works on a number of levels which cancel each other out. It's supposed not only to describe a particular kind of breakdown but also to act as a piece of propaganda for that process. So the hero of this two-minute epic is exhorting the listener to join him in this state. A state which he is fully aware of as being a mixed blessing. The potential for gross ego-expansion is there — the exciting possibility of metanoia is there. The hero is well and truly fuck up. and like all profound but fucked up heroes wants to cajole others into getting in on the act too.

Interviewer:
Who are you thinking of in particular? Iggy Pop? Van Morrison?

Howard:
No. Des Esseintes—Dostoyevsky's underground man— or any of them existentialists. I guess. 'Breakdown's' hero is in the position of Camus' Sisyphus: 'To will is to stir up paradoxes'.
I imagine Jimmy Pursey or Wattie might have phrased it better, but you get the idea.
Lyrically they also progressed at a rate of knots. Their early lyrics were prime examples of existential angst, albeit funny. After Pete Shelley took over singer, he became the absolute master of the yearning bittersweet love song that boys and girls could sing:
Pete Shelley, The Guardian March, 2002: I honestly think Morrissey stole my idea of the non-gender-specific lyric.
Shelley was a pioneer in electronic music. A couple of years before the Buzzcocks formed he had actually recorded an album called 'Sky Yen', which wasn't released for six years, when it was issued on his own label, Groovy Records, March 1980. According to Wikipedia: "It was recorded as one continuous piece of music with a purpose-built oscillator and was notable for its use of layered electronics and playback speed manipulation to achieve its experimental feel. Rooted in electronic music, it has garnered comparisons to krautrock." His adventurousness held the band in good stead when he was its chief song-writer, and helped make them one of the most distinctive and impressive bands of the period.
Part 1 (1976-1977)
They famously formed in early 1976 after students Pete Shelley and Devoto travelled from Manchester to London to see the Sex Pistols. The pair organised a Sex Pistols gig at the Lesser Free Trade Hall in Manchester in mid 1976, and by the time they organised a second Pistols gig at the same venue in July, they had got it together enough to play bottom of the bill along with Slaughter & The Dogs. They gigged throughout the rest of the year, attracting a name for themselves with their fast-paced, snappy little songs, and played at the 100 Punk Rock Festival in September.
Caroline Coon, October 1977: This Manchester band was formed less than two months ago. The front line – Howard Devoto (vocals), Peter Shelly [sic] (who plays a chopped-in-half, second-hand "Starway") and Steve Diggle (bass) – are pint-sized. Howard, who doesn't speak to the audience much, has just dyed his mousy hair orange. All the band's energy implodes around John Maher's drum kit. Through numbers like 'Breakdown', 'Organ Addict', 'Boredom' and 'Oh Shit' their sound is quaintly compact. But their approach, though very energetic, is unnecessarily defensive. Devoto insists that he is only in a rock band "temporarily," and his self-consciousness impedes them coming across. He hates being on stage.The festival ends with the Buzzcocks fluttering into the audience and Peter Shelly's guitar, still on stage, feeding-back. It pounds out a gut-renching lub-dub, lub-dub, like the no-feeling sound of a robot's heartbeat.
In October they recorded their first studio session, with Devoto at the mic, Diggle on bass, Shelley on guitar and John Maher drumming. In addition to now well-known songs like the hilarious 'Orgasm Addict' and 'Love Battery' they recorded the scathing 'Lester Sands (Drop In The Ocean)', a funny cover of "I Can't Control Myself", and songs later properly recorded with Shelley on vocals. The session was later immortalised on the great-sounding Time's Up (1977) bootleg.
The Spiral Scratch EP, recorded at Indigo Sound Studio, Manchester on the 28th December, followed in January 1977 to great acclaim and healthy sales (16,000). It contains four songs, all of which are classics, a high-fallutin' conceptual sleeve designed by Malcolm Garrett and apparently acknowledging "suprematist painting" (whatever that is), and at least one immortal guitar solo.
Steve Diggle, Louder Than War interview: Record companies didn't know what to do, it was like the whole country was set alight, like carpet bombing. The whole thing just escalated beyond belief and for a while it was impossible to predict which way the music industry would go. It is absolutely amazing to look back now and realise that all this happened without the internet or mobile phones. We did Spiral Scratch and virtually straight away it seemed like everyone around the world knew about it. Explain that!
By this stage the band was at the forefront of the punk movement, not far behind Sex Pistols, The Clash and The Damned. The fact that they self-released their own EP actually made a more important statement than any of the statements those three bands made: you didn't need need major labels - or even an established label at all - in order to make your own record. More so, the success of the single demonstrated that it could work on a national level.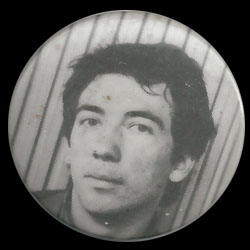 ABOVE: Spiral Scratch press release (left) and Sniffin Glue review from February (right).
February 1977 saw the surprise departure of Devoto, announced thus:
BUZZCOCKS' vocalist and lyricist has left the group. He was called Howard Devoto and this is his statement...
"I don't like most of this new wave music. I don't like music. I don't like movements. Despite all that, things still have to be said. But I am not confident of Buzzcocks' intention to get out of the dry land of new waveness to a place from which these things could be said. What was once unhealthily fresh is now a clean old hat.
"Buzzcocks are at present auditioning and rehearsing and will not be performing for a few weeks. No dates have yet been confirmed for the future. The group has been advertised recently as appearing at various places about which they have known nothing.
Sales of their E.P. Spiral Scratch are going very well thank you.
RICHARD BOON
Devoto's departure - just as the band "made it" - made him seem like a very cool, enigmatic and mysterious figure. He had completely dumfounded all expectations, and his subsequent moves were highly anticipated. He quickly formed another seminal Manchester band, the mighty Magazine, and the Buzzcocks soldiered on.
Part 2 (1977-1978)
Still reeling from the shock departure of their singer, chief lyricist and resident brainiac, Shelley opted to assume vocal duties in addition to lead guitar. Diggle switched to rhythm guitar and they acquired the bass services of a unreliable chaotic pisshead called Garth Davies (aka Garth Smith). This lineup supported The Clash on their White Riot Tour and appeared on The Roxy London WC2 (Jan-Apr 77) compilation in April. The band signed with United Artists in August (on the day Elvis Presley died), turning down offers from CBS and a few others. They recorded a Peel Session in September and released the Orgasm Addict 45 in October 1977 to enthusiastic reviews and zero radio play.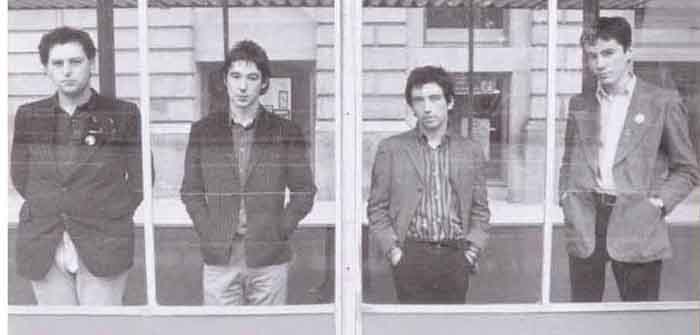 ABOVE LEFT: Garth Davies (aka Garth Smith), Diggle, Shelley, Maher. ABOVE RIGHT: Orgasm Addict poster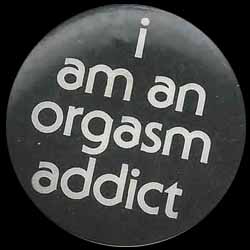 Shortly after, Steve Garvey took over Garth's position.
Steve Diggle, Punk Rock: An Oral History [by John Robb]: We went to pick him [Garth] up one day round his parents' house and they said he was down the pub. We drove down to the pub and he was walking along with six cans in his hand - he had been in the pub for hours. When we got him in the van there was a bit of an argument. We went on and he played one song and threw his bass down, and then came back and started shouting and went berserk. In the van going back we had a ghetto blaster - at this point this was new thing to have - and we went to a service station and he got the wrong batteries, and an argument started. He's trying to put these massive batteries in it. He blew up. He used to explode now and then. So we had to let him go really, saying, "It's no good for you, Garth'.
We had auditions for a new bass player. A few people came down including Steve Garvey. Steve went to the shop and bought John Maher a Mars bar and we thought, 'He's all right, we'll have him over the bloke who came down from The Smirks!' Steve Garvey was the right man. He adapted to it well. With him in the band a lot more girls came to the gigs!

Garvey was a much better bassist than Garth, and following the jerky, unprofessional noise of the Devoto period, the band became increasingly tight. Though retaining their punk forcefulness, they became both poppier and artier. and over the next few years they honed their craft to utter perfection: Shelley's camp vocals and bittersweet lyrics of alienation and teenage angst were underpinned with his deliberately repetitive, occasionally hypnotic lead riffs and Diggle's blazing guitars, while their unstoppable and precise rhythm section held it all together, with Maher's action-packed drum rolls a notable benefit.
The first release under the new lineup was the classic What Do I Get?, the first of their yearning love songs, backed with one of their few controversial numbers, 'Oh Shit'. Famously, women at the record pressing plant refused to press this one because of the sweary B-Side, but this only delayed its release for a short time. 'What Do I Get?' propelled the group into the Top 40, the first of seven singles to enter the Top 30 over the next 18 months.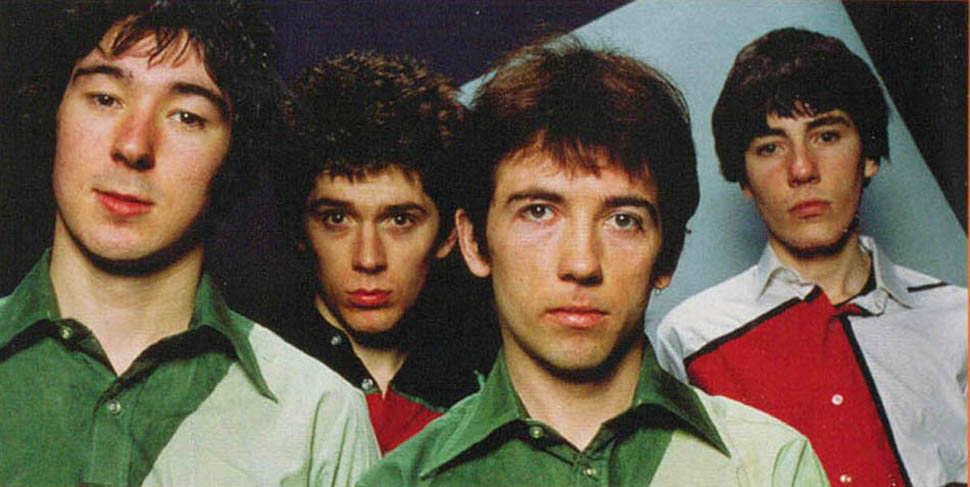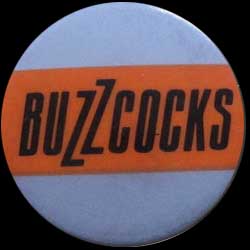 ABOVE: Diggle, Garvey, Shelley, Maher. 'What Do I Get?" publicity shot. Note: Steve and Pete get the shirts to match the single sleeve design.
Contrary to what anybody says, though, their albums are as good as any of their singles, they merely require more effort on the listener's part. The best is Another Music In A Different Kitchen (1978), half of which relies on songs co-written by Devoto. It is their most coherent effort, a mix of potential hit singles ('Get On Our Own', 'I Don't Mind', 'Fast Cars') and extended work-outs ('Fiction Romance', and the gloriously nonsensical 'Moving Away From The Pulsebeat') that owe nods to Can and Krautrock. Initial copies came enclosed within a now-very desirable carrier bag. Martin Rushent's slick multi-track production was a world away from the scampering amateurism of 'Spiral Scratch', and the constant backing vocals made it sound very poppy, leading some people to the conclusion that they'd become less punk sounding and more professional, but the guitars are punishing throughout and it is definitely a proper punk record.
Pete Shelley, as told to Kim Davies in mid-78: You've only got to listen to 'Spiral Scratch' and the new album. There's a difference. The advantage of becoming better musicians is that when you get an idea in your head, you're able to translate that immediately into the actual sound itself...so you can get more of the subtleties across. It's not that there weren't subtleties in the early stuff, it wasn't just blam-blam-blam, they just didn't come across so good because we didn't have the ability to put them across.
The group promoted the LP by touring, with The Slits in support. They also promoted it with a "Balloon Race": at several record shops balloons were released, inside of which were cards people could fill in and send off for a free copy of the LP (first 100 only, though).
ABOVE: Sounds magazine, and article rom the June 1978 issue of the Chainsaw fanzine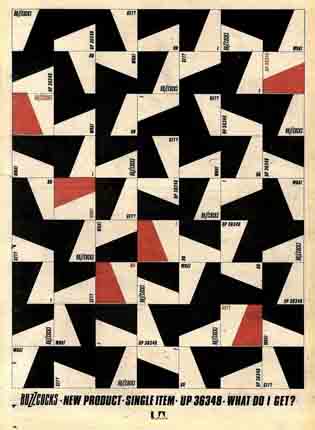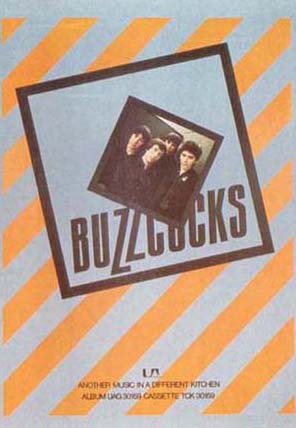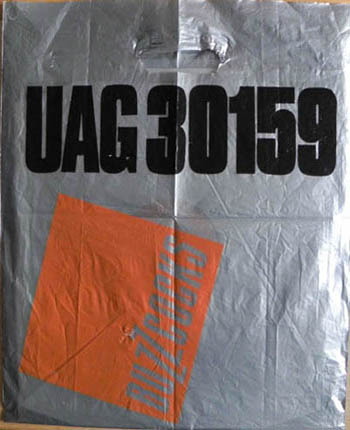 As a teaser for the LP, United Artists released two songs from it, the breathlessly fast I Don't Mind, and the experimental, quasi-political 'Autonomy'. This one stalled at No. 55, but the follow-up Love You More reached No 34. The latter was one of the band's all-time classic 45s, 1:45 of sheer pop perfection with a biting lyric and one of the best endings ever.
Love Bites, their second LP, didn't hang together quite as well as the debut LP, despite some typically stunning numbers, including 'Ever Fallen In Love' and 'Nostalgia' (which had been previously covered by Penetration). The psychedelic six-minute instrumental 'Late For The Train' and 'E.S.P.' with its nigglingly insistent lead guitar riff were also highlights. It proved to be their highest charting album, narrowly missing the top ten, as did 'Ever Fallen in Love' when issued as a single. Their shows supporting Blondie took them to in Europe in late summer.
Pete Shelley, Sounds 1978: On 'Another Music', on the first side it was all the things that the first singles had been leading up to. It's very compact. The second side is different and there's a lot of directions that could be followed on it. If you were to take the second side of 'Another Music' and the first side of 'Love Bites' and put them together people'd say it was a concept album. It's almost like we'd planned it like a serial in a magazine where they always leave just enough to keep you interested in what's going to follow up in the next one. So I imagine that the first side of the third album and the second side of 'Love Bites' would seem like a complete album...

Promises, their seventh single, was issued that November 1978, and was notable not only for its greatness but also its B-Side, 'Lipstick', which made use of the same lead guitar riff that had been utilised a month or so earlier on Magazine's debut single, the majestic 'Shot By Both Sides'.
The same month the band concluded a UK tour with Subway Sect supporting.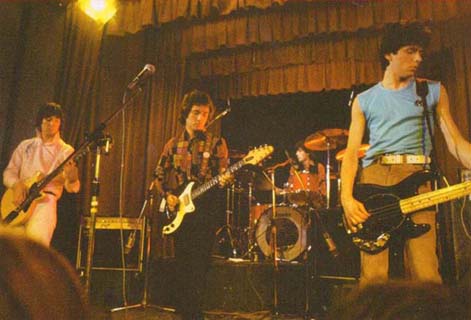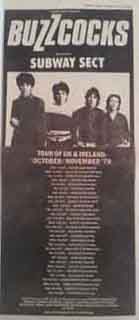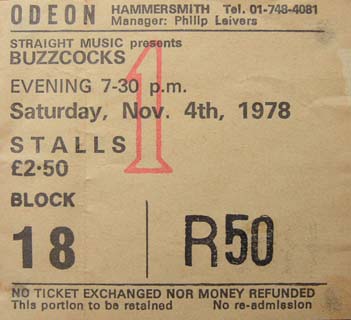 ABOVE LEFT: Diggle, Shelley, Maher, Garvey. MIDDLE: Advert for October/November '78 shows. RIGHT: Ticket
During this period, Shelley part-timed with the experimental post-punk band, The Tiller Boys, along with Eric Random and Francis Cookson, while Steve Garvey had a bit of side-project fun when he formed The Teardrops, a kind of local (to Manchester) semi-super group with two members of The Fall and V2. (Both bands lasted until 1980.)
Part 3 (1979-1981)
ABOVE: Smash Hits March 1979. Click to enlarge. From Like Punk Never Happened.
Two more excellent singles followed in 1979: Everybody's Happy Nowadays (released in March) and Harmony In My Head (July), both tracks making a move away from love songs into esoteric philosophical arguments, ruminations on the consumer society, and other more abstract ideas. Both singles were reasonable sellers, the former resulting in a memorably weird Top Of The Pops appearance with a spaced out Shelley wearing a pound note sticking out of his jacket. 'Everybody's Happy Nowadays' was also issued as a single in the USA, their first Stateside 7" release. 'Harmony In My Head' was the last Buzzcocks release to trouble the charts.
As Diggle told Smash Hits: [Harmony In My Head' is] concerned with feelings from crowds and shopping hysteria, which always leaves some confusion, but also something to thrive on.
ABOVE: Buzzcocks - Smash Hits July 26th 1979. Click to enlarge. From Like Punk Never Happened.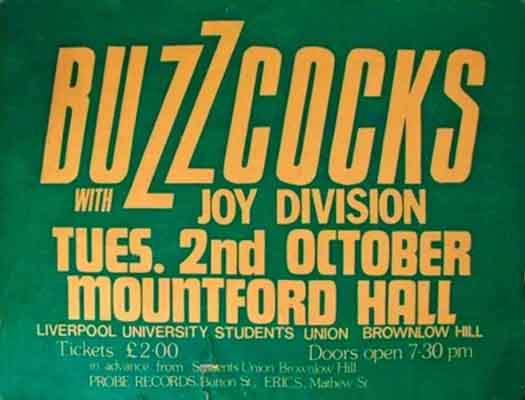 To coincide with an American tour, the US-only Singles Going Steady (1979) collected their first eight singles for UA on one absolutely essential platter (especially as all but four cuts were exclusive to 45s, the format at which they excelled). Another blast from the past appeared in the shape of a newly reissued 'Spiral Scratch' EP.
By the time of September's A Different Kind Of Tension, their third LP, Buzzcocks were fragmenting amid drug woes and stress. In fact, Shelley had been having misgivings for almost a year:
Pete Shelley: Around the time of the Love Bites tour I'd become disillusioned. I thought we had become entertainers, separated from our audiences. We had attracted a teenybopper audience made up of lots of screening young girls and I hated it. I wanted to pack it all in during that tour.
And during one concert around this time, Shelley was reported (by Record Collector) proclaiming:
"Here we are again with an assortment of the same old rubbish in a different theatre".
Living up to its title, the album was as schizophrenic as the first two albums, but here their disillusionment with the world was entirely palpable, especially on side two, where Shelley suggests that 'I Don't Know What To Do With My Life', "life is a zoo" ('Money'), that we're all 'Hollow Inside', and on 'I Believe' that "there is no love in this world anymore." However, despite its virtues - and there are many - the album was not as commercially successful as their previous two, and stalled outside the Top 40. (In the US it rose to the giddy heights of 163 on the Billboard chart). A single from the album, You Say You Don't Love Me bore the distinction of being their first single to not chart since 'Orgasm Addict'.
To promote the LP they embarked on a long tour with Joy Division, during which the Divs, riding high on the rave reviews for 'Unknown Pleasures' LP and the 'Transmission' single were at the top of their game and still filled with piss and vinegar. The Buzzcocks had a few hit records behind them, but the last two didn't do especially well and the general consensus was that they were yesterday's news. The album they were touring had not fared well and was met with a decidedly mixed reaction. Whereas a scant two years earlier they had been the snotty upstarts, now Joy Division were. Joy Division ultimately eclipsed Buzzcocks, with all accounts stating that they repeatedly blew the slightly jaded and tired headliners off stage.
As one blogger put it recently: The Buzzcocks seemed to come on almost immediately to play their pop songs. When audience members stood up, unchallenged by the bouncers this time, I just walked out of the hall into the rain – it was October and sleety – down to the bus station. It didn't seem right watching any other band, especially the poppy Buzzcocks, after what I had just seen.
Peter Hook, Unknown Pleasures, 2012: ...the only times we saw much of them during the tour was on the night of the gigs, when one of them - Pete Shelley usually - would tell us what a wonderful time they were having at whichever five-star hotel they were staying at. "I've had lobster thermidor", he said to us one night, like he Little Lord Fauntleroy. Back in our dressing room with its torn-up seats and wire coat hangers, we called them a bunch of bastards who'd forgotten their roots. We were like, 'Lobster thermidor? What the fuck is lobster thermidor?' I thought they were a local band. Thing is, they had too much of the good life.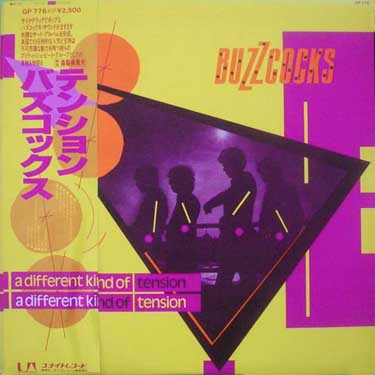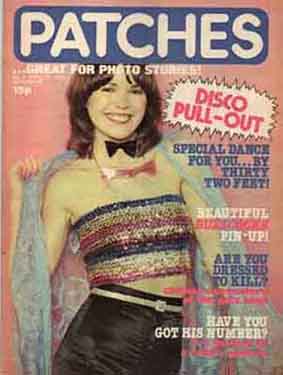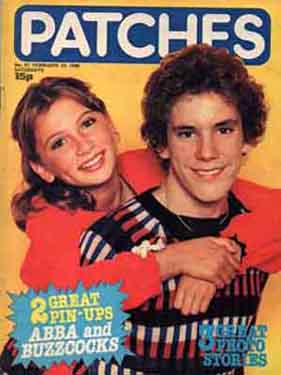 ABOVE: 'A Different Kind Of Tension' Japanese release; and a shit magazine featuring great and beautiful pin-ups.
After the Joy Division tour the band started recording demos for a fourth album, but they were doing too many drugs and were not getting on with each other. The sessions came to nothing, and so it wasn't until May 1980 that the band raised its collective head above the parapet with a gig at the Manchester Polytechnic, was was subsequently broadcast on the Mike Read Show.
Next, in an attempt to shake up the routine of recording and album and then touring it, they deciding upon a strategy of releasing a load of singles instead, just as Magazine attempted to do the same year, and The Wedding Present successfully did a decade or so later. In all, they released just three singles for the project, some of them produced by Martin Hannett (who had produced their first EP). His production was intimidating and dense but fascinating, and some of these singles featured some decidedly off-key singing. Only the first of these charted, Are Everything / Why She's A Girl From The Chainstore, which stalled just outside the Top 60. All three singles were compiled as a 12" single (Parts 1-3) for fans in Canada.
Readers of Smash Hits followed this last stage of the group's career like this: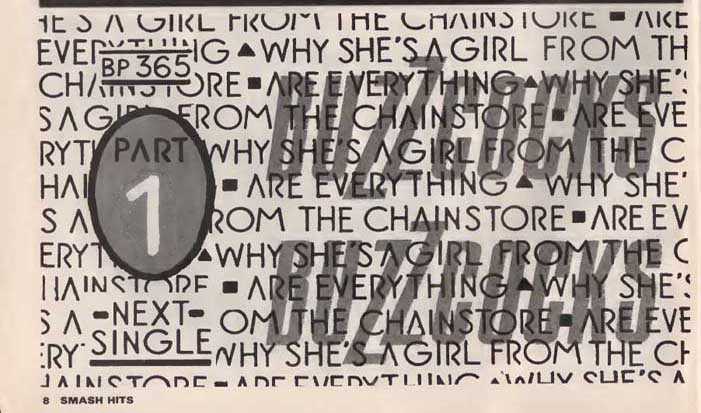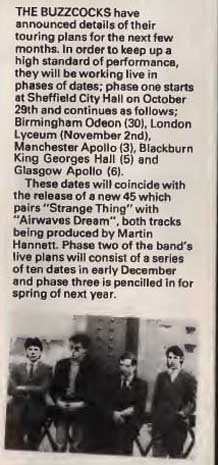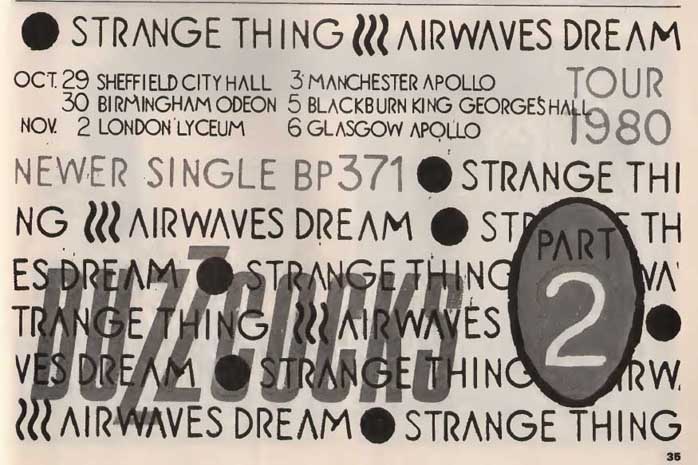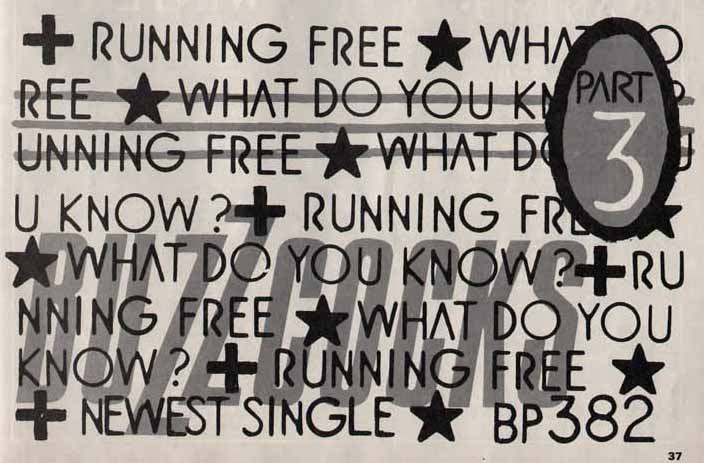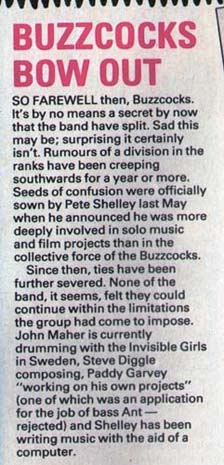 With internal strife tearing the band apart, the last few singles faring badly, and United Artists refusing to give them an advance, it was inevitable that band would split. The band split in spring 1981.
John Maher, Record Collector: Pete went down to Martin Rushent's studio (Genetic), ostensibly to write and work out new songs for the [new] album - and that was the last we saw of him. Then, two weeks later, we each got a solicitor's letter through the post saying that he wished to sever all commitments with the Buzzcocks.
Shelley decided to leave the band and that was it. He embarked on a solo career which allowed him to indulge in electronics (snore) and Diggle formed the surprisingly dull Flag Of Convenience. Garvey formed a new band, as Smash Hits announced in April 1981, "with the purpose of playing. recording and avoiding obscurity. Now known to the world as Motivation, they comprise the legendary Garvey (on bass) and three unknowns - Dave Price (vocals, keyboards, songs), Dave Rowbotham (guitar) and a drummer whose best friends call him Snuff".
__________________________________________________________________________
DISCOGRAPHY
Subsequent studio albums: Click here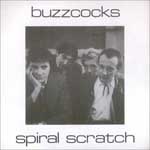 Spiral Scratch (7", 1977)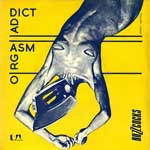 Orgasm Addict (7", 1977)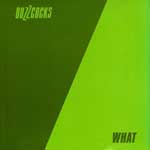 What Do I Get? (7", 1978)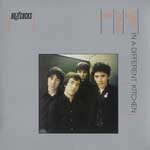 Another Music In A Different Kitchen (LP, 1978)
Another Music In A Different Kitchen (LP, 1978)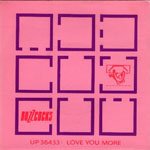 Love You More (7", 1978)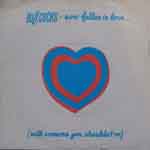 Ever Fallen In Love... (With Someone You Shouldn't've) (7", 1978)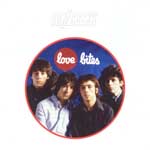 Love Bites (LP, 1978)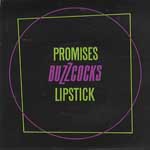 Promises (7", 1978)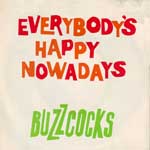 Everybody's Happy Nowadays (7", 1979)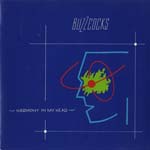 Harmony In My Head (7", 1979)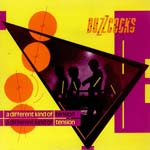 A Different Kind Of Tension (LP, 1979)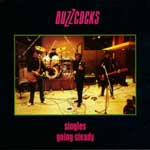 Singles Going Steady (LP, 1979)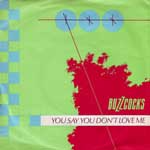 You Say You Don't Love Me (7", 1979)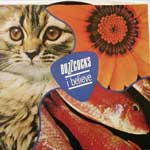 I Believe (7", 1980)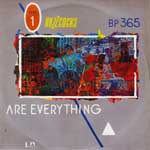 Are Everything / Why She's A Girl From The Chainstore (7", 1980)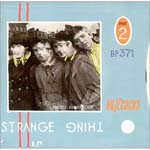 Strange Thing / Airwaves Dream (7", 1980)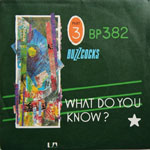 What Do You Know? / Running Free (7", 1980)
Extraneous Releases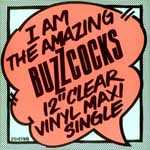 I Am The Amazing Buzzcocks (12", 1978)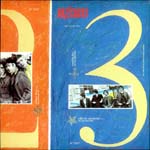 Parts 1-3 (12", 1980)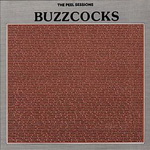 The Peel Sessions (12"/CDS, 1987)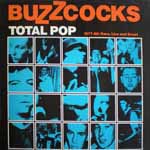 Total Pop 1977-80: Rare, Live And Great (LP, 1987)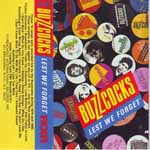 Lest We Forget (Tape, 1988)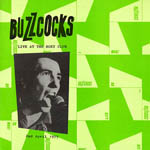 Live At The Roxy Club - April '77 (LP/CD, 1989)
Product (5xLP/3xCD, box set, 1989)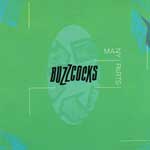 Many Parts (LP/CD, 1989)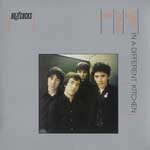 Another Music In A Different Kitchen / Love Bites (CD, 1989)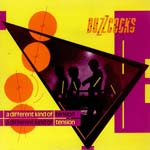 A Different Kind Of Tension / Singles Going Steady (CD, 1989)
The Fab Four (7"/12"/CDS, 1989)
The Peel Sessions Album (LP/CD, 1989)
The Peel Sessions (CD, 1990)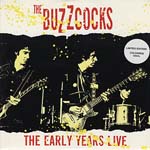 The Early Years Live (12", 1990)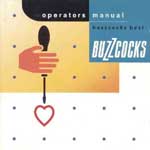 Operators Manual (Buzzcocks Best) (CD/2xLP, 1991)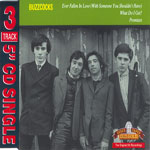 3 Track 5" CD Single (CDS, 1992)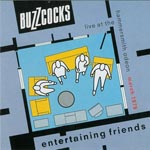 Entertaining Friends - Live At The Hammersmith Odeon March 1979 (CD, 1996)
I Don't Mind The Buzzcocks (CD, 1997)
What Do I Get? (Demo) (7", 1997)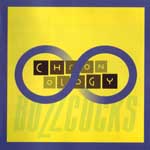 Chronology (CD, 1997)
BBC Sessions (CD, 1998)
Beating Hearts / Small Songs With Big Hearts (2xCD, 2000)
Beating Hearts (2xLP, 2001)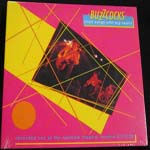 Small Songs With Big Hearts (2xLP, 2001)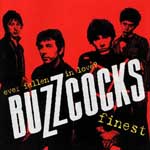 Ever Fallen In Love? - Buzzcocks Finest (CD, 2002)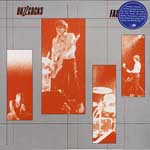 Fast Cars (LP, 2002)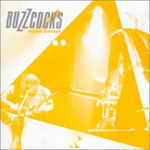 Noise Annoys (CD, 2002)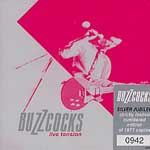 Live Tension (CD, 2002)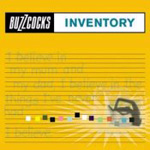 Inventory (14xCD box set, 2003)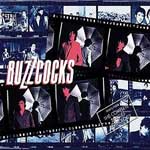 The Complete Singles Anthology (3xCD, 2004)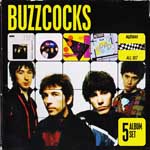 5 Album Set (5xCD, box set, 2013)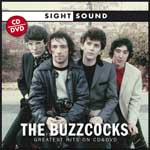 Sight & Sound: Greatest Hits On CD&DVD (CD+DVD, 2013)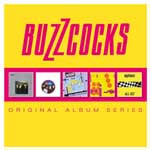 Original Album Series (5xCD, box set, 2014)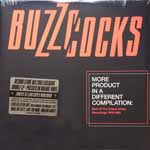 More Product In A Different Compilation (Best Of The United Artists Recordings 1978-1980) (2xLP, 2016)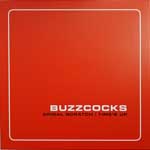 (MK.1) Box - Spiral Scratch / Time's Up (LP+7"+2xCDs, 2017)
Promos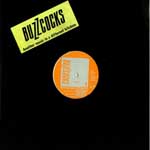 Moving Away From The Pulse Beat (12", 1978)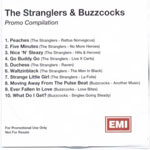 Promo Compilation (CDR, split with The Stranglers, 2001)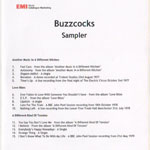 Sampler (CD, 2008)
Bootlegs
This list excludes CDRS and cassettes.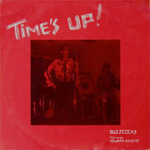 Time's Up (LP, 1977)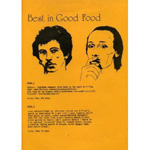 Best In Good Food (LP, 1978)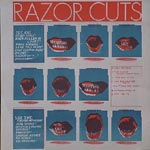 Razor Cuts (LP, 1979)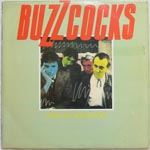 Twelve Reasons (2x12", 1980)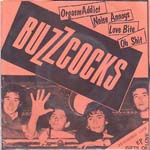 Gifts Of Love EP (7", 1980)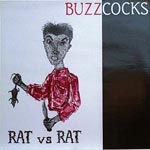 Rat Vs Rat (LP, 1983)
The Legendary Buzzcocks • Live In New York 1.09.1979 (LP/CD, 1990)
Noise Annoys (CD, 1991)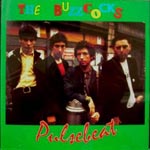 Pulsebeat (CD, 1992)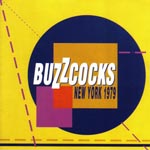 New York 1979 (CD, 1992)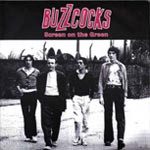 Screen On The Green (7", 1995)
Another Razor In A Different Face, Live NYC, '79 (LP, 2000)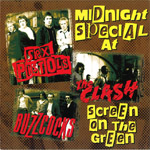 Midnight Special At Screen On The Green (2xCD, split, 2001)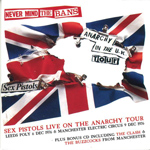 Never Mind The Bans (2xCD, split, 2004)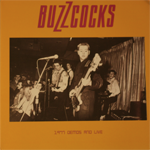 1977 Demos And Live (LP, 2008)
The First United Artists Demo (7", 2017)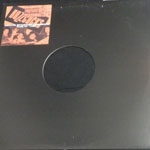 Wers-FM Broadcast Recordings "Club 57" 1979 (LP)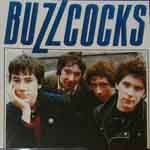 Club 57 (CD)
Live To Air (LP, split with The Undertones, 1984)
Various Artists
The Roxy London WC2 (Jan-Apr 77) UK LP 1977 (Harvest): Breakdown / Love Battery
Punk Off! Italy LP 1977 (United Artists): Orgasm Addict / Whatever Happened To?
Street Music - No Heroes No Legends Japan LP 1978 (United Artists): What Do I Get? / Orgasm Addict
Meet The New (Punk) Wave Holland LP 1978 (EMI): What Do I Get?
Short Circuit: Live At The Electric Circus UK 10"LP 1978 (Virgin): Time's Up
The Main Event UK LP 1979 (K-Tel): Even Fallen In Love (With Someone You Shouldn't 've)

Virgin Hormones US 7" 1980 (bootleg): Love You More
What's All This, John? Germany LP 1980 (EMI): Everybody's Happy Nowadays
I.R.S. Greatest Hits Vols. 2 & 3 US 2xLP 1981 (IRS): You Say You Don't Love Me

NME / Rough Trade C81 UK Tape 1981 (New Musical Express/Rough Tapes): I Look Alone

Burning Ambitions (A History Of Punk) UK 2xLP 1982 (Cherry Red): Boredom

Pogo A Gogo! UK Tape 1986 (New Musical Express): Orgasm Addict
These People Are Nuts! US CD 198 (IRS): Ever Fallen In Love

The Best Punk Album In The World ... Ever! UK 2xCD 1992 (Virgin): Ever Fallen In Love (With Someone You Shouldn't've?)

Lipstick Traces UK LP/CD 1993 (Rough Trade): Boredom
The Best Punk Album In The World ... Ever! 2 UK 2xCD 1996 (Circa): Orgasm Addict / I Don't Mind
1-2-3-4 Punk & New Wave 1976-1979 UK 5xCD 1999 (Universal): Orgasm Addict
Live From The Roxy UK CD 1999 (Castle): Orgasm Addict / Breakdown / Love Battery
No Thanks! The '70s Punk Rebellion US 4xCD 2003 (Rhino): Boredom / What Do I Get? / Ever Fallen In Love (With Someone You Shouldn't've?)

Sniffin' Glue: The Essential Punk Accessory UK CD 2003 (Castle): Breakdown
England's Dreaming US CD 2004 (Trikont): Orgasm Addict

The Roxy London WC2 - A Live Punk Box Set UK 6xCD 2005 (Castle Music): See entry for tracks
Harmony In My Head: UK Power Pop & New Wave 1977-81 UK 3xCD Box Set 2018 (Cherry Red): Harmony In My Head
__________________________________________________________________________

Links
Record Collectors Of The World Unite
You can add stuff and make comments/corrections by emailing me at:
COMMENTS