AKA THE LOVEDOLLS
Formed: Hawthorne, Los Angeles, California, USA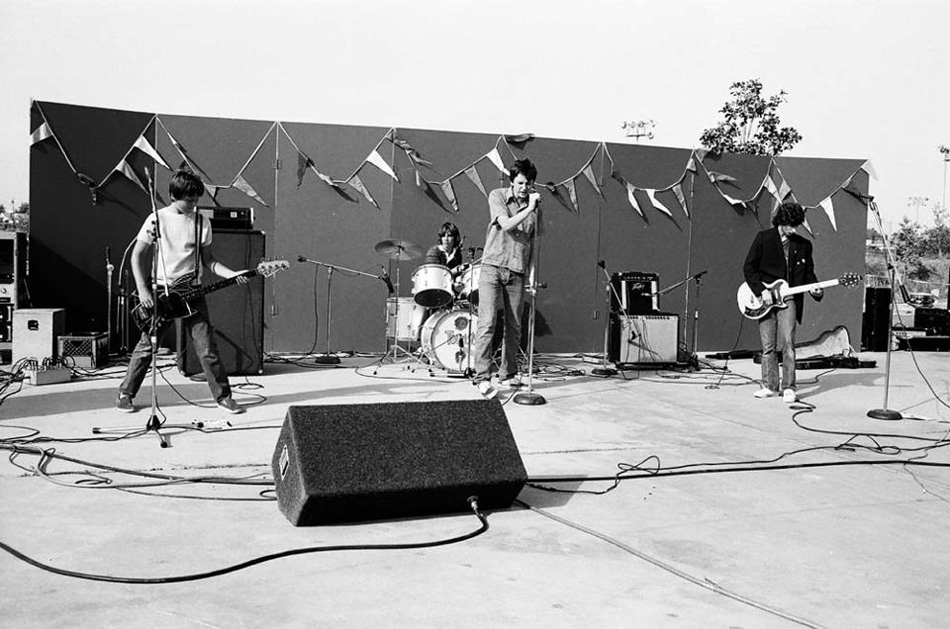 Red Cross (later Redd Kross courtesy of a lawsuit by the real Red Cross) are brothers Jeff (vocals) and Steve McDonald (bass/vocals) with an ever-revolving army of bandmates. Hailing from Hawthorne - the same suburb of Los Angeles that also spawned the Beach Boys - they've yet to acquire anything more than cult status, a situation unlikely to change given the rather pedestrian music they've been peddling since they abandoned punk in the late 80's.
Throughout the 80s. however, they were standouts on the punk, hardore and, finally, alternative/college/radio scenes, eschewing the po-faced stance of the other punk bands at the time in favour of a glam-pop-thrash aesthetic that avoided seriousness and dourness on every level. They began looking like every other band on the scene, with short hair, but by the end of the 80's they looked like the New York Dolls, albeit prettier.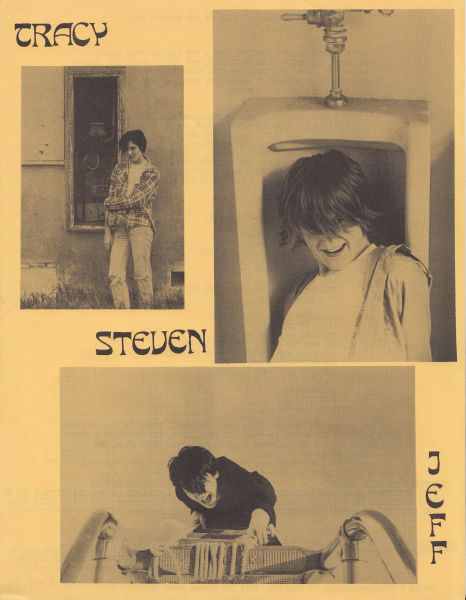 They evolved out of a band called The Tourists in which Jeff, then 15, sang while Steve, 11, played bass, John Stielow drummed and Greg Hetson played guitar. The Tourists made their live debut in 1978 supporting Black Flag. In early 1979, 12-year-old Stielow was ousted in favour of novice drummer Ron Reyes, who hang around with The Tourists at The Church, the Hermosa Bay residence of Black Flag.
In August 1979 The Tourists became Red Cross (inspired apparently by the crucifix masturbation scene in The Exorcist) and a month later recorded the hilarious Red Cross 12" single, which was released on Posh Boy. It is a prime piece of L.A. punk, played fast, sloppy and obnoxious.
For the next four years they underwent a serious a major lineup changes, with the McDonalds always at the centre of things.
As Jeff and Steve told the L.A. Record:
JEFF: "[By 1981] The original Redd Kross had broken up obviously because Ron Reyes was in Black Flag and Greg Hetson was in the Circle Jerks and around the time that they were doing that film we were only toying with playing. Actually, I saw a photo of us playing at the Fleetwood, which is where a lot of that stuff was performed, and we were like a five-piece with Dez Cadena on guitar and this other guy Chet from Wasted Youth and I think we'd only done a couple of gigs. We were not serious, so we weren't in the running.
STEVE: We'd also been sort of traumatized by our experience. In our world, things happened pretty quickly and there were a lot of hurt feelings around the first two years or sixteen months of our band. We were pressured by Black Flag to kick John Stielow out of our band, the 13-year-old drummer from Hawthorne, California.
JEFF: Who returned for Born Innocent.
KILL SOMEONE YOU HATE
Smashing windows with a baseball bat
For a feeling that is great
Go and kill someone you hate
Kill someone that you hate
For a feeling that is great
Do it now, don't hesitate
Go and kill someone you hate
Born Innocent features a new drummer and rhythm guitarist Tracy Lea, and takes its cues from punk, hardcore, bubblegum pop and glam rock and streaks ahead in a glorious fashion, mixing wonderful originals like 'Kill Someone You Hate' and 'St Lita Ford Blues' with two highly indicative covers: Charles Manson's 'Cease To Exist' and, from Russ Meyer's terrible Beyond The Valley Of The Dolls movie, the Carrie Nations' 'Look On Up At The Bottom'. Jeff's el-snotto vocals and the wild, sloppy guitar playing are constant joys. Frontier's 1986 reissue of this wonderful record adds 'Linda Blair' and 'White Trash', while the same label's CD issue supplements that pair with 'Notes And Chords Mean Nothing To Me', from the excellent American Youth Report compilation.
Having been threatened by a lawsuit from the real Red Cross, the band became Redd Kross sometime in 1982. At this time they made a concerted move to distance themselves from hardcore, partly by allowing their hair to grow long, and partly by adding more hard rock to their trashy brew.
Their return to the studio in 1984 was another conceptual and musical triumph, which displayed all their influences and inspirations on their sleeves. Teen Babes From Monsanto is a mini-album containing seven cover versions, designed in tribute to Bowie's Pin-Ups, with songs by The Stooges ('Ann'), Bowie ('Saviour Machine'), Rolling Stones (Citadel'), the Shangri-Las ('Heaven Only Knows'), Kiss ('Deuce') sitting alongside the sole original, which is in reality another cover, being a re-recording of their own 'Linda Blair'. (The EP has never been reissued on CD in its own right, but was added to the Australian only Trance CD single in the early 1990s.)
The same year, they appeared in and composed the music for the no-budget film Desperate Teenage Lovedolls, which included their cover of the Brady Bunch's '(It's A) Sunshine Day'.
Come 1987, the band comprised the two McDonalds, a third McDonald called Roy (no relation) on drums, and guitarist/vocalist Robert Hecker, who had joined in 1984. Neurotica (1987) was another fine LP, that mixed bubblegum pop, glam and punk with a new style of rock music that later found a name for itself when it was appropriated by the likes of Nirvana: grunge. The LP was well received, but any plans to capitalise on its minor success were scuppered when Big Time Records went bust and the band became embroiled in lengthy legal battles which meant they couldn't release as Red Kross for several years.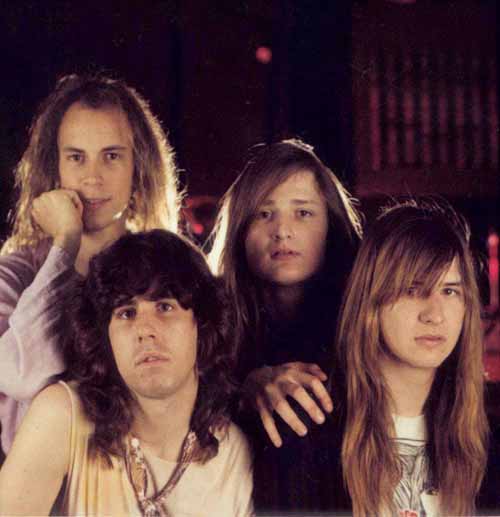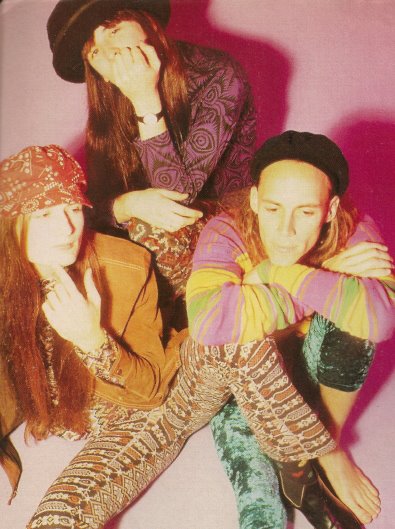 Therefore, during the extended delay between 'Neurotica' and the next album, the McDonalds indulged in a handful of side projects: The Tater Totz (with members of Three O'Clock, Ruthensmear, Runaways, Frightwig, Shonen Knife and others) and !Anarchy 6!. The former released a satiric collection of cover versions that ripped the piss out of Yoko Ono, The Beatles, Queen and others. !Anarchy! 6 lasted a little longer, releasing an LP and a live cassette which made fun of the earnest US thrash/hardcore scene, with well-aimed digs such as 'Skate & Destroy', 'Slam, Spit, Cut Your Hair, Kill Your Mom!' and 'Third World Vacation'.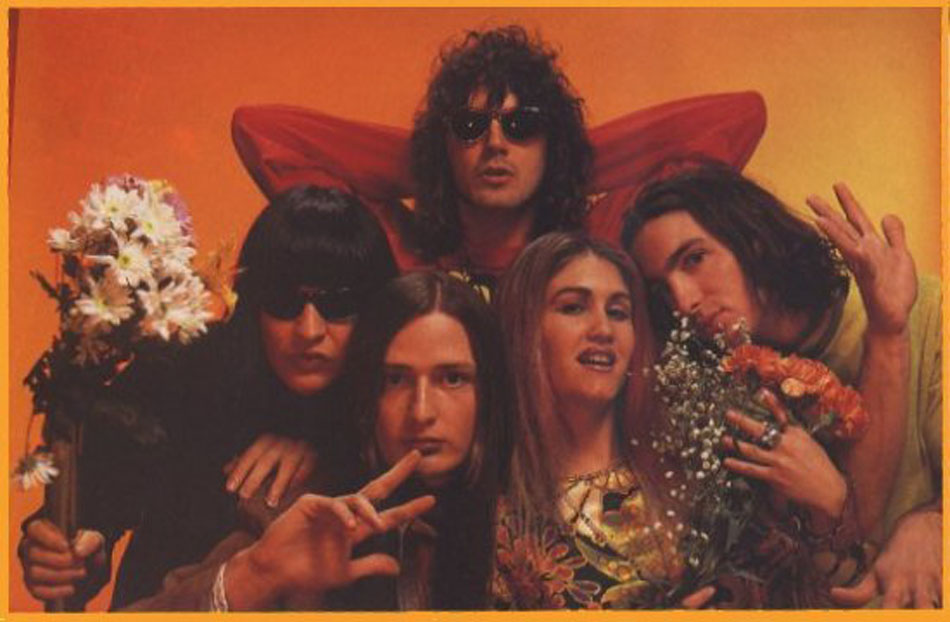 The band came up with another cracking LP in 1990 when they signed a major label deal with Atlantic. 'Third Eye', however, was a move into much more mainstream waters, alternating between clean-sounding pop/rock ('Bubblegum Factory', 'Annie's Gone', '1976') and 70s hard rock. While it lacked the inspired lunacy of 'Neurotica', it was entertaining nonetheless. Since then they have continued to perform and release records, but there's not been much I've heard that would make me investigate them more thoroughly.
In 2006, Jeff and Steven reunited with guitarist Robert Hecker and drummer Roy McDonald (i.e. the "classic Neurotica" line up).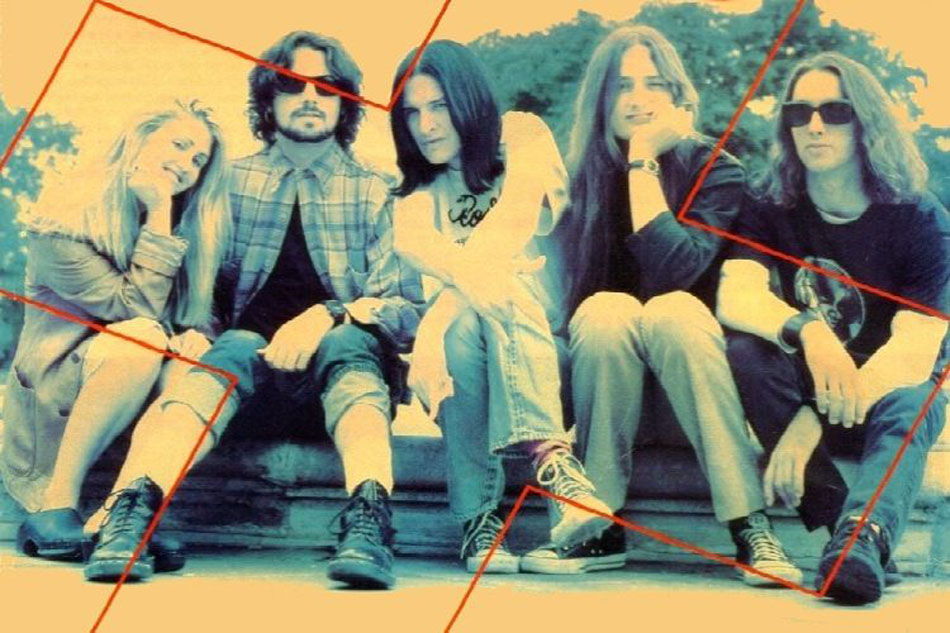 Band Members
| | | |
| --- | --- | --- |
| PERMANENT MEMBERS | | |
| Jeff McDonald | 1978 - Present | Guitar, vocals |
| Steven Shane McDonald | 1978 - Present | Bass, vocals |
| | | |
| OTHER MEMBERS | | |
| | | |
| LEAD GUITARISTS: | | |
| Greg Hetson | 1978-1979 | Left to form Circle Jerks, later played in Bad Religion. Played on the Red Cross 12" EP |
| Dez Cadena | | Also a member of Black Flag |
| Chet Lehrer | | Pre-Wasted Youth |
| Tracy Lea | | |
| Robert Hecker | 1984-1991 | Joined just after the band recorded Teen Babes From Monsanto. Formed It's OK!in 1992. According to Wikipedia: "In addition to his career in music, he teaches science, physical education, health, and music, and coaches track & field (the Daily Breeze called him the 'hurdles guru coach') in the South Bay area of Los Angeles". (He came back for a second stint in 2006.) |
| | | |
| DRUMMERS: | | |
| John Stielow | 1978-1979 | |
| Ron Reyes | 1979 | Left to join Black Flag in late 1979 |
| John Stielow | | Back for a second stint |
| Janet Housden aka Jan Brady (??) | | Played on a few compilation LP tracks |
| | | |
| Dave Peterson | 1984-1985 | |
| Roy McDonald | 1985-1988 | Ex-The Thing, pre-The Muffs. (He came back for a second stint in 2006.) |
| Roy McDonald | 2006- | Back for a second stint |
| | | |
DISCOGRAPHY
Subsequent studio albums: Neurotica (1987), Third Eye (1990), Phaseshifter (1993), Show World (1996), Researching The Blues (2012).
Singles / Albums

Red Cross
(12", as Red Cross, 1981)
Born Innocent
(LP, as Red Cross, 1982)
Teen Babes From Monsanto
(LP, 1984)

Extraneous Releases

Annette's Got The Hits
(12", 1987)
Cover Band
(7", 1990)
Smoke Seven 81/82
(LP, 2017)

Promos

Redd Kross / White Flag
(7", split, 1984)

Bootlegs

Red Cross/White Trash!
(7", as Red Cross, 1990)
1979-1982
(7", as Red Cross, 1990)
Various Artists

The Siren US LP 1980 (Posh Boy): Cover Band / I Hate My School / Standing In Front Of Poseur / Annette's Got The Hits / Clorox Girls / S&M Party
Public Service US LP 1981 (Smoke Seven): Cease To Exist / Everyday There's Someone New / Kill Someone You Hate
Hell Comes To Your House US LP 1981 (Bemisbrain): Puss 'N' Boots
Rodney On The Roq: Volume 2 US LP 1981 (Posh Boy): Burn Out
Life Is Ugly So Why Not Kill Yourself US LP 1982 (New Underground): Rich Brat
Sudden Death US LP 1982 (Smoke Seven): Tatum O`Tut And The Fried Vegetables / St. Lita Ford Blues
American Youth Report US LP 1982 (Invasion): Notes & Chords Means Nothing To Me
Buried Alive: The Best From Smoke 7 Records 1981-1983 US LP 1983 (Smoke Seven): Notes & Chords / Cease To Exist / Linda Blair / Tatum O'Tot And The Fried Vegetables
Posh Hits Vol. 1 US LP 1983 (Posh Boy): Annete's Got The Hits / Cover Band
Life Is Boring So Why Not Steal This Record US LP 1983 (New Underground): Out Of Focus
We Got Power: Party Or Go Home US LP 1983 (Mystic): Pseudo Intelectual
Desperate Teenage Lovedolls US LP 1984 (Gasatanka): Ballad Of A Lovedoll / Legend / Charly / Self Respect / Ballad Of A Love Doll-Instrumental
The Enigma Variations US 2xLP 1985 (Enigma): Citadel
'God Bless America' Posh Hits Vol. 1 UK LP 1985 (Fall Out): Annete's Got The Hits / Cover Band
Lovedolls Superstar US LP 1986 (SST): Lovedoll Superstar / Beer And Ludes / Rex Smith (I Wanna Be a Cholo Chick) / Now That I've Tasted Blood / Sunshine Day / The Love Machine
The Future Looks Brighter US CD 1987 (Posh Boy): Cover Band / Anette's Got The Hits /I Hate My School / Clorox Girls / S&M Party / Standing In Front Of Poseur
The Best Of Rodney On The ROQ US CD 1989 (Posh Boy): Annette's Got The Hits
The Best Of Flipside Vinyl Fanzines US 2xCD 1992 (Flipside): Annette's Got The Hits
The Posh Boy Story (More Or Less) UK CD 1993 (Damaged Goods): I Hate My School / Standing In Front Of Poseur
The Bob Magazine US 7" Flexi 1994 (The Bob Magazine/Eva-Tone): I'll Meet You Halfway
Buried Alive: The Best From Smoke 7 Records 1981-1983 US CD 1995 (Bomp!): Cease To Exist / Tatum O'Tot & The Fried Vegetables / Notes & Chords Mean Nothing To Me / St. Lita Ford Blues
Sudden Death US CD 2004 (Puke N Vomit): Tatum 'O Tot & The Fried Vegetables / St Lita Ford Blues
Links
VICTIM OF TIME - Interview