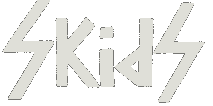 Formed: Dunfermline, Fife, Scotland, UK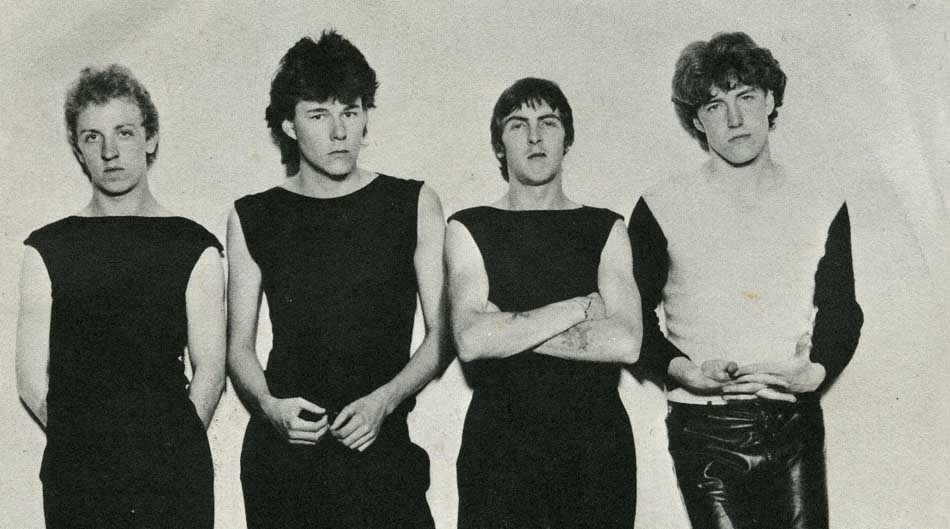 In my estimation the best band to come out of Scotland, punk or otherwise, Dunfermline's Skids never really received the praise or chart success they deserved. This was probably largely due to the pretensions of their singer and lyricist Richard Jobson, who increasingly used the band as a vehicle for his ventures into poetry, a conceit that eventually caused the band to buckle under its own bloat. Prior to that, Jobson, Stuart Adamson (guitar) and a number of bass players and drummers provided the world with a brace of brilliant, punchy singles and four impressive, underrated albums. Like the Buzzcocks, they made fantastic singles and had the sense to make their albums varied enough to maintain interest and surprise.
Band Bio Part 1 (1977-1978)
They were formed in early-to-mid 1977 by guitarist Stuart Adamson and bassist Will Simpson, who'd been at school together and had formerly played in a covers band called Tattoo, which had fallen apart after a disastrous European tour in late '76. The pair began rehearsing songs written by Adamson (titles including 'Nationwide', 'Sick Club' and 'Victims Of The Weekend') before they asked Richard Jobson to join as singer. Jobson had been a Scottish schoolboy centre-forward, an amateur boxer and the production controller in a Dunfermline factory.
Richard Josbon, NME, March 1979: Apart from Mott The Hoople and Gary Glitter, I hadn't really been particularly into rock music before then. We were first attracted to the London thing - at first I just got into it because of the image. I was heavily into the BilLY Idol trip, all glamorous with fancy clothes, bleached blond hair in a DA and everything. But I soon dispensed with all that. When the band formed, I was still playing as an apprentice footballer with this Scottish club who were linked with Aston Villa. At the time I'd done all sorts of ridiculous things with my hair and yae cannae play fitba in Scotland like that! I was a like wee centre forward playing against all these big centre halves. Now, they'll dig yae up whatever yae look like, but you're playing against them with bleached blond hair then you're really in for a hard time, y'ken? When we first started I was just an idiot, really, I got into the band because I had presence - an image. They were trying to get a punk band together and I was probably the perfect guy to be in the band at the time - black and white hair, not frightened to do anything., I wasn't singing then, I was just screaming the lyrics, I was doing this for about four months and I released we couldn't go on like that.
Drummer Tom Kellichan joined soon after, having replied to the advert Adamson placed in the classified section, which had requested "no hairies". Fortunately, Kellichan was not a hairy. In August the band secured it's first show, supporting Matt Vinyl And The Decorators at the Belleville Hotel in Dunfermline. That October they supported The Clash at the Kinema Ballroom, also in Dunfermline, on the bottom of the bill below Richard Hell And the Voidoids and French band The Lou's. In October they supported fellow Scots The Rezillos at Rafters Club, where according to one press piece, "despite playing to an almost empty club, they generated a fair amount of excitement and a number of promises for booking should they choose to return any time". In early November were to be seen supporting Buzzcocks at Edinburgh's Clouds. Slap bang between these two events they entered REL Studios in Edinburgh to record their first demo, an 8-song affair that included 'Test Tube Babies' and 'My Life'.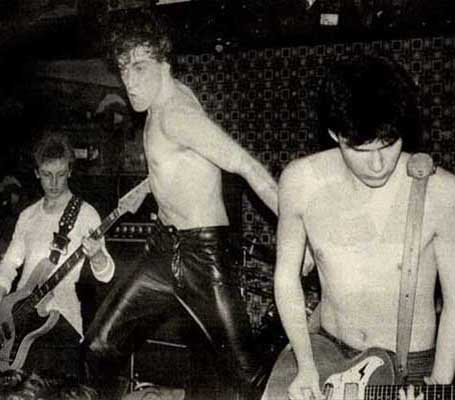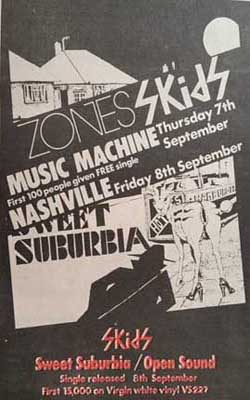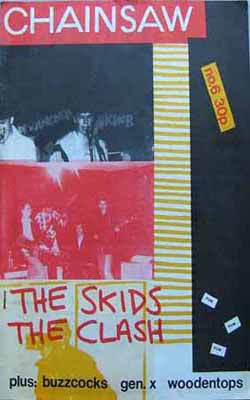 As 1978 progressed things began moving even quicker. A support slot to The Stranglers in February led directly to their first London shows, as Jean Jacques Burnel had spotted them and introduced them to The Stranglers' live agency, Albion (which also looked after 999). February saw the release of Charles, a terrific three-song single released on No Bad Records, a label set up by local record shop owner Sandy Muir, who became the band's manager. The band was getting noticed and more professional.
Stuart Adamson, March 1978: It was written about working in a factory - it's about how people leave school at sixteen, go to work in a factory, do a trade and you're a machine-man all your life. You're working away on these machines - before you know it, you suddenly become a total moron; you're just like another part of your machine.
The following months saw frenzied activity: shows in London that April were capped with the first (of five) Peel sessions in May, which introduced the world to some of the best songs they ever wrote: 'Contusion', 'Night And Day', 'Of One Skin', 'Open Sound' and the mighty 'T.V. Stars'. The following month they signed to Virgin Records and entered the studio for an abortive recording session with Gong guitarist Mike Howlett, which produced no actual finish product. More fruitful were the recordings made with fellow Scot David Batchelor behind the desk, which resulted in the first single for Virgin, Sweet Suburbia, which came out in September and made it to number 70 in the UK charts. 'Sweet Suburbia' was a good opening salvo, but not quite classic Skids, with the B-Side reserved for a new version of 'Open Sound' and early copied pressed in lovely white vinyl. Classic Jobbo lyric: "Living on the paper periscope/Hot dog life cold for the antelopes/Concrete days and white electric nights/Steel and steel life on the open plain".
ABOVE: The French pressing of 'Sweet Suburbia'.
In September the band was back in Maida Vale Studios for a second Peel session. 'Dossier Of Fallibility', 'Hope And Glory', 'Six Times' and ''The Saints Are Coming' demonstrated that the band was getting better and better. No wonder Peel loved them.
A month later, the Wide Open E.P. reached number 40 in the singles charts, no doubt aided by the novelty of also being issued as a red vinyl 12" single. It might have done better had it been released in a sleeve that wasn't utterly shit. Nonetheless, song-writing, production, playing and identity were all in magnificent, perfect alignment on this exceptional release. Two songs from the E.P. ('The Saints Are Coming' and 'Of One Skin') were sufficiently excellent enough to be re-used on their debut album the following year. 'Contusion' was one of the band's artier affairs, but rocked anyway, whilst 'Night And Day' was simply a wonderful example of how great and triumphant sounding punk at its best really was. Classic Jobbo lyric: "Meandered the track of a right-angled road/Vesuvius my sheba erupted and gored".
Stuart Adamson: To skid means to slide forwards or backwards or sideways. Well that's what we're about, we don't want to be limited by "direction" or "labels". (Sounds, October 1978)
However, in Christmas 1978, whilst the band was recording its first LP, Adamson quit. He was disillusioned with the record industry (after just six months at Virgin!!) and tired of the endless routine of studio overdubs. He wote an open letter in early January complaining of record company machinations and interference, and also of being treated like a cunt on Top Of The Pops (neither of the the Skids' two recordings for the venerable show were broadcast). Sessions for the album were nearly finished, so David Batchelor simply asked a bloke called Chris Jenkins to do the job of carrying out the few guitar overdubs Adamson didn't want to do. A prize goes to anyone who can tell Jenkins' contributions from Adamson's, because I certainly can't.
Part 2 (1979-1980)
Adamson's decision to return to the fold may have been influenced by the release of Into The Valley in early February. With initial copies pressed on white vinyl ("White hot cut" as the sticker on the sleeve stated), this most majestic of anthems shot into the Top Ten and spent 10 weeks in the charts, no mean feat at all. With indecipherable (when you hear them) and incomprehensible (when you read them) lyrics, a barrage of shit-hot guitar riffage and a chorus that made them sound like a brainy version of Sham 69, the single was a bona fide classic. As was the raucous B-Side, 'T.V. Stars', recorded live at the Marquee and featuring the famous "ALBERT TATLOCK! ALBERT TATLOCK!" chant. Classic Jobbo lyric: "This disease is catching/From victory to stone".
Later that February Adamson was definitely back, as he played on the band's third Peel session, which featured four songs, all of which were brand new. The Jobson/Adamson songwriting team was clearly on a roll. The three originals ('Summer', 'Zit', 'Hang On To The Shadows') were complimented by a version of Lou Reed's 'Walk On The Wild Side', which was a live favourite.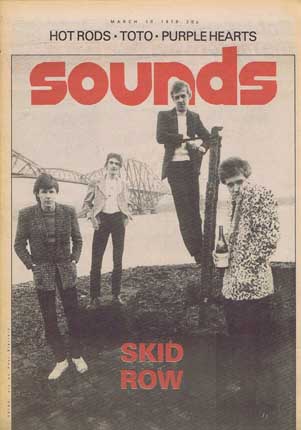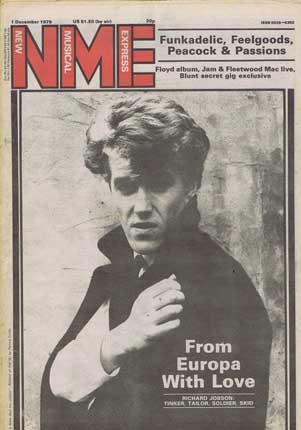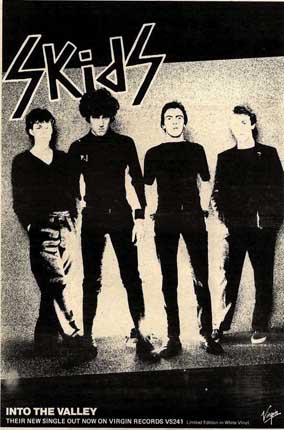 Scared To Dance came out in March '79, rightly hailed by the press as is the dark yet rocking masterpiece that it is. 'Into the Valley' opens proceedings, followed by the post-punk sounding title track, which was the only song from the band's first ever set to make it to vinyl. 'Charles' gets a meatier re-recording and two songs from the 'Wide Open EP' are presented in the same versions that were previously released. Despite musings on life, death, the spirit, paranoia, war, depression, loneliness and similar topics, the likes of 'Hope And Glory' and 'Melancholy Soldiers' remain somehow joyous pounding slices of rock and roll. Throughout, Jobson bellows and whoops indecipherably above Adamson's punishing bagpipe guitar, the quartet storming through twelve stunning songs that maintain the hearty raucousness of punk but marry it to off-kilter (pun intended) art-rock. Classic Jobbo lyric: "Heat rose from the modules, six times/Clench of a fist/Could cause this silvery grey mist, grey mist....grey mist".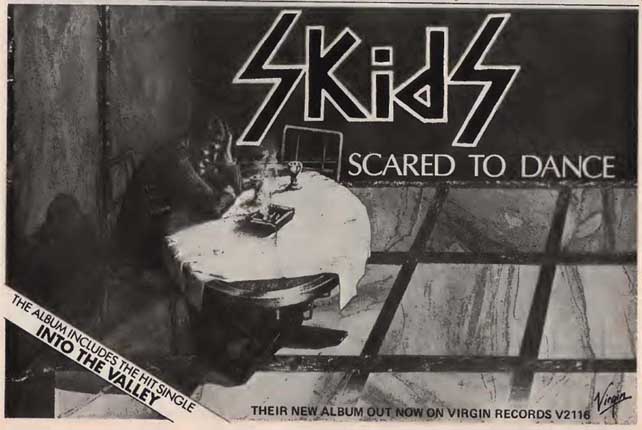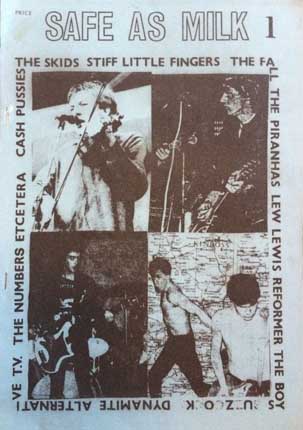 May '79 saw the band entering the Top 20 singles chart for the second time with a new single, Masquerade, another stonking anthem that would have been an equal for 'Into The Valley' had it been produced by Batchelor. In was in fact produced by Bill Nelson/John Leckie, the former Stuart Adamson's guitar hero from be Bop Deluxe.
Stuart Adamson, 1980: I still think he's the finest guitar player in the world, certainly as far as feel is concerned.
Nelson and Leckie toned down the guitar blaze a tadge and incorporated keyboards, in effect softening the band's sound somewhat, which is a shame because the song itself is another classic. Virgin pulled out another ace promotional gimmick for this release: no cute colours for the record itself, but the first 50,000 copies came in gatefold sleeve and had a bonus disc, which meant that in addition to 'Out Of Town', you also got 'Another Emotion' (strictly B-Side quality, though) and 'Aftermath Dub', a dub version of 'Masquerade' which bores me to death whenever I hear it, which is mercifully not often. Classic Jobbo lyric: "Portray amidst art, Guernica is plaint/Metal turning sham, but victory is quaint". You gotta love him.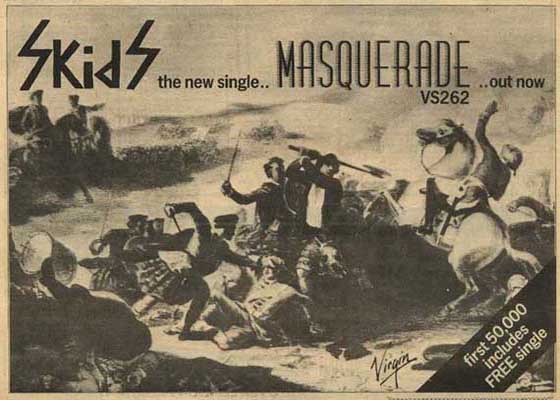 As a measure of the group's sheer productivity, they recorded Peel session number four that May as well. It was no surprise that 'Masquerade' was recorded, given it would work as a handy promotional tool, but the rest of the session contained three new songs: 'Withdrawal Symptoms', 'War Poets' and (with Midge Ure on guest keyboards) 'Hymns From A Haunted Ballroom'.
All of this proved too much for Kellichan, who never wanted fame. He decided to leave, retiring from the music biz in the early 80's having played for a short while in a band called Katyn and also as a session musician for Bill Nelson. His replacement was David "Rusty' Egan, formerly of the Rich Kids and, given that in 1978 he had co-founded Visage, a bit of a fan of the synthesiser. Kellichan's departure and Egan's arrival brought about an evolution in the group's sound, as the raging guitar and rowdy fun aspect was complimented (and some would say diluted) by an increasing earnestness, premature maturity and use of keyboards and synthesisers.
Ronnie Gurr, NME, September 1979: The original Skids were the furious wrath of punk rock, who transmuted into a more subtle sense of driving rock and roll. Last week saw the unveiling of The Skids with keyboards, visual finesse and a flair for showmanship. A clearly defined progression had become evident since the departure of Tam Kellichan and the introduction of Bill Nelson as producer.
Richard Josbon, NME, September 1979: I think the sound we had ...there was always something there but I always felt it was a wee bit empty. It fulfilled the songs we did a year ago but the songs now have more depth and the sound needs to be fuller. Another thing, I was the physical thing on stage. The continual jaunting about about took away the interest slightly from the music, especially in places where the music might have been unbalanced or not full as it might have been. We were only a three piece musically and so much relied on Stuart to fill the gaps. Of course it was impossible to fill every gap with his playing. So you had to catch the eye, jump about and I don't think I want to do that to the extremes that I have in the past. Another thing, Friday was the first time in about two years that we didn't do 'T.V. Stars', and that was one of the biggest things about the gig for me.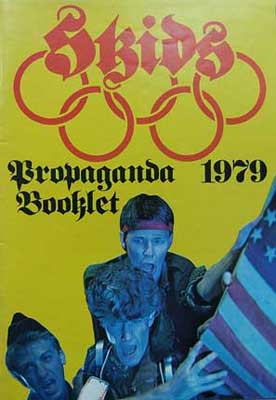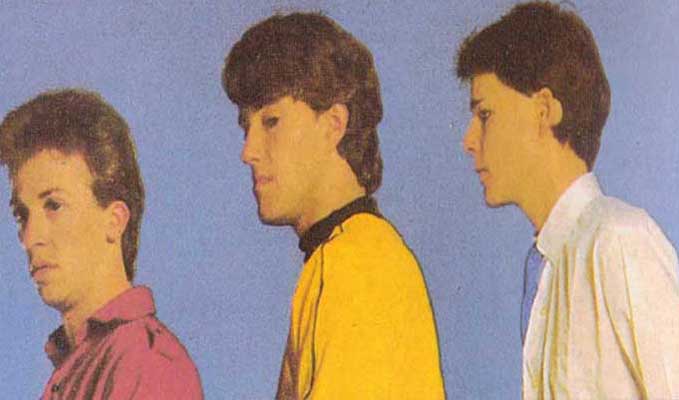 Given that both Egan and Nelson were heavily into keyboards, it was no great shock that album number two Days In Europa featured them quite prominently, although not at the total expense of Adamson's distinctive guitarisms. The album was more varied, with less shouty material and more advanced arrangements, such as the bizarre closing number 'Peaceful Times', which is just the backing track of album opener 'Animation' played backwards, with Jobson reciting the usual bollocks over the top ("Egyptian girls hide by the moon"). Whereas the first LP summoned up images of dark alleyways, suicide and miserable failures, this follow up conjures up images of Greek mythology, Aryan perfection and bloodstained battlefields, with lyrics straight out of Jobson's best pseud's songbook. There's enough blazing material here to fully qualify this is a punk record, but also some amazingly pretentious, bombastic epics that probably aren't for everyone. I think it is superb from start to finish. Classic Jobbo lyric: "Stand by monumental toys".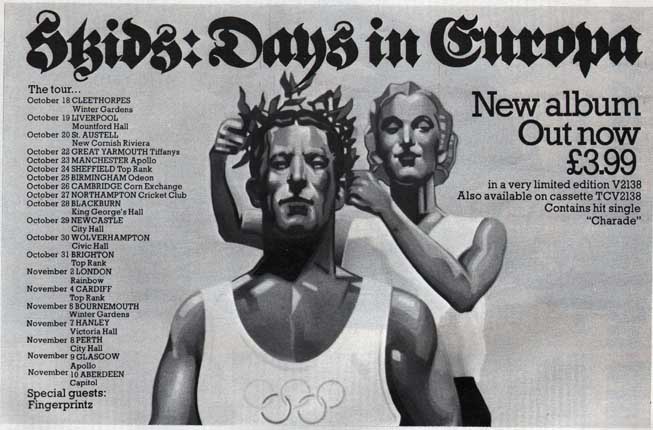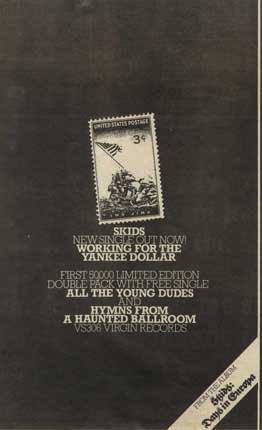 For the tour to promote the LP the band recruited a fifth member, keyboardist Alistair Moore. Charade was extracted from the album but stalled outside the Top 30, but Working For The Yankee Dollar actually made it to Number 20. The song had been heard on the 'Days In Europa' album in a much longer and far less exciting version. This was a completely new recording. As with 'Masquerade', the first 50,000 copies came as a double pack, with side two containing 'Vanguard's Crusade', a typically excellent number in the expected style. Side three was a punked-up version of 'All the Young Dudes' taken from a Kid Jensen session, while side four was 'Hymns From A Haunted Ballroom' from the last Peel session.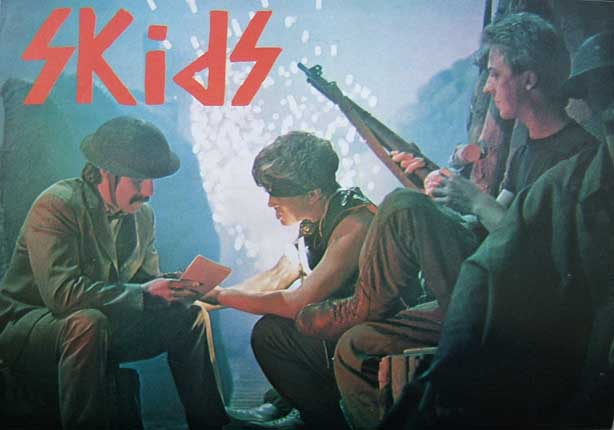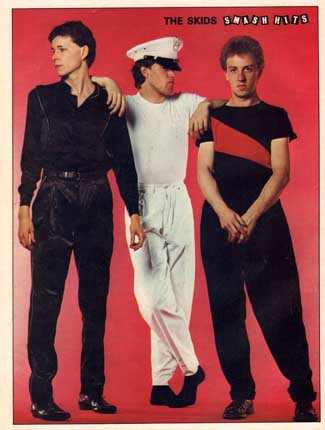 Early 1980 was a period of turmoil for the group. Egan (who seemed to not be a full band-member, given that his photo did not appear on 'Days In Europa') departed to concentrate on Visage and his trendy night club Blitz, Moore was dispensed with, and Simpson quit in sympathy with Moore. Although Egan was easily replaced by Mike Baillie (ex-Matt Vinyl And The Decorators!), bigger issues were created when manager Sandy Muir was sacked and Jobson decided to move to London, meaning that the group's songwriting team were separated by several hundred miles.
Richard Josbon, NME, September 1979: We aren't a communal band. We don't mix socially and I think that's healthy. We're just associated now, With Stuart I've got a partnership and I wouldn't work with anyone else. We're like a painting and decorating firm and it works.
In amongst all this upheaval, Virgin released a remixed version of Days In Europa. The artwork for the original release had drawn criticism in some quarters as having Nazi overtones, so new artwork was commissioned (a more art deco looking affair), album track 'Pros And Cons' was replaced by 'Masquerade', the flabby album version of 'Yankee Dollar' was subbed for the stronger 7" version, and the remaining eight numbers were completely remixed. It was a remixed version of Animation that staggered merely as high as number 56 that March.
ABOVE: Skids in Smash Hits. November 1979. Images from the website Like Punk Never Happened. All are clickable.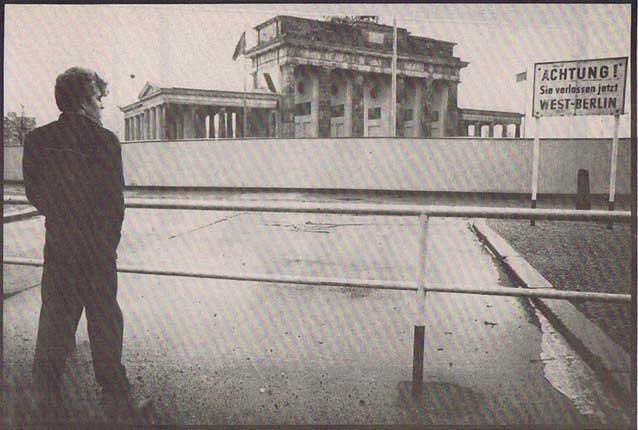 Part 3 (1980-1982)
Recorded with new bassist Russell Webb (ex-Slik/PVC2/Zones) and released in September 1980, The Absolute Game saw the band's ego inflated to such a degree that the cover has their heads carved in stone, and came with a limited edition free mini-album ('Strength Through Joy') that had them labelled (years later by some sarcy Sounds scribe) as "the thinking man's Oi! band" ["Strength through joy" was a phrase first used by the Nazis]. Jobson's lyrical pretensions are uncontrolled, hence allusions to "boys in the river" (on 'Goodbye Civilian') and widescreen epics like 'A Woman In Winter', 'The Devil's Decade' and 'Arena'. But Adamson's guitar work is better than ever, the choruses are catchier, and the hard edges remain intact despite the use of synthesisers, didgeridoo, and on the classic 'Circus Games', a children's choir. In short, it's the best LP they ever made. The largely instrumental bonus mini-album is inessential, sounding like unfinished studio noodling, although the first side is both intriguing and engaging. Classic Jobson lyrics: "It's gross, this loss, of jaded sanity/Days are found recalling vanity".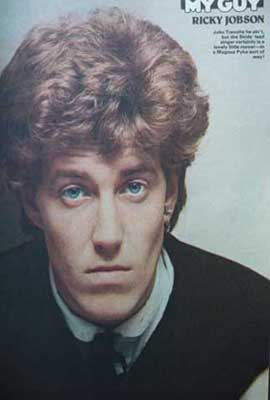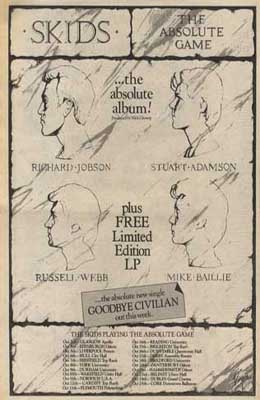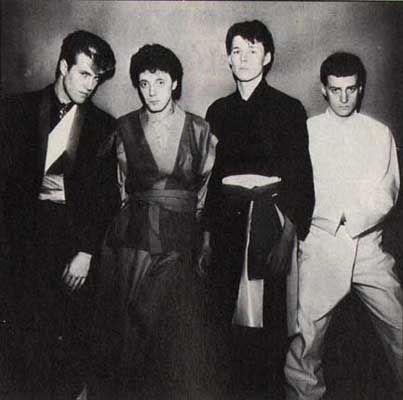 (It is worth noting the CD life of this LP. Track released this in 2001 and it sounded great, but they inadvertently used the single version of 'A Woman In Winter', which is two minutes shorter than the album mix, and excluded the bonus album altogether. Captain Oi! took two attempts to get it right. Their first was an unmitigated disaster. Alex Ogg's liner notes had to be re-done as they were too scandalous, 'Strength Through Joy' was re-named with the Americanised mis-spelling 'Strength Thru Joy', 'An Incident In Algiers' was missing it's first few bars and started off slow before audibly speeding up to the correct tempo, and the channels were reversed. All these mistakes were rectified soon after its release.)
ABOVE: Skids in Smash Hits. September 1980. Images from the website Like Punk Never Happened.
Three singles were taken from the LP. Circus Games came in a limited edition poster sleeve (very nice) and was backed with 'One Decree', also from the LP. It climbed to No 32. A remixed (and much shorter) version of Goodbye Civilian was next, backed with a spunky instrumental labouring under the unwieldy title of 'Monkey McGuire Meets Specky Potter Behind Lochore Institute'. In addition to the normal sleeve this came as a picture disc that had the unfortunate effect of highlighting Josbon's new image, as a poncy Eton-type twat. This one made it to a lowly 52 in the pop parade. The third single did a trifle better (reaching number 49): Woman In Winter omitted two minutes of pomp and was housed in a ludicrous "comic book" sleeve, which embroiled the band members in a Bulldog Drummond-type mystery tale called "Pirate Gold'. The B-Side of this was a fine live version of 'Working For The Yankee Dollar'.
That September the band recorded its last Peel session. Adamson was unwell, so guitar parts were split between Jobson, John McGeoch (Magazine/Siouxsie And the Banshees) and Steve Severin (Siouxsie And the Banshees). For this session they laid down 'Circus Games', and three songs that formed part of the 'Strength Through Joy' bonus LP: 'An Incident In Algiers', 'Filming Africa' and 'Snakes And Ladders (Instrumental)'.
In spring 1981, after a (very, very) short US tour, the Skids began work on their fourth LP. Shortly into the sessions Mike Baillie jumped ship (to be replaced by ex-Zones drummer Kenny Hyslop), followed soon after by Adamson. Producer Bill Nelson also decided he didn't want to be involved. Not before long, Hyslop was no longer involved either, having been replaced by J.J. Johnson, formerly drummer with Wayne County And The Electric Chairs. Now essentially a trio, Jobson, Webb and Johnson enlisted a vast list of guest musicians to carry off Joy, a concept album about life off the Scottish coast. For your money you get a really pompous a capella version of 'And The Band Played Waltzing Matilda', seven minutes of 'Iona' (a heavily orchestrated lullaby for a remote Scottish island, and the only track on which Adamson appears) and other extremely weighty tunes where Jobbo's literary allusions run riot. As ever, it's filled with ghastly nonsense with Nazi undertones ('Blood And Soil'), vocals that are manly to a point of parody, and laughable lyrics ("A wanderer told me of galleon shores"), but unlike, say, the last Gang of 4 album, where a previously uncompromising band opted for the sell-out route, at least the Skids still sound like the Skids, and though fans would do well to approach it with caution, it's a very brave, often beautiful, always interesting and often brilliant effort. Classic Jobbo lyric: "I gathered the soil/The fodder of my feed/And ran from the mountains/The Honeycombe of seed".
The LP resulted in two singles, neither of which troubled the chart: Iona (shorn of over two minutes) and Fields (issued as an edited 7" and also as 12" with a VERY long version of the B-Side, 'Brave Man'). The "group" split in early 1982, with Virgin releasing a decent compilation album, Fanfare, as a going away present.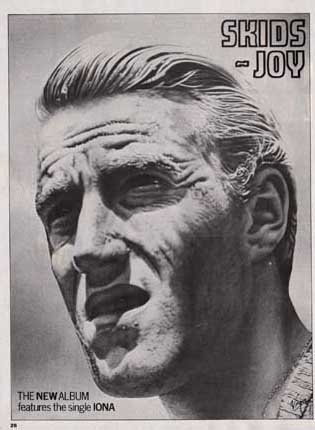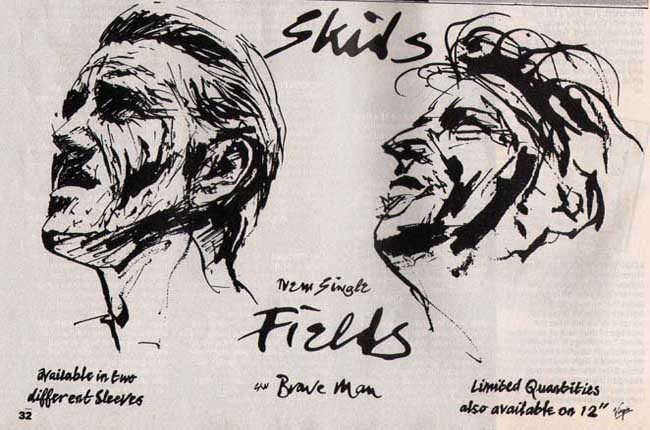 Post-Skids, Jobson and Webb formed the bloated "supergroup" Armoury Show in 1983. They released several singles and one awful album (Waiting For The Floods) in 1984 before splitting in 1987. Jobson then embarked on a preposterous solo career where his poetic pretensions went completely unchallenged by bandmates. Adamson, of course, formed Big Country, but sadly committed suicide in 2001 after years of alcohol abuse. Webb later played in Public Image Ltd.
DISCOGRAPHY
Subsequent studio albums: Burning Cities (2017).
Singles / Albums

Charles
(7", 1978)
Sweet Suburbia
(7", 1978)
Wide Open
(7"/12", 1978)
Into The Valley
(7", 1979)
Scared To Dance
(LP, 1979)
Masquerade
(7"/2x7", 1979)
Charade
(7", 1979)
Days In Europa
(LP, 1979)
Working For The Yankee Dollar
(7"/2x7", 1979)
Animation
(7", 1980)
Circus Games
(7", 1980)
The Absolute Game (LP+12", 1980)
Goodbye Civilian
(7", 1980)
Woman In Winter
(7", 1980)
Fields
(7"/12", 1981)
Iona
(7", 1981)
Joy
(LP, 1981)

Extraneous Releases

The Skids / XTC
(7", flexi, split, 1980)
Fanfare
(LP, 1982)
Skids
(12", 1983)
Dunfermline - A Collection Of The Skids' Finest Moments
(CD, 1987)
BBC Radio 1 Live In Concert
(CD, 1991)
The Skids Vs The Ruts
(7"/CDS, split, 1992)
Sweet Suburbia - The Best Of The Skids
(CD, 1995)
The Greatest Hits Of Big Country And The Skids: The Best Of Stuart Adamson
(CD, 2002)
The Very Best Of The Skids
(CD, 2003)
Into The Valley - The Best Of The Skids
(CD, 2005)
The Saints Are Coming - The Best Of The Skids
(CD, 2007)
Masquerade Masquerade: The Skids Live
(CD, 2007)
The Singles Collection 1978-1981
(2xCD, 2012)
The Virgin Years
(6xCD, 2015)

Promos

The Saints Are Coming
(12", 1979)

Bootlegs

Skids
(7", 1995)

Videos/DVDs

The Skids
(VHS, 1989)
Various Artists
20 Of Another Kind UK LP 1979 (Polydor): Sweet Suburbia
New Rock Greece LP 1979 (Pop Olympic): Sweet Suburbia
Cash Cows UK LP 1980 (Virgin): Arena
Fun, Filth And Fury! UK CD 1991 (Virgin): The Saints Are Coming / Into The Valley
The Best Punk Album In The World ... Ever! 2 UK 2xCD 1996 (Circa): The Saints Are Coming
1-2-3-4 Punk & New Wave 1976-1979 UK 5xCD 1999 (Universal): Sweet Suburbia
No Thanks! The '70s Punk Rebellion US 4xCD 2003 (Rhino): Into The Valley
Kilt By Death: The Sound Of Old Scotland (1977-1984) ?? 2xCD 2005 (no label): Reasons
Links
THE SKIDS - Official website
THE SKIDS FANSITE - A very good one, too
PUNK 77 - Scottish Punk Rock - Punk 77! - Excellent band write up
BOMBED OUT PUNK - Punk Band The Skids, 1970s TV Stars and Bombed Out ...
INTO THE VALLEY BETROTHED AND DIVINE - Another Skids Page